IGBIS Newsletter, Issue 246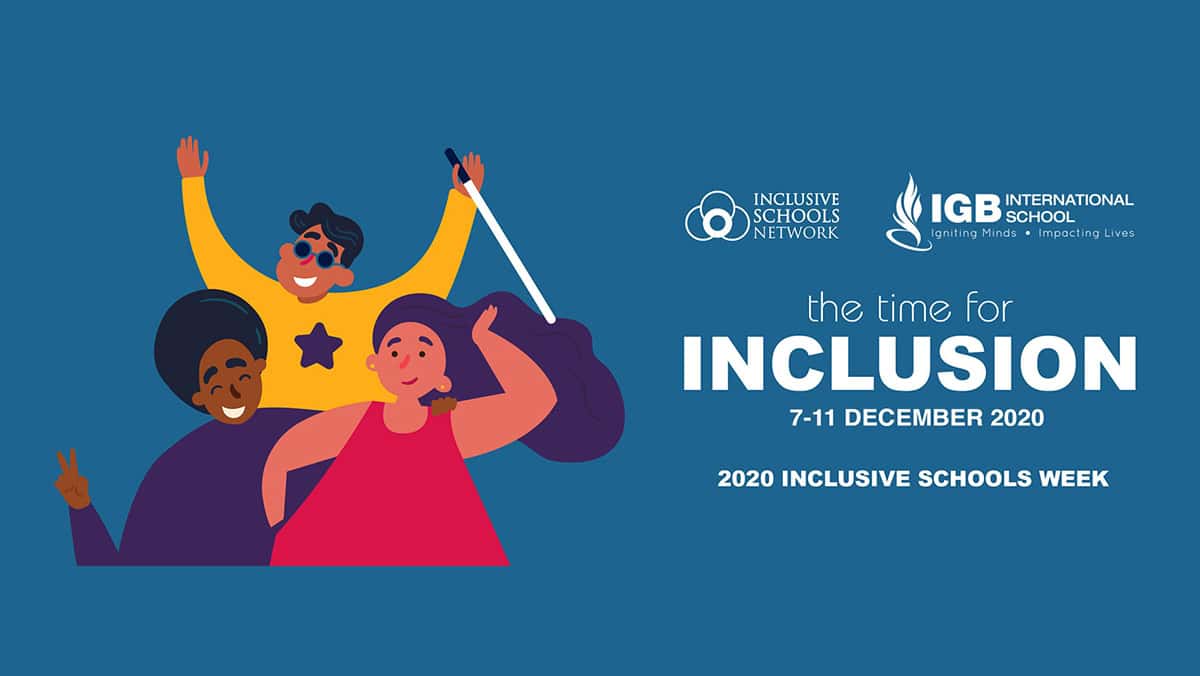 Message From the Head of School
Mrs Anne Fowles
Through the ongoing work of the Association of International Malaysian Schools (AIMS) and the British Malaysia Chamber of Commerce (BMCC) Education Committee, we now have an official response from the Private Education Bureau advising that international schools may reopen when the CMCO is lifted rather than the date given to national schools. Here's hoping that the CMCO is lifted before long!
Christmas Assembly
Just as we shared our Deepavali Assembly online a few weeks ago, our Christmas/Winter Assembly will be held virtually too. Therefore, keep your schedule free on the 18th of December 2020, at 2:20 pm onwards and log on to the link to see what the school has prepared for this virtual Christmas Assembly!
In the meantime our staff are getting in the festive mode and they have transformed our reception area even though there are just a few of us working in school. Staff working by distance can be seen getting in the spirit as well.
Head of School Search
Final interviews for the new Head of School are taking place this week with representatives from our school community; parents, staff, students, leadership and the board. We hope that it will not be too much longer before a decision is made and we can share this with our community.
Kind regards.
---
From the Elementary School Principal
Simon Millward
I hope your children have been refreshed from last week's Creativity and Kindness week learning engagements and are back in the swing of the regular live sessions and offline learning engagements. This morning the children would have had the opportunity to see what other students across the school were engaged in last week as well. If you missed the live assembly you can rewatch the recording that was sent to you all via Seesaw.
I do believe that caring and kindness should be ever present. Everyone should be kind and respectful in their interactions with others, it is something that we wish for ourselves and it should be what we model for our children and others not in our community too.
These are challenging times for everyone and something as simple as a smile can have a positive affect on someone around us.
I do hope that you managed to sign up to help the students at ZEC as this would certainly make a difference to these families and the students at this time.
Next week the students will have some time to interact and take part in at least one live workshop per grade level to celebrate our inclusive schools week.
Dates for your diaries
7th – 11th Dec: Inclusive schools week celebration
17th Dec: Christmas assembly
18th Dec: Report Cards sent home
---
From the Secondary School Principal
Sandy van Nooten
The end of the first semester is nearly here. We have finished our 16th week of school, our 7th online and we have only 9 more school days until the holidays.
I hope that you have all been on ManageBac to see the valuable information there. Each formative assessment in the GradeBook should be accompanied by a targeted comment to help your child understand what they need to work on to improve. Each summative assessment will have a grade and a shorter summative comment about what was achieved. Please reach out to Adam Morris (adam.morris@igbis.edu.my) if you have any questions about accessing or navigating the ManageBac platform.
I know there are a lot of assessments happening at the moment. We try to spread assessments out, but it gets really tough to do that effectively at the end of a semester grading period. Please encourage your child to let us know if they are ever having more than 2 assessments on one day. We'll help them out. A reminder that we plan to release Semester 1 reports by 4pm on Dec 18th. The reports will look a bit different this year… hopefully more concise and clear.
I need to remind everyone that we have an 85% attendance requirement. We'll let you know before the end of this semester if your child has fallen short of this requirement, and we'll be back in touch early next Semester to arrange a meeting with those families to determine consequences and next steps.
I hope that lots of you are going to join our donation drive for Zomi education. If you haven't registered already, I know that Allison is still looking for 10 people to take and fill a shoebox with gifts for a child of a specified age. If you would prefer to donate items of need rather than gifts, here's the list we received from Zomi.
Please contact Allison Parratt on allison.parratt@igbis.edu.my if you have any questions or if you want to join in and make a donation.
Our fabulous StuCo is organising an online Christmas assembly for Fri 18th Dec (starting at 2:20pm). We'll send the link for the streamed event as soon as it is available. It isn't easy to arrange an online assembly while everyone is in their houses. Add in all the madness that accompanies the end of semester and you get a huge task for these unflappable students. I hope you'll join in and enjoy the festivities.
This morning was our final morning movement session for the year. I want to thank Mark Parratt, Janet Powell, Ruth Spracklan, Maheen Habib and Scottie Ngatai for running the morning movement sessions for the last 7 weeks. They have been energetic, fun, challenging sessions. We'll hit pause for the last two weeks to allow everyone a bit more time in the morning.
Hopefully the CMCO will be lifted and we will be back in school next week. If it is extended, we will implement Online Schedule – Version 3. It is very similar to the previous version, except we've chopped 5 minutes of Homeroom and added it to the first break. This way we have a 15 min 1st break, 10 min for 2nd break and 55 min for lunch break. Huge thanks to StuCo who analysed the feedback on Version 2 and recommended these changes.
We had our Friday morning faculty briefing earlier today. Someone suggested that people show up in festive wear. Unfortunately this screenshot does not capture the full depth of crazy that was on display :).
Thanks for sharing your wonderful kids with us. They are awesome and it is an honour and a privilege to work with them. We never take our responsibilities to them lightly.
Have a fantastic weekend!
---
Run! Jump! React!
Ruth Spracklan, Athletics Director
For the past few weeks, The PHE department (along with Ms Habib) have been delivering morning movement sessions! These ranged from running to yoga and even a cooking/exercise session! We would like to thank all the staff and students who joined in with us, we have very much enjoyed getting active with you all! The next two weeks we will not be running the sessions as it's time for us to wrap up the semester, keep posted for what's to come in 2021!
---
Future Leaders (PYP)
Aga Chojnacka, PYP Coordinator
Inspiring Creativity and Kindness
The past 7 weeks have been trying and testing for all of us. We have gone into distance learning and had to re-establish ourselves in our new learning, teaching and working from home routines. It's not easy. As a community, we have been doing our best to build ourselves up from the inside out. We focused on care and wellbeing – strengthening our relationships, focusing on the mental and physical health of our community members and always trying to find learning and growing opportunities in every experience. With our learners' balance in mind, we decided to re-energize our excitement for school and community spirit by introducing a Spirit Week theme of Creativity and Kindness. We spend the week with learners across EY-G5 engaging in reflecting on and challenging their creativity and kindness by developing sustainable art and design/maker projects, writing thank you letters, cooking for our loved ones, listening and discussing beautiful stories and sharing their work and learning on Seesaw. The Spirit Week with its focus on Creativity and Kindness was also a part of a larger inquiry and reflection on How to be an Inclusive School – awareness and celebration campaign and programming we have been sharing with our students for the past 4 weeks. Over that time we have shared G1-G5 resource packs ranging from the theme of caring and empathy to equity and access.
Dec 7-11, this project will have its culmination as we celebrate Inclusive School Week internationally – with other schools around the world. To support our learning community in taking part in this global event we will be sharing student and parent resources and live session opportunities to further discuss and broaden our ideas regarding inclusion, its meaning and best practices in our school.
I would not be myself if I did not finish this newsletter post with a call to action for our learners- young and adult. If you enjoyed exploring how to be kinder to yourself and others this part week you can continue doing that. Please see below for the latest #ActionforHappiness "Do Good December" calendar you can use this month with your family to further explore ways to spread the spirit of kindness around.
---
Librarian's Corner
Kerri Chan, Librarian
Hello everyone!
Grab Books is back! We will be offering this service every Thursday until Winter breaks for your reading pleasure. Please read the CMCO Grab Books policy before signing up.
Grab Books are only available for order through the Grab Books Form
You can browse our books through Destiny but we will not be taking holds at this time.
You must be in good standing in order to use Grab Books. That means all accounts must be clear with no overdue books or outstanding fees in order to check out books. You will be notified of overdue books after you place your order.
Only 5 books will be available for check out at a time.
Library books can be returned during the pick-up time. We will check books back into the library on the spot.
Please arrive during your pick up time (9-10 or 1-2). A librarian will be waiting at Reception to hand you your books and accept returned books. Please stay in your cars during this time.
Cut off time each week will be on Wednesday mornings at 10 am. This gives us time to gather and prepare your order for pick up on Thursdays.
Thank you for your support in getting books into the hands of your children. Happy Reading!
---
All About Numbers
Dean Watters, Mathematics Subject Leader
Eddie Woo
In this illuminating talk, high school mathematics teacher and YouTube star Eddie Woo share his passion for mathematics, declaring that "mathematics is a sense, just like sight and touch" and one we can all embrace. Using surprising examples of geometry, he encourages everyone to seek out the patterns around us, for "a whole new way to see the world".
Online Learning
The horror of learning maths from home may be the perfect Halloween scare for virtual learners. Often one of the most difficult subject areas for students inside the classroom, mathematics at a distance requires even more care.
In the early months of the national shutdowns, Adam Sandler announced "I'm teaching math to my kids and that can't be good for anyone." Well, if only Sandler knew the world of virtual learning has so many resources nowadays, he wouldn't have to worry. I would say in general, online learning has never been easier for mathematics than it is right now because there are so many tools that just didn't exist ten years ago. Here are just a few of my favorite online resources that all students should be investigating (all have links attached)
Eddie Woo's Library of Lessons:
Patrick JMT – Great for IB Mathematics
Khan Academy
Khan Academy is a nonprofit organization with the mission to provide free, world-class education to anyone, anywhere. "The best part of the entire program is when you're stuck, you click a button and it will give you step by step instructions on how to solve." And if that isn't good enough then students are also able to watch a video of the problem being solved. It is basically like having 24-hour access to a teacher.
Desmos
Desmos is great for quick graphing. Ideal for help in upper level courses including geometry, trigonometry and calculus, it replaces the need for an expensive graphing calculator.
Quizziz
Not just a site for Mathematics but a Quiz like site for all topics, a favorite in my classes.
Mathematics is a subject that you cannot avoid. Some love it but, if we're being honest, most people hate studying maths. The importance of maths for students has never been greater. The problem many students have is that they don't know how to study maths to get good results.

Maths is one of those subjects which you can easily spend hours studying, but end up none the wiser. How ever much you have studied, if you can not solve the problem on the day of the test, you are lost. Thankfully, there are some techniques for studying maths that you can do regardless of your level. You may even end up loving mathematics by the end .
7 Tips for Maths Problem Solving
1. Practice, Practice & More Practice
It is impossible to study maths properly by just reading and listening. To study maths you have to roll up your sleeves and actually solve some problems. The more you practice answering maths problems, the better. Each problem has its own characteristics and it's important to have solved it in numerous ways before tackling the exam. There is no escaping this reality, to do well in a Maths exam you need to have solved a LOT of mathematical problems beforehand.
2. Review Errors
When you're practising with these problems, it's important to work through the process for each solution. If you have made any mistakes, you should review them and understand where your problem-solving skills let you down. Understanding how you approached the problem and where you went wrong is a great way of becoming stronger and avoiding the same mistakes in the future.
3. Master the Key Concepts
Do not try to memorise the processes. This is counter-productive. It is much better and rewarding in the long-run to focus on understanding the process and logic that is involved. This will help you understand how you should approach such problems in the future.
Remember that Maths is a sequential subject so it's important to have a firm understanding of the key concepts that underpin a mathematical topic before moving on to work on other, more complex solutions which are based on understanding the basics.
4. Understand your Doubts
Sometimes you can get stuck trying to solve part of a maths problem and find it difficult to move on to the next stage. It's common for many students to skip this question and continue on to the next. You should avoid doing this and instead spend time trying to understand the process of solving the problem. Once you have grasped an understanding of the initial problem, you can use this as a stepping stone to progress to the remainder of the question.
Remember: Maths requires time and patience to master.
5. Create a Distraction Free Study Environment
Mathematics is a subject that requires more concentration than any other. A proper study environment and a distraction free area could be the determining factor when solving complex equations or problems in geometry, algebra or trigonometry!
Studying with music can help create a relaxing atmosphere and stimulate the flow of information. Having suitable background music can foster an environment of maximum concentration. Of course, you should steer clear of Pitbull and Eminem, instrumental music is the best thing in these times.
6. Create a Mathematical Dictionary
Mathematics has specific terminology with a lot of vocabulary. We suggest you create Notes or Flashcards with all the concepts, terminology and definitions you need to know. You should include their meanings, some key points and even some sample answers so you can consult them at any time and recap.
7. Ask everybody
Although we all know our mathematics teachers are the smartest people we know, don't be afraid to ask for help from anyone or everyone. Your teachers, your friends and yes even your parents! Who knows, they might just know the answer? And of course all of the resources listed above can help. It is a good idea to study with a friend who you can consult with and bounce ideas off when trying to solve complex problems.
Oh and don't forget that it's also important to have confidence in yourself and face the exam knowing that you have prepared properly!
---
Design & Technology
Marcus Wetherell, Design Subject Leader
Hello from the design department!
Even during the CMCO, this is certainly a very busy time of year for teachers and students at IGBIS!
Our Grade 12 DP Design Technology students are in the process of finalising their internal assessment projects. The Design Technology IAs are worth 40% of a student's final exam grade and involve students designing a product that serves a need, then prototyping it for manufacture. I've already seen some excellent prototypes from Design Technology students and am looking forward to going through the final assessment process with them before we submit grades to the IB.
Grade 10 students embarked this week on their MYP Design ePortfolio projects. The ePortfolio is an externally moderated component of the IB's MYP eAssessment programme which is proudly offered here at IGBIS. This year 16 Grade 10 students have selected MYP Design for their ePortfolio component, which is fantastic! The unit is entitled "Designing to create a sense of belonging" and is all about designing and making a product which encourages students, community or club members to feel part of a community. The IB has clearly tailored this unit with the challenges of the COVID-19 pandemic in mind, which is good to see.
Until next time, this is Marcus Wetherell signing off!
---
CAS Project
Julia and Katherine, Grade 12 Students
This is Julia and Katherine from Grade 12, we are working on our CAS project right now. As IGBIS is an incredibly diverse community, and both of us are from different cultural backgrounds as well, we would like to provide an opportunity for younger students to explore different cultures and languages for a better and deeper understanding of the difference in culture through this experience. We all have a great passion for food and believe that food could reflect some part of cultural identity. It is always easy and fascinating to discover the differences in cultures. Therefore, we decided to make tutorial videos of cooking easy Korean and Chinese food for younger students to discover new food from different cultures and also to know how enjoyable cooking is. Thus, we hope it could give delight to them during this lockdown.
---
What's Coming Up Soon?
Marketing Department
Holiday Program
Registration is underway! We will run it virtually, on the 21st – 23rd of December, from 9am – 3pm. The workshop is open for students between the ages of 4 to 12. There will be Public Speaking, Creative Writing and Holiday Crafts in these three days. Fees are RM 600 per child. If you are interested to sign your children up or if you want to ask for more information, you can do so here. Our friendly team will get back to you and answer any questions you may have on the program.
Parent Referral
Just a reminder, our Parent Referral scheme is ongoing. If you have friends or relatives who may be interested in having their child(ren) join IGBIS, you can always refer them to our Admissions Team by emailing them at admissions@igbis.edu.my. Every successful sign up will reward the referrer with a RM2,000 credit note which may be used to offset your child(ren)'s school tuition fees, top up e-purses, purchase uniforms, etc. We hope to hear from you soon!
DP and CP Talk and IGBIS Scholarships
We will be conducting a talk for those of you who are in Grade 10, or anyone who would like to know more about the IB DP and IB CP. Mr Magnus Dreschler will be speaking to the community about the differences between the two programs and also sharing what is required to qualify for scholarships that are being offered by our school. If you want to know more or if you know of your friends or family who may be interested to find out, do not miss the chance to connect with Mr Magnus Dreschler in this session. Keep your calendars free on the 15th of December, 2020, at 3 pm – 4 pm. Log on to our Facebook page to watch it live.
In the meantime, if your Grade 10 child(ren) would like to apply for our scholarship, please email us at admissions@igbis.edu.my and we will get back to you as soon as possible.
---