From the Head of School
By Jason McBride
Hello IGBIS Community, 
A quick reminder here that Monday is a school day and is a Day 7 in the rotation for the replacement of the observed public holiday on 6 February 2023. Be sure to always go back to the most up-to-date school calendar on our website HERE as older cached versions can lead you astray!
Have a wonderful weekend,
Jason
---
From the Elementary Principal
By Simon Millward
It's hard to believe that we have been at school for 100 days this academic year. The Kindergarten and Grade 1 students celebrated this day by engaging in lots of maths learning activities centred around 100. Students used dice to 'race to 100' and think creatively about what they could make with 100 blocks and many more activities. They were very excited to let me know that we had been at school for 100 days. I loved the 100 days smarter hats the students created and wore throughout the day as well!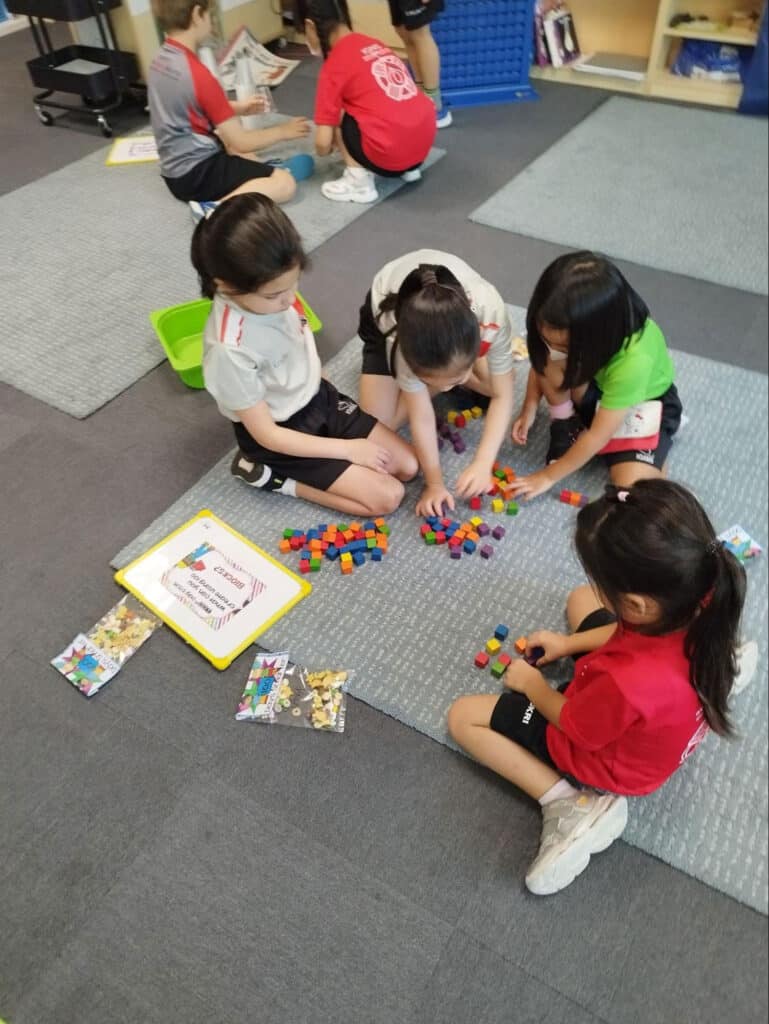 Grade 3 when they were on a brain break walk this week discovered an interesting artefact, a book from 1842. The excitement in the Grade 3 area has been amazing. They have been highly motivated to find out more about the book. They have been trying to decipher the writing to see if it could give them any clues about what the book was about. It appeared to be some kind of journal, with handwritten pages and a map. We will have to wait and see what they discover and let you know next week.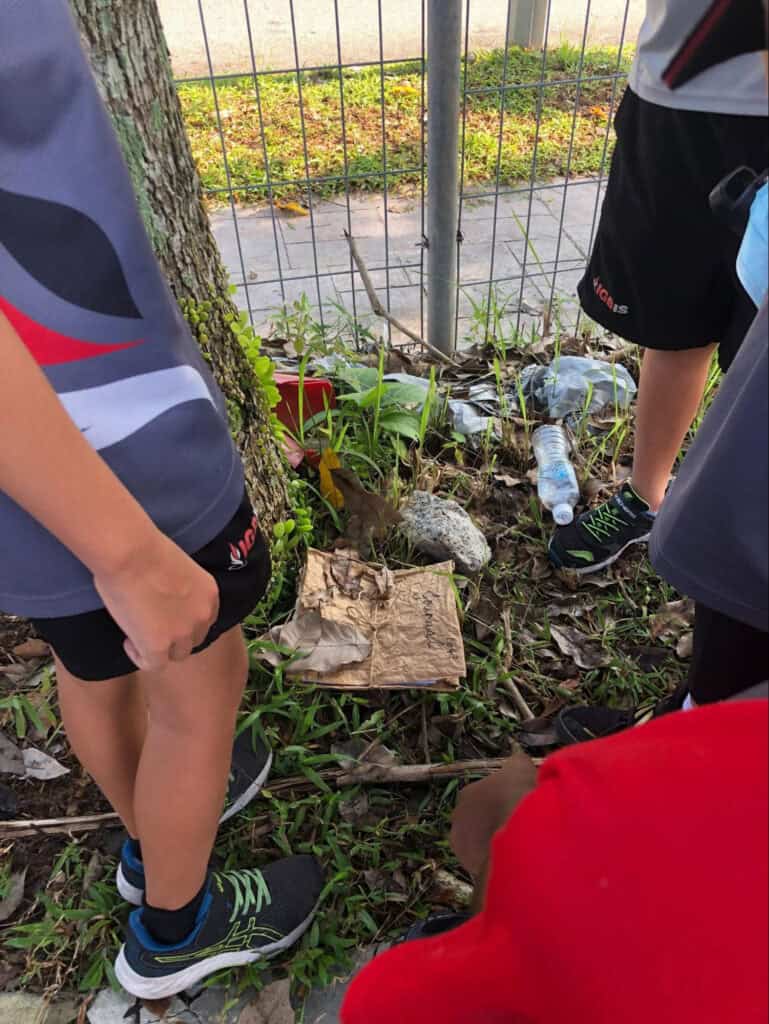 Before the pandemic, we used to attend some AIMS maths competitions. This week we saw these reinstated and we sent a team of Grade 4 students to Penang with Ms. Nikki our Maths Coordinator and Mr. Nigel. Grade 4 AIMS Maths. They look like they are having a good time!
Ms. Nikki has had a busy week this week as on Wednesday she hosted a PYP Maths workshop for our Kindergarten – Grade 2 parents. 'Maths: hands-on activities, building knowledge at home.' It was great to see interested parents attend. Next Wednesday, Ms. Nikki will run a similar session but this time focusing on G3-G5. I look forward to seeing even more parents attend.
This week, our under-9's and under-11's boys and girls played against Mont Kiara International School in a football friendly. All of our teams performed very well narrowly losing, however, the performances are gradually improving and these are great opportunities for our teams to develop their skills, tactics and strategies for when we play our full tournament in March.
Just a reminder that Monday, 20 February 2023 is Day 7 and Tuesday, 21 February 2023 is Day 3!
Dates for your diaries
Monday, 20 February 2023: Day 7 replacement for 6th Feb (this was previously a holiday)
Tuesday, 21 February 2023: Day 3
22 February 2023: Maths workshop Grade 3 – Grade 5
22 February 2023: U9 Girls football at King Henry VIII School
6 – 10 March 2023: School holiday
---
From the Secondary Principal
By Sandy van Nooten
Grade 10 Course Selections
On Wednesday this week, our Grade 10 students spent the day visiting IBDP and CP classes to get a feel for subjects that they might be interested in studying next year. Then on Thursday, all the DP and CP teachers ran an options fair. Students and parents were able to wander around and chat with teachers, Heads of Department, the University counsellor, current DP and CP students and (of course) Mr. Drechsler.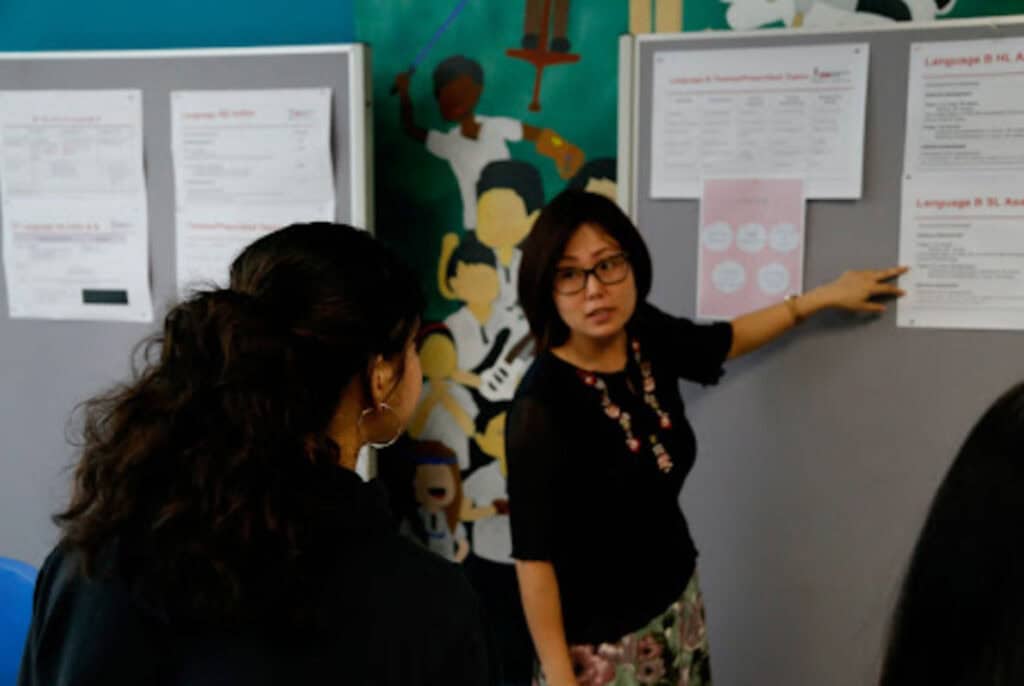 A note from Brinda in Grade 9
On Thursday this week, Grade 9 held a bake sale to raise funds for the Turkey earthquake victims. What made it extra special is that we made everything ourselves. We baked brownies, cupcakes, cookies, rocky roads, muffins, and sold drinks and some sandwiches to the secondary community. We used our AMP time to bake the goods in the student kitchen. It started out very chaotic in the kitchen, but we managed to work together to bake some pretty impressive items. In total, we managed to raise RM950 to donate to the victims of the earthquake! Thank you to our teachers who supported us, and thanks to all the grade 9 students for working hard to make this happen!
Sports Results
From this past week
AIMS Track & Field (Saturday, 11 February 2023)
Congratulations to our Track & Field team who participated in an AIMS competition on Saturday.  Even though we were the smallest team present, our team came home with numerous medals.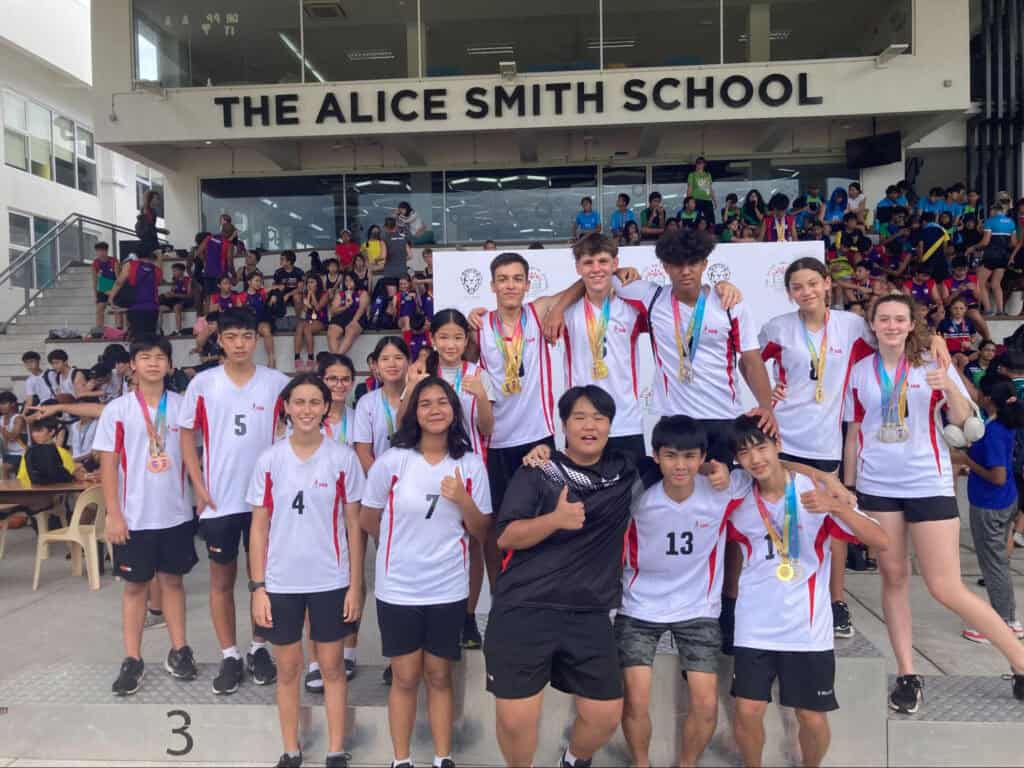 1st place
U15 Girls Relay team (Claire, Seika, Wen Yi & Maloe)
O15 Boys Relay team (Zak, Rishon, Won Young, & Daniel)
O15 Boys: Zak – 1500 metres, Daniel – 100 & 200 metres
U13 Girls: Sierra – Triple Jump
2nd place
O15 Boys: Rishon – 400 metres
U15 Girls: Claire – 100 metres, Claire – Javelin, Claire – High Jump 
U15 Boys: Won Yong 200 metres
U13 Girls: Sierra – 100 metres
3rd place
O15 Girls: Jovin- 100 metres
U13 Boys: Aaron T – Long Jump, Aaron T – Triple Jump
U9 and U11 Boys and Girls Football vs MKIS @ IGBIS (Wednesday, 15 February 2023)
All our Elementary Football teams got one game against MKIS. This was not a day about scores, but about learning how to play as a team and having a good time. Everyone played well and now looking forward to the next tournament.
U13 AIMS  Boys/Girls Basketball – Round 1 @ IGBIS (Thursday, 16 February 2023)
Both the boys and girls teams were victorious in their bids for the AIMS Cup Championship. The boys team held off a late surge and defeated ISP 20-16. The girls also found themselves holding onto an early lead and winning by a score of 15-13. Both teams will play on the 22nd for the Cup Championships.  The boys B team was also victorious with a convincing 18 to 9 win, while the Girls B team fell 20 to 3.
O15 AIMS Girls Finals @ IGBIS, Boys @ AISM (Friday, 17 February 2023)
yet to be played at the time of writing)
Upcoming events in Secondary (between now and the March break)
Sunday, 19 February 2023 – Terry Fox Run (a Grade 8 Community Project)
Monday, 20 February 2023 – This day was a holiday, now it is Day 7 (replacement for 6 February 2023)
Tuesday, 21 February to Tuesday, 28 February 2023 – Grade 12 Mocks
CANCELLED Monday, 27 February to Friday, 3 March 2023 – Grade 6 to 11 trips. Grade 6 & 7 Lumut, Grade 8 & 9 Gopeng, Grade 10 & 11 Cherating.
Wednesday, 1 March to Friday, 3 March 2023 – Grade 12 trip to Penang
Monday, 13 March 2023 – HOLIDAY
Tuesday, 14 March 2023 – PD day
Parent Session Overview (for the year) – Here's a link to all the parent workshops in Secondary.
Sports Fixtures Overview – Here's a link to all the sports fixtures for season 2. Some 'friendly' games might pop up from time-to-time. Mr. Wilson will keep us posted.
Useful links for parents

Student LaunchPad (this is the place to go to find what's happening in school on a day to day basis). It also has a 'quick links' section where you can find lots of important documents.
Secondary Assessment Procedures – a 4-page document outlining our assessment expectations and procedures. (Also available from Student LaunchPad & Splash)
A to Z Secondary Handbook – This gives an overview of all our policies, expectations and procedures. (Also available from Student LaunchPad & Splash)
Have a restful weekend
Regards
Sandy
---
The Dignity Foundation
Hello All,
Our names are Dan, Nina and Aqiff from Grade 8 and if some of you do not know Grade 8s have community projects this year, and for our community project in discussion with Dignity we have decided to organise a book drive for you to participate in and show your willingness to help those in need. 
This book drive is to support The Dignity Foundation and a local school as all books will be donated to them after they have been collected. 
The Dignity Foundation is a foundation that helps underprivileged families afford a proper education for their children, Dignity provides a learning environment for children of all ages, as well as workshops to help with skills you might need later on in the future. The local school is in need of books and is short of board games.
The book drive itself will be held from 20 February – 2 March 2023 and you will be able to donate books at the turnstiles (level 2) and the main lobby (level 5).  Please ensure that the books you are donating are not damaged (Moldy, Torn Pages, Scribbled over writing) as we do not want to give such books to them. The types of books you can donate may vary from encyclopaedias to story books. For more information, you can look at the posters around the school.
Thank you for your consideration.
Kind regards,
Dan Millward, Nina Dziobkowska, Aqiff Azmeer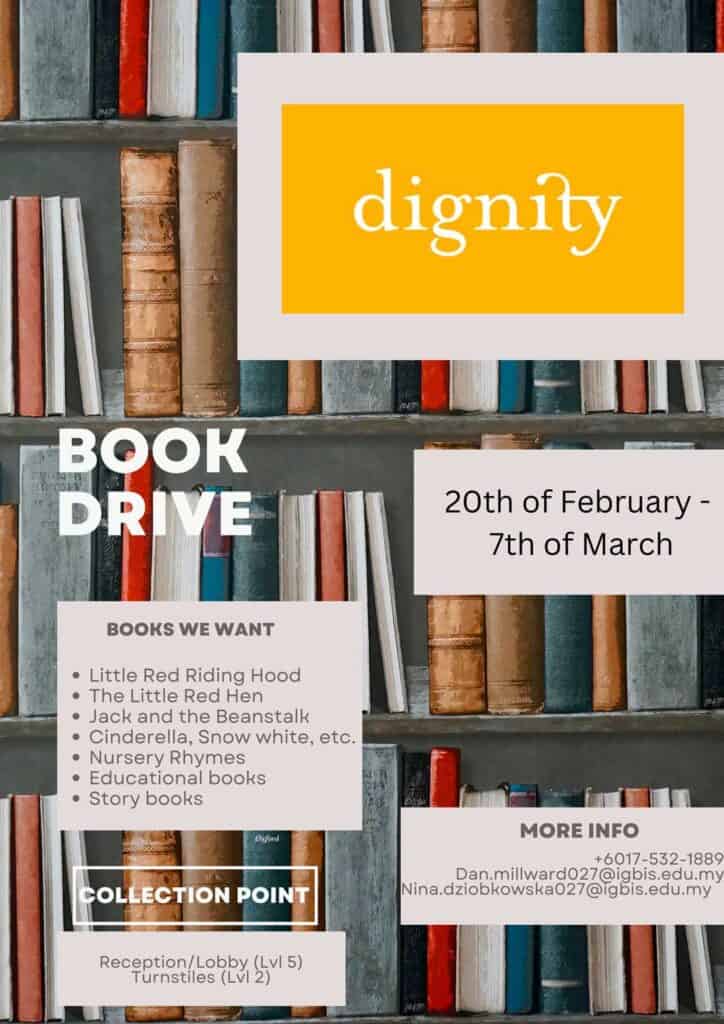 ---
Terry Fox Run
Hi everyone, as you may already know, the Terry Fox Run is this Sunday! The run will be held on the Level 6 field. If you would still like to sign up or donate that would be greatly appreciated. However, if you would like to order a t-shirt that is very limited. (We will email you if they are out of stock). If you are interested please look through our website and sign up here.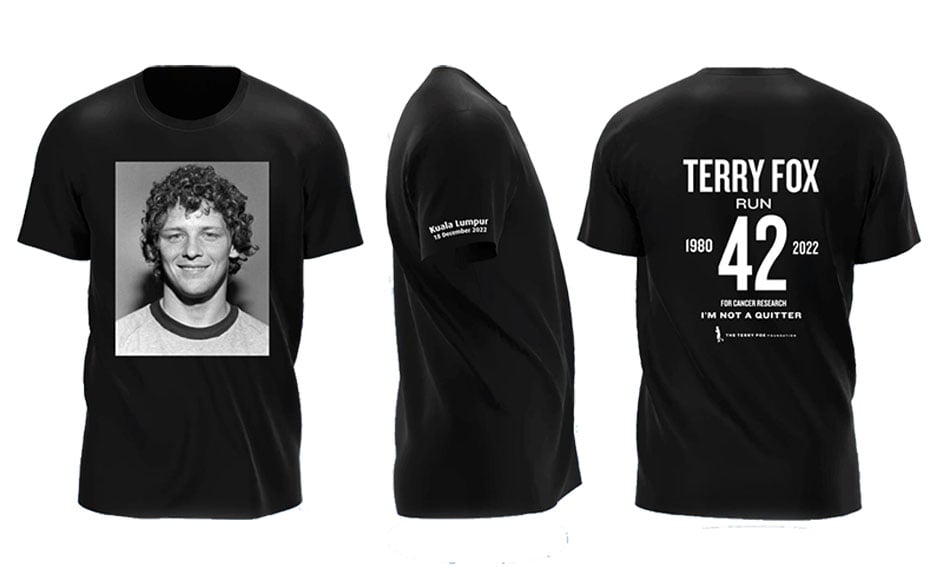 For those that will be joining, you will need: 
Water 
Cap (recommend)
Sunscreen (recommended) 
Snacks (we are providing minimal fruits)
The run starts at 9 am. This means you should be at school before then.
We hope to see many of you there to support this amazing cause! 
If you have any questions, please contact wenyi.tan027@igbis.edu.my or maloe.bourquenez027@igbis.edu.my
Please refer to this link if you would like to know more about the Terry Fox Foundation itself.
---