---
From the Head of School
Hello IGBIS Community,
Previously we asked for parent and staff input for well-being-related activities that the adults in our community might be interested in to help support their physical and mental health. After reading the results and working with a variety of fitness and wellbeing providers, we have developed a range of options to help our adults (and perhaps older students in some cases) stay balanced, healthy and connected.
Please indicate your interest in the activities listed in THIS SURVEY so we can see which activities have enough interest — and on which day and time — to move ahead.
We are hoping to run a variety of classes after drop off, before pick up and after CCA's so that parents and staff have access. The target week to begin is March 13 and we hope to run these classes through to the end of the academic year. The estimated cost per class is expected to be RM30-40 per session (other than Mindfulness). Please note that most instructors require a minimum of 8-10 people for an activity to be offered so please tell your friends and colleagues to complete the survey as well!
Yours in health,
Jason, Head of School
---
IGBIS International Day 2023
International Day is our annual celebration of IGBIS' wide cultural diversity. The event offers an opportunity for students, parents and staff to broaden their horizons, learn more about their peers' culture, food and language, connect as a community and have a bit of fun too.
This year's event will be held in our sports hall on Saturday, 6 May 2023 from 9:30 am – 12:30 pm with our welcome and student 'Parade of Nations' starting at 10 am. From there, parents, students and staff-led country or regional booths will host visitors with food samples, activities and performances until 12:30 pm.
This is considered a school day and we would like to see as many countries/regions represented as possible!
Although we hope to have nearly everyone participate, if you will not be able to assist in the preparations, please check the list in the Google form to ensure that at the very least, we have a flag representing your country.
** This survey should be completed by each IGBIS family and every staff member so that we know how many people will be attending and who may wish to be involved in contributing to the country booths. **Please register HERE.
before WEDNESDAY, 15 MARCH 2023 – 8 PM
---
IGBIS Yearbook 2022/23
For people who grew up with yearbooks, they are an annual right of passage that you look forward to; for others, they are fun, but not a part of the end-of-the-school-year experience you had as a student. A lot of conversation has been happening behind the scenes debating and discussing the financial and environmental costs of printing +400 copies of a 150-page yearbook for all grades every year, and as a result, in conjunction with the Yearbook Committee—the wonderful team that created this year's version of the annual book—we are going to make a change:
All graduating Grade 12 students will receive a copy of the full yearbook.
All students in Grades 11 and below will:

Have access to the full version digitally for free.
Receive a smaller version of the yearbook with their grade level, the levels around them and pages for signatures for free.

All students and staff will have the opportunity to purchase a full yearbook (at cost) so that we print on demand and do not use more paper than is needed.
To indicate that you wish to pay for a full version of the yearbook, please click HERE.
---
From the Elementary Principal
We had a full house at our Elementary Assembly this week as the Grade 1's were sharing their learning about Simple machines as part of their 'How the World works' unit of inquiry. It was great hearing about the process of their learning, the amount of experimentation and exploration that lead to new understandings. The fact that sometimes things didn't go according to plan and they had to persevere and be resilient is a great life lesson.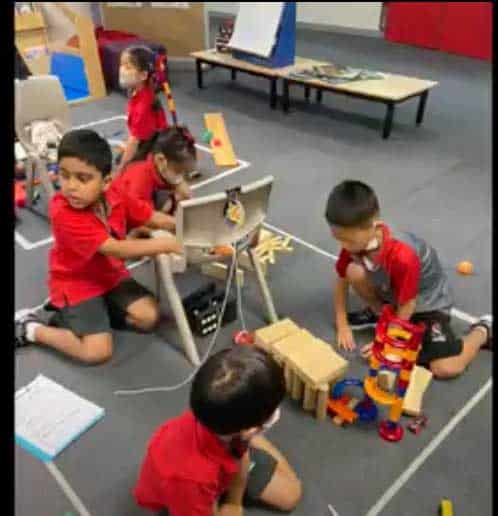 Putting their newfound understanding to the test by transferring this to the identification of simple machines in the real world- as part of their MRT field trip was wonderful. An added extra of the sharing was we found out the Grade 1 students are budding actors and actresses as they demonstrated how simple machines make our lives easier.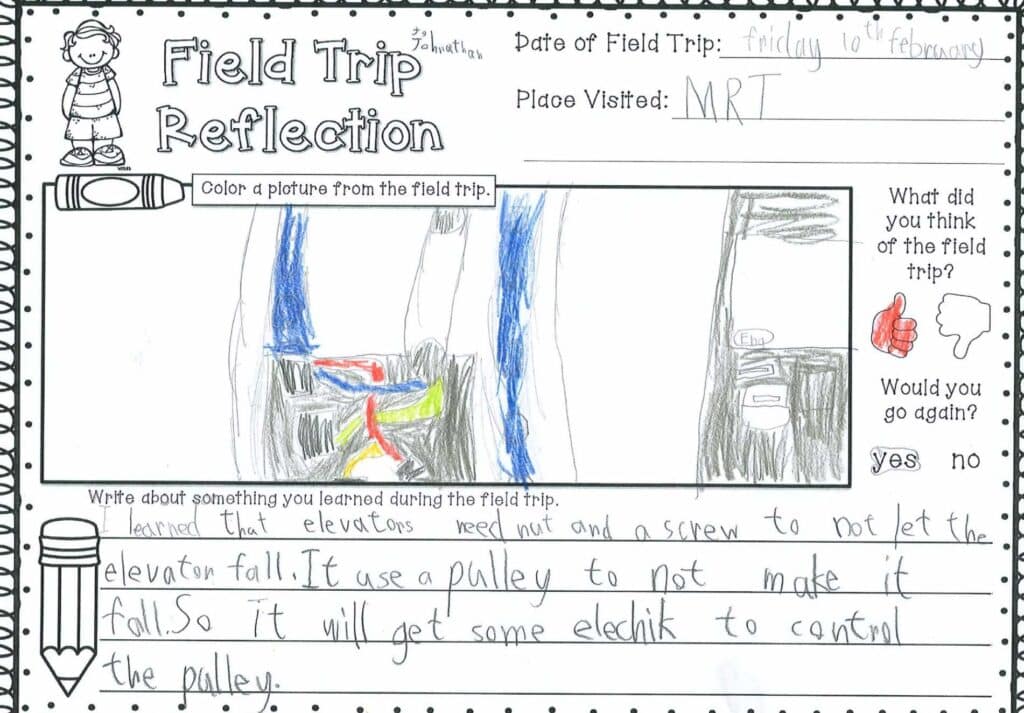 Our Elementary Social council has been talking about how they can make an impact on others. They decided that they wanted to take some action by carrying out some Random Acts of Kindness. They gave out notes to people around school with a major focus on our cleaners. They worked with Ms. Farah to write thank you notes in Bahasa Indonesia that they gave to them along with a voucher for our school cafe on level 5. As the social council shared their actions at the Elementary assembly they also made the point that 'random acts of kindness' can be actioned every day. It does not have to be big, to be impactful. Holding the door for someone, smiling and showing appreciation towards another person can make a big difference.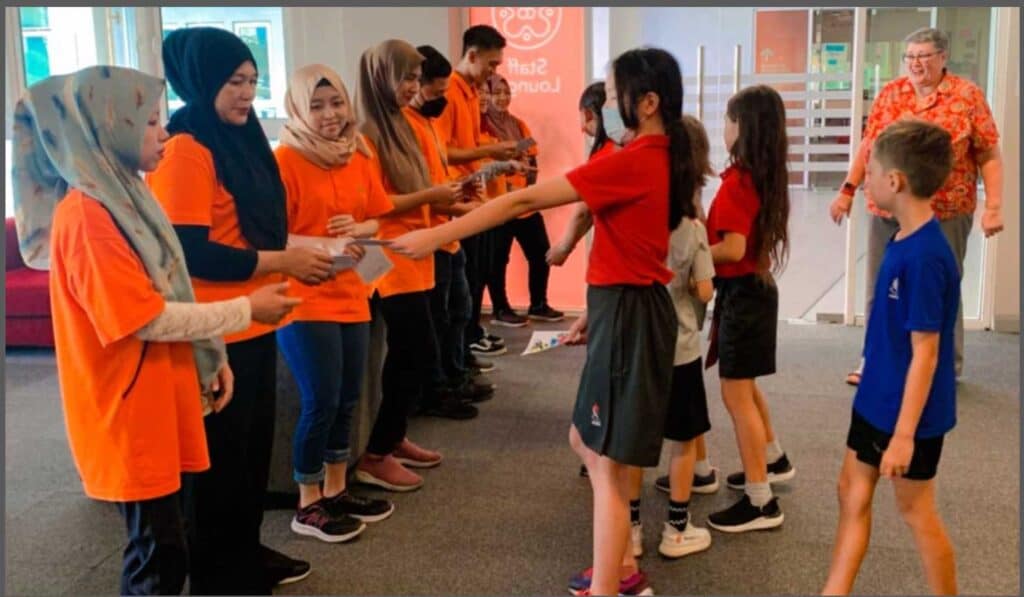 Demonstrating how caring we are as a community our House captains organised a Cancer Awareness day. Building on the catalyst of the Terry Fox run, our House captains wanted to raise awareness about the kinds of cancer that are present in our society and that through cancer research medical advancements can work to help individuals recover. Students and teachers got into the spirit of the day and dressed crazily in colours that represent the various forms of cancer. The House captains also made ribbons for people to wear.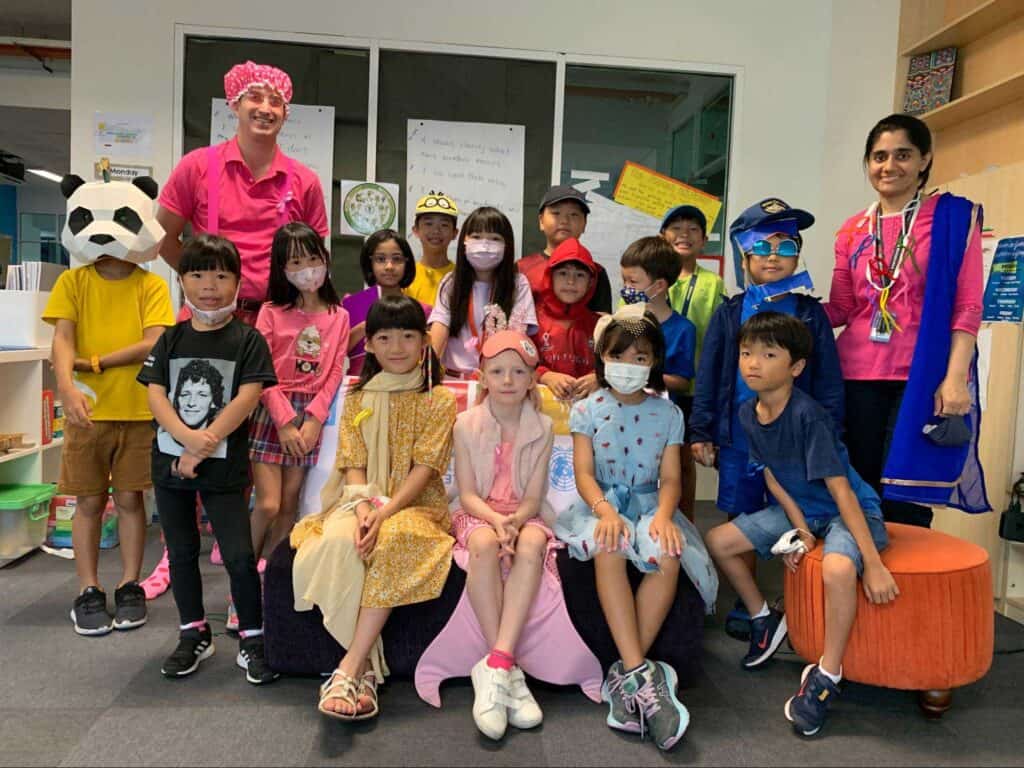 Thank you to all the parents who attended the PYP Maths workshop for Grades 3 – Grade 5 this week, we do have another workshop next week. Mr. Alex will be running a PYP Music workshop which will take place on Wednesday 1st March in the Music room on Level 3.
Dates for your diaries
Tuesday, 28 February 2023: U9 & U11 Boys and Girls football @ IGBIS 3.00 pm – 5.00 pm
Wednesday, 1 March 2023: PYP Music workshop: L3 Music room 8.00 – 9.00 am
Friday, 3 March 2023: STEAM day
6 March – 14 March 2023: School holiday for students
---
From the Secondary Principal
A Busy Week
It has been a busy week with lots of sporting fixtures, Grade 12 mock exams, Maths competitions, and as I write, our MUN students are on their way to participate in the NISMUN (at Nexus international school).
TEDx
We are very happy to announce that IGBIS has been awarded the licence to run a TEDx youth event later this year. The tentative date is 16 May 2023 (though that date might move to a week later).
This is a great opportunity to polish and showcase public speaking skills. We have space for 15 secondary students to present at the TEDx event (there will also be an ES session earlier on the same day with slightly shorter presentations). SS Presentations need to run between 5 and 9 minutes.
Here's a flyer that gives information about TEDx (content, length etc.)
Students who are interested in applying to be one of the 15 presenters are asked to fill in this (very) short form.
All students who register interest will be invited to an information session on Monday, 27 February 2023 from 2:30 to 3:00 pm.
Sports Results
It has been a very busy few weeks in Sports. Here are some of the fantastic results.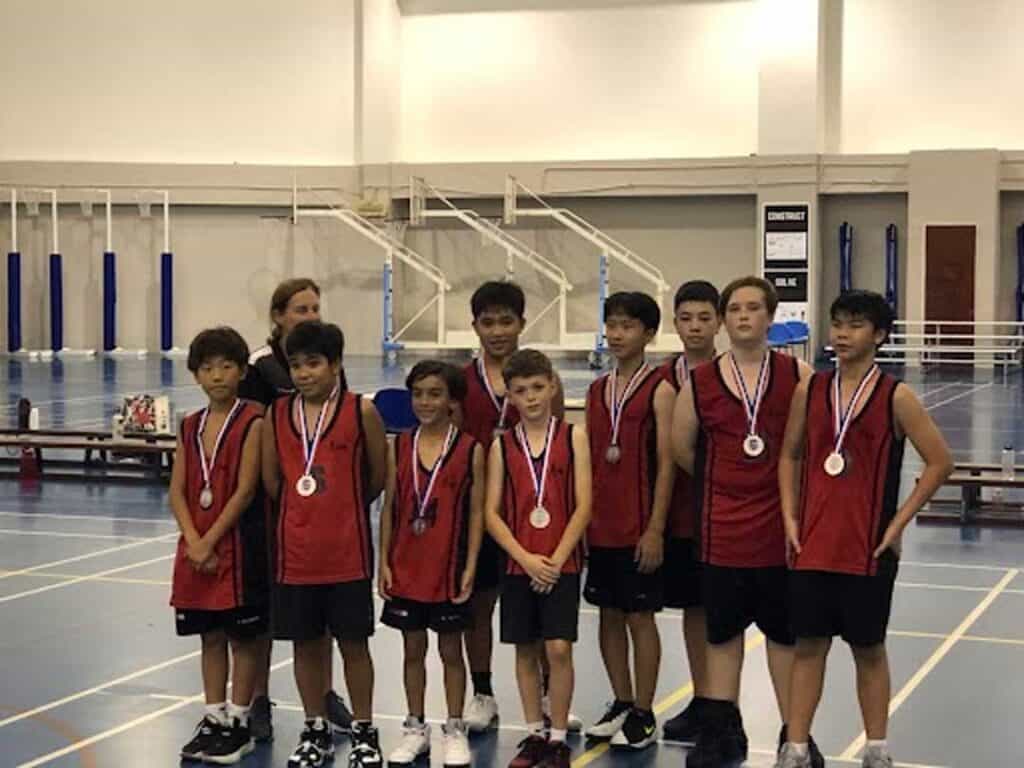 Monday, 20 February 2023 – U13 Boys/Girls Basketball @ ISKL

Teams were physically shattered by the end of the day, with everyone getting loads of court time. The boys A team won 3 games, 33-7, 24-12 and 13-12. The boys B team lost 3 games, 4-20, 6-20 and 11-13. The girls team played one full regulation game and came out victorious 34-19.

Wednesday, 22 February 2023 – KLSL U9 Girls Football @ KH8

The girls had a blast, winning 2 matches, losing 1, and drawing 1. Coach Ian and Pendlebury both commented that the IGBIS girls were certainly one of the strongest teams at the tournament, and should be proud of their day!

Wednesday, 22 February 2023 -AIMS U13 Boys/Girls Finals @ IGBIS

The boys took 2nd place in the Cup tournament, recognizing them as the 2nd best team in the AIMS Small School Division. The girls team went undefeated on the day and were crowned the Champions of the AIMS Small Schools. Congratulations to both teams!

Thursday, 23 February 2023 – AIMS U15 Boys/Girls Round 1 games @ IGBIS

The girls team split their games on the day. After losing by a score of 8-34 to ISP, they bounced back and defeated ELC 20 to 10. The Boys dropped both games, losing to ISP 9- 29 and then falling to ELC 12 to 44.

Thursday, 23 February 2023 – KLSL O15 Boys @ SJIIM

The boys entered this tournament shorthanded but managed to end the day with 2 victories and 2 defeats. They can proudly boast to be the only team to beat the school that went on to be crowned champs of the event.
---
The Solidarity Blanket Initiative
By María José Mora (MJ)
on behalf of the Crochet Club
In the first after-school activities season, which started in August, we created the Crochet Club. The club was inspired by Suhani Chabra, a Grade 9 student, who came to see me to propose the creation of the Crochet Club at IGBIS. Together, we decided to start with the Solidarity Blanket project, a worldwide initiative where each member of the Crochet club makes "Granny Squares" which are then stitched together to create a blanket. 17 students and four teachers joined the Crochet Club and together we made our first blanket, made out of 48 squares, all in different and vibrant colours.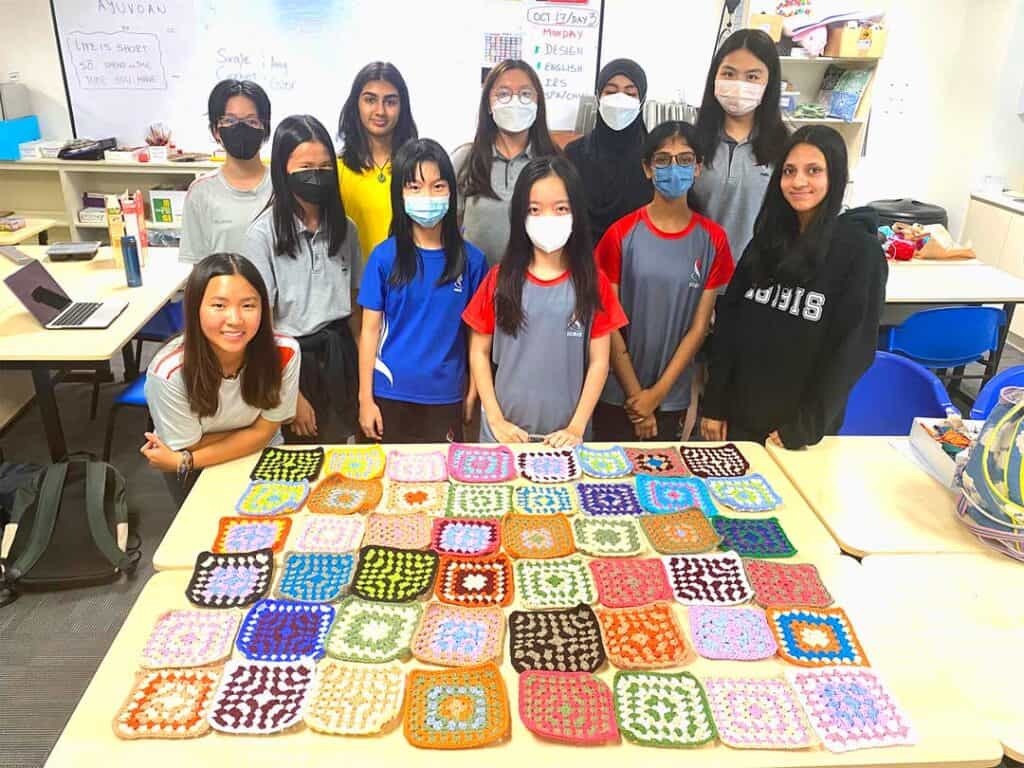 I am so happy to share with the school community that our first Solidarity Blanket has been given to an Afghan refugee family, part of Greater Action, a non-profit social organisation, directed by Pauline Bourquenez, mother of Maloé, a student from Grade 8.
I take this opportunity to invite all crocheters in the school community to join the Solidarity Blanket initiative at IGBIS! You may collaborate by making 16×16 cm granny squares, which will be stitched together to create many more Solidarity Blankets to be given to Afghan refugee families. If you are interested, please complete this form, and I will contact you soon. Even if you don't know crochet, we can teach you how to do it!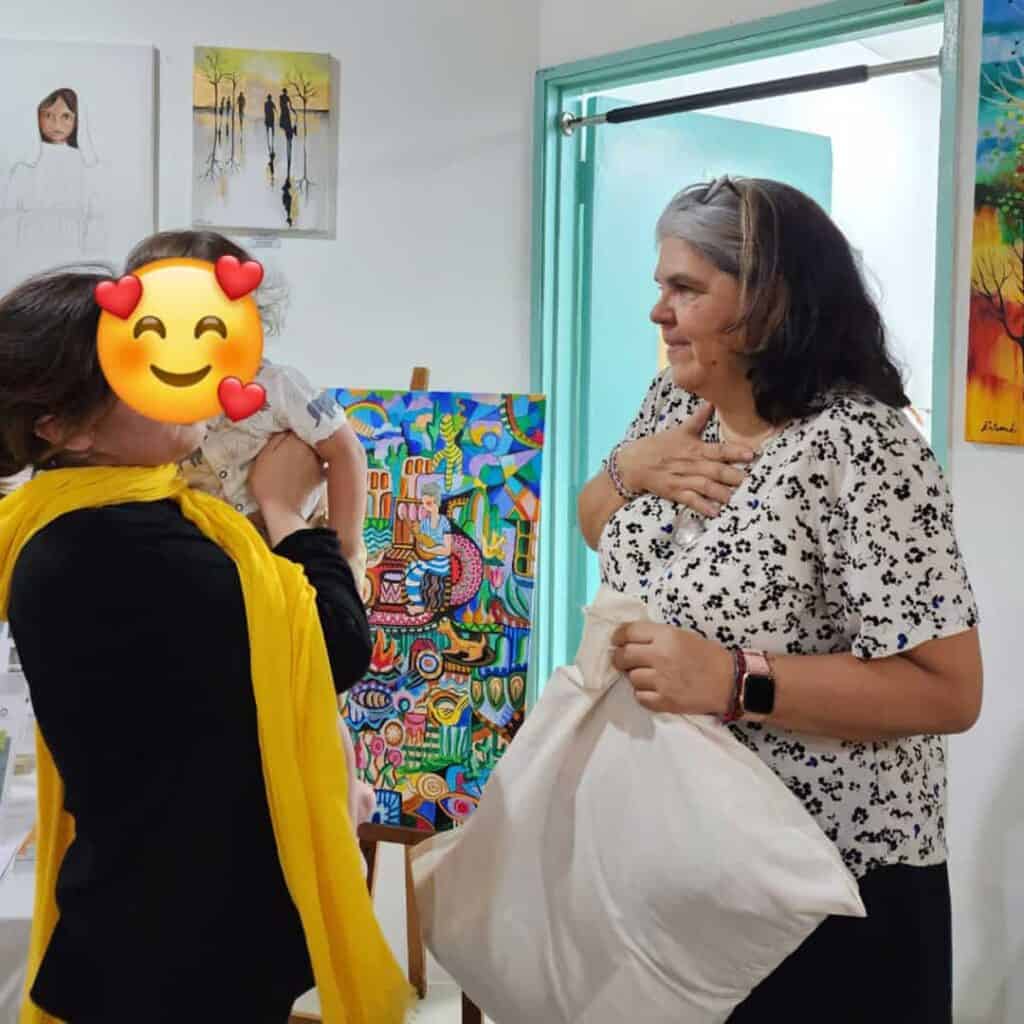 ---
Terry Fox Run: Thank You!
Hello everyone,
As you know the Terry Fox Run was last Sunday. It was a great success, and we thank all of you for making a donation and helping Cancer Research.
We are proud to say we have surpassed our donation goal and have raised RM9000 in total! Please enjoy a few pictures of the run taken by Ms. Stacey.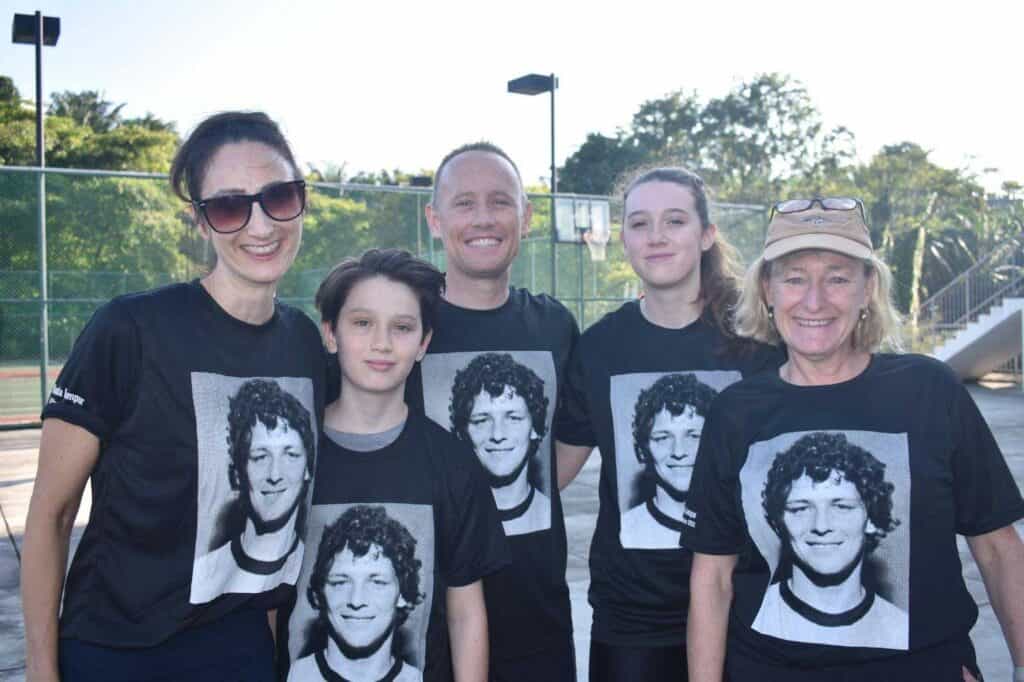 If you would like to continue supporting cancer research, you can contact Cancer Research Malaysia or The Terry Fox Foundation.
Once again thank you everyone for supporting this great cause!
Maloe & Wen Yi (Grade 8)
---
Future Planning Weekly Update
By Amanda Lopez
Grades 9 – 12 Universities Counselling & Social/Personal Counselling
Highlights of the Week
University Fair on Monday, 27 February
9:30 – 10:30, MYP & DP/CP Lounges
Parents are welcome to attend! We will host 20 colleges & universities representing the UK, Ireland, Hong Kong, and Macau – you can see the current list of attending institutions below. Students, please note you MUST register to attend in Cialfo if you plan to stay at the fair from 10:00 – 10:30.
UK Universities:
Cardiff University
Durham University
University of Surrey
Manchester Metropolitan University
University of Bath
University of Essex
University of Kent
University of Liverpool
University of Nottingham
University of Reading
University of York
UWE Bristol
Goldsmiths, University of London
Irish Universities:
Education in Ireland
University College Dublin
Hong Kong and Macau Universities:
The Hong Kong Polytechnic University (PolyU)
The Education University of Hong Kong
University of Macau
University of Saint Joseph
Others:
United Kingdom Education Centre (UKEC)
*NEW Parent Session* What's Next? Wrap-Up – Wednesday 1 March!
We've decided to host a final wrap-up session that will be an informal information session – come to have some coffee and curry puffs, meet other parents, get a simple overview of the sessions covered, and have time to chat and ask questions with me.
Wednesday, 1 March – 8:15, PVO
Access the previous What's Next? Sessions & information HERE
Grade 12 Applications
For students continuing to apply – Please keep in mind that I do NOT have access to your applications, thus if you want me to look over your application, you need to make an appointment with me. Our next round of holidays run from Saturday, 4 March – Monday, 13 March, please plan accordingly.
Grade 11 College/University Information
On Friday, 27 January grade 11 students met with Ms. Amanda to start preparing for university applications – Access the Slidedeck HERE from that meeting. Our future meeting dates are listed below. Students (and parents) please make sure to check and update Cialfo regularly. Students, you need to have a long list of universities in Cialfo for our next meeting in April.
Tuesday, 18 April
Wednesday, 3 May
Friday, 12 May
Friday, 2 June
Grade 10 Course Selection Support
From January – April, grade 10 students (and parents) will work through selecting courses for grades 11 and 12. IGB will have multiple events taking place through various outlets to support students and parents in this process – from the Counseling Office specifically, please take note of the following dates:
Tuesday, 7 February AMP – **slide deck HERE
Tuesday, 28 February AMP
Friday, 17 March Study Hall
Tuesday, 28 March Study Hall
Thursday, 6 April Study Hall
*Students and parents, PLEASE make sure you can access Cialfo, as this will be a very important tool
University of the Week – PUMS – Medical & dental school in Poland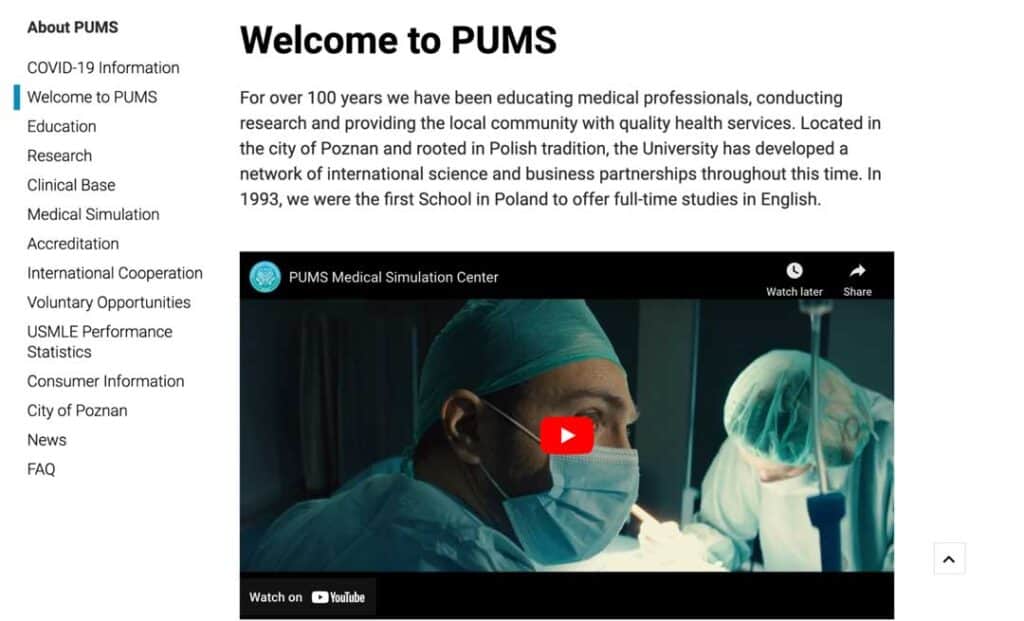 PUMS is a public Polish medical school with 100 years of tradition that touts its title as the first university in Poland to offer courses taught in English.
We offer undergraduate entry medicine and dentistry programs, and our diplomas are recognized worldwide, including in North America. Our current student community (7000 students) includes 1000 international students from more than 50 countries, and thousands of our alumni are practising in medical professions on all continents. We offer affordable, hands-on medical training that results in high employability and success rates after graduation.
We are located in the city of Poznań, halfway between Berlin and Warsaw with short, inexpensive flights available to hundreds of iconic European cities. Admissions for September 2023 intake are still open—requirements, tuition & living costs, and other details are available at https://pums.ump.edu.pl/.
Info, Opportunities, & Resources
EduCanada Fair on 25 February 2023 at Sheraton PJ Hotel
Warm greetings from the High Commission of Canada in Malaysia!
Parents and students are invited to the 2023 EduCanada Fair that will be hosted by the High Commission on Saturday, 25 February 2023 from 10:00 to 18:00 at Sheraton Petaling Jaya Hotel.
Canadian institutions from across the country will visit Malaysia to promote Canadian education and showcase a variety of programs, including engineering, business, actuarial sciences, art & design, biotechnology, computer science, as well as pre-university studies. Representatives from the following institutions will be on hand to counsel interested students and parents and advise on the admission requirements for the September 2023 intake.
The EduCanada Fair will also feature the following presentations:
12.30 pm & 3.00 pm: Education in Canada – A World of Possibilities Awaits!
12.50 pm & 3.20 pm: Study & Work Permits – What You Need to Know
Bocconi (Italy) Open Classes for High School Students
Over the coming months, students will have the chance to attend live online lectures hosted by our expert faculty, focusing on a variety of trending topics.
4th EVENT: MARKETING CLASS – Brand Management in the age of Social Media Influencers
Tuesday 14 March at 4:00 pm CET
While influencer marketing as a concept has been around for ages, it was predominantly reserved for A-list celebrities. However, today anyone can be an influencer, which gives brands more opportunities to reach their target audience. In this lecture, we will understand how brands can leverage influencer-follower connections to impact consumer behaviours such as awareness, engagement, and purchase decisions.
EducationUSA Fair is Back in Malaysia
For the first time ever since the pandemic, EducationUSA will be hosting its EducationUSA 2023 Fair on March 11 & 12 in Kuala Lumpur and Penang, respectively. The limited-time event is an excellent way for students and parents to learn about what U.S. higher education can offer at undergraduate and graduate levels. Meet over 17 U.S. colleges and university representatives and explore the different programs, institutions, application processes, and financial aid availability. Talk to admission officers in person by discussing your study plans and connect with U.S. alumni to learn about life on campus.
This free event is open to students, parents, professionals, and educators. Sign up now to attend by clicking the links below:
On 25 February 2023, we have a virtual workshop happening in collaboration with the University of Northern Iowa on 'Finding Your Best Fit School'. With over 4,000 colleges and universities in the U.S., choosing where to go can be confusing as there are so many options, things to consider, and costs. How do you even begin narrowing down the school that will be the best fit for you academically, financially, and professionally? Join Myle Duong, Assistant Director of International Recruitment at the University of Northern Iowa for her workshop to learn about the things to consider when searching for a university. Come to the session with ideas on what you're looking for and we'll work together to help you find ways to prioritize what school is the best fit for YOU. Studying in the U.S. is going to require some work, and so will this workshop.
Register now at https://bit.ly/uni-bestfit
University of Bristol Global Summer School
Applications are now open and being received for our pre-undergraduate Global Summer School programmes for 16-18-year-olds: Destination Engineer and Destination Vet.
These 2-week, residential programmes give a real insight into studying these subjects at the University of Bristol, with participants receiving admissions benefits for their onward application to undergraduate-level study.
Fully supervised with live-in mentors and full-board accommodation, these programmes also offer a leisure and social programme to include excursions to local and regional sites and attractions.
Santa Monica College – #1 Transfer College in the University of California system
Santa Monica College (SMC) excels in preparing students for transfer — for the 32nd consecutive year, SMC ranks #1 for the most transfers in the University of California (UC) system. UCLA was the most popular transfer destination for students, but SMC also ranked #1 for African American & Latinx UC transfers to institutions like USC & Loyola Marymount University.
If you're thinking about the US as a university destination, but you're concerned about meeting entry requirements to top colleges and universities, a transfer college is your answer!
Santa Monica College offers the 'Scholars Program,' an academic community that prepares new students, first-generation college students, and non-traditional students for transfer to the colleges and universities of their choice. This program prepares you to succeed in an academic environment through university-level writing, exposure to research, critical thinking, and intensive counselling and support.
As a Scholars student, you can get priority consideration to the following campuses:
UCLA College
Loyola Marymount University
Chapman University
University of San Francisco
Pomona College
Learn more about SMC, HERE
London STEM Summer Course
Student applications to attend our London STEM Summer Course are invited for students aged 16+ at www.liysf.org.uk
The London International Youth Science Forum (LIYSF) welcomes 500 of the best young science students aged 16 – 21 years old from over 70 countries around the world in London. I would like to invite you to send students to attend the 64th edition, held – from 26th July to 9th August 2023. Students are invited to submit an application today at https://www.liysf.org.uk/liysf-participation/booking-forms
ABOUT LIYSF
15-day residential science event based at Imperial College London for students aged 16-21 years old
World leading scientists give 10 main lecture demonstrations – see below
500 students attend from over 70 countries worldwide
LIYSF is an impartial, accredited not-for-profit social enterprise established in 1959
Royal Patron, HRH The Princess Royal
4 day visits to the best UK university laboratories (London, Oxford, Cambridge and UK), research centres and scientific institutions (choice from over 55 visits)
4 specialist lecture sessions, across subjects such as; Artificial Intelligence, Nano-technology, Engineering, Robotics, Biology, Medicine, Chemistry, Physics, Maths and Astrophysics (choice of 32 lectures)
Active social programme to share and learn about different cultures
Students gain new knowledge and skills, connections and a broader perspective
Participation charge of £2,995 GBP includes; 14 nights' accommodation in South Kensington, all meals, main lectures and specialist lectures, scientific visits across the UK, transport during LIYSF, certificate and social programme.
63rd LIYSF: 26th July – 9th August 2023
LIYSF is an impartial, non-political, not-for-profit social enterprise established in 1959.
You can see our video at https://www.youtube.com/watch?v=_RfJ_yLTQHA

High-profile speakers who are already confirmed to speak at LIYSF 2023:
Nobel Prize winner Nanochemist Professor Ben Feringa will give the Keynote Address
2022 Royal Institution Christmas Lecturer – Professor Dame Sue Black
Renowned Chemist, inventor and Regius Chair of Chemistry, Professor Lee Cronin
Pioneering Astrophysicist, Professor Hiranya Peris
2020 RI Christmas Lecturer, Geoscientist, Professor Christopher Aiden-Lee Jackson

To read more about our speakers please see – https://www.liysf.org.uk/liysf/principal-lectures
Please see our 2023 flyer at https://www.liysf.org.uk/about-us/downloads
The Digital SAT
The digital SAT is set to begin in March 2023, and for international students, there are now 2 additional test dates, one in June and one in November.
For more information about the Digital SAT, please see the resources below
Links to the videos about Digital SAT (add it to your playlist for reference):
Please bookmark Digital SAT homepage for future updates.
Register Now for the Digital SAT
Bluebook™ App and Device Information –Download and start practising now!
What to Expect on Test Day
University of Toronto Programs
Spring Into U of T
There are many ways for students to visit and engage with the University of Toronto this spring! During Spring Into U of T, students can register for a campus visit, attend a virtual information session, or connect with our recruitment staff and current students – there's something for everyone. Your students can explore and register for spring campus tours and sessions at: future.utoronto.ca/visit/spring-into-uoft.
Faculty of Applied Science and Engineering
U of T Engineering is the premier Engineering school in Canada and one of the Top 30 in the world. This session is open to all international students interested in U of T Engineering programs. We encourage students as early as grade 10/sophomore to attend this session as admission requirements of Math, Physics, and Chemistry require advanced course planning. The first 30 minutes will be an overview of our Engineering programs, opportunities, academic requirements and community. Afterwards, attendees will be able to interact with the presenter and ask questions about applying to and studying at U of T Engineering.
U of T Talks
Financial Markets: What are bond and stock markets and why are they important?
Our U of T Talks lecture series is designed to bring some of the world's foremost intellectuals directly to you and your students. In this talk, Professor David Goldreich will discuss the misunderstandings about how financial markets work. He will demystify bonds and stocks and explains why financial markets are so important for our economy. Join us for U of T Talks on Wednesday, February 22nd.
Entrepreneurship Week
From March 6-9, join the University of Toronto's entrepreneurial community at 15+ events showcasing, celebrating, and rewarding innovation and startup activity at U of T. All are welcome at this week of public events – students, mentors, alumni, business leaders, investors and anyone else who wants to be inspired and learn why U of T is THE place to innovate. Learn more about Entrepreneurship Week here!
Enrichment & Summer Programs for Students
Do your students want to experience what it's like to attend U of T? They can now sign-up for our Enrichment & Summer Programs which are offered on all three U of T campuses on a wide range of topics. Here are a few of the programs we have on offer:
YSP Youth Summer Programs: The Youth Summer Program (YSP) offers an exclusive glimpse into the world of Medicine and Law. A unique modular-based format provides students with a diverse set of subject areas and flexibility. Students participate in the exploration of their respective fields, career opportunities, and what they should be thinking about (and doing) in high school to prepare themselves for post-secondary admission and education.
UC Summer Drama for International Students: Whether you are coming from a different country or continent, UC Summer Drama offers an environment of growth and exploration for international students entering or currently enrolled in a college or university. We are accepting students with some experience and a high interest in theatre either through acting or digital media production for theatre (including sound design and music technology).
From the College Essay Guy
Applying to Highly Selective Colleges & Universities:
Led by Tom Campbell (former Pomona Admissions Officer) with Ethan Sawyer (College Essay Guy)
When: March 15-29 (or watch On Demand)
Here's a peek at what we're covering:
Why might students consider applying to a highly selective college?
Why are they so competitive, and how can students stand out?
What are admission officers looking for?
How different are the application processes and priorities at these schools?
How much do the different application components (courses, grades, test scores, activities, recommendations) matter?
How do colleges make decisions on similarly-qualified applicants?
How much do "hooks" matter at highly selective colleges? And if I don't have a hook, what should I do?
What types of scholarships are available at highly selective colleges?
What role do essays play at highly selective colleges?
How many of these schools should I apply to, and how do I juggle all the work that comes along with the application process?
Is test-optional legit at highly selective colleges?
Lots more
For Students and Families – Sign up for the course individually, or get access as part of the College Admissions Pass.
From MABECS
Greetings from MABECS!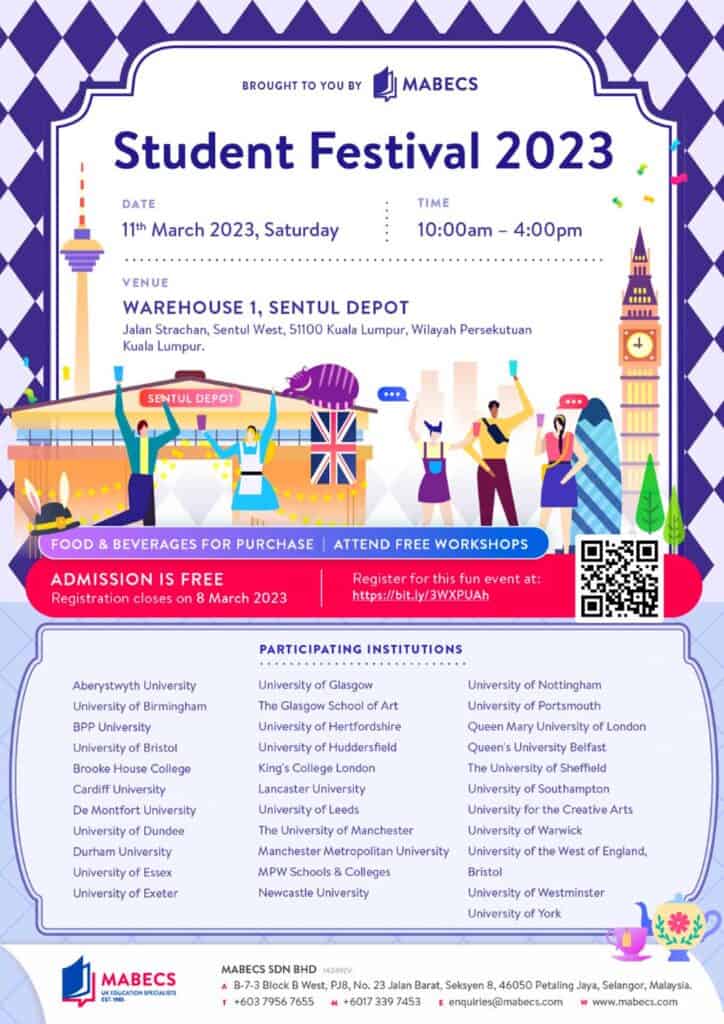 We would like to invite your students to our upcoming MABECS Student Festival. This unique and exciting event will provide them with a wealth of information and the opportunity to learn about some of the best universities in the UK.
MABECS Student Festival is a student-focused education fair that will bring together more than 30 universities from across the country, providing your students with the opportunity to explore their options and discover their passions. They will have the chance to meet with representatives from a variety of institutions and learn about their programs, campus life, and admission requirements.
In addition to university exhibits, Student Festival will also feature hands-on workshops on a variety of topics related to studying in the UK, as well as participate in fun activities such as photo booth and flower arrangement workshops. They will also have the opportunity to enjoy food and beverages from various food and drink vendors.
Student Festival is open to all students and admission is free. We encourage your students to bring their friends, family, and classmates to this exciting event and take advantage of this opportunity to learn about their future.
Details of the event are as follows:
Date: Saturday, 11 March 2023
Time: 10:00 am – 4:00 pm
Venue: Warehouse 1, Sentul Depot, Jalan Strachan, Sentul West, 51100 Kuala Lumpur, Wilayah Persekutuan Kuala Lumpur
Registration closes on 8 March 2023
Register HERE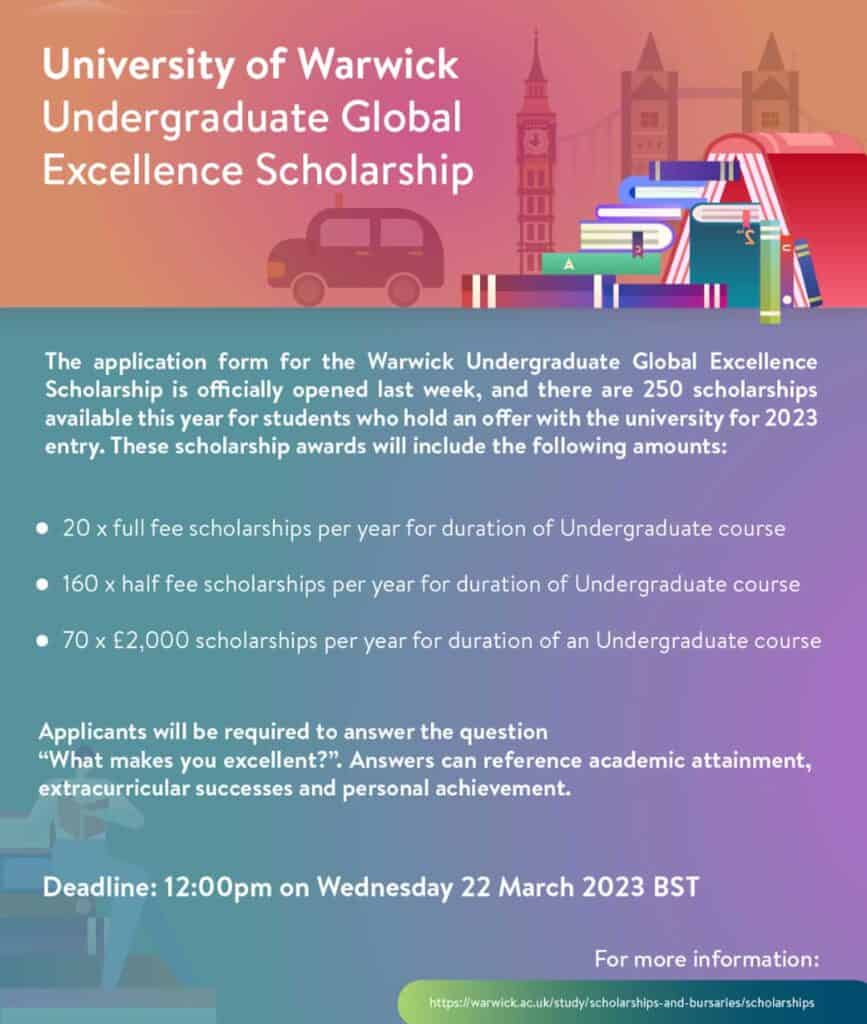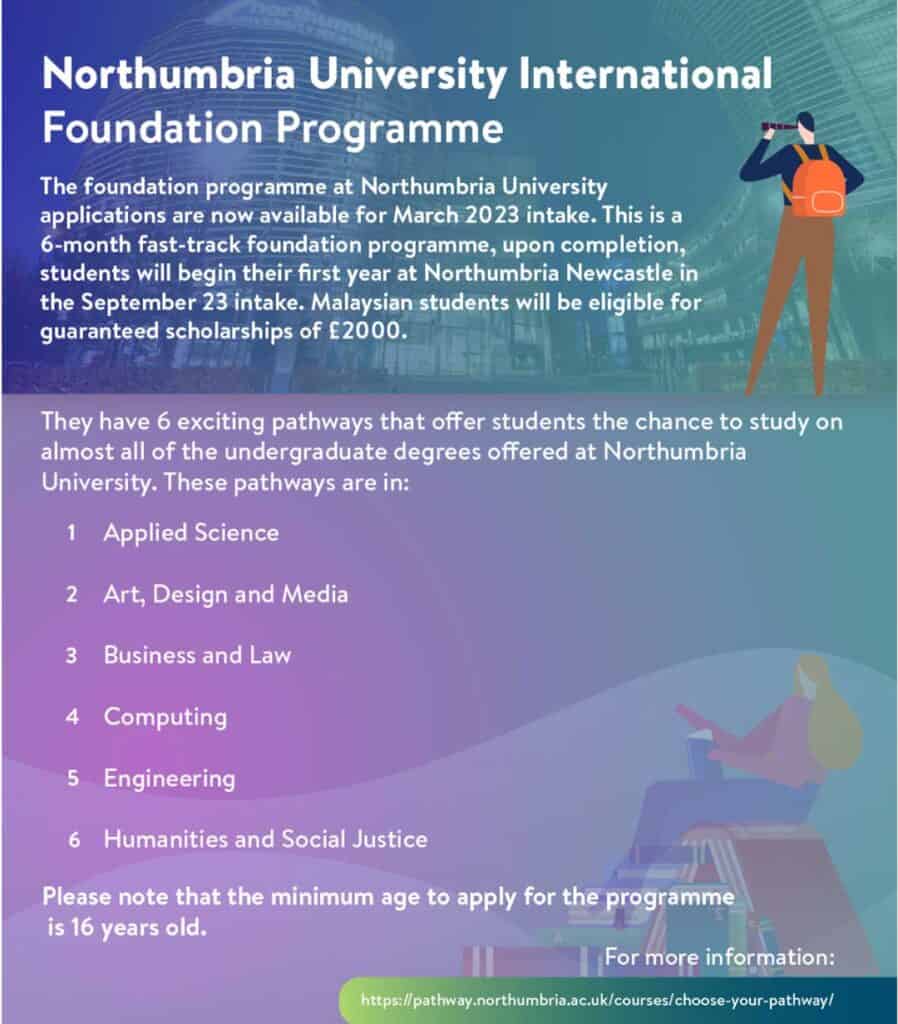 From the Sunny Jain Newsletter
For undergraduate and postgraduate applicants (ages 12 – 25):
​Blazing Temperatures, Broken Records: Responding to the Global Heat Crisis, organized by Columbia University. Climate Change is nowadays a very hot topic, from increased flooding to dramatic temperature spikes, the effects can vary greatly, but they're all unusual and harmful. This seminar focuses on some of the current fights against the dramatic temperature increases around the globe. 27 February. Relevant to anyone interested in climate change.
​Machine learning and AI in biological science, drug discovery and medicine, held at the Royal Society. AI is all around us and it's applications are far reaching. In this lecture scientists from the Royal Society will break down some of the ways AI is and can be used in medical research. 1 March. Relevant to anyone interested in Medicine or AI.
​Using Big Data to think through Tibetan History, organized by Harvard. Big data is all around us, but many people don't realise it can be applied to History studies as well. This lecture in the IAAS series aims to shed some light on the current ways Big Data is being used to aid historical research. 3 March. Relevant to anyone interested in History or Big Data.
​Best video highlights:​
​What is Philosophy study about? Philosophy is a subject that high schoolers are rarely exposed to it as part of their curriculum. This lack of exposure in school means that many students must rely on individual curiosity to learn about the subject. In this video we'll break down some of the critical parts of the subject, ways you can prepare to study it as well as some advice that can help you when considering whether you should study philosophy at higher education levels.
​Career in teaching. Have you ever thought about becoming a teacher? In this video, we're bringing you one of our tutors who will give a walkthrough and share some tips on becoming a teacher. If you're considering making teaching your career, this video is for you!
​Studying drama. Interested in becoming an actor, or any other form of visual art? If that's the case studying drama might just be the field for you. This fascinating subject can prepare you to work in a wide array of roles in the visual arts. In this video, we will go over some of the aspects that you will be studying, some tips that can help you on the way, as well as things to watch out for.
Popular Resources and FAQs
Questions, Support, and Help
Amanda Lopez (Grades 9 – 12 Universities Counselling & Social/Personal Counselling)
To schedule an appointment –