---
From the Elementary Principal
On Monday I was invited to the Grade 2 area as they were 'teaching' the Grade 2 about forces, the unit of inquiry they had been delving into further. Students had identified a particular experiment that they had engaged in and they wanted to explain further. This is a great way for students to demonstrate their understanding, as well as working on their presentation skills – both oracy and written.
Some of the force topics they were teaching about were friction, magnetism, floating and sinking and air resistance to name a few areas they were teaching. The students shared their predictions, gave detailed explanations and had hands-on practical elements to their presentations.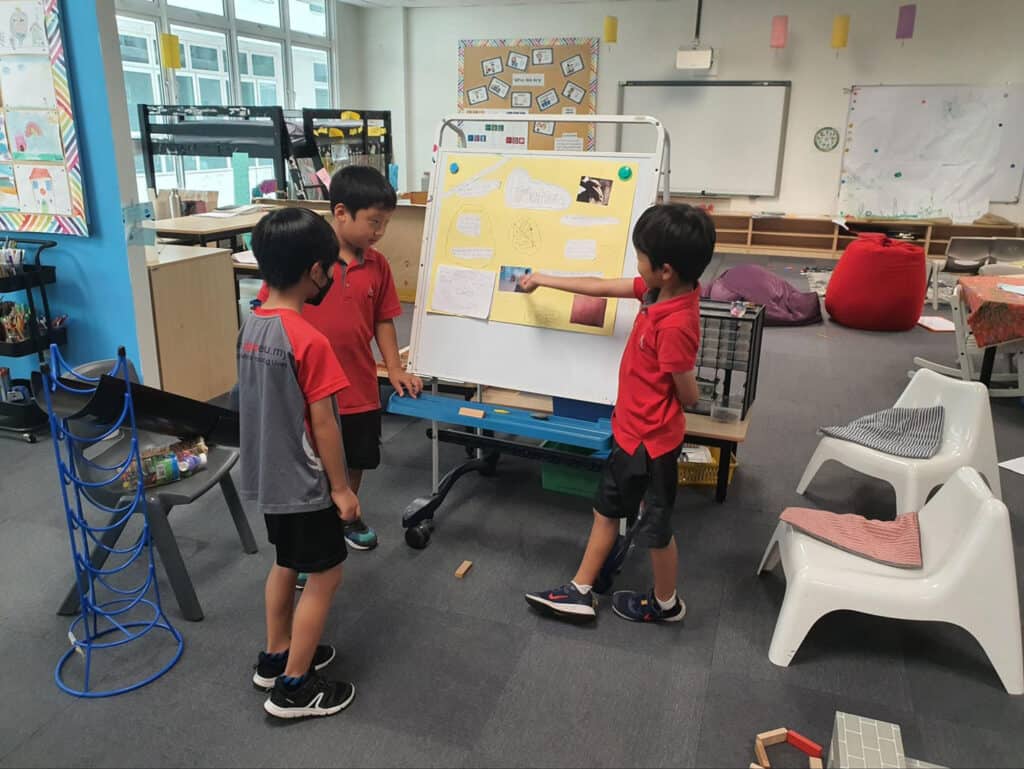 It was a big week on the sporting front with the under-9 boys and girls football teams playing against ELC on Tuesday and the U11 boys and girls football teams playing against ELC and Sri KDU on Tuesday and Thursday. There were wins and draws for the girl's teams. Unfortunately, the boys lost their games, however, I am sure they will be reflecting on their performances and identifying what they need to work on to improve further.
The Grade 2 & Grade 4 students had a field trip this week to Kuala Lumpur Craft complex as part of their unit of inquiries in Host Nation class and Bahasa Malaysia class. They learned all about the crafts in Malaysia and had the opportunity to create something with ceramics and batik. Students were also able to develop a greater understanding of the game 'Congkak' and they played it too. There were other wood products that they could play with like spinning tops and puzzles, they viewed a variety of motifs and much more. I can't wait to talk to the children more about their experiences.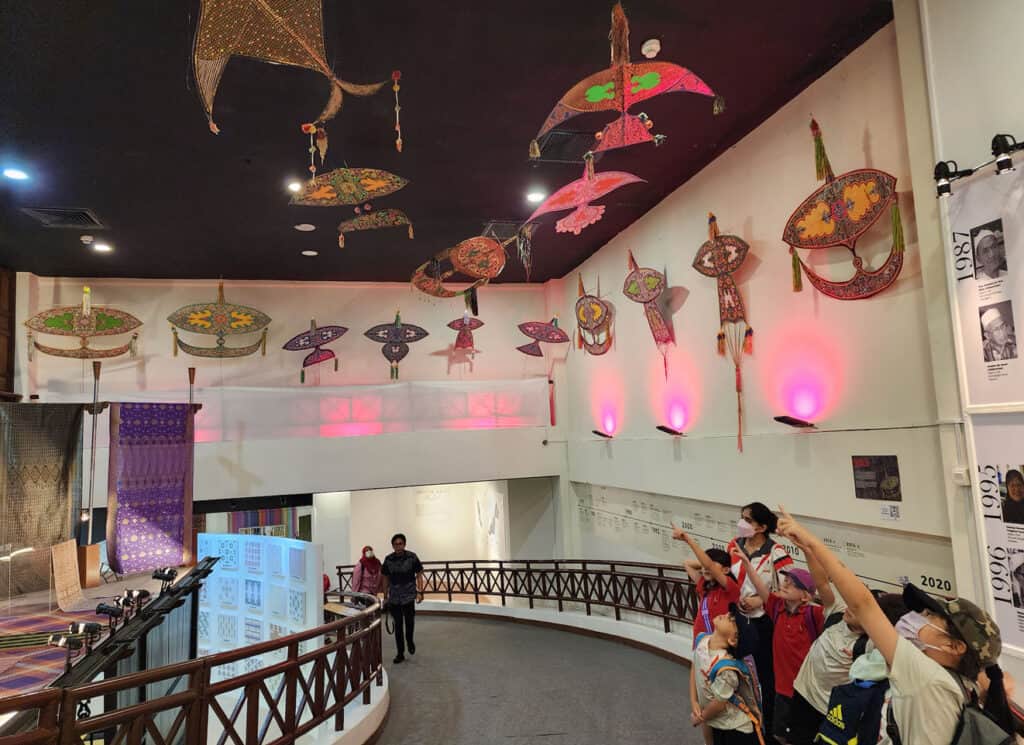 On Friday, 3 March 2023 we ran our 2nd STEAM (Science, Technology, Engineering, Arts, Maths) day festival. Students were working in their house teams solving problems, giving ideas, listening to ideas, experimenting and exploring solutions and working collaboratively on tasks.
They had:
S – Water activities, Sponge vs. Spoon races, Volume Challenge
T – GooseChase: students used the iPads to answer questions and solve as many challenges around the ES as possible in 30 minutes.
E – Raft building: students created a raft out of various materials to try to make it buoyant. Golf balls were added to each raft to see how much weight it can bear.
A – Making Music Using Patterns: students were using different rhythmic and melodic patterns to make their own songs.
M – Geometry: students were exploring tangrams.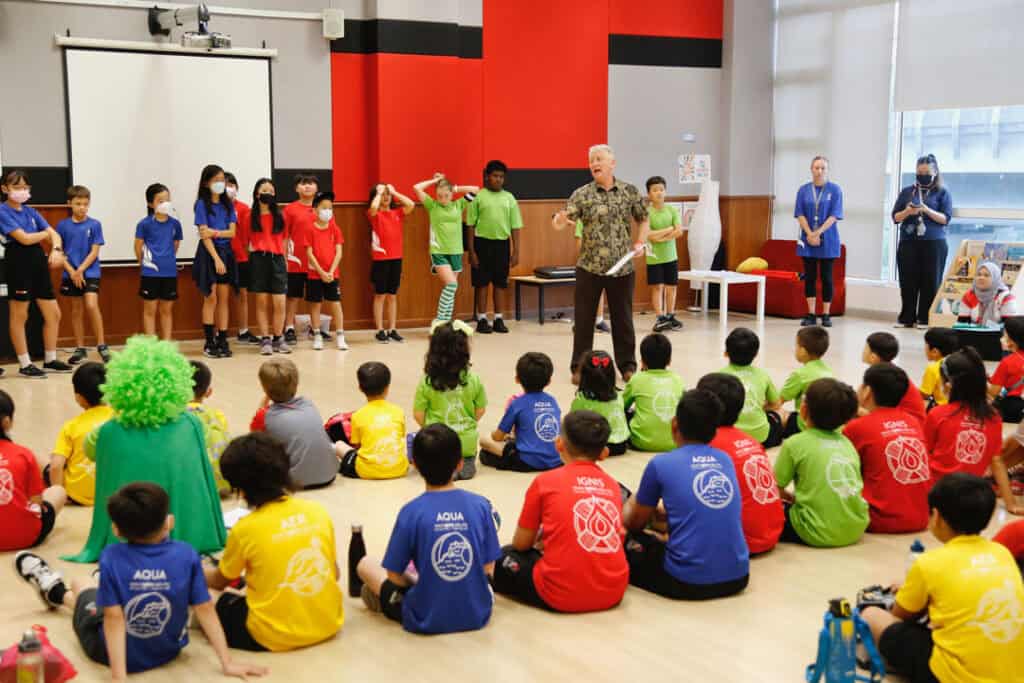 Finally, Mr. Alex ran a 'Music in the PYP' workshop for parents. Whilst they were only a small number of participants they had to be risk-takers to play and learn alongside Mr. Alex. It looked like a lot of fun.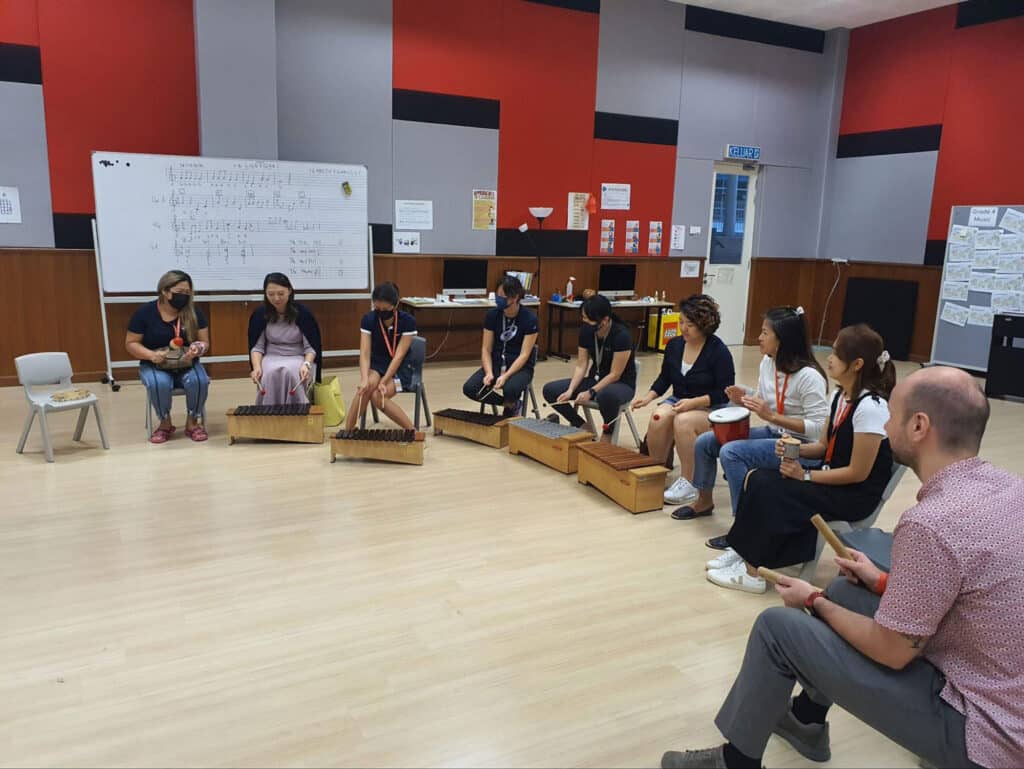 Our March holiday will take place next week and we will see students back in school on Wednesday, 15 March 2023.
For a little bit of fun, where am I in school? Can you identify from the picture where I might be?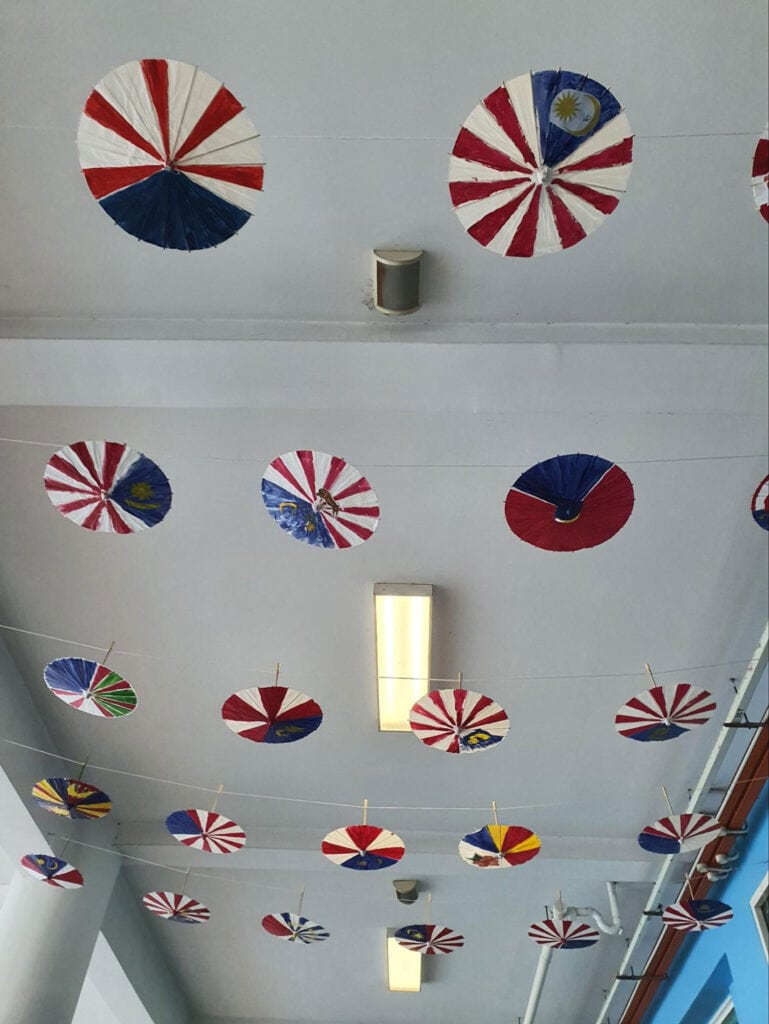 Dates for your diaries
6 March – 14 March 2023: School holiday for students.
23 March 2023: Ramadan begins.
23 & 24 March 2023: ES Production
30 March 2023: Grade 3 field trip.
31 March 2023: Grade 3 field trip.
Saturday, 15 April 2023: Student-Led Conferences.
---
From the Secondary Principal
Grade 12 Trip
After a stressful week of Mocks, we're happy that our Grade 12 were able to travel to Penang for a stress-busting few days. Huge thanks to Mr. Drechsler, Mr. Pendlebury, Mr. Wilson and Ms. Wencl who worked with students to plan this trip and travelled with them as chaperones. As I write, the group is on the train heading back and should arrive at the station in a few hours. I'm sure they will be spectacularly exhausted.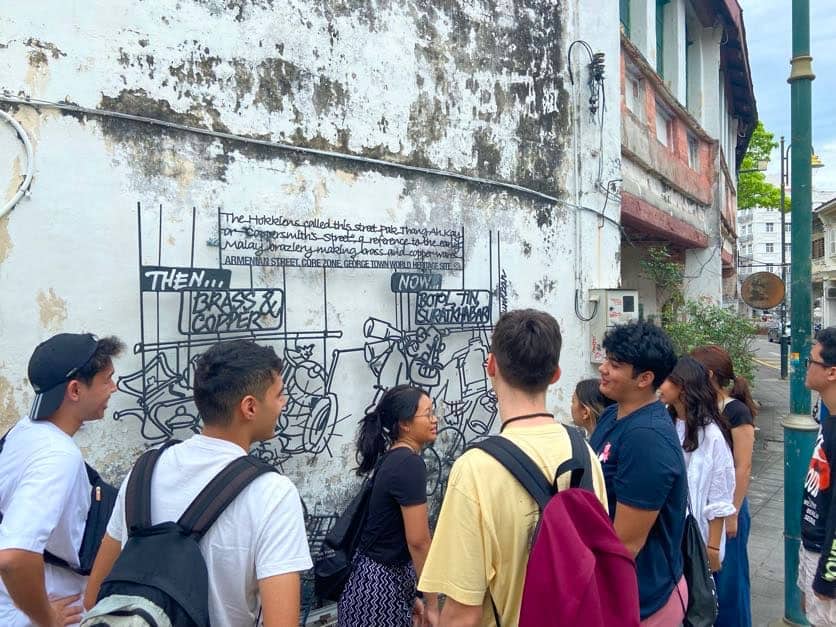 Spirit Week
This week should have been trips week for everyone in secondary school. Grade 12 was the only trip that could go ahead. Our fabulous StuCo (Student Council) and HoCo (House Council) joined forces to organise an epic spirit week. Every day was a different theme (PJs, Student <-> Teacher, Moods, Formal and Full-House Friday) and there was a different activity organised for every lunchtime (movies, dodgeball, kahoot, karaoke, and board games). Here are some random snaps from during the week.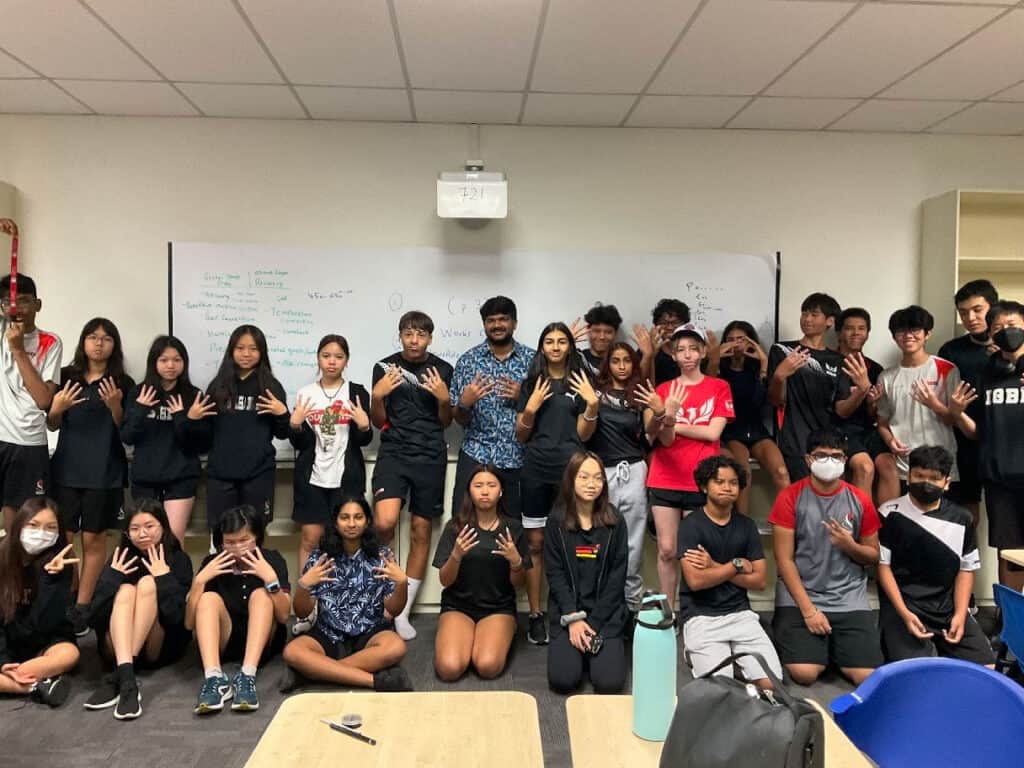 English Robots
Grade 6 just finished "The Artemis Project". It was a collaboration between English and Design and the aim was to get the students to come away from computers and do creative, hands-on work that would allow them to use their imagination and collaborative skills. They were in-role as NASA employees having to come up with a small, practical robot that would be useful on the Artemis mission. It was down to them to determine what function(s) the robot would have but they needed to consider the overall aims of the mission. Their task was to create a design specification, construct a robot and write an infographic to present their product. During the exhibition, they got feedback on their specifications and infographics from the grade 10 design class, teachers and even a class of Grade 1 that happened to be in the vicinity! The room was buzzing and we were so proud of our students! (from Mr. Rukaruck)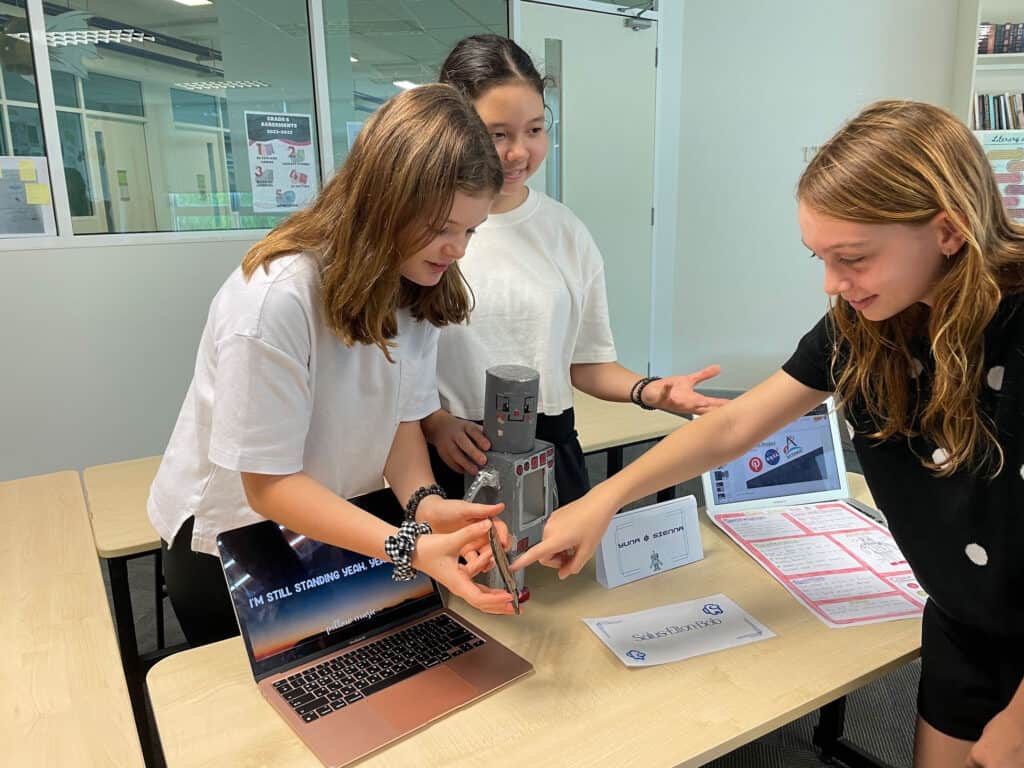 Grade 8 PHE
Grade 8s are currently working on an aesthetics unit. They have been inquiring about how best to capture an audience's interest by adding different formations, levels, and speeds to a movement composition. We can't wait to see what they produce by the end of the unit for their final performances. Please watch this short video showing one of the groups working on synchronised Basketball skills to music. It is pure gold :).

We have lots of students who have indicated an initial interest in being a speaker at our first-ever TEDx Youth event.
Here's a link to the TEDx speaker guide to help with planning.
The next deadline is: Giving a 1-2 minutes pitch to the school jury (Mr. McBride, Ms. Sandy, Mr. Simon, Mr. Drechsler, Ms. Stacey and Ms. Aga) on 15 – 17 March 2023. More info to follow.
Sports Results from Mr. Wilson
It has been a very busy few weeks in Sports. Here are some of the fantastic results.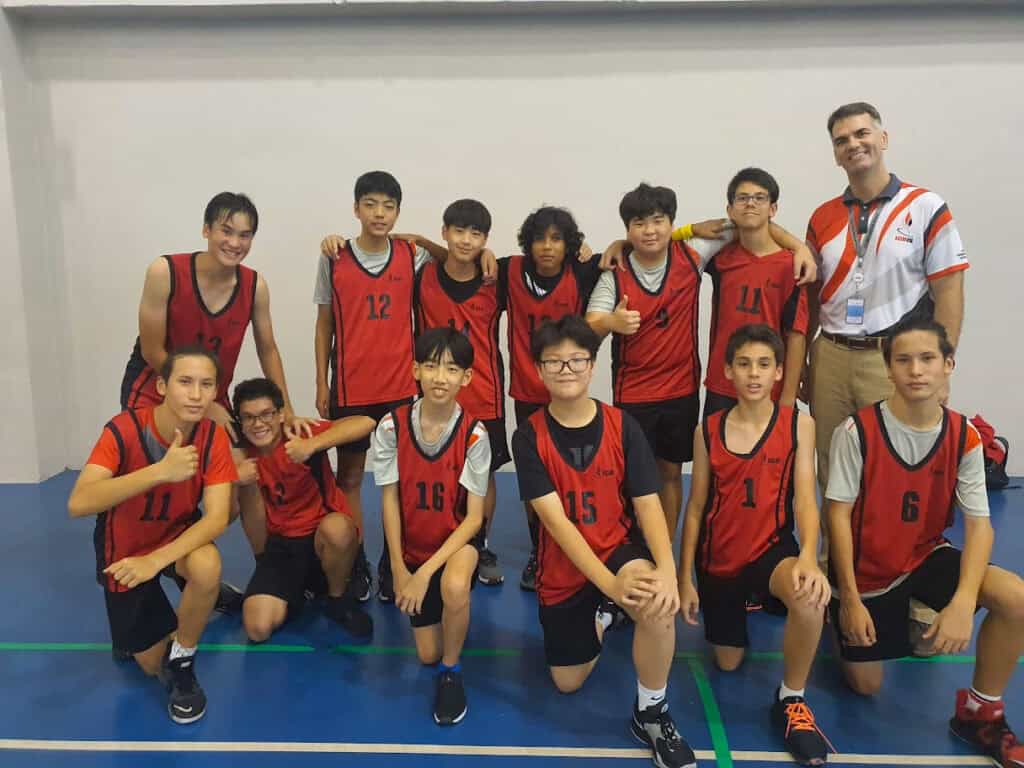 Tuesday, 28 February 2023 – U9/U11 Boys and Girls Football vs ELC

These matches went towards the Round 1 standings in the AIMS conference. All 4 teams got a chance to compete against the ELC football teams. U11 Girls drew 1-1, while the U11 boys lost 1-0. The U9 boys lost 2-0 and the U9 girls won 2-1.

Wednesday, 1 March 2023 – KLSL U15 Boys Basketball @ TISKL

The team finished 1-3 on the day, ending up in 6th of 8 teams, and only one bucket away from 2-2 and 5th place. In the first two games the Phoenix squad was outscored 50-8, but the boys proved resilient and did well to rally themselves and keep playing hard til the end of the day. Coach Mr. McBride was not only proud of the boys for their effort on the court, but their singing skills displayed on the way home when singing along with the Backstreet Boys.

Thursday, 2 March 2023 – KLSL U13 Boys Basketball @ TISKL

The U13 team finished in 2nd place in their KLSL tournament. Coach Powell highlighted a fantastic semi-final game against SKIS which went to overtime. Marco hit an outside shot with seconds left to propel the boys into the final. The final was really tight, but the boys ended up losing 8-12.

Thursday, 2 March 2023 – U11 Boys and Girls Football vs Sri KDU

These matches also counted towards Round 1 of the AIMS conference standings. The U11 Girls won decisively 4 to 0, while the boys fell 0 – 6. Both teams will soon be seeded and their championship contests will be set for after the holiday.
Upcoming events in Secondary
Monday, 13 March 2023 – HOLIDAY
Tuesday, 14 March 2023 – PD day
Parent Session Overview (for the year) – Here's a link to all the parent workshops in Secondary.
Sports Fixtures Overview – Here's a link to all the sports fixtures for season 2. Some 'friendly' games might pop up from time to time. Mr. Wilson will keep us posted.
Useful links for parents

Student LaunchPad (this is the place to go to find what's happening in school on a day-to-day basis). It also has a 'quick links' section where you can find lots of important documents.
Secondary Assessment Procedures – a 4-page document outlining our assessment expectations and procedures. (Also available from Student LaunchPad & Splash)
A to Z Secondary Handbook – This gives an overview of all our policies, expectations and procedures. (Also available from Student LaunchPad & Splash)
Have a fantastic break
Regards
Sandy
---
What's Happening with the Counsellors
This is just a snippet of what's to come. Today we had a soft launch of our focus on affirmations. In secondary, Ms. Leanne and Ms. Amanda started to promote the concept of affirmations using some of the fun and creative material produced by the rapper 'Snoop Dog'. Displays have been created to teach and reinforce this content and we will certainly share more with you after the break. Remember ANYTHING IS POSSIBLE!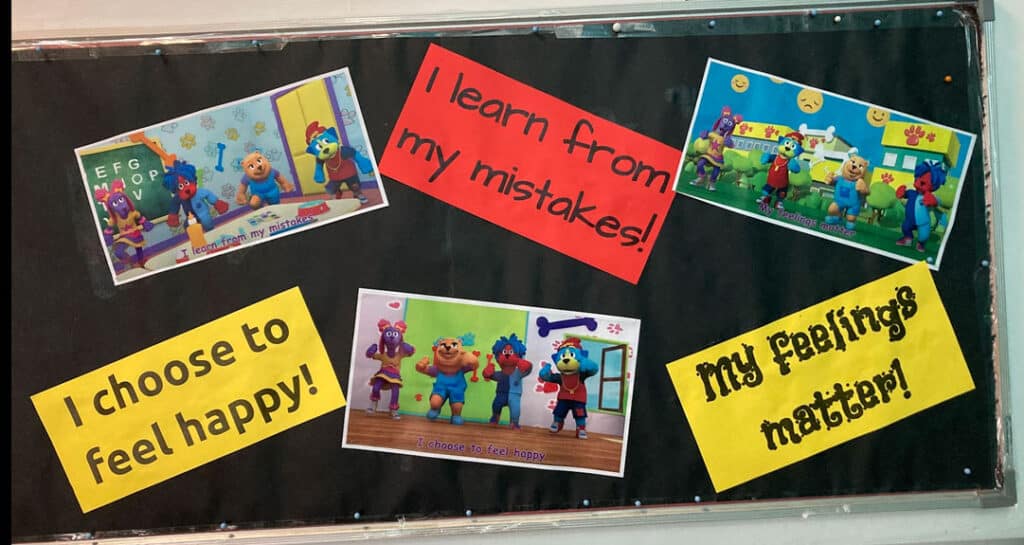 ---
IGBIS Yearbook 2022/23
For people who grew up with yearbooks, they are an annual right of passage that you look forward to; for others, they are fun, but not a part of the end-of-the-school-year experience you had as a student. A lot of conversation has been happening behind the scenes debating and discussing the financial and environmental costs of printing +400 copies of a 150-page yearbook for all grades every year, and as a result, in conjunction with the Yearbook Committee—the wonderful team that created this year's version of the annual book—we are going to make a change:
All graduating Grade 12 students will receive a copy of the full yearbook.
All students in Grades 11 and below will:

Have access to the full version digitally for free.
Receive a smaller version of the yearbook with their grade level, the levels around them and pages for signatures for free.

All students and staff will have the opportunity to purchase a full yearbook (at cost) so that we print on demand and do not use more paper than is needed.
To indicate that you wish to pay for a full version of the yearbook, please click HERE.
---
IGBIS International Day 2023
International Day is our annual celebration of IGBIS' wide cultural diversity. The event offers an opportunity for students, parents and staff to broaden their horizons, learn more about their peers' culture, food and language, connect as a community and have a bit of fun too.
This year's event will be held in our sports hall on Saturday, 6 May 2023 from 9:30 am – 12:30 pm with our welcome and student 'Parade of Nations' starting at 10 am. From there, parents, students and staff-led country or regional booths will host visitors with food samples, activities and performances until 12:30 pm.
This is considered a school day and we would like to see as many countries/regions represented as possible!
Although we hope to have nearly everyone participate, if you will not be able to assist in the preparations, please check the list in the Google form to ensure that at the very least, we have a flag representing your country.
** This survey should be completed by each IGBIS family and every staff member so that we know how many people will be attending and who may wish to be involved in contributing to the country booths. **
Please register before WEDNESDAY, 15 MARCH 2023 – 8 PM HERE.