---
From the Head of School
By Jason McBride
Hello IGBIS Community,
Two different messages on a Friday afternoon, both aimed at upcoming events. The first is a Family Hike Interest Form where folks can let us know that they are interested in joining one of the three remaining weekend hikes between now and the end of May. Let us know that you plan to attend and we will send an email to those families the night beforehand so you can be on the lookout for fellow community hikers. We encourage you to wear an IGBIS shirt or our school colours of black, red and silver when you are out walking so you can tell who is from the school!
The second item is a pre-notice that this coming Monday all families will receive a re-enrolment email from the OpenApply system, an email that is important for three reasons:
The first and most important is so that we know who is returning next year and therefore which seats to hold. Right now we have an incredibly low number of departing families which is great after a few difficult years through COVID. There are limited seats in some grades already which is also very positive. Growing our enrolment back to the mid-500s and beyond is a priority for the school, so please help us spread the word about upcoming Open Days and help other great families join this welcoming community.
The second reason for the form is to remind families about the 14 May 2023 deadline to ensure a full deposit refund. After 14 May 2023, a 50% refund is given up until the first day of the next semester and then after 9 August 2023, no refunds are provided.
The third reason that the email is important is that this is a good opportunity to have all families review their contact details including mobile numbers, email and home addresses. Should anything happen to a student at school during the school day, we really need to know how to contact parents and guardians in a hurry so please do review those important details!
Have a great weekend,
Jason
---
From the Secondary Principal
By Sandy van Nooten
We have just 5 more school days with our Grade 12 students. Next week is 'senior week' with sleepovers, some farewell pranks, and a farewell assembly, then it is study leave and exams. They are an amazing group of students and we wish them all the best in preparing for their exams.
Day Trips
Within the next day or two, you will hear from our fabulous GLCs who are busy arranging a great day out for Grade 6 to 11 students on Friday, 28 April 2023. Students will pay entrance fees, the school will cover buses and chaperones. Each class is going to a different place: bowling, District 21, Next Gen, Rock climbing, paintball, laser tag, karaoke etc. It should be a great day out.
Grade 12 Drama Performance
On Thursday, 6 April 2023, the DP Theatre students' ensemble performed their very own devised play, entitled 'Family Tides'. The narrative follows the portrayal of parenthood from our (student's and children's perspectives) and the obstacles surrounding raising a child. Their sophisticated storytelling and the authenticity of their performances engaged and touched the audience, who stayed behind for a talkback session. Thank you to all who supported this event (from Ms. Jill Coombs).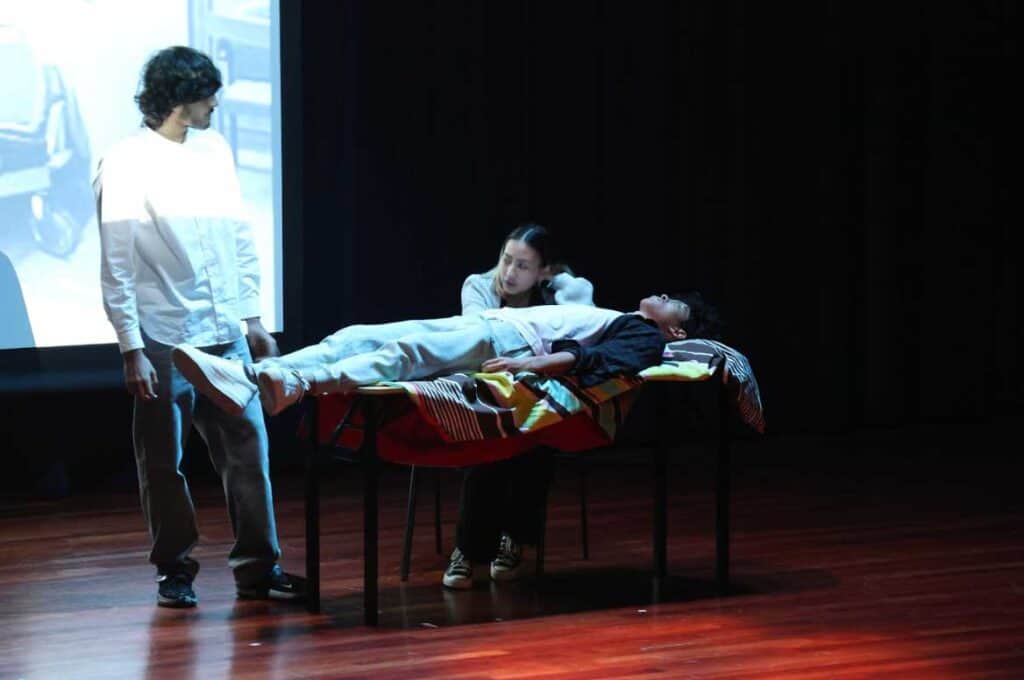 Grade 12 Visual Arts Exhibition
The Grade 12 artists have been hard at work preparing for their exhibition that opens tonight (Friday, 7 April 2023) from 6 to 8 pm. The exhibit will remain open for a week. Please try to come in and see their incredible work.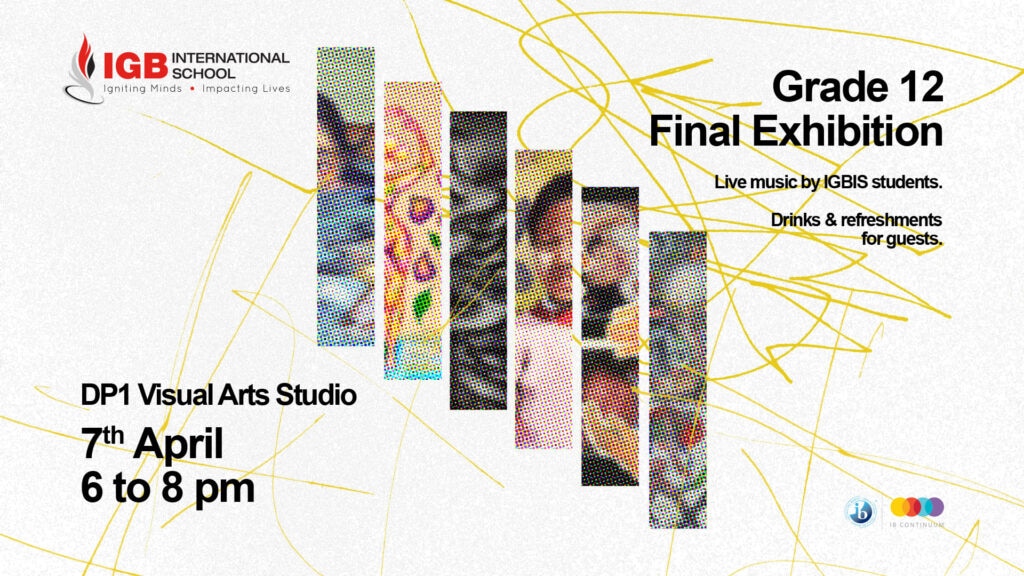 Grade 8 Air Drop
The grade 8 students did an interdisciplinary unit in their Science and Design classes. For the "Air Drop" they used their knowledge, understanding, and skills from physics and design classes to plan and build contraptions that would protect an egg dropped from a height of 5 metres.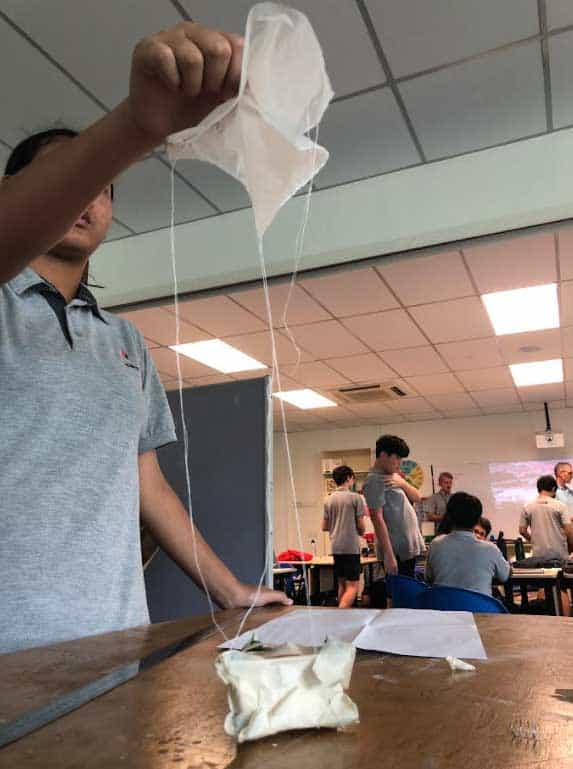 Season 3 Sports Fixtures
Here is an overview of the sports fixtures for this final season.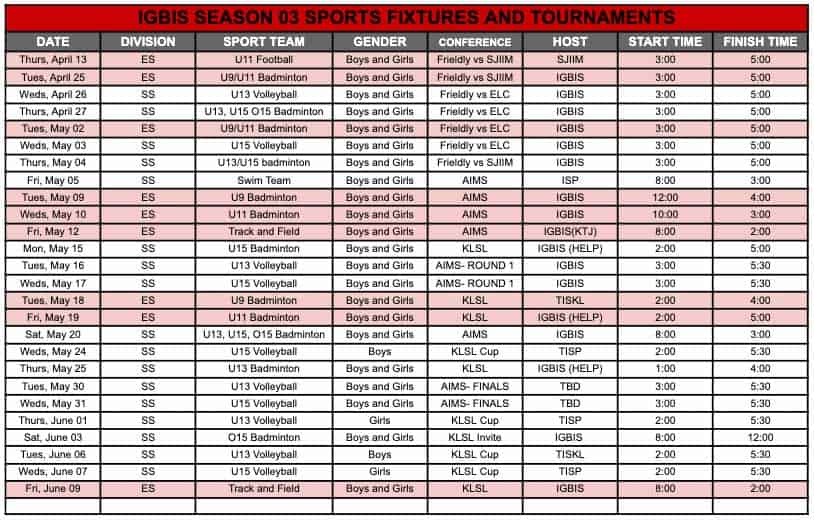 Dates for Grade 10s
There are a number of important deadlines on the horizon for our Grade 10s.
e-Assessment mocks (for all Grade 10 students) – from 17 to 19 April 2023. Here's the schedule.
e-Assessment finals (for registered students only) – from 9 to 19 May 2023. Here's IB's schedule.
Useful Links
Useful links for parents

Student LaunchPad (this is the place to go to find what's happening in school on a day-to-day basis). It also has a 'quick links' section where you can find lots of important documents.
Secondary Assessment Procedures – a 4-page document outlining our assessment expectations and procedures. (Also available from Student LaunchPad & Splash)
A to Z Secondary Handbook – This gives an overview of all our policies, expectations and procedures. (Also available from Student LaunchPad and Splash)
Have a great weekend
Regards
Sandy
---
PAWS Essential Drive
Hannah, Zoja and Tamaki, Grade 5
Hello IGBIS Community!
We are Hannah, Zoja and Tamaki from Grade 5. We are taking the initiative to support the Paws Animal Welfare Society (PAWS) by starting a PAWS Essential Drive for our PYP Exhibition.
If you are wondering what PAWS is, PAWS is an animal shelter that takes care of dogs and cats that are in need of proper care and a home.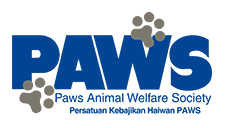 We are organising this drive because we love animals and wanted to help the animals in need. PAWS has created a wishlist of things that you can bring in, which we have included in our poster.
If you would prefer to make a cash donation to PAWS and/or other animal shelter organisations, links will be shared with the IGBIS community on 10 April 2023.
Thank you in advance for your support and donations!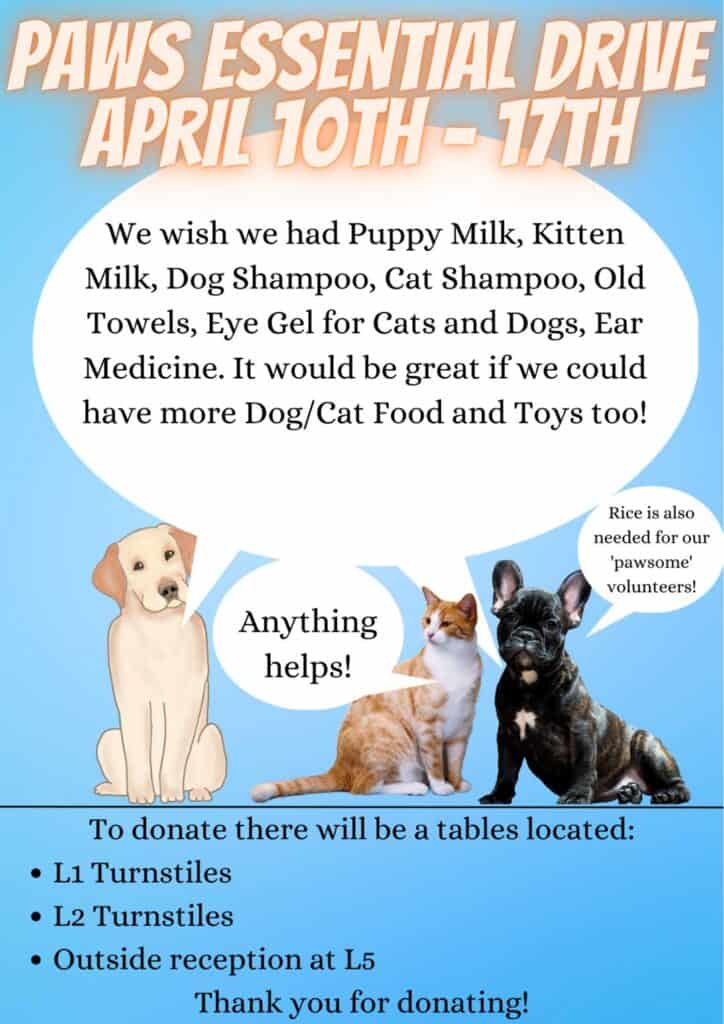 ---
PYPX Presentation Schedule
26 April 2023 (Day 4)
Time
Presentation Focus
8:00 – 9:00
-G5 opening of PYPX!-Caitlan's video-5H performance-Eunice, Sean and George to present their song -5G performance-Simon's welcoming speech
9:00 – 9:30
-5G Swim performance
-5H PYPX sharing
9:30 – 10:00
Break
10:00 – 10:30
-5H Swim performance
-5G PYPX sharing
10:30+
Parents leave and students have a break before sharing after lunch.
---
TEDxIGBIS Live Watch Party
We are excited to share that IGBIS will be hosting a TEDxIGBIS Live watch party for our community this 8 May, 3:15 pm – 4:30 pm.
The theme of TED2023 is possibility, and technology is one of the exciting areas that will be explored at this year's conference.
Leading figures like cofounder of OpenAI Greg Brockman, TikTok CEO Shou Chew, computer scientist Yejin Choi, Web3 designer Tina He and Khan Academy CEO Sal Khan are taking the stage in Vancouver.
Our official licensed in-house event will rally our school community around the "TED 2023 Possibilities" top 5 talks selected to showcase the possible future pathways for our youth and their parents and inspire their thinking about the future of our communities and our children's passions and unique potentials possibly turning into future professions that do not yet exist.
As the event has a license-limited number of participants (100 families). We would like to ask that you sign up to participate via this Google Form:
https://forms.gle/eiYusEPPVUB3JAHw6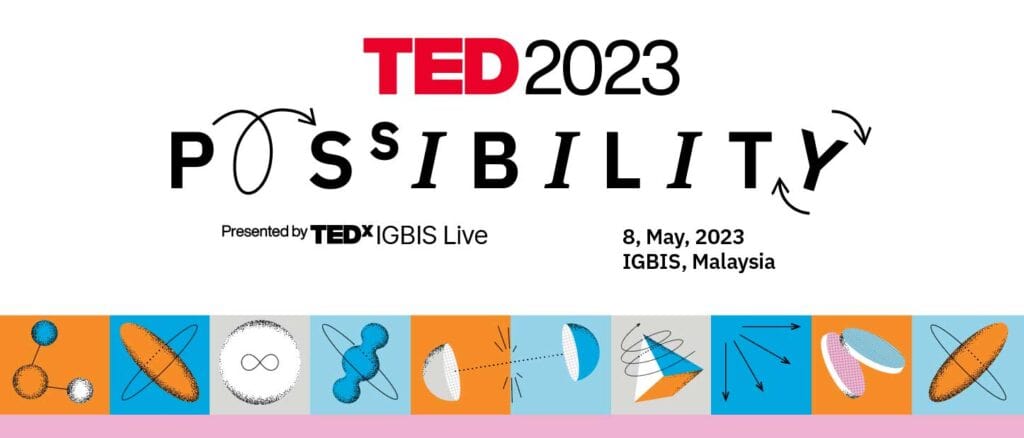 ---
TEDxIGBIS Youth
This 30 May, IGBIS is proud to present 20 exceptional youth speakers who will take to the official TEDxIGBIS Youth stage to present their unique ideas and perspectives on the variety of aspects of our today's lives.
The event theme: Igniting Minds and Impacting Lives (IGBIS motto), will create a thought platform for our young TEDx speakers to advocate new world views, life choices and unexpected solutions to topics ranging from human rights, mental health, human ingenuity and creativity, community welfare and many others.
Stay tuned! More updates on the live stream will be available on our social media channels and our TEDxIGBIS Youth website.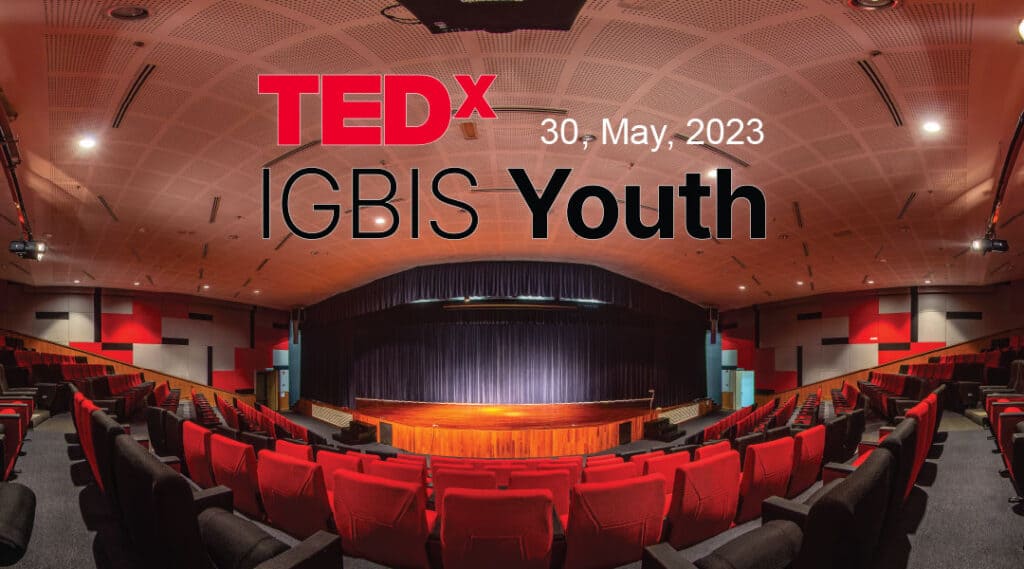 ---
IGBIS Summer School
Summer is almost here, and we are thrilled to announce our Summer School this July! Offering this to children between Kindergarten to Grade 8, we have engaging learning experiences designed to help students unleash their creativity and improve their social, communication and thinking skills while enjoying a variety of extracurricular activities. Our team of experienced teachers will be leading the classes, ensuring your children get the most out of their summer break.
The programme will run from 17 July to 21 July 2023 and 24 July to 28 July 2023 and will include classes in Fun English, Design and Team Building, and a range of fun activities such as library games, swimming and sports as well as arts and crafts. Register now, as we have limited spots available. Enjoy our Early Bird Discount when you register before 15 April 2023!
If you have any questions or want more information, please do not hesitate to contact us at marketing@igbis.edu.my. We are excited about this new programme and look forward to sharing it with our students and their families. Thank you for your continued support.
---
IGBIS Open Day
IGBIS will be having an OPEN DAY on 15 April 2023, Saturday from 10 am to 12.30 pm.
It would be great if you could share this Open Day information with your friends and family members who are looking for an international school for their children.
On this Open Day, there will be a talk by Mr. McBride, our head of school, about IGBIS & IB Education; school tours led by our principals and student ambassadors with an opportunity to have a glimpse of our Student-Led Conference taking place on the same day; and a counselling and enquiry session. Light refreshments will be provided as well.
All attendees receive a *100% rebate on the application fee and a *75% waiver on the enrolment fee worth up to RM19,750 when enrolling at IGBIS.
*T&Cs apply
You may share this link, https://igbis.edu.my/admissions/openday/ with your friends or family members to know more about IGBIS Open Day and to register.
IGBIS parents who refer new students to IGBIS will be entitled to RM2,000 per student or *RM3,000 per family (where there are two or more students in K – 12) through the *Referral Incentives Programme. Please notify Warren Chew at warren.chew@igbis.edu.my after you have referred a new student to IGBIS.
*T&Cs apply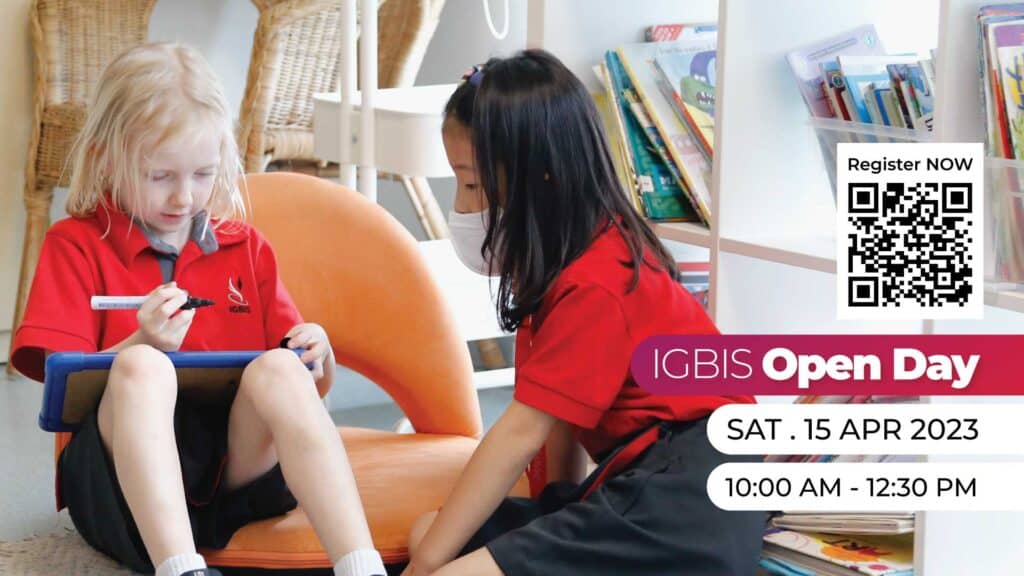 ---
IGBIS Yearbook 2022/23
For people who grew up with yearbooks, they are an annual right of passage that you look forward to; for others, they are fun, but not a part of the end-of-the-school-year experience you had as a student. A lot of conversation has been happening behind the scenes debating and discussing the financial and environmental costs of printing +400 copies of a 150-page yearbook for all grades every year, and as a result, in conjunction with the Yearbook Committee—the wonderful team that created this year's version of the annual book—we are going to make a change:
All graduating Grade 12 students will receive a copy of the full yearbook.
All students in Grades 11 and below will:

Have access to the full version digitally for free.
Receive a smaller version of the yearbook with their grade level, the levels around them and pages for signatures for free.

All students and staff will have the opportunity to purchase a full yearbook (at cost) so that we print on demand and do not use more paper than is needed.
To indicate that you wish to pay for a full version of the yearbook, please click HERE.
---
International Day 2023
Mark your calendars for this exciting celebration of diversity! Stay tuned for more information on this upcoming event that promotes unity and celebrates our cultural differences.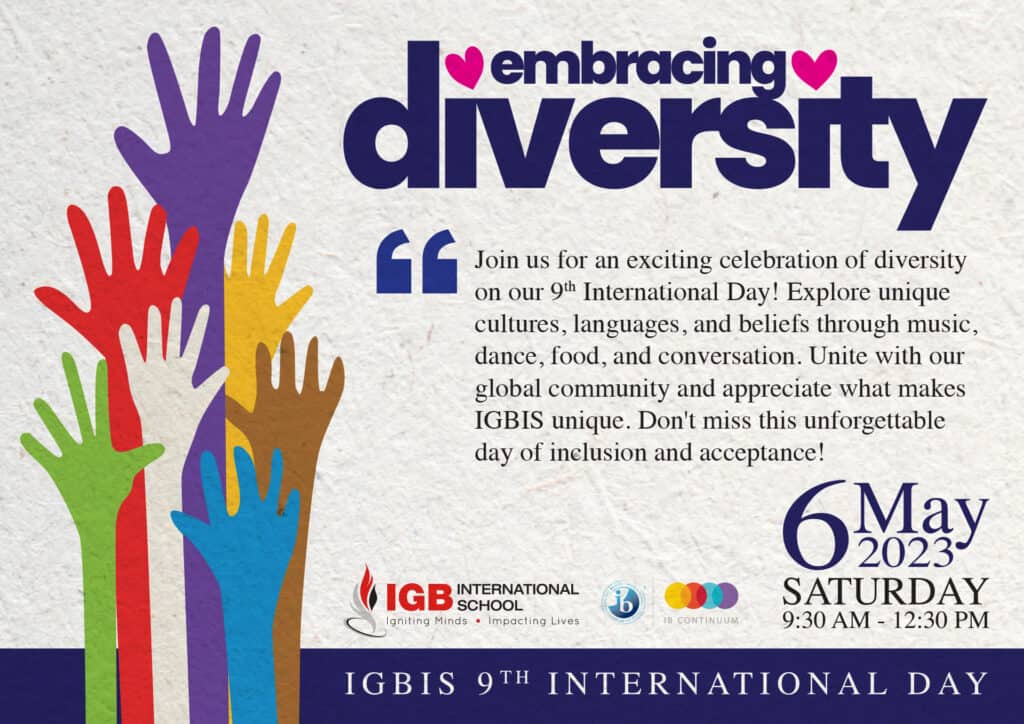 ---
Follow IGBIS Social Media Channels
cta-2023-OL