---
From the Head of School
By Jason McBride
Hello IGBIS Community,
A bittersweet afternoon as we said farewell to our Grade 12 students at their final assembly before they graduate on 26 May 2023. As they enter the final stretch ahead of their IB exams throughout May, we wish them all the best. These next few weeks can be a stressful time, but if they keep doing what got them here, then the academic results will come. Putting time and effort into reviewing the course materials, class notes, past papers and question banks is important, but taking care of your own health and well-being (sleeping enough, eating well, getting fresh air and moving your body) and making sure your friends are okay are long-term life skills, not just good exam advice. While we are proud of the two-digit exam results, after all, is said and done, if our students have not learned to take care of themselves, each other and the planet along the way, then our school's mission has not quite been reached. 
Be well,
Jason
---
Kukri PE Uniform Order 
Please be reminded that the Kukri PE uniform order will begin on Monday, 17 April 2023 and end on Tuesday, 2 May 2023. Remember to mark your calendars and place orders during this period. 
---
Black Athletic T-shirts: Not Part of PE Kit 
Please be aware that the Black Athletic T-shirts are NOT a part of the PE Kit.
They are for after-school sports clubs. The grey T-shirts should be worn in PHE lessons. 
---
PYPX Presentation Schedule
26 April 2023 (Day 4) 
Time
Presentation Focus
8:00 – 9:00
-G5 opening of PYPX!-Caitlan's video-5H performance-Eunice, Sean and George to present their song -5G performance-Simon's welcoming speech  
9:00 – 9:30
-5G Swim performance 
-5H PYPX sharing 
9:30 – 10:00
Break
10:00 – 10:30
-5H Swim performance 
-5G PYPX sharing 
10:30+
Parents leave and students have a break before sharing after lunch.
---
TEDxIGBIS Live Watch Party
We are excited to share that IGBIS will be hosting a TEDxIGBIS Live watch party for our community this 8 May, 3:15 pm – 4:30 pm.
The theme of TED2023 is possibility, and technology is one of the exciting areas that will be explored at this year's conference. 
Leading figures like cofounder of OpenAI Greg Brockman, TikTok CEO Shou Chew, computer scientist Yejin Choi, Web3 designer Tina He and Khan Academy CEO Sal Khan are taking the stage in Vancouver.
Our official licensed in-house event will rally our school community around the "TED 2023 Possibilities" top 5 talks selected to showcase the possible future pathways for our youth and their parents and inspire their thinking about the future of our communities and our children's passions and unique potentials possibly turning into future professions that do not yet exist. 
As the event has a license-limited number of participants (100 families). We would like to ask that you sign up to participate via this Google Form:
https://forms.gle/eiYusEPPVUB3JAHw6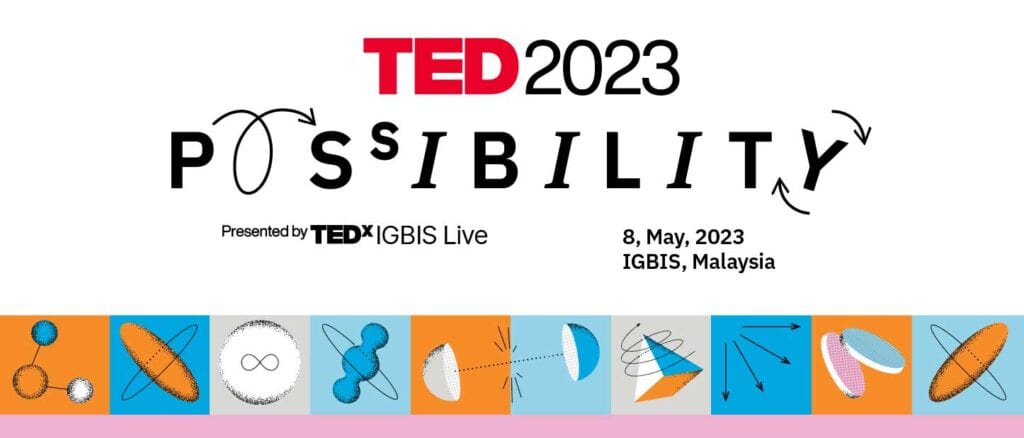 ---
TEDxIGBIS Youth
This 30 May, IGBIS is proud to present 20 exceptional youth speakers who will take to the official TEDxIGBIS Youth stage to present their unique ideas and perspectives on the variety of aspects of our today's lives. 
The event theme: Igniting Minds and Impacting Lives (IGBIS motto), will create a thought platform for our young TEDx speakers to advocate new world views, life choices and unexpected solutions to topics ranging from human rights, mental health, human ingenuity and creativity, community welfare and many others. 
Stay tuned! More updates on the live stream will be available on our social media channels and our TEDxIGBIS Youth website.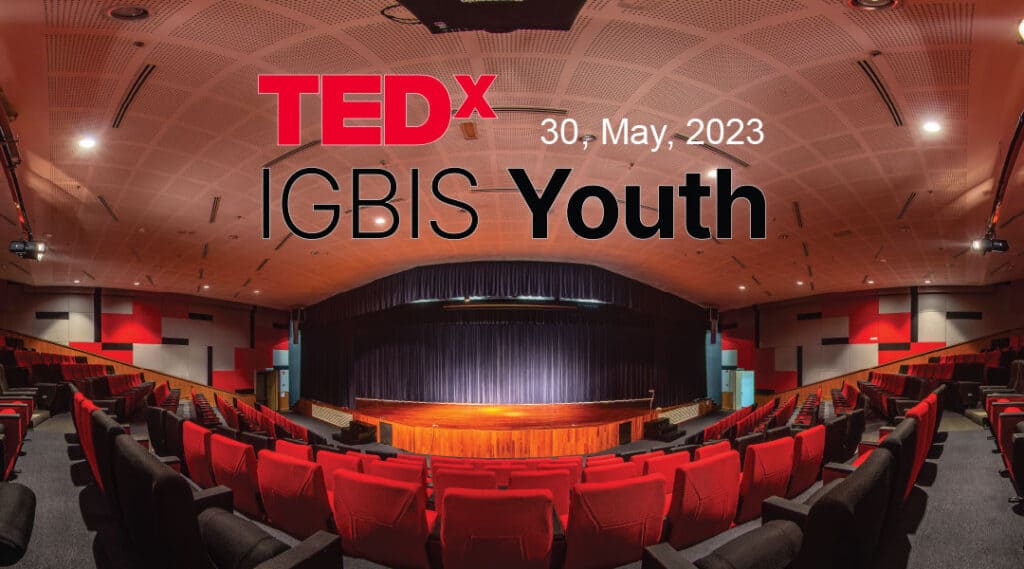 ---
IGBIS Summer School
Summer is almost here, and we are thrilled to announce our Summer School this July! Offering this to children between Kindergarten to Grade 8, we have engaging learning experiences designed to help students unleash their creativity and improve their social, communication and thinking skills while enjoying a variety of extracurricular activities. Our team of experienced teachers will be leading the classes, ensuring your children get the most out of their summer break. 
The programme will run from 17 July to 21 July 2023 and 24 July to 28 July 2023 and will include classes in Fun English, Design and Team Building, and a range of fun activities such as library games, swimming and sports as well as arts and crafts. Register now, as we have limited spots available. Enjoy our Early Bird Discount when you register before 15 April 2023!
If you have any questions or want more information, please do not hesitate to contact us at marketing@igbis.edu.my. We are excited about this new programme and look forward to sharing it with our students and their families. Thank you for your continued support.
---
IGBIS Yearbook 2022/23 
For people who grew up with yearbooks, they are an annual right of passage that you look forward to; for others, they are fun, but not a part of the end-of-the-school-year experience you had as a student. A lot of conversation has been happening behind the scenes debating and discussing the financial and environmental costs of printing +400 copies of a 150-page yearbook for all grades every year, and as a result, in conjunction with the Yearbook Committee—the wonderful team that created this year's version of the annual book—we are going to make a change:
All graduating Grade 12 students will receive a copy of the full yearbook.
All students in Grades 11 and below will:

Have access to the full version digitally for free.
Receive a smaller version of the yearbook with their grade level, the levels around them and pages for signatures for free (excluding those who have purchased the full yearbook).

All students and staff will have the opportunity to purchase a full yearbook (at cost) so that we print on demand and do not use more paper than is needed.
To indicate that you wish to pay for a full version of the yearbook, please click HERE. 
---
International Day 2023
Mark your calendars for this exciting celebration of diversity! Stay tuned for more information on this upcoming event that promotes unity and celebrates our cultural differences.
---
Follow IGBIS Social Media Channels
cta-2023-OL

---
Future Planning Weekly Update
Amanda Lopez
Highlights of the Week
SAVE THE DATE: AI Summer Programme Taught by Stanford Alumni at International School of Kuala Lumpur: 12 – 23 June 2023
Inspirit AI is offering an in-person, 30-hour pre-college AI programme hosted at the International School of Kuala Lumpur that teaches students in Grades 8-12 fundamental AI concepts and guides them to build socially impactful projects such as safe ChatGPT bots, exoplanet search, self-driving car systems, and more! Stanford and MIT graduates in AI will be present in person from 12-23 June 2023 to teach. Please read more information in the programme brochure and apply here. If you cannot attend in person, students may apply to the live online programme at www.inspiritai.com. Programme contact: Jared Greene, jaredgreene@inspiritai.com. 
SAVE THE DATE: Parent/Counsellor Coffee Morning with Amanda
Wednesday, 3 May 2023
8:15 – 9:15, PVO
The first Wednesday of every month hosts a Counsellor Coffee Morning where parents from grades 9 – 12 can gather together, have some coffee and curry puffs, and just chat and ask questions with Ms. Amanda to help support the future planning process. 
Our April session highlighted an activity on values and priorities in choosing a university. 
Our upcoming May session will provide calendars and timelines for the next school year in relation to future planning/university applications.
Please join us if you can. 
Create Your Own College Rankings
THIS op-ed in The New York Times allows the user to create their own college rankings and list from criteria that are personally relevant. While it is limited to US colleges/universities, the exercise of selecting criteria that are important to you is beneficial on its own. Give it a whirl. 
Grade 10 Course Selection Support 
From January – April, Grade 10 students (and parents) worked through selecting courses for Grades 11 and 12. From the Counselling Office, we hosted 6 classroom sessions to support students with their course selections. Below are links to all of the sessions. In addition, students completed 6 activities, all of which are in Cialfo – perhaps ask your student to see what they've done – 
3 AchieveWorks Assessments: Personality, Learning & Productivity, and Personality Intelligence
Careers Brainstorm, My Perfect Fit, My Puzzle Piece 
Grade 11 College/University Information 
On Friday, 27 January 2023 Grade 11 students met with Ms. Amanda to start preparing for university applications – Access the Slidedeck HERE from that meeting. Our future meeting dates are listed below. Students (and parents) please make sure to check and update Cialfo regularly. Students, you need to have a long list of universities in Cialfo for our next meeting in April. 
Tuesday, 18 April 2023
Wednesday, 3 May 2023
Friday, 12 May 2023
Friday, 2 June 2023
University of the Week – University of Miami's Intensive English Programme
Five reasons why the University of Miami Intensive English Programme is for you:
Location: Our programme is offered at the beautiful Coral Gables campus of the University of Miami. Miami is a diverse, global city that is home to many different nationalities and cultures. 
World-Class Services and Facilities: As an IEP student, you will have access to all of UM's services, facilities, and activities at the University of Miami, including any of UM's 280 registered student organizations. 
Small Classes: IEP class sizes are small, and students receive individualized support from faculty, administrators, and staff. We are here to assist you with your personal and academic goals and provide feedback on your progress. 
Diversity: IEP students come from many different countries on five continents. We host many events and activities outside of class to share your culture and learn about others, including UM International Week. 
Dedicated Faculty: Our faculty are experienced, supportive, and caring. They are committed to helping you achieve your goals, holding office hours each week so you may discuss any individual concerns.
Info, Opportunities, & Resources
University of York Open Day
Join our Undergraduate Discovery Day! Our Undergraduate Discovery Day is a great opportunity for your students to find out more about living and studying here at the University of York.
Date: Thursday 20 April 2023
Time: 1.00 pm to 7.00 pm UK time
Your students can get a taste of our teaching and chat with our academic staff and current students about their chosen subject at our department sessions. We'll also be giving an overview of our accommodation and colleges so they can discover more about life on campus!
Robotics Programme Opportunity
JoinSpeakup is inviting applications for The Autonomous Mini – RACECAR (Robotics) Programme – designed as an introductory course in robotics for students with some programming experience. In this course, students will be working with a virtual RACECAR in a custom-built simulation (designed by MIT Beaver Works Summer Institute).
The programme is spread over 6 Saturdays (Labs). Each Lab consists of a lecture, an exploration component, and a series of hands-on challenges. These labs grow in complexity, beginning with basic tasks such as driving in shapes and building to important concepts in robotics including SLAM, sensor fusion, and path planning.
At the end of this course, students will apply everything they have learned to complete the final grand challenge which combines elements from each lab.

Programme Faculty
– Dr. Masoumeh Mansouri is a lecturer at the School of Computer Science at the University of Birmingham
– Fatma Faruq is a Research Assistant in the Verification and Autonomy Group at the University of Manchester.

Curriculum Partner
– MIT Beaver Works Summer Institute is a rigorous, world-class STEM program for rising high school seniors. The goal of MIT Beaver Works Summer Institute is to improve engineering education worldwide by providing unparalleled technical content and support.

Further Opportunities

– Participants get to work on physical Race Cars in Level 2 of the programme (to be launched at a later date)
 
Only a small cohort of high school students from across the world will be selected for the program. 

Programme start date: 13 May 2023
Programme Duration: 6 Weeks (Every Saturday)
Early Application Deadline: 30 April 2022
Regular Programme Fee: USD 500
Early Programme Fee: USD 400
Eligibility: 
Grades 8 -12  
Must be familiar with the basics of Python
Students do not need to have any prior experience with robotics
To know more, click here
To Apply for the programme, click here 
IE University 
EVENTS & PRE-COLLEGE PROGRAMMES
Open House Experience – Discover every IEU department that can provide you with the information you need and answer your questions.
21 April 2023
IEU Summer Program – Aimed at students starting university in 2024 or 2025. Expand your knowledge in subjects vital for a well-rounded education.
Next editions in 2023:
– 2 to 14 July 2023
– 16 to 28 July 2023
From China Admissions
Have a look at our recent articles:
 – Which Chinese Programmes are open for visas in China for September 2023? 
 – Introducing Hong Kong Metropolitan University
 – 10 Subjects to Study for the Highest Paying Jobs!
 – What is it like studying in university after the pandemic? 
From The College Essay Guy
How to Build a Great College List w/ nationally-recognized college expert Dr. Steven Antonoff
17 – 24 May 2023
On the course we'll cover:
How can students find colleges where they can get accepted and thrive?
If I don't know what I want to study in college, how do I create a college list?
What factors should students consider when figuring out where to apply?
Beyond the school's website, what are the best, most practical resources for students, parents, and counsellors in creating a great and balanced college list?
How should I use US News rankings in the college search? Or should I?
How do students find colleges that will be affordable?
Is there a "right" number of colleges to apply to?
Finding great colleges for students with specific interests, identities, and backgrounds
How do colleges go about selecting students?
More Information and Register HERE.
April Resources
9th-graders
10th-graders
11th-graders
12th-graders
Continue applying for scholarships. Check in with your counsellor to see whether there are any local scholarships you might have missed.
Appealing financial aid: Read up on what to do if your financial aid offer doesn't line up with your budget. And make sure to listen to this podcast before writing an appeal letter.
Making your final college choice: It's decision time. You need to enrol and submit a deposit by 1 May 2023 (or a few days after, depending on the school).
From the Sunny Jain Newsletter
For undergraduate and postgraduate applicants (ages 12 – 25):
​The Warren and Anita Manshel Lecture in American Foreign Policy, by Harvard University. Many experts agree that we are approaching a point of no return with climate change, in this lecture Gina McCarthy aims to shed some light on the actions being taken to help prevent climate change. 19 April 2023. Relevant to anyone interested in politics and climate change.
​Why Do Tax Research And Evidence Matter For Economic Growth? Hosted at LSE. Keynote speech by FCDO Chief Economist Adnan Khan, exploring the impact of tax research and evidence on economic growth in developing countries. 26 April 2023. Relevant to anyone interested in economics.
​Best video highlights:​
​Being an undergraduate at Exeter University. In this video, we have an interview with one of our tutors who share their personal insight on undergraduate studies at Exeter University. From the academic excellence and diverse course offerings to the vibrant campus life and extracurricular activities the university has a lot to offer, check out the video to find out whether it's right for you.
​A guide to the Graduate Diploma in Law (GDL). In this video, we have one of our tutors who is currently studying the Graduate Diploma in Law (GDL) to get an overview of this popular legal qualification. Whether you want to transition into law from a different field or further your legal knowledge, the GDL can provide a solid foundation for further legal study or practice.
Popular Resources and FAQs
Questions, Support, and Help
Amanda Lopez
Grades 9 – 12 Universities Counselling & Social/Personal Counselling
To schedule an appointment – 
Parents – https://calendly.com/lopez-igbis/parent-community-meeting 
Students – https://bit.ly/IGBHSCounselor 
Email – amanda.lopez@igbis.edu.my