---
From the Head of School
By Jason McBride
Hello IGBIS Community,
When we combine IGBIS's Inclusion pillar with part of the IB mission statement whereby the goal is to create a "better and more peaceful world through intercultural understanding and respect", we can see how celebrating and understanding multiple cultures and religions as a school is a benefit for all. Drawing on two of the IB Learner Profile characteristics, if we cultivate a sense of Open-Mindedness towards the beliefs and customs of others to make ourselves more Knowledgeable, I idealistically have to believe that can move the global needle towards tolerance and peace!
With approximately 64% of Malaysia identifying as Muslim, and part of the nearly 2 billion Muslims around the world, understanding how important Hari Raya is to the people celebrating this special time of year helps us understand nearly one in four people on the planet. It is a joy to work in such a diverse school where everyone feels welcome to share their thoughts, opinions and beliefs without fear of judgment and I thank Mr. Rashid, the students and his team for helping us understand a little more about this special occasion as we focus on forgiveness, reconciliation and unity.
No matter what your personal beliefs are, we wish you and your family Selamat Hari Raya Aidilfitri and hope your long weekend is a great one!
Be well and see you Tuesday,
Jason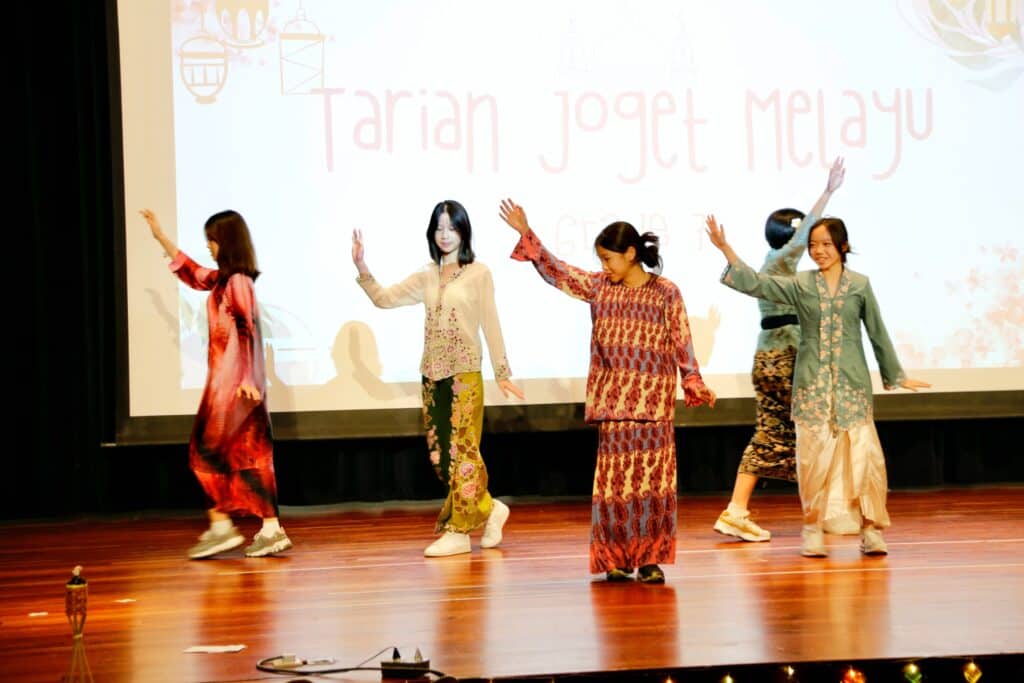 ---
From the Elementary Principal
By Simon Millward
Over the last two weeks, we have had some great things happening in school and it makes me appreciate how wonderful it is to work at an IB school.
On the sporting front, our under 11's boys and girls played friendly games against St. Joseph's International School. Both teams played very well with the boys narrowly losing 1- 0, and our girls continuing their dominant season by winning 6-0.
We have had two amazing assemblies. One from KG that took place in the Music room. They were real risk-takers as they were closer to their audience than they would usually be on the stage. Nevertheless, they took it in their stride and presented their learning for the most part confidently. It was pleasing that they showed how far they have come with their reading in particular.
They shared their unit of inquiry about how 'Past and present discoveries are important to how we live and learn in our present-day lives', they shared about fires and cave drawings as well as their field trip to Camp 5 where they once again showed how they were risk takers and resilient.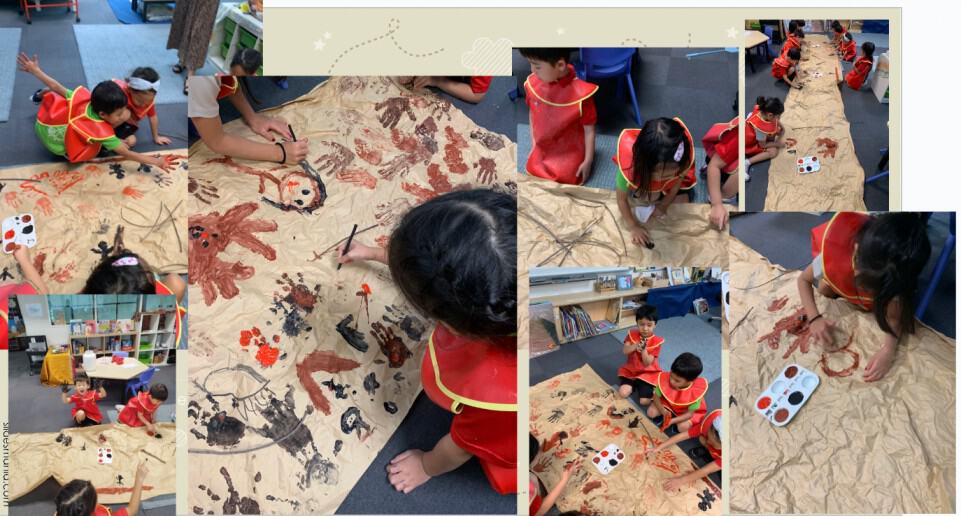 They have also been learning about storytelling and they shared their settings, characters, problems and solutions of their stories so far. The learning continues. Finally, they shared with us some of their personal inquiries and the questions they had about Egypt and mummies, space and astronauts, rabbits, dinosaurs, bears, plans and much more.
Last week we had our Early Years present their assembly to the Elementary school on stage in the theatre, which is 'huge' for our EY students. Unfortunately, I was unable to attend, but everyone I spoke to raved about how fantastic some of our youngest learners were at sharing their thinking and learning.
Grade 1 had a field trip to Jaya Grocer. They were shopping for ingredients so that they could cook the next day and put into action their mathematics measurement skills. The students certainly enjoyed their pizzas and chocolate treats if around their mouths was any indication.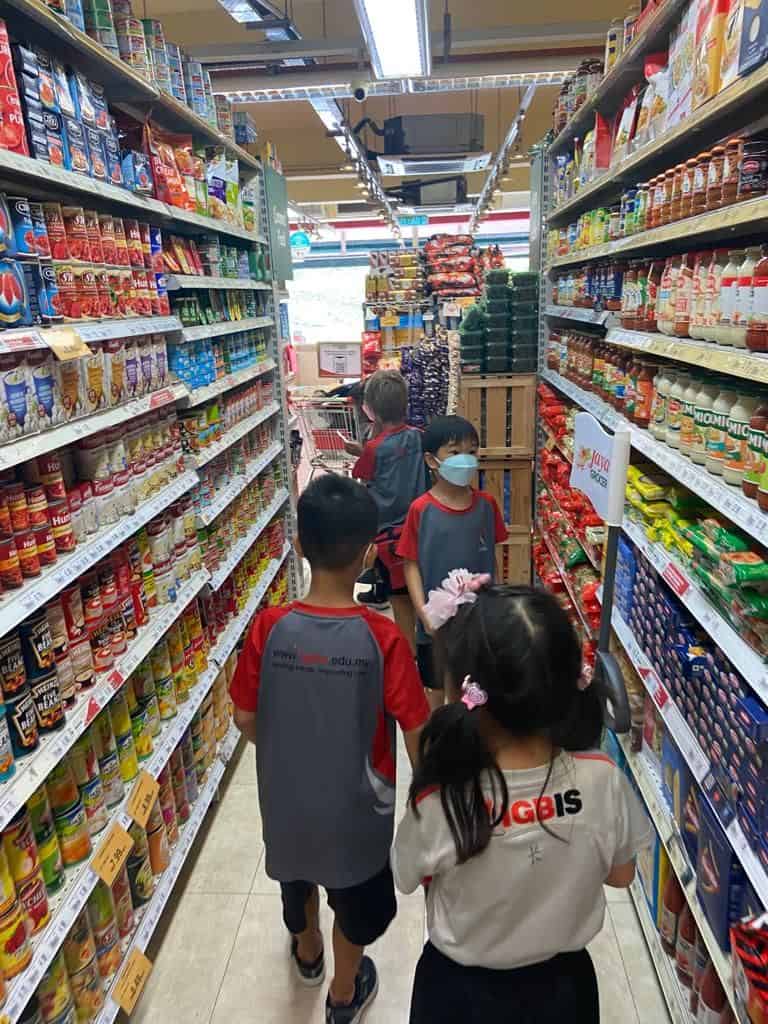 Thank you to everyone who attended our Student-Led Conferences last Saturday. All the reports were that the school was buzzing with students sharing their learning, playing games and giving you a glimpse into their lives as IGBIS students. Certainly, the prospective families who visited on Open Day were also impressed by our community and what is happening at IGBIS.
Today we had a fabulous Raya assembly thank you to all of our performers and a big thanks to all of the teachers and community for working so hard on the assembly, in particular, Mr. Rashid, Ms. Meena, Ms. Farah, Ms. Hadewych, Ms. Adina, Mr. Alex, Ms. Carol, Ms. Abi, Ms. Yaya and Ms. Nadia for leading and guiding our students. This truly shows what a community effort it is to bring these celebrations to the forefront of IGBIS and appreciate our host nation Malaysia.
I hope you all have an enjoyable long weekend and 'Selamat Hari Raya' to all those who are celebrating.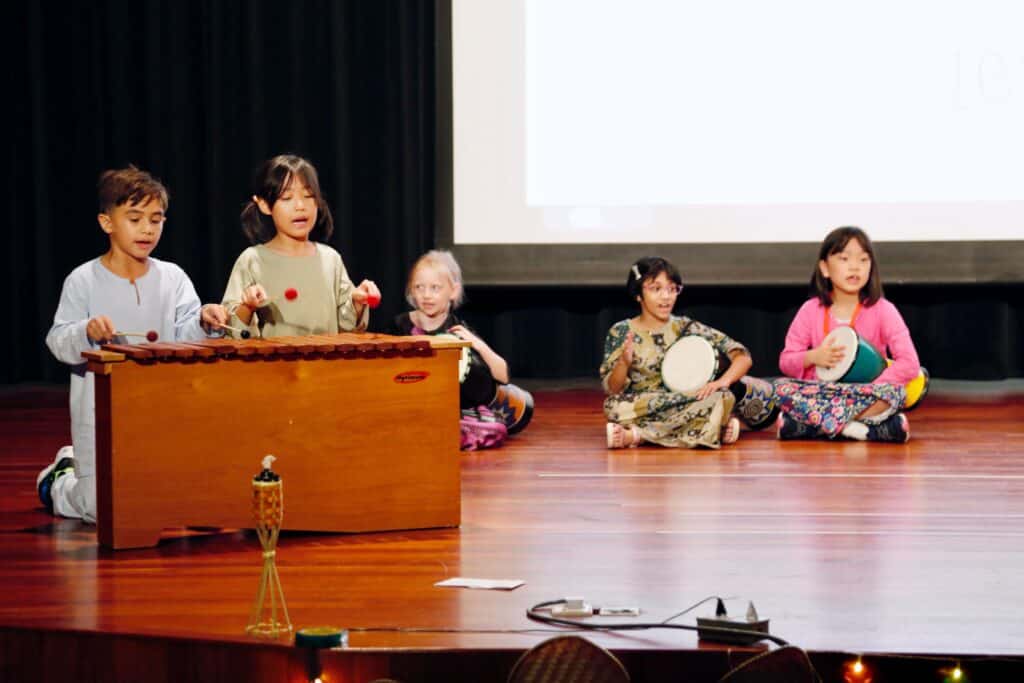 Dates for your diaries
20 – 24 April 2023: Raya Holiday
25 April 2023: Grade 5 Camp parent meeting: PVO room 8:00 am
25 April 2023: U11 boys and girls friendly badminton vs ELC @ IGBIS
26 – 28 April 2023: PYP Exhibition Grade 5
27 April 2023: Grade 4 Camp parent meeting: PVO room 8:00 am
6 May 2023: International Day
17 May 2023: Grade 5 parent meeting: Transition to Grade 6.
---
From the Secondary Principal
By Sandy van Nooten
Farewell and good luck to our Grade 12s
It is hard to believe that the Grade 12s have finished high school. Last Friday was their final 'regular' day, and now they are on study leave getting ready for the IBDP exams that begin on Thursday, 27 April 2023. It seems very quiet here without them. We all hope that the exams are filled with questions they know and love. Thanks to Grade 11 students and Ms. Jenny Wencl for organising the farewell assembly last Friday. It was a beautiful, heartwarming, funny and fabulous tribute to the class of 2023.
Day Trips
A reminder that almost all of our students from Grade 6 to 11 will be heading off on grade-level day trips on Fri 28th April. Each class is going to a different place: bowling, District 21, Next Gen, Rock climbing, paintball, laser tag, karaoke etc. It should be a great day out. Thank you to the Grade Level Coordinators for all their hard work.
Grade 10 e-assessment Mocks
Grade 10s have been busy this week doing Mock e-assessments for English, World Language, Maths, Science and I&S. Students did a great job managing the new IB online environment and I hope this experience will help them feel more confident for the MYP finals that start on the 9 May 2023.
Waterloo Maths Competition
In February, all the Grade 9, 10 and 11 students competed in the University of Waterloo Mathematics competition. The competition is designed to test concepts common to all curriculums. The later questions are designed to test ingenuity and insight. Rather than testing content, most of the contest problems test logical thinking and mathematical problem-solving.
Our students did very well in this year's competition. Students who score in the top 25% of all competitors get a Distinction Award. The highest score at each grade level receives a School Champion Medal.
Congratulations to these students who earned School medals &/or Certificates of Distinction
The Grade 9 Pascal Competition – Leo (School Medal)
The Grade 10 Cayley Competition – Khoi (School Medal), Bitian, Julie
The Grade 11 Fermet Competition – Jun Hyeok (School Medal) and Sarah.
SS Snaps
Here are some snaps from around the school over the last week or so.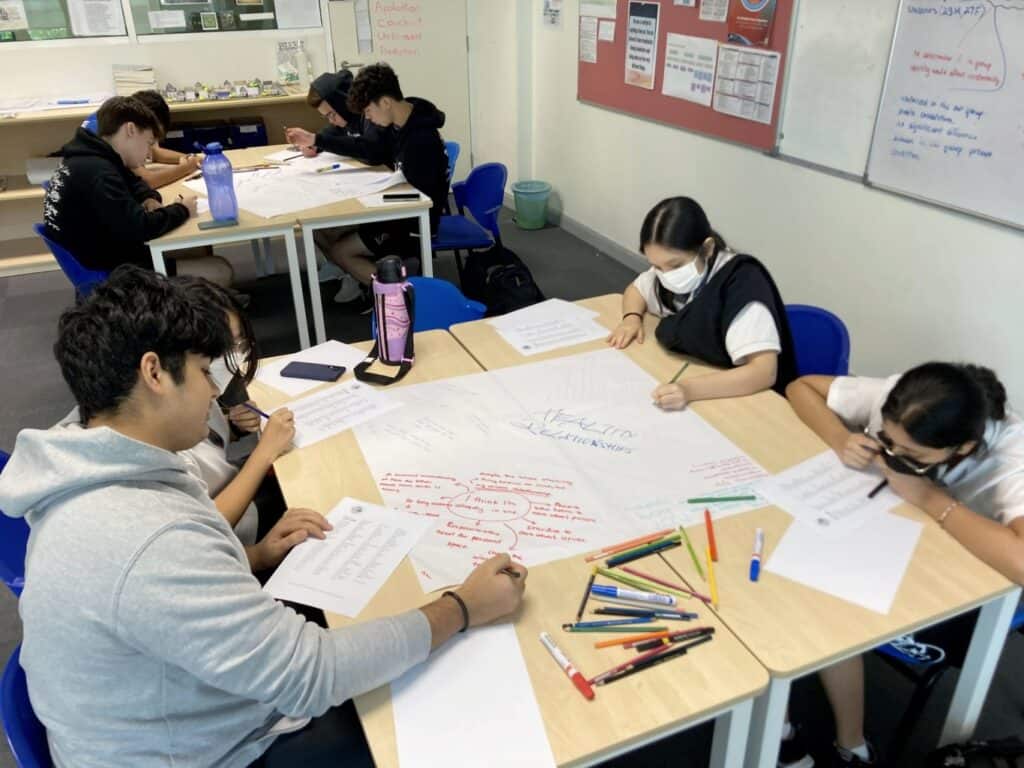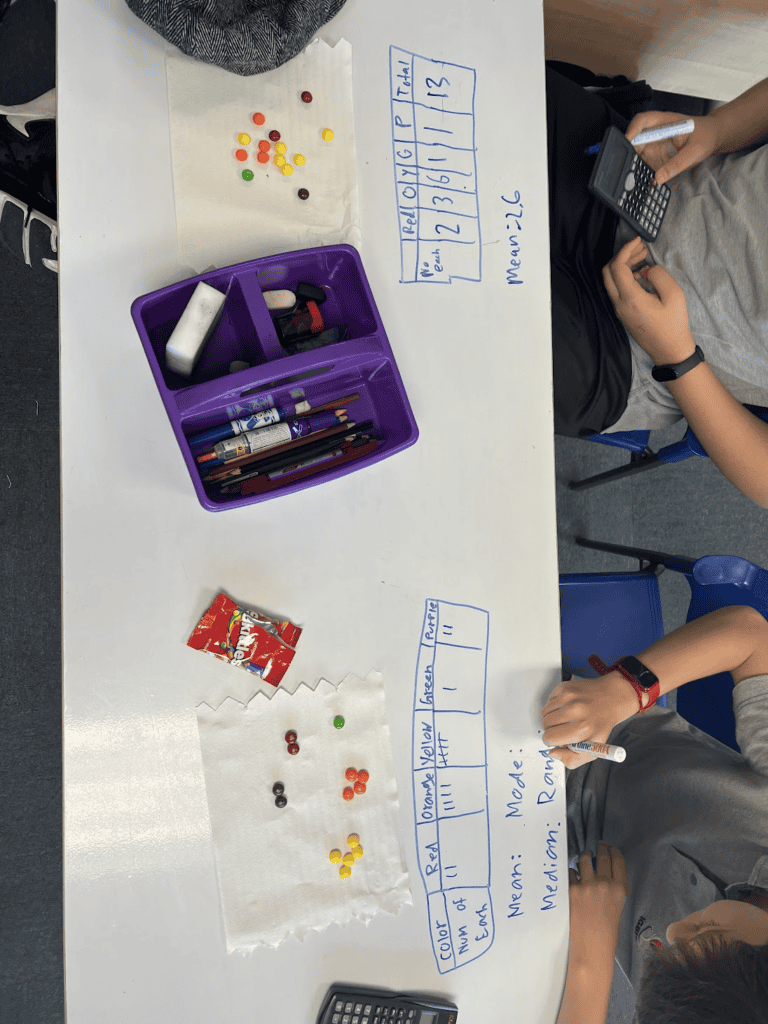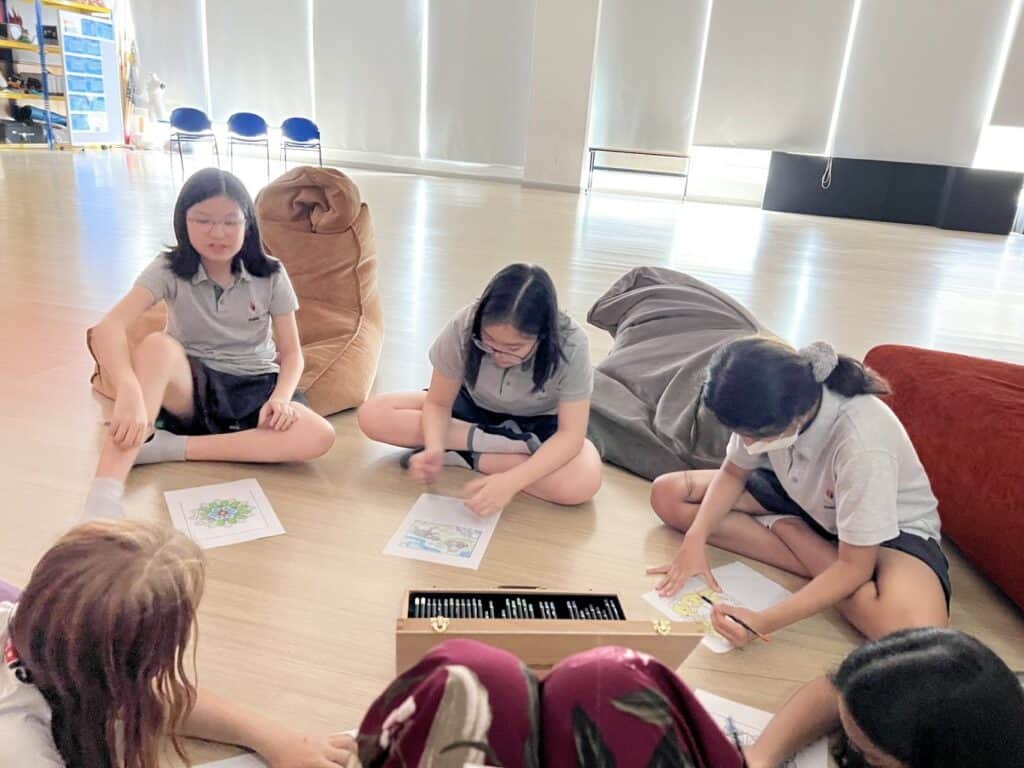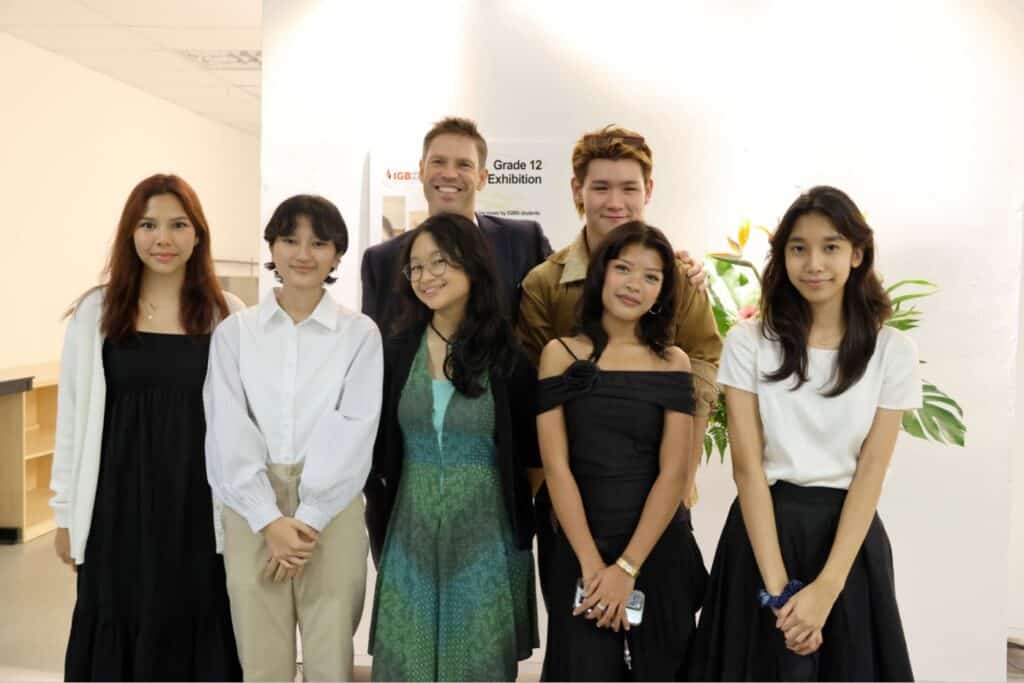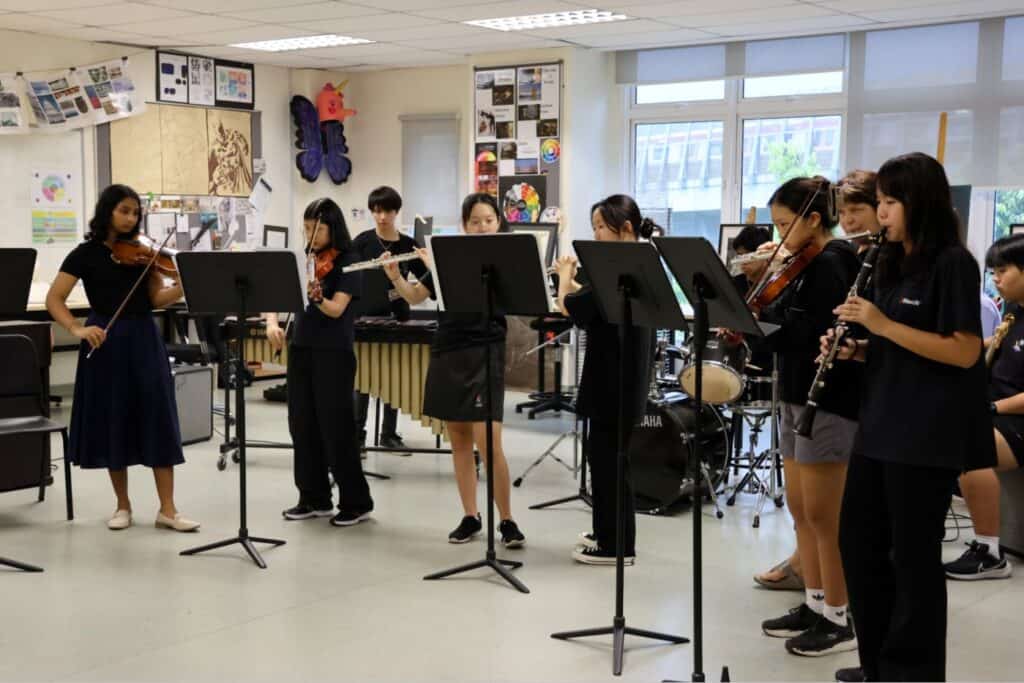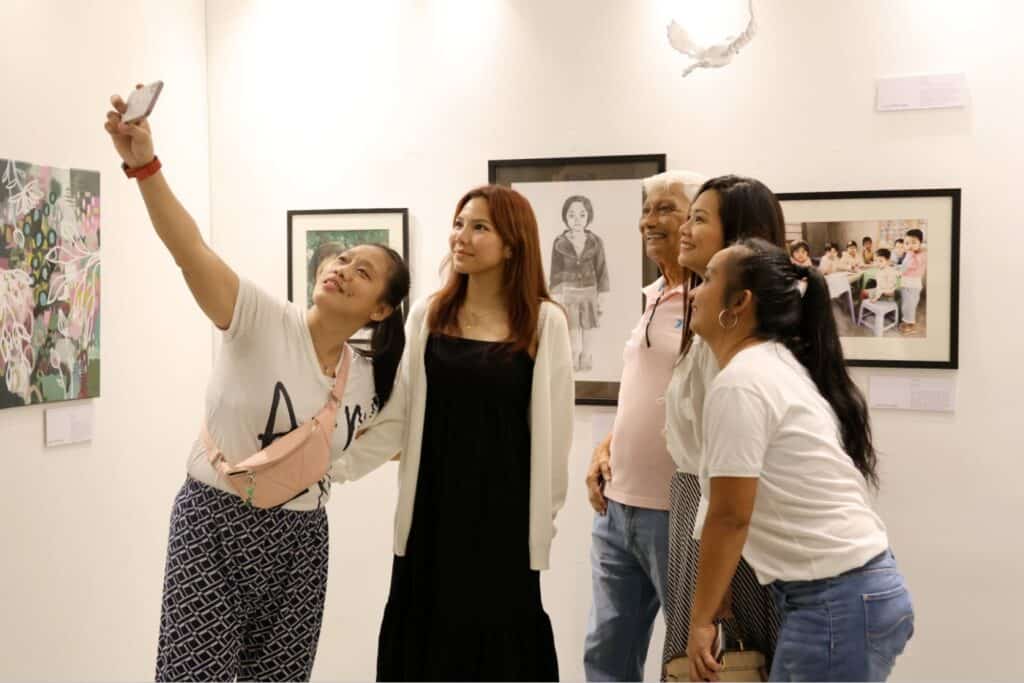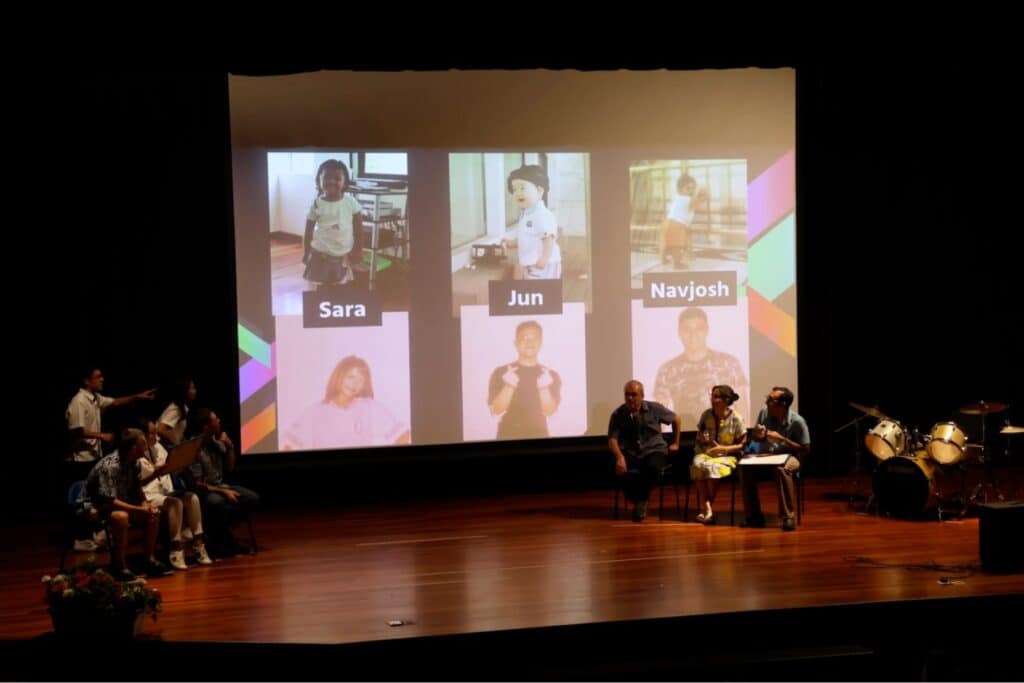 Useful Links
Useful links for parents

Student LaunchPad (this is the place to go to find what is happening in school on a day-to-day basis). It also has a 'quick links' section where you can find lots of important documents.
Secondary Assessment Procedures – a 4-page document outlining our assessment expectations and procedures. (Also available from Student LaunchPad & Splash)
A to Z Secondary Handbook – This gives an overview of all our policies, expectations and procedures. (Also available from Student LaunchPad & Splash)
Have a great holiday.
Regards
Sandy
---
Kukri PE Uniform Order
Please be reminded that the Kukri PE uniform order will begin on Monday, 17 April 2023 and end on Tuesday, 2 May 2023. Remember to mark your calendars and place orders during this period.
---
Black Athletic T-shirts: Not Part of PE Kit
Please be aware that the Black Athletic T-shirts are NOT a part of the PE Kit.
They are for after-school sports clubs. The grey T-shirts should be worn in PHE lessons.
---
PYPX Presentation Schedule
26 April 2023 (Day 4)
Time
Presentation Focus
8:00 – 9:00
-G5 opening of PYPX!-Caitlan's video-5H performance-Eunice, Sean and George to present their song -5G performance-Simon's welcoming speech
9:00 – 9:30
-5G Swim performance
-5H PYPX sharing
9:30 – 10:00
Break
10:00 – 10:30
-5H Swim performance
-5G PYPX sharing
10:30+
Parents leave and students have a break before sharing after lunch.
---
TEDxIGBIS Live Watch Party
We are excited to share that IGBIS will be hosting a TEDxIGBIS Live watch party for our community this 8 May, 3:15 pm – 4:30 pm.
The theme of TED2023 is possibility, and technology is one of the exciting areas that will be explored at this year's conference.
Leading figures like cofounder of OpenAI Greg Brockman, TikTok CEO Shou Chew, computer scientist Yejin Choi, Web3 designer Tina He and Khan Academy CEO Sal Khan are taking the stage in Vancouver.
Our official licensed in-house event will rally our school community around the "TED 2023 Possibilities" top 5 talks selected to showcase the possible future pathways for our youth and their parents and inspire their thinking about the future of our communities and our children's passions and unique potentials possibly turning into future professions that do not yet exist.
As the event has a license-limited number of participants (100 families). We would like to ask that you sign up to participate via this Google Form:
https://forms.gle/eiYusEPPVUB3JAHw6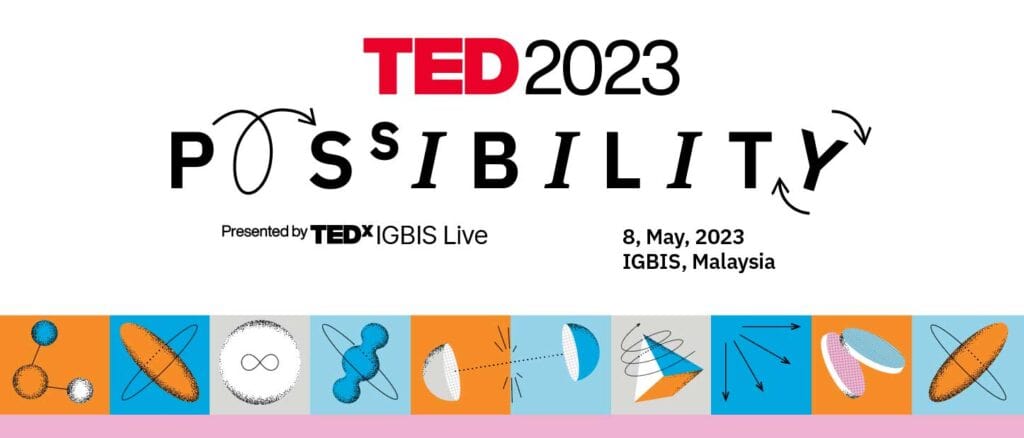 ---
TEDxIGBIS Youth
This 30 May, IGBIS is proud to present 20 exceptional youth speakers who will take to the official TEDxIGBIS Youth stage to present their unique ideas and perspectives on the variety of aspects of our today's lives.
The event theme: Igniting Minds and Impacting Lives (IGBIS motto), will create a thought platform for our young TEDx speakers to advocate new world views, life choices and unexpected solutions to topics ranging from human rights, mental health, human ingenuity and creativity, community welfare and many others.
Stay tuned! More updates on the live stream will be available on our social media channels and our TEDxIGBIS Youth website.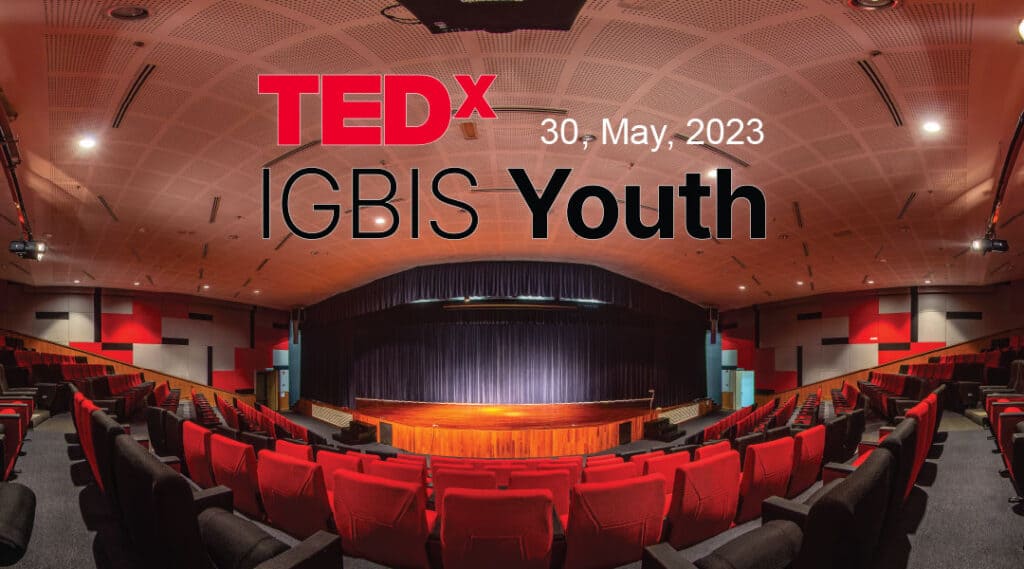 ---
IGBIS Summer School
Summer is almost here, and we are thrilled to announce our Summer School this July! Offering this to children between Kindergarten to Grade 8, we have engaging learning experiences designed to help students unleash their creativity and improve their social, communication and thinking skills while enjoying a variety of extracurricular activities. Our team of experienced teachers will be leading the classes, ensuring your children get the most out of their summer break.
The programme will run from 17 July to 21 July 2023 and 24 July to 28 July 2023 and will include classes in Fun English, Design and Team Building, and a range of fun activities such as library games, swimming and sports as well as arts and crafts. Register now, as we have limited spots available.
If you have any questions or want more information, please do not hesitate to contact us at marketing@igbis.edu.my. We are excited about this new programme and look forward to sharing it with our students and their families. Thank you for your continued support.
---
IGBIS Yearbook 2022/23
For people who grew up with yearbooks, they are an annual right of passage that you look forward to; for others, they are fun, but not a part of the end-of-the-school-year experience you had as a student. A lot of conversation has been happening behind the scenes debating and discussing the financial and environmental costs of printing +400 copies of a 150-page yearbook for all grades every year, and as a result, in conjunction with the Yearbook Committee—the wonderful team that created this year's version of the annual book—we are going to make a change:
All graduating Grade 12 students will receive a copy of the full yearbook.
All students in Grades 11 and below will:

Have access to the full version digitally for free.
Receive a smaller version of the yearbook with their grade level, the levels around them and pages for signatures for free (excluding those who have purchased the full yearbook).

All students and staff will have the opportunity to purchase a full yearbook (at cost) so that we print on demand and do not use more paper than is needed.
To indicate that you wish to pay for a full version of the yearbook, please click HERE.
---
International Day 2023
Mark your calendars for this exciting celebration of diversity! Stay tuned for more information on this upcoming event that promotes unity and celebrates our cultural differences.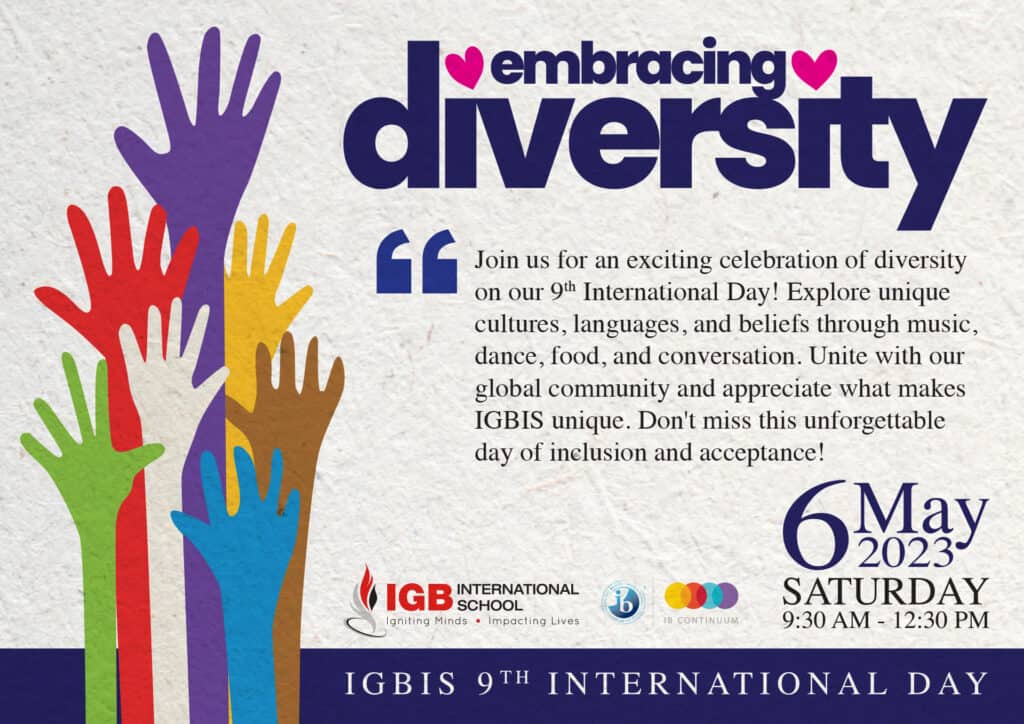 ---
Follow IGBIS Social Media Channels
cta-2023-OL

---
Future Planning Weekly Update
Amanda Lopez
Highlights of the Week
SAVE THE DATE: AI Summer Programme Taught by Stanford Alumni at International School of Kuala Lumpur: 12 – 23 June 2023
Inspirit AI is offering an in-person, 30-hour pre-college AI programme hosted at International School of Kuala Lumpur that teaches students in Grades 8-12 fundamental AI concepts and guides them to build socially impactful projects such as safe ChatGPT bots, exoplanet search, self-driving car systems, and more! Stanford and MIT graduates in AI will be present in person from 12 – 23 June 2023 to teach. Please read more information in the programme brochure and apply here. If you cannot attend in person, students may apply to the live online programme at www.inspiritai.com. Programme contact: Jared Greene, jaredgreene@inspiritai.com.
****NEW SAVE THE DATE: Parent/Counselor Coffee Morning with Amanda
Date Change – Wednesday, 31 May 2023
8:15 – 9:15, PVO
Due to grade 11 AMP sessions, we are moving our monthly Wednesday coffee morning to the LAST Wednesday of April. Parents from Grades 9 – 12 can gather together, have some coffee and curry puffs, and just chat and ask questions with Ms. Amanda to help support the future planning process.
Our April session highlighted an activity on values and priorities in choosing a university.
Our upcoming May session will provide calendars and timelines for next school year in relation to future planning/university applications.
Please join us if you can.
Grade 11 College/University Information
Future planning sessions have begun! Parents and students, please refer to THIS EMAIL for more information.
Tuesday, 18 April 2023 – slidedeck HERE
Wednesday, 3 May 2023
Friday, 12 May 2023
Wednesday, 24 May 2023
Friday, 2 June 2023
NEW Future Planning Platform Coming!!!! – Unifrog
Throughout this school year, students and parents have been using Cialfo to plan for life after IGBIS. As we move into the 23-24 school year, we will transition to a new platform, Unifrog. Grade 11 students will be the first to transition to the new platform, and this will take place during the May and June Future Planning sessions in AMP. Current Grade 9 and 10 students will transition to the new platform during the 23-24 school year. More information will be shared as we migrate to the new platform.
Reforms to Cambridge Assessment Admissions Testing from 2024
Cambridge Assessment Admissions Testing is to withdraw from running a series of university admissions exams with effect from 2024-25. This includes BMAT (medicine), ENGAA (engineering), NSAA (natural sciences) and TMUA (mathematical skills) tests.
University of the Week – Earth Day Edition!
Saturday, 22 April 2023 is Earth Day, and a great time to focus on the most sustainable Universities in the world. While I typically do not support using rankings in isolation – this list is pretty impressive!
*Image taken from https://www.topuniversities.com/university-rankings/qs-sustainability-ranking/top-universities-environmental-social-sustainability-2023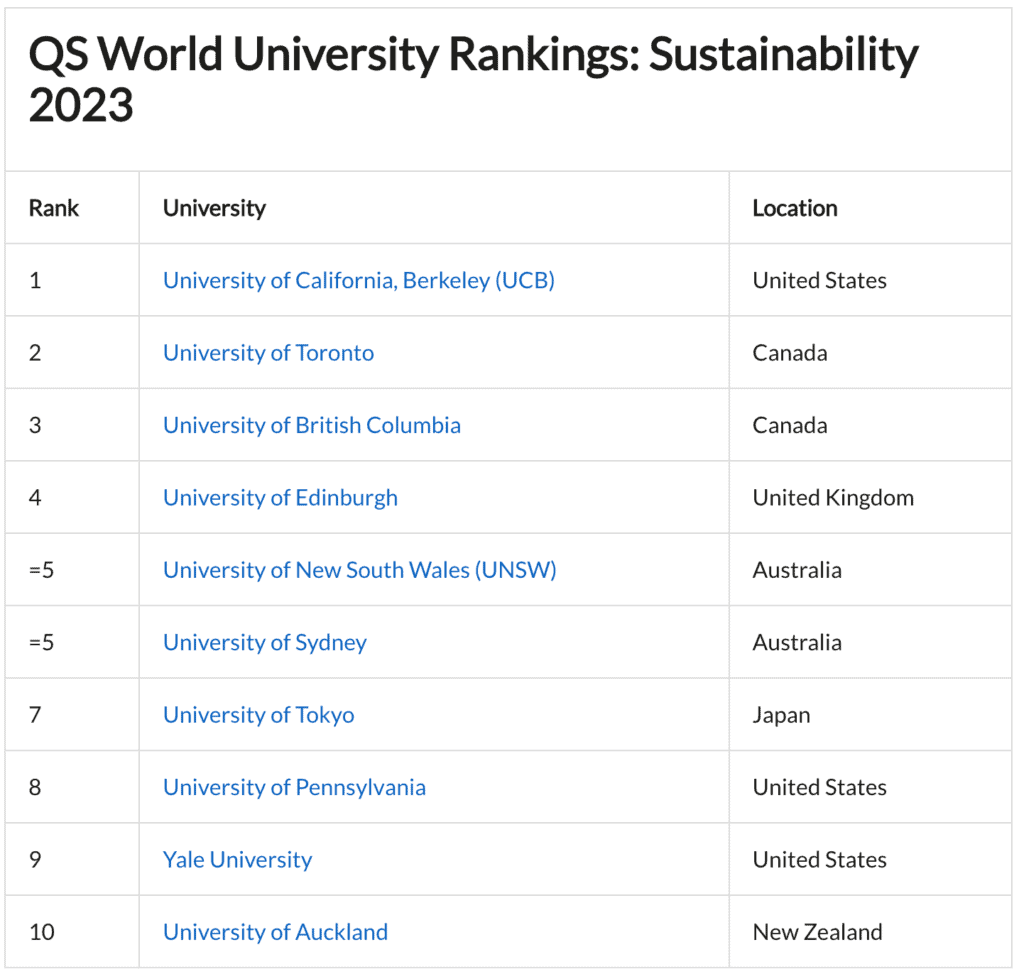 Info, Opportunities, & Resources
From The College Essay Guy
Upcoming Parent Community Sessions – CEG's Parent Community is a great place to get your college admission questions answered by experts in the field (for example, one parent just asked: Should my senior son take a gap year and defer his college acceptances?).
Here's a sneak peek at our April and May live events:
How to Explore (and Maybe Even Find!) Your Major | 26 April 2023
College Visit Dos and Don'ts | 18 May 2023
Mental Health and the College Process | 23 May 2023
To sign up and RSVP, join the Parent Community here.
Upcoming Courses & Events for Students, Parents & Counselors
How to Build a Great College List (with Dr. Steven Antonoff) | 17 – 24 May 2023
Applying to college this fall or working with students who are? Planning ahead for college visits and want to get a head start on the college search process? Join me and nationally recognized college expert Steven Antonoff next month and get a framework and set of tools and practical resources for smart college list building.
Register Here
How To Write a Personal Statement | 8 – 29 June 2023
Rising senior and looking to get a jump on the college essay writing process? Join me for a month-long process of digging deep, uncovering your core values and story, and writing and drafting a stand-out college personal statement.
How to Write the College Application and Supplemental Essays | 6 – 27 July 2023
Applying to selective colleges? We will continue the essay writing magic next month on a whole separate course dedicated to helping rising seniors write awesome school-specific supplemental essays, crafting an outstanding activities list, and more.
Summer Camp 2023 at Constructor University (Germany)
The Summer Camp 2023 is a 12-day program where students can expand their knowledge in programming, mathematics and the German language, as well as enjoy lab tours and visits to local companies and more.
Here are some important details about the Summer Camp 2023:
Dates: 29 July – 9 August 2023 (12 days)
Location: Constructor University, Campus Ring 1, 28759 Bremen, Germany
Academic focus: Mathematics, programming, German language
Who can participate: High school students (16 – 19 years old)
Language of instruction: English
Fee: 2650 Euro for the whole programme
Registration deadlines: 15 May 2023 (students needing a visa), 1 June 2023 (students who do not need a visa)
Learn more about Summer Camp 2023
EducationUSA Pre-Departure Orientation 2023
Greetings from EducationUSA Malaysia!
We are excited to announce that we will be conducting our annual Pre-Departure Orientation (PDO) for students who have been accepted to U.S. universities and are preparing for their departure. The PDO will be conducted in two sessions, in Penang and Kuala Lumpur respectively.
The details for the events are as follows:
Penang PDO
Date: 13 May 2023 (Saturday)
Time: 10:30 am to 1:30 pm
Venue: Penang Science Cluster, George Town
Registration Link: bit.ly/PDOPenang23
Kuala Lumpur PDO
Date: 20 May 2023 (Saturday)
Time: 10:30 am to 3:00 pm
Venue: Mereka, Publika, Mont Kiara
Registration Link: bit.ly/PDOKL23
The PDO will consist of multiple speaking slots and networking opportunities for the students. Kindly find the rough itinerary as follows.
Visa briefing from Consular Officer or Embassy representative
Pre-Departure briefing from EducationUSA advisers
Sharing session from representatives of the National Assembly of Malaysian Students in America (NAMSA) and American Universities' Alumni Association Malaysia (AUAM)
Fireside chat with U.S. university alumni
Networking
Note that breakfast and lunch will be provided, and we will also be hosting a few giveaways throughout the day. Note that spots are limited and are on a first-come, first-served basis.
Worth a read
Popular Resources and FAQs
Questions, Support, and Help
Amanda Lopez
Grades 9 – 12 Universities Counselling & Social/Personal Counselling
To schedule an appointment –
Parents – https://calendly.com/lopez-igbis/parent-community-meeting
Students – https://bit.ly/IGBHSCounselor
Email – amanda.lopez@igbis.edu.my