---
From the Head of School
By Jason McBride
Dear IGBIS Community,
No other event at IGBIS brings our community together quite like International Day. Celebrating our 9th year as a collection of people from more than 35 countries, this year's theme of "Embracing Diversity" was a perfect fit. Families and staff alike came together to share their nationalities and cultures with an amazing offering of music, dance, activities and, of course, food! From Malaysia to all parts of the globe, there was so much to try, from Malaysian curries, Korean bulgogi and Canadian maple ice cream, to British scones, Japanese sushi and Colombian arepas … there was something for every kind of taste bud. Everybody looked so incredible in their national dress or flag colours from the more than three dozen flags represented, and the performers on stage brought a ton of energy to the day. This year was the first time we also had a silent art auction which gave the Grade 12's an opportunity to sell their DP final art projects with half of the proceeds going to charity. What a great day to be a Phoenix, thank you so much to everyone who helped make it happen!
With the recent Ministry of Education directive banning all outdoor activity, we were very glad that we planned for International Day to be in the sports hall instead of on the field. While the directive is meant to protect students, a goal we all share, we have sent a letter to the MOE requesting a slight modification or relaxation of the directive to allow us to get students outside for a limited time during the day for fresh air, to use the pool when it is in the shade, to bus students to indoor sports matches at other schools and, with fingers crossed, have our Grade 4 and 5 outdoor residential trips continue to go ahead. We will let our community know if we manage to reach an agreement with the MOE that meets their goal to keep students safe when the weather is hot, but does not stop them from getting outside entirely.
Have a wonderful weekend,
Jason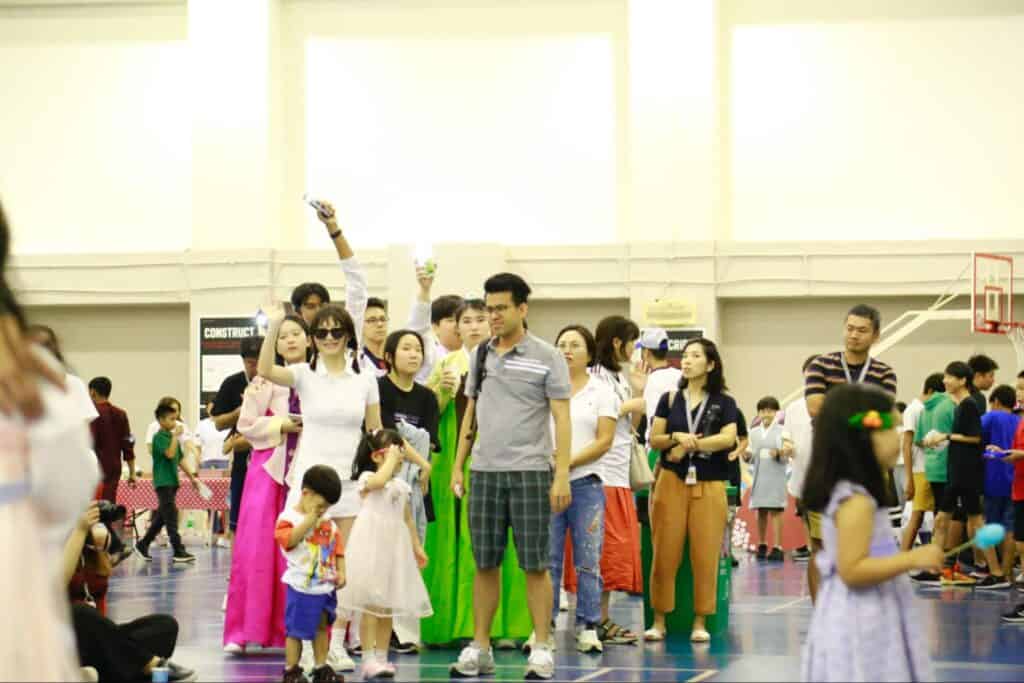 ---
From the Elementary Principal
By Simon Millward
What a wonderful event International Day was last Saturday. It was great to see so many families coming together as a diverse community to appreciate and celebrate the cultures of the school. Whilst the food was appreciated and I tried some new dishes I had not previously experienced, it was the performances that brought a smile to my face the most. Seeing students, parents and teachers on stage being risk-takers and sharing their talents was fantastic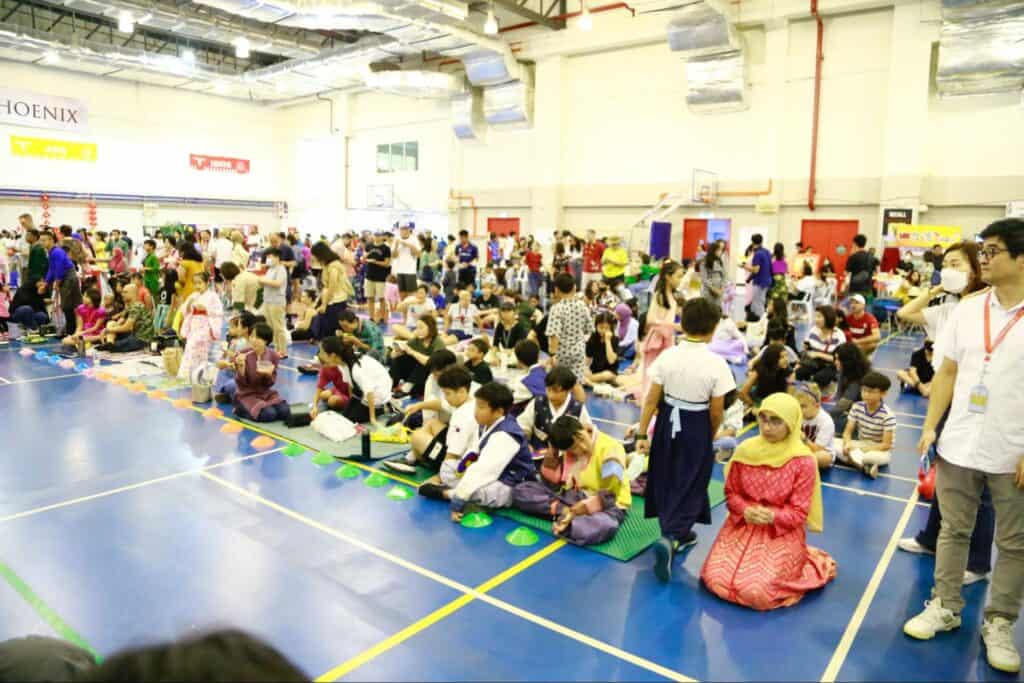 Although the Grade 5 PYP Exhibition is over there are some students still taking action. This week 2 of our students visited PAWS to donate what they had collected for the cats and dogs that are currently at this animal shelter. Well done girls, I am sure PAWS appreciated your donation.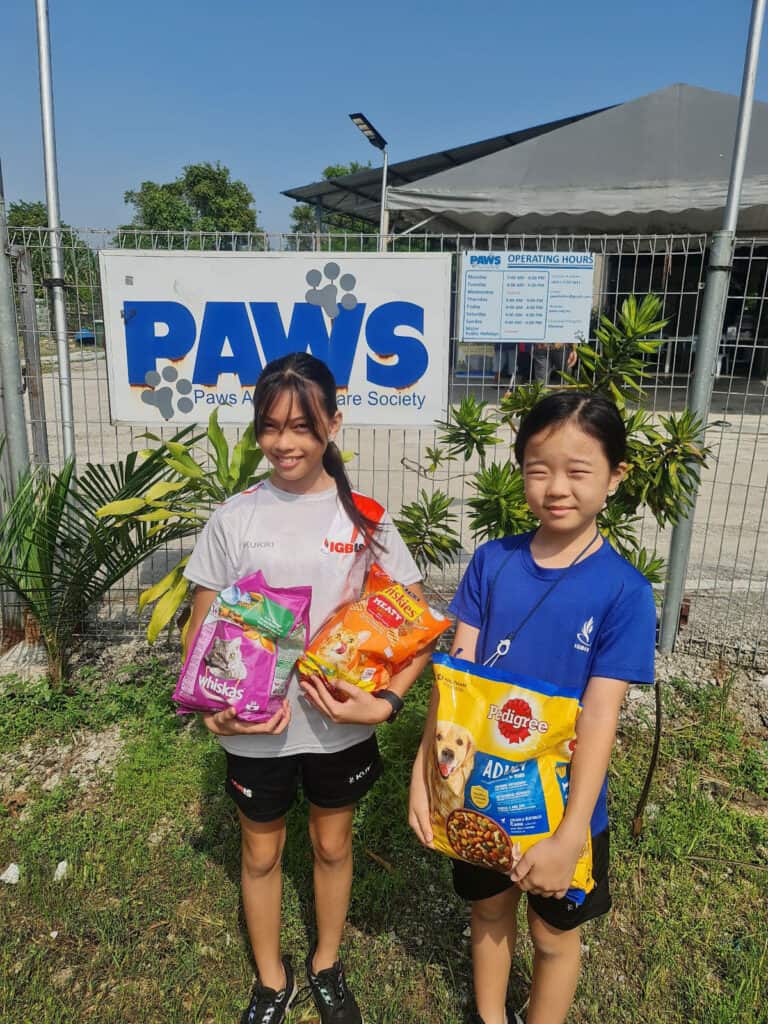 This week our Grade 4 students presented their learning in assembly. They shared their personal inquiries as well as what they had been learning in their units of inquiry. The variety of interests was eye-opening and it was pleasing to see one of our students giving back to others by 'running' an after-school activity (supported by Mr. Jamie)- Fun fitness- well done Shakira.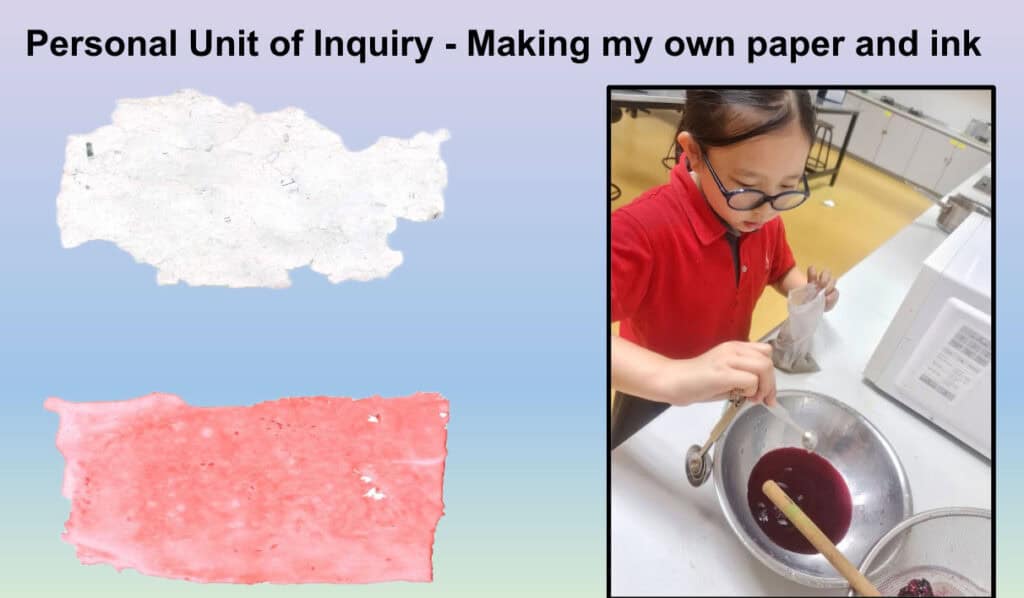 Dates for your diaries
17 May 2023: Grade 5 parent meeting: Transition to Grade 6. PVO room 8:00 am.
17 – 19 May: Grade 4 Camp (subject to confirmation)
22 May 2023: IGBIS holiday
24 – 26 May 2023: Grade 5 Camp (subject to confirmation)
30 May 2023: TEDx Youth event
31 May 2023: Music Instrumental Concert
2 June 2023: ES Sports Day
5 June 2023: Holiday
---
IGBIS Open Day
IGBIS will be having another Open Day on 28 May 2023, Sunday from 10.00 am to 12.30 pm.
It would be great if you could share this Open Day information with your friends and family members who are looking for an international school for their children.
On this Open Day, there will be a talk by Mr. McBride, our Head of School about how IB Education prioritise the inquiry-based approach that empowers students to cultivate personal well-being and acquire knowledge for their pathway towards university; a school tour to have a look at our state-of-the-art facilities and to better understand how lessons are conducted; and a counselling and enquiry session.
All attendees receive a *100% rebate on the application fee and a *75% waiver on the enrolment fee worth up to RM19,750 when enrolling at IGBIS.
*T&Cs apply
You may share this link, https://igbis.edu.my/admissions/openday/ with your friends or family members to know more about IGBIS Open Day and to register.
IGBIS parents who refer new students to IGBIS will be entitled to RM2,000 per student or *RM3,000 per family (where there are two or more students in K – 12) through the *Referral Incentives Programme. Please notify Warren Chew at warren.chew@igbis.edu.my after you have referred a new student to IGBIS.
*T&Cs apply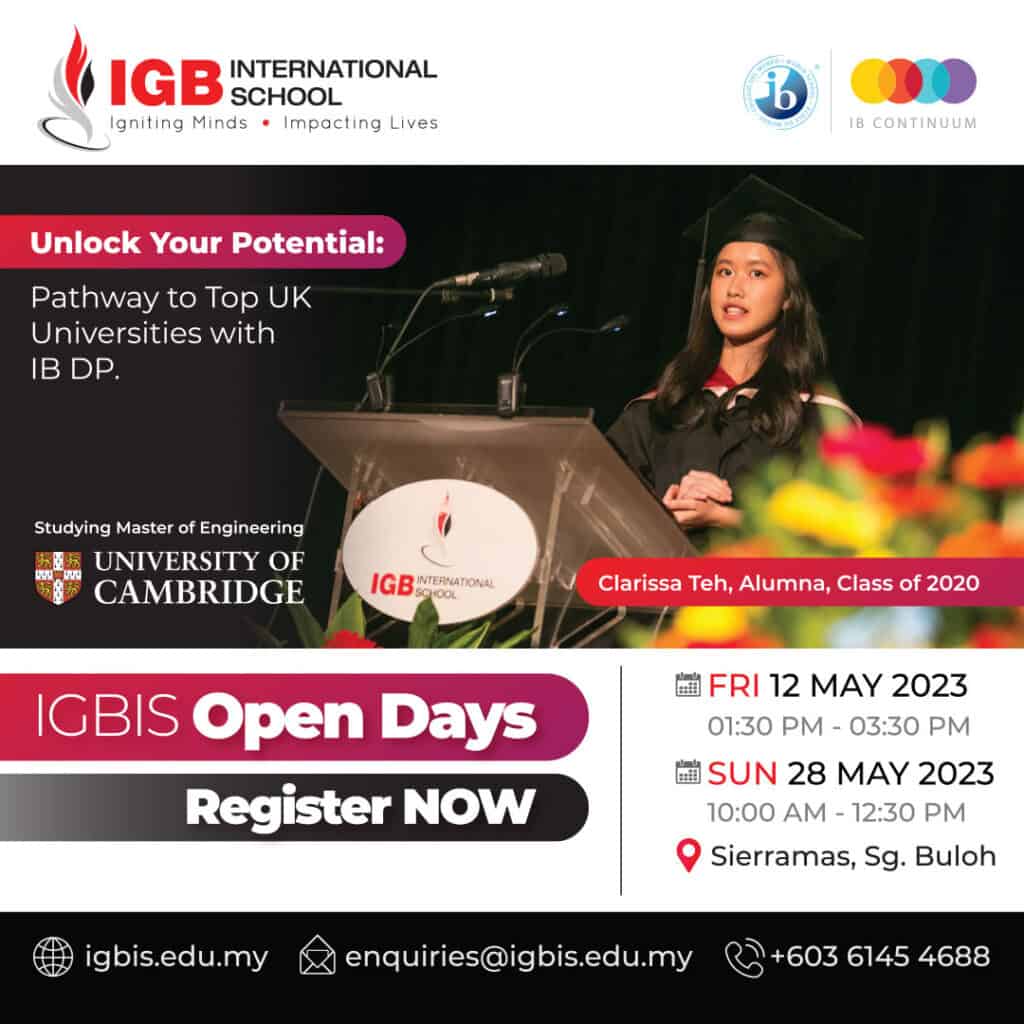 ---
Well-being and Fitness: Additional Session for HIIT Circuit Training
Calling out the IGBIS Community to join us for a newly added session of the HIIT Circuit Training starting next Wednesday at 2:00 pm. Click HERE to download the Well-being and Fitness schedule.
wellbeing-schedule-updt-230508

---
TEDx IGBIS Youth
This 30 May, IGBIS is proud to present 20 exceptional youth speakers who will take to the official TEDxIGBIS Youth stage to present their unique ideas and perspectives on the variety of aspects of our today's lives.
The event theme: Igniting Minds and Impacting Lives (IGBIS motto), will create a thought platform for our young TEDx speakers to advocate new world views, life choices and unexpected solutions to topics ranging from human rights, mental health, human ingenuity and creativity, community welfare and many others.
Stay tuned! More updates on the live stream will be available on our social media channels and our TEDxIGBIS Youth website.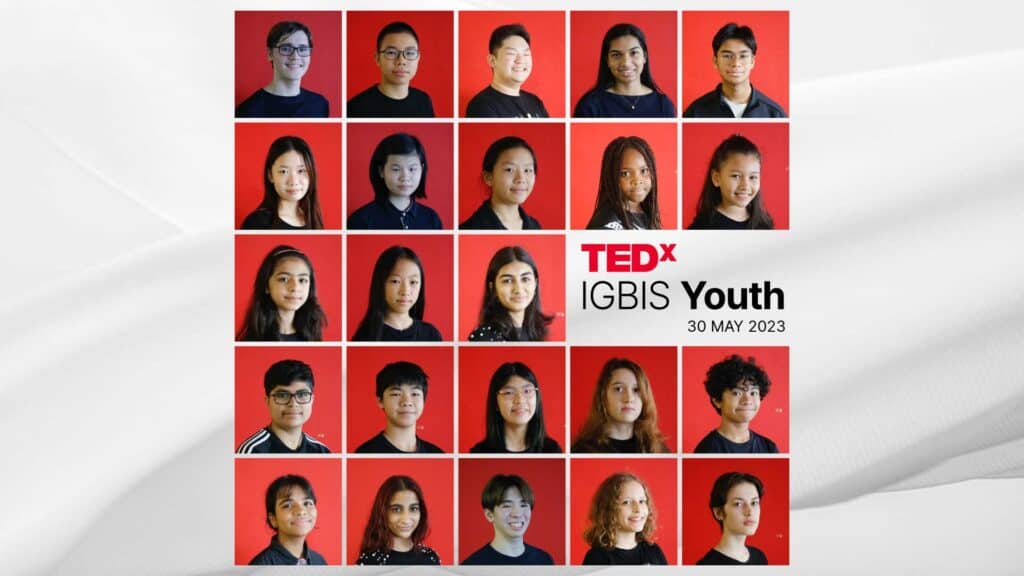 ---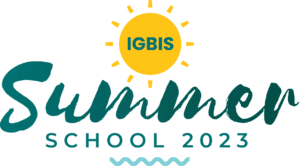 Summer is almost here, and we are thrilled to announce our Summer School this July! Offering this to children between Kindergarten to Grade 8, we have engaging learning experiences designed to help students unleash their creativity and improve their social, communication and thinking skills while enjoying a variety of extracurricular activities. Our team of experienced teachers will be leading the classes, ensuring your children get the most out of their summer break.
The programme will run from 17 July to 21 July 2023 and 24 July to 28 July 2023 and will include classes in Fun English, Design and Team Building, and a range of fun activities such as library games, swimming and sports as well as arts and crafts. Register now, as we have limited spots available. Enjoy our Early Bird Discount when you register before 15 April 2023!
If you have any questions or want more information, please do not hesitate to contact us at marketing@igbis.edu.my. We are excited about this new programme and look forward to sharing it with our students and their families. Thank you for your continued support.
REGISTER HERE.
---
IGBIS Social Media Parents Survey 2023
Dear IGBIS Parents,
This year, we would like to conduct a social media survey for all parents in the IGBIS Community to gain insight into the usage of social media platforms among parents and to understand how we can improve our communication strategies to better engage with the community on these platforms. Your participation in this survey will only take a few minutes and will greatly assist us in understanding the social media habits of our parent community, enabling us to tailor our social media strategies in order to improve our social media reach for both the IGBIS community and the wider public. Please click HERE to participate in the survey.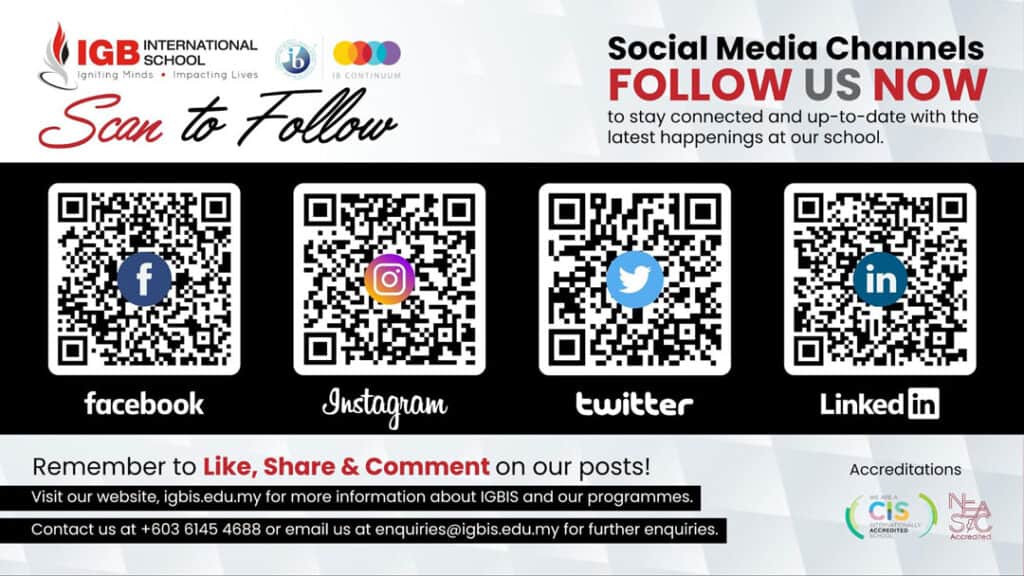 ---