Message from the Head of School
Dear IGBIS Parents and Community Members,

International Day and 5 Year Celebration on March 16
Our biggest event of the school year is now just one week away. Please make sure that you have this day marked on your calendar. Since we are celebrating (nearly) 5 years of 'Living our legacy', as well as International Day, the programme is really exciting. We hope to see many of our past students and staff (our alumni) joining the celebrations, so please pass on our invitation in case they didn't hear directly from us!

IGBIS Scholarships and funding for future Scholarships
Each year since IGBIS opened we have offered a range of academic (merit) and financial assistance scholarships to students in the community and in the school. Many of our scholarship recipients have been the top achievers of Grade 12 and have gained acceptances to the best universities worldwide. We were delighted with the applicants for the IB Diploma scholarships for 2019-21. Successful applicants received their letter of award over the last week. We will share more information about the students in the coming weeks.
In future years, we would like to provide more scholarships to students from our school, Malaysia and abroad. If you are interested to support these scholarships yourself or you know of individuals, groups or companies that would sponsor IGBIS scholarships, please do contact me.
Mrs Anne Fowles ~ Head of School

---
News from Secondary School
Dear parents,

Next week will be a particularly exciting one as we build up to International Day and the 5 year anniversary celebration on March 16th. A host of secondary student groups are planning and taking responsible action on the big day – please look out for the following student groups: GIN (Global Issues Network), Women Empowerment, Nepal 2019, ZEC (Myanmar booth), No bake bake sale, Epic Home Malaysia (Malaysia booth), the Student Ambassadors- welcoming the Silat team from SMK BANDAR BARU SUNGAI BULOH, Drive for YCK (community project). These are great initiatives by our students and reflect our strong culture of action, leadership and service. Celebrating culture, community and our history is important on its own, when we weave in our other actions and passions then we can make our shared experience even more powerful.

Student Council is leading a Spirit Week as well next week. The themes of the days are: Mellow Monday (accessories only), Turnaround Tuesday, Wake-up Wednesday, Trendy Thursday and Fictional Friday.

There are a few upcoming Kopitiam dates that we have put on the calendar, please note the following and feel free to come and join the coffee chat (each at 8:15am).

March 28th
April 17th
May 9th
Sincerely yours,

Michael Arcidiacono |Secondary School Principal

---
News from Elementary School
This week when I have moved around the school I have been observing how teachers differentiate learning engagements for students. Often the children were learning in groups; these may have been mixed ability, they may have been of similar ability, they may have been group chosen. However they were grouped it was wonderful to see the students engaged in learning.

The examples I have this week are from Kindergarten and Grade 1. The Kindergarten children were all learning language, some were reading using Raz Kids (an iPad-based reading resource), some were using stones that were turned over to create sentences, some were taking part in shared reading with the teacher, some students were engaged in free writing, and some were learning with Ms. Joanne the Kindergarten associate teacher.

The students were eager to share with me what they were doing and then return to their learning.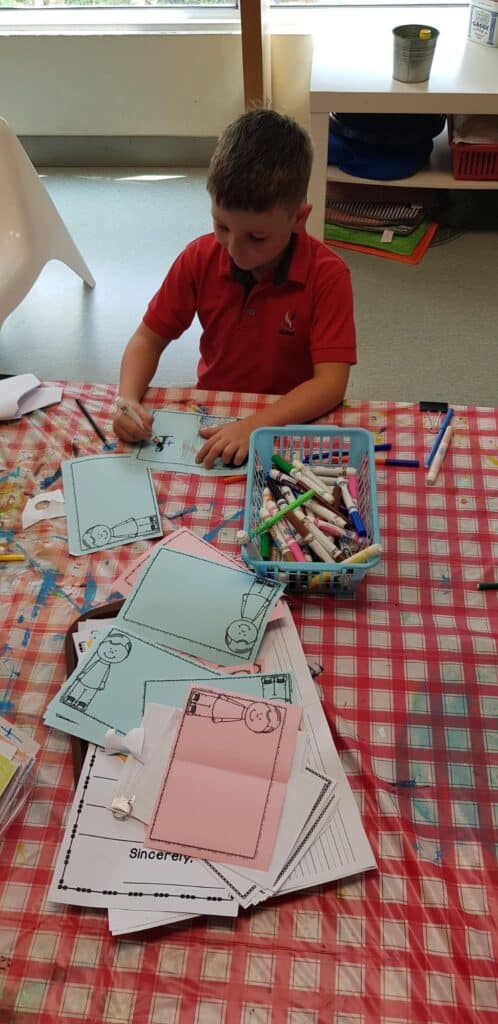 In Grade 1 some students had been inspired by a story that they had read and were trying to create a way to measure the bed. They were busy drawing round their feet, cutting the drawings out and collaborating on ways to solve their problem. In other groups they were playing a maths game called 'double it plus one'. In this game students would roll a die, whatever number it landed on they would double it and add one. Once they had the answer they would place their counter on the number. The last group was trying to create a picture by solving number problems and using the colour that corresponded with the answer to create the picture.

The students were enthusiastic, engaged and enjoying learning.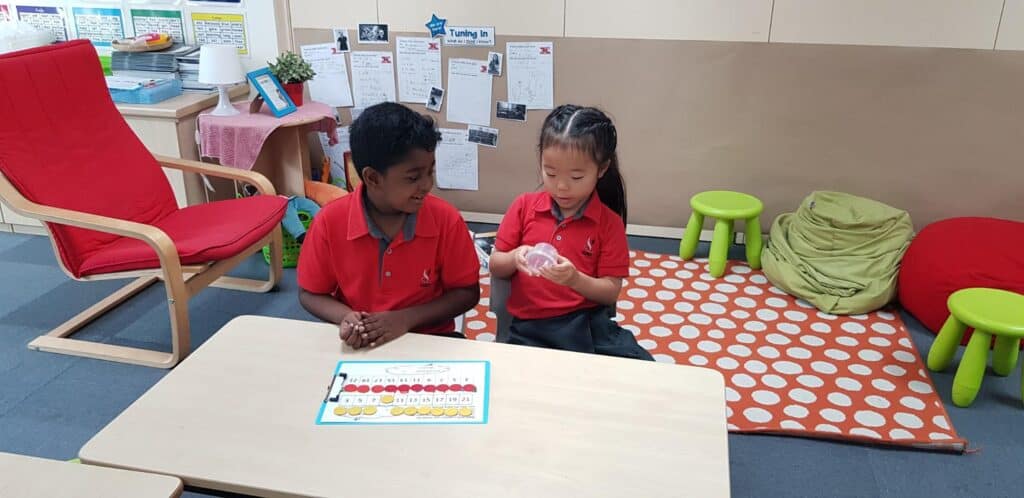 On Wednesday we are hosting the KLISS track and field event for Elementary schools. We are expecting over 500 students to be taking part on the day. It would be great to see you there supporting the IGBIS students as they run (sprint and distance), jump and throw from about 9.00am to 1.00pm.

This upcoming week will also be book week. Ms. Chan has organised a number of events for the week. Check the notices from teachers on their blogs for what is happening when. Dress up days will be Wednesday, when students can come in their pyjamas, and Friday is book character day. Don't forget the book fair either. This is a great opportunity to build your children's libraries and it will also be at International Day. Talking of which, the culmination of next week is International Day and our 5-year celebrations. We look forward to welcoming you and smiling and laughing a lot.

Dates for your diaries

Monday 11th March: Student photos (siblings)
Wednesday 13th March: KLISS Primary Athletics (Track and Field) @IGBIS
Saturday 16th March: International Day/5 Year celebration
Wednesday 27th March: ES Production
Simon Millward |Elementary School Principal

---
Viral Media Scares (again)
When I was a kid at school (a long time ago) I would get freaked out when kids would talk about ghosts at lunchtime. I still vividly remember the tales of the 'Hook' from school camps that kept me awake at night. Kids have always wanted to scare their friends and share tales of mystery and horror with each other.

These days these stories are now passed from person to person via the internet, meme's, Facebook posts and WhatsApp messages just with the click of a button. I have always said technology isn't the problem, technology is an amplifier; it makes the good and the bad in our world bigger. It is the same with these viral challenges and messages.

Like many schools all over Asia and the world, some students at IGBIS are talking about Momo and the Momo challenge. A quick bit of research and checking reputable websites like Common Sense Media and Net Family news, quickly lets us know that Momo is a hoax, is over-sensationalised and is often being spread by well-meaning adults.

Common Sense Media (always my first place to go to when it comes to substantiating claims and finding child-friendly content on the web) has this to say about viral internet challenges:

"It's a tale as old as time: We see a lot of people wearing/doing/saying something and we want to try it, too. Back in the day, it was saying "Bloody Mary" into a mirror at slumber parties. Today, it means viral social media stunts. Though adults get caught up, too, kids are especially susceptible to peer pressure and FOMO (fear of missing out). To them, what was once a double-dog dare is now a popular YouTuber eating a hot pepper just to see what happens."

From https://www.commonsensemedia.org/blog/viral-youtube-challenges-internet-stunts-popular-with-kids
Rather than ignore these messages and challenges, as parents we should be talking to our kids about them and using tools such as THINK (is it True, Helpful, Inspiring, Necessary and Kind) when it comes to posting on the web and talking to our friends and other students. We should also be modeling the type of behaviour we want in our kids, and that includes not forwarding on viral messages without checking if they are real or not.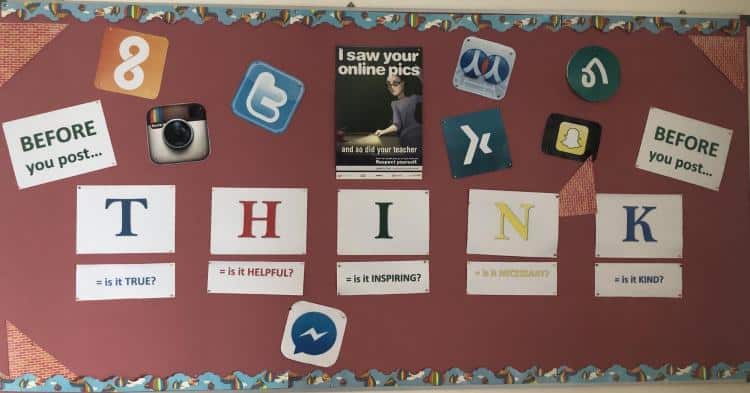 For older students we should be teaching them how to research the validity of these claims, to do their own research and not simply post these types of messages via their social media networks.

Last week I shared an initiative called March Media Mentors, which gives you an entire month's worth of media savvy topic starters that families could use to have meaningful conversations about social media, sharing online and a whole heap of other technology-related issues. It is well worth a look and a great place to start with mentoring our kids rather than policing them.

Finally, if you want to find out more, this excellent article from Wired explains How not to fall for viral scares.

Geoff Derry | Technology Integration Specialist

---
Preparations for International Day
Please see the attached flyers with the programme and important reminders about International Day, which will be this Saturday, 16 March from 9:00 am – 12:00 pm.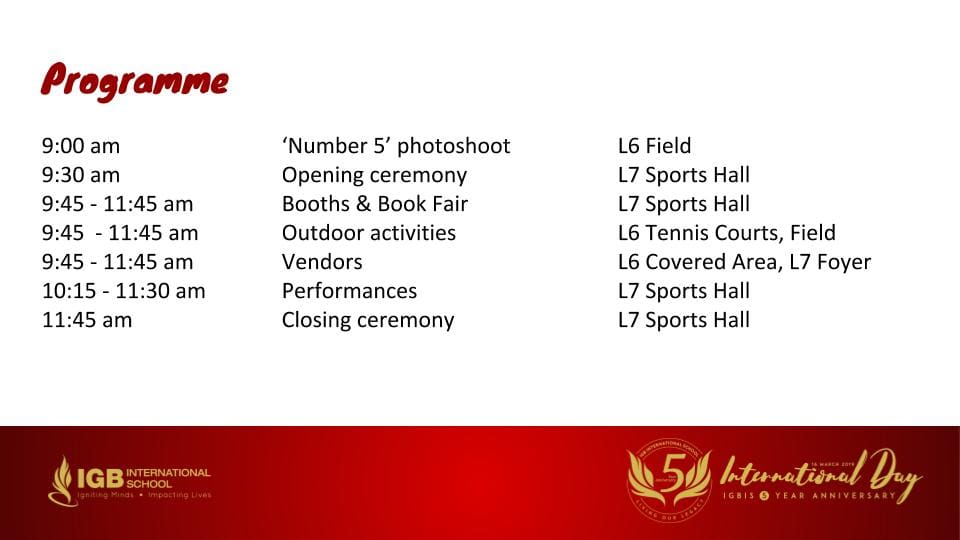 'Number 5' Photo
Please see the attached flyers with the programme and important reminders about International Day, which will be this Saturday, 16 March from 9:00 am – 12:00 pm.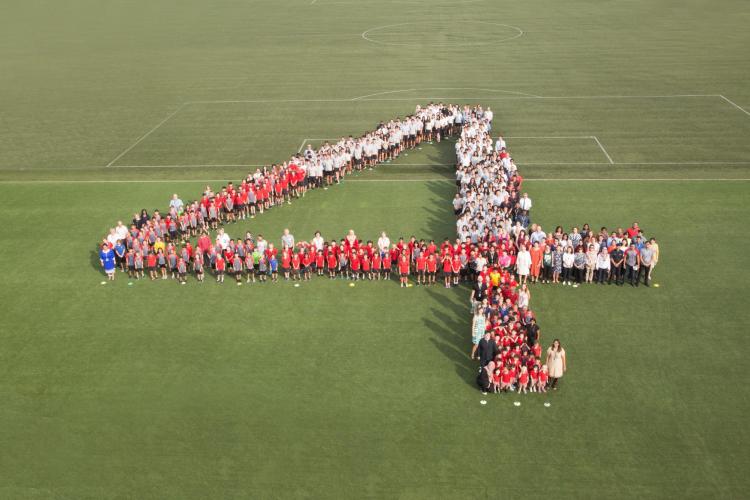 We will begin with the 'Number 5' photoshoot on the Field at 9:00 am, so please arrive promptly by this time. Everyone, parents included, will join in to form the number 5, much like the formation of the number 4 below.

Country booths set up
Parents, staff and students who are setting up booths in the Sports Hall will be able to set up on Friday, from 12:00 – 4:00 pm and on Saturday, from 8:00 – 9:00 am. I will have masking tape and pins for those who requested pin boards.

Social functions post-event
During International Day, you will be able to sign up to attend one or more of the social functions listed below. Reservations have been made at these locations under "IGB International School", and a free drink or food item will be provided to those who sign up (limited quantities). If you would like to sign up in advance, please email me directly.
Afternoon Fun at Valencia Pool: Saturday, from 1:00 pm onwards. All ages welcome. You will need to provide your car license plate number to receive a QR code to enter Valencia. Any purchases can be paid directly to the poolside restaurant at Valencia. Halal food is available. Please note, there is a fee of MYR15 to use the pool at Valencia (children under 5 years free).
Sunset Drinks at Marini's on 57's Rooftop Bar: Saturday, from 5:00 pm onwards. Minimum age requirement is 21 years. Dress code is smart evening attire. You will be charged for your own food & beverages. This restaurant is not Halal certified.
Sunday Brunch at Contango, Majestic Hotel: Sunday, from 12:00 pm onwards. International buffet lunch is MYR105 per adult, children aged 4-11 years old half price. A beverage package for MYR70 includes free flow wine and beer. Halal food is available.
If there are any questions, please do not hesitate to contact me.

See you this Saturday at 9:00 am, and please remember to bring your own plates, cutlery and cups.

Julie Arcidiacono |Community and Events Coordinator

---
Elementary PE News
This semester is another busy one for students. We have covered a wide range of activities and students communication, cooperation and teamwork skills continue to grow. This has been a big focus for us in PE looking at how we communicate to give constructive feedback to help each other develop. I personally am amazed but the amount of knowledge our students have about the body and how it works. Grade 3 students have been thinking and inquiring about the effects of exercise on our body and have been able to explain why our heart pumps blood around the body. Students investigated how our bodies changed before and after exercise.

Furthermore, the Grade 4 students have been practising their dance abilities, linking different movements together to form patterns within small groups. Grade 2 students have started a gymnastics unit and continue to show such creativity in the different balances they can make. Our Grade 5 students are currently linking their PE unit to exhibition, linking movements to their central ideas. The students have shown they are very open minded in trying new experiences all year.

The year is quickly going by and thinking from where we started all students have shown great development in all aspects of the PE lessons. It is great to see so many students being active learners having lots of fun.

Sean Lovesey |PE Teacher

---
Grade 2 field trip to Radiant Retreats
On Monday 4th March the Grade 2 children accompanied by Ms Rhona, Ms Leanne, Ms Aga, Ms Jas, Mr Ian and Ms Zoe headed off to the foothills of the Genting Highlands. The children participated in nature-based activities with an outside provider called Radiant Retreats.

In our current unit we are learning about how plants can enhance our physical environment which helps to create a sense of well being and improves our learning. This field trip was an excellent opportunity for us to get into the great outdoors and really think about how we feel and learn when we are surrounded by plants and nature.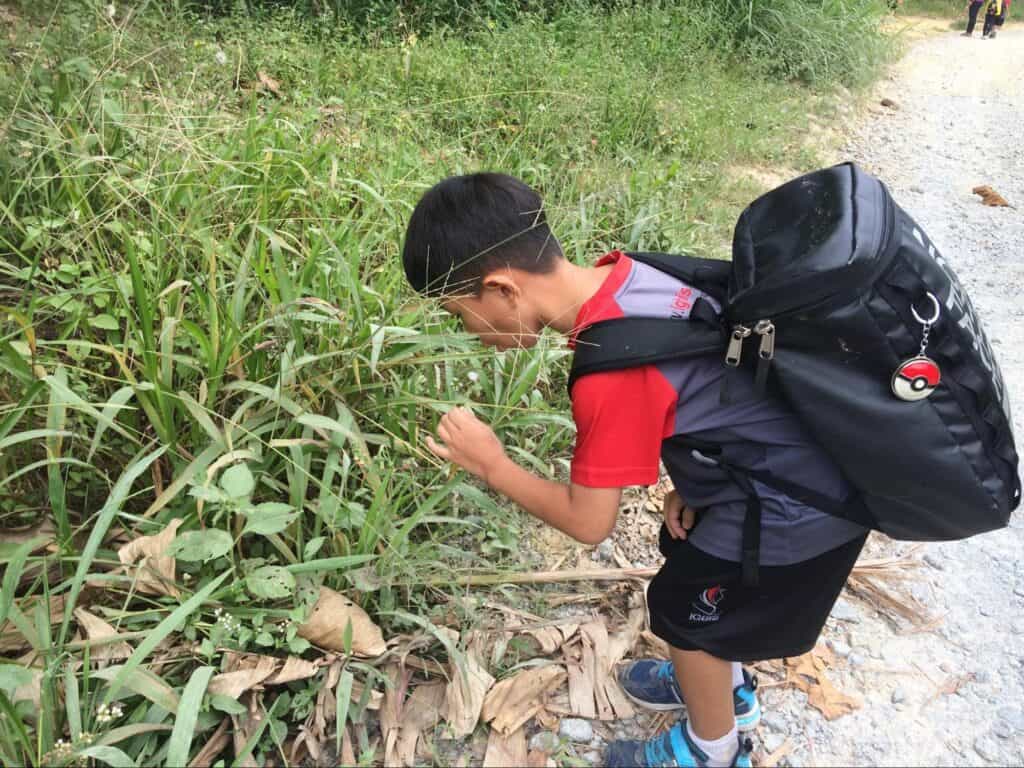 Some of the amazing activities we participated in were:
River exploration (we all thought that this was the best part and wanted to spend more time playing and exploring)
Hiking to the river and back
Looking at and learning about different plants
Visiting the organic farm – feeding the chickens and planting our own plants to bring back to school
Eating the amazing lunch which included plants and animals (chicken) from the Radiant Retreat organic farm
Making bamboo key chains
This was a fantastic day with many children saying that it was the best school day ever!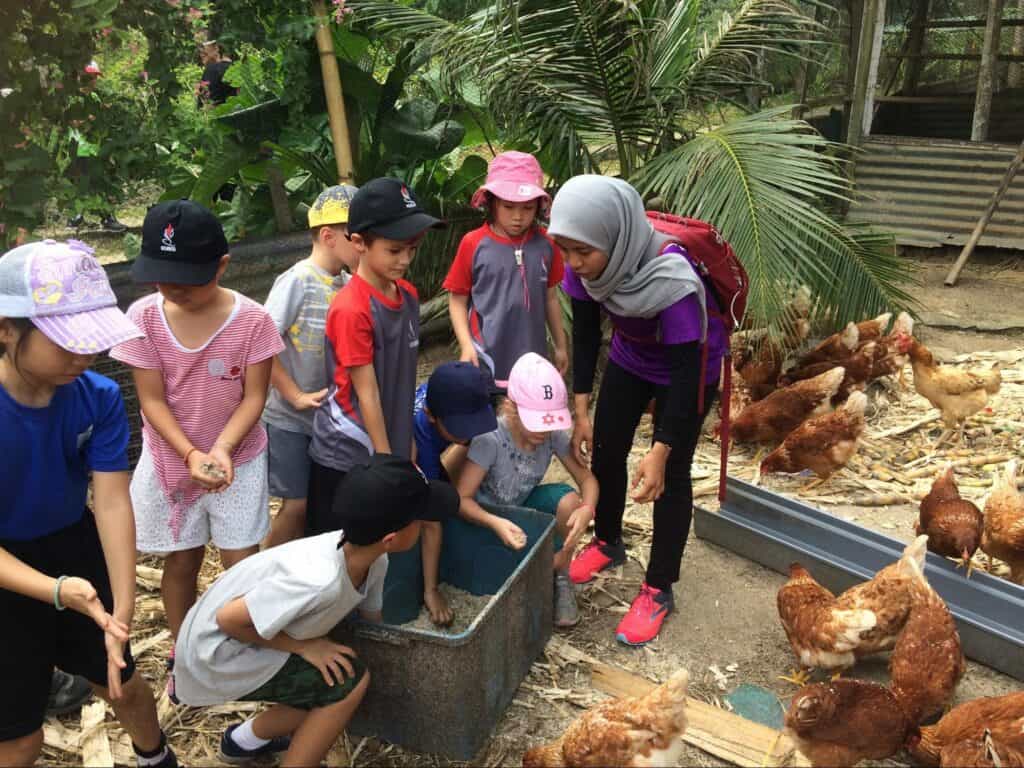 Leanne Harvey and Rhona Taylor |Grade 2 Teachers

---
Grade 4 Camp
Day 1

On Monday morning I was so tired I felt like my hands were going to fall off my body. But I got up from bed and put on my favourite jeans and a loose shirt for the hike at camp, then I went downstairs to get some breakfast. I was so excited and ran really fast into the car, we were at school and then the camp fun started!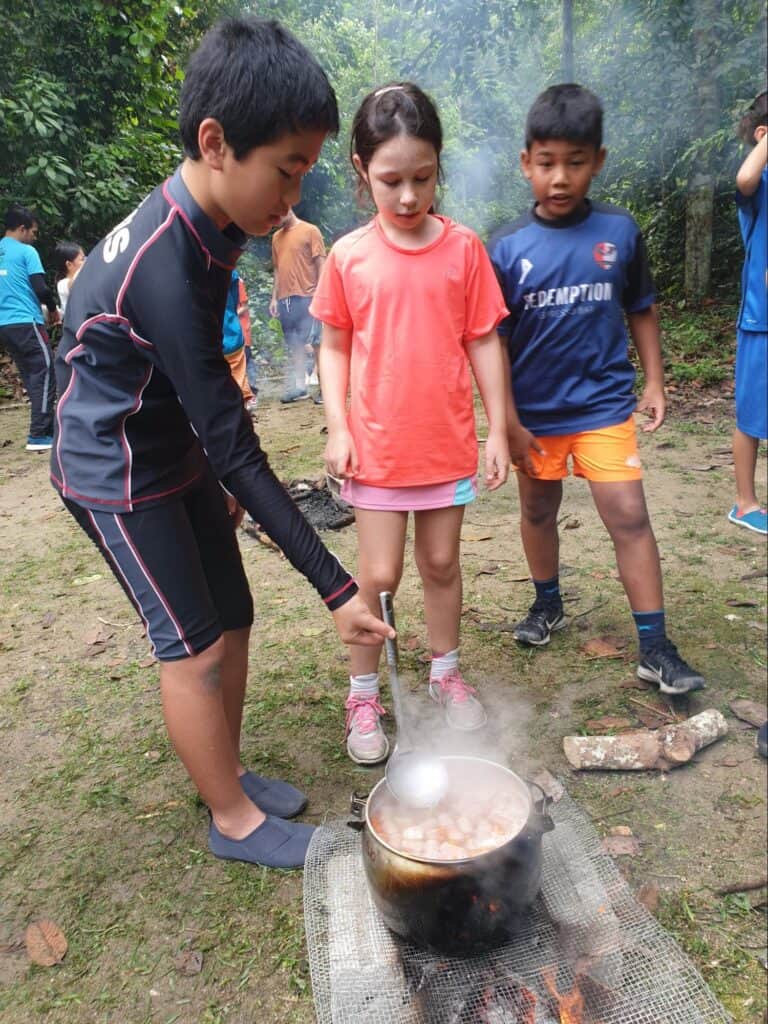 Camp started off great for Grade 4. We rode for about 20 minutes and we arrived at Damansara Forest for our hike. While we were hiking we saw many different types of creatures like a black scorpion. We also heard birds tweeting. Along the way, we helped each other at the difficult parts like when it was a steep hole and we all needed to help each other. We saw a lot of things like monkeys and trees. Then we ended the hike and it was fun! After that we went to Vivae Board Game Cafe.

We put our bags down and automatically went for our yummy lunches. After eating, some workers shared many different board games with us. We played some games that we already knew like Uno, and Dobble. We also played some new games like Sushi Go Party, Cockroach Poker and Yogi. The games were really fun. When we came back to school we took a shower and then we went down to eat dinner. We had Chinese fried rice and it was awesome. But the best part was DESSERT! For dessert we had cookies and they were so yummy!

Day 2
On Day 2 of Grade 4 camp, we had to wake up at 5:45 am. It was a real surprise for most people when we had to wake up that early. Luckily, everyone woke up on time.

After all of us had changed and got ready we went downstairs and got on the bus to go to Selangor State Park. Our course was provided by Nomad Adventures. First of all we listened to the rules and played a few rounds of Simon Says. Then we started to make a fire to prepare our lunch. We also learned about the three elements to create a big fire. These are: oxygen, heat and fuel. To make our lunch, we put sausages, water, eggs, cabbage, noodles, and meat in the gigantic pot and boiled it until we could eat it. We all had to wait about 30 minutes.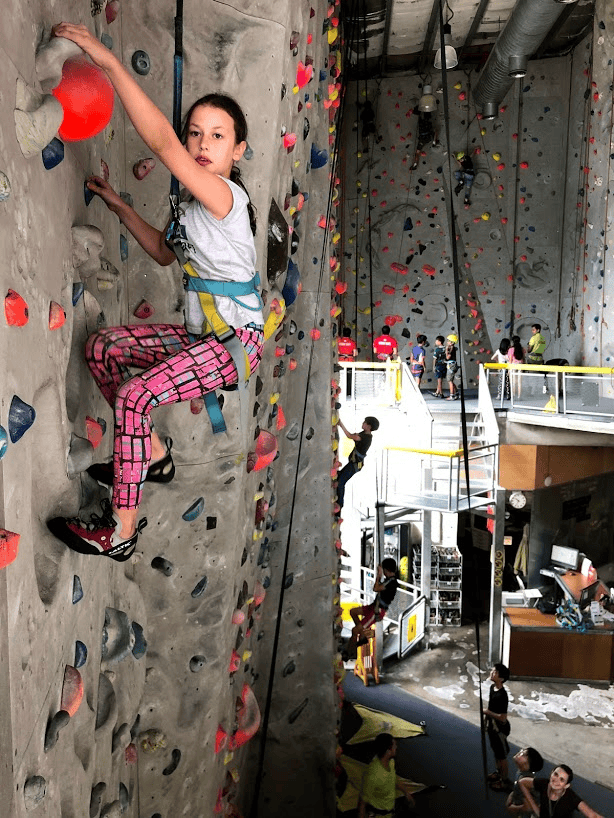 It rained a bit while we were eating lunch but we were in a shed so we didn't have to worry about getting wet. Luckily, the rain stopped early. After everyone finished eating, we headed down to the river to get ready for river walking. We listened to some safety procedures and learned our "point contacts" so we wouldn't fall or trip or get swept away by the current. When we went river walking we all fell down but we got back up; some people got injured, but they were okay. It was cold in the river, but we got used to it eventually and then we all had fun. At the end we had fun because there was a big waterfall that we had to walk around. Then we splashed each other.

After that, we got back on the bus and went back to IGBIS. When we reached school, we had four hours of free time. We had dinner, which was pizza. After dinner we watched a movie called The Swap and talked about what we learned. Then we went to shower and got ready for bed.

Day 3
On the last day we woke up at around six-thirty and went to eat breakfast. We ate eggs and sausages. Then we went upstairs to pack our bags and bring them downstairs to the classroom. We waited about thirty minutes and after that, we headed downstairs to the bus. The bus took us to One Utama.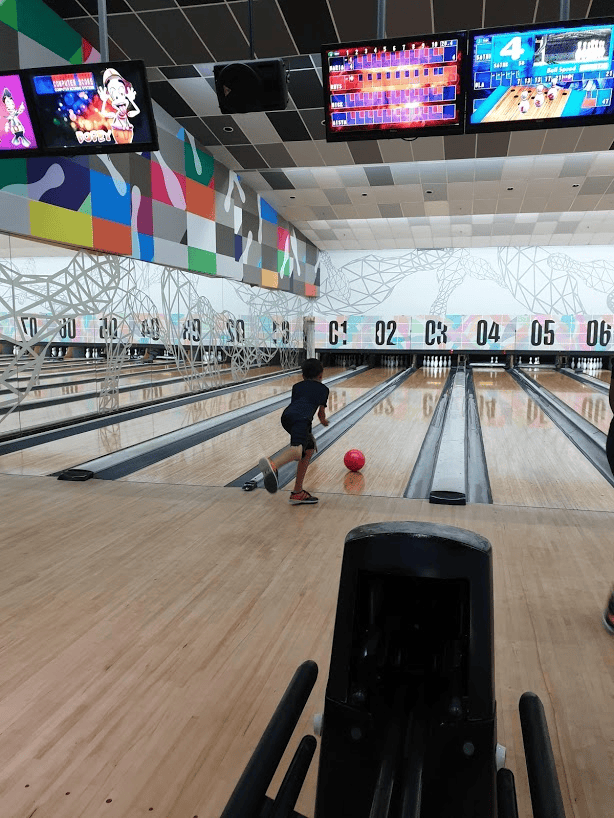 It took us a while to find Camp 5 because all the escalators were shut down. So we walked a few floors on the escalators and went up to Level Five with the elevator. When we got there, they briefed us about what we will be doing. Then we started climbing. We did some team challenges which included blindfold climbing, minefield and Tetris climb. We also did the automatic climb where we were climbing with an automatic winch.

For lunch we had three choices in 1 Utama: Chili's, Din Tai Fung and Sushi King. Everyone got to choose where they wanted to eat. We had a 30 ringgit budget but we still ate a lot. We had a very good and delicious meal.

We then went to the bowling place. we all had two games each and we battled to get the first place position. After we finished bowling, we went back to school. Many of us were very sad because camp was over.

Grade 4 Students

---
Flyers