Message from the Head of School
Dear IGBIS Parents, Guardians and Community Members
The Graduation Ceremony today was a fantastic celebration of the journey and achievements of the Grade 12 class. Valedictorian, Andrea Koid; Salutatorian, Esha Mardikar; Global Citizen Award winner, Alyssa Pong; and class speakers Joshua Wihlborg and Maryam Humaira; all gave very reflective speeches that encapsulated this group of young people and how they have grown. Common themes were appreciation for the professionalism and dedication of IGBIS teachers, the love and support given by their parents, and the sense of family that bound the students together and supported them during the rigours of the IB Diploma. Nine of the 27 graduating students were founding students who joined the school in 2014. The school honoured their commitment to IGBIS, with red hoods to wear with their graduation gowns.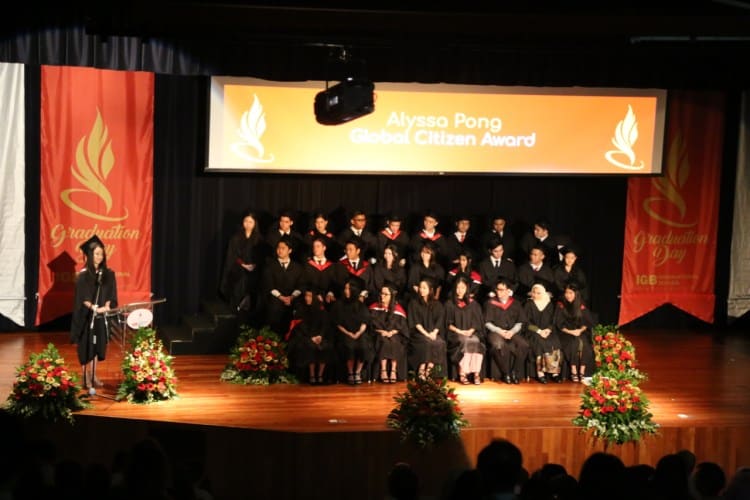 This week the secondary school mathematics department led the way with an IB Diploma 'Job Alike' professional development day for IB Diploma mathematics teachers in Malaysia. Seven schools sent their teachers to learn from our teachers and to collaborate on resources and unit plans for the new mathematics syllabus that is about to be rolled out. Thanks are extended to Mr Dean Watters and Ms Rachel Jikeli for leading the workshop.
Next week we are celebrating Hari Raya with a whole school assembly on Tuesday June 4th. We hope that you can join us.
News from Secondary School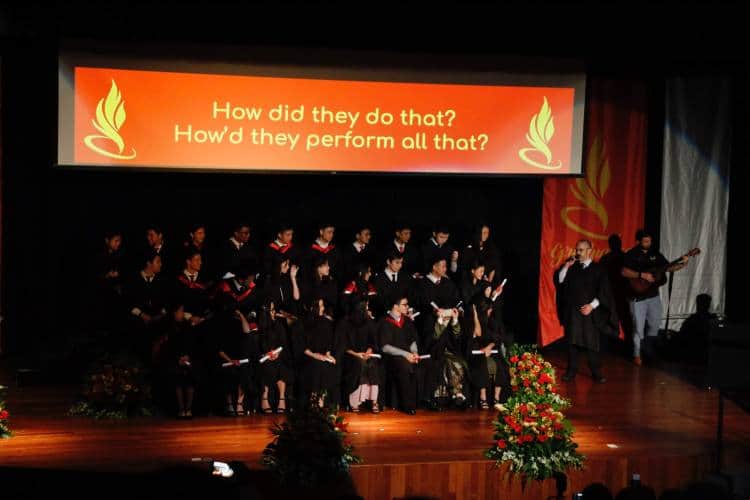 Dear parents/guardians,
We bid farewell to our Grade 12 students today in a wonderful assembly, full of music performances and moving speeches. The graduates are now "Friends of the Phoenix", and we look forward to hearing about their future successes and seeing them at upcoming alumni social events. Before leaving, the Grade 12 students enjoyed themselves in school as well this week, with the majority of them sleeping overnight on Wednesday, to set up some fun pranks on Thursday.
This week we hosted a Job-a-like for math teachers from around Kuala Lumpur, as we get ready to offer new mathematics courses in the IB Diploma Programme next year. My thanks to Mr Watters and Ms Jikeli for their planning of the day. It was clear that IGBIS is ready for the upcoming changes and students will continue to be well supported in their mathematics instruction.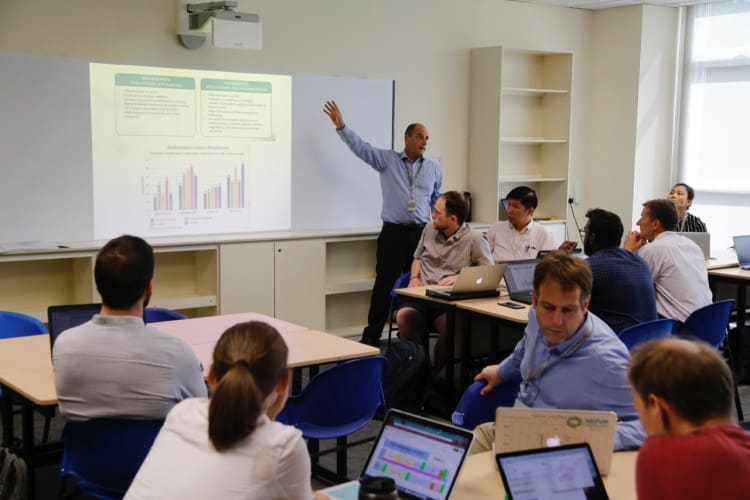 Looking forward, we have our Hari Raya assembly this Tuesday at 1:40pm. I look forward to seeing our parents and students in traditional Malaysian dress for the assembly!
Best regards,
Michael Arcidiacono | Secondary School Principal
News from Elementary School
On Wednesday 29th May the Elementary School had their 'transition day'. This is a time where students get to experience 'moving up' to the grade level that they will be in for the next academic year. They were engaged in a variety of activities where they could meet the current grade level teachers and get used to their new surroundings.
In the pictures you can see the 'new' Grade 1 students creating fantasy characters and painting them. The 'new' KG students were engaged in creating name tags which entailed cutting out and writing. The 'new' Grade 4 students were captured playing a four corners game which got them moving and talking.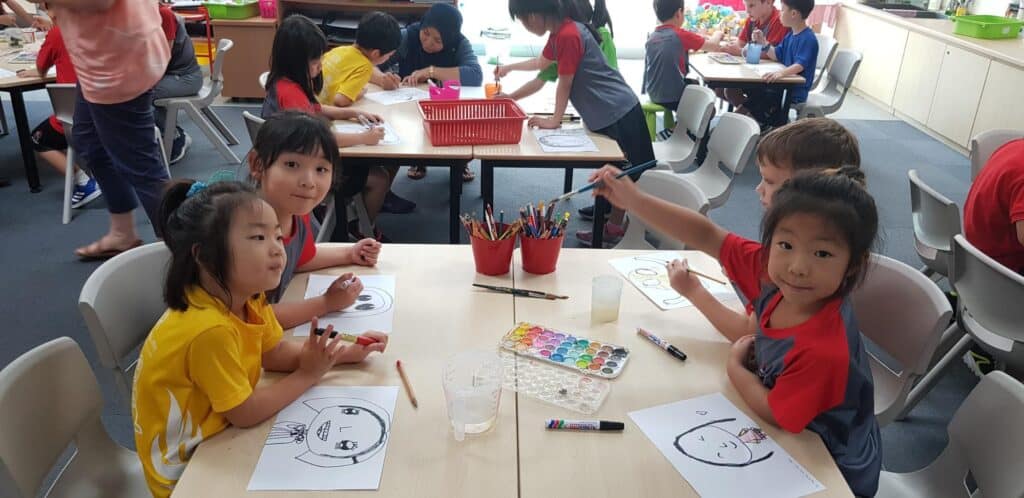 Those students who are leaving us this year had an opportunity to work with Ms. Karen to engage in some really great conversation and activities to help prepare them for moving countries or schools. We hope that they will appreciate the company of their friends and enjoy their remaining time at IGBIS.
On Thursday 30th May we had our final music academy concert for the year. This featured piano playing, guitar playing and songs from those taking voice lessons. The performances were very entertaining and they showcased the progress that the students have made through the year. Such is the popularity of our music academy it looks like we will need to increase our performances from at least two to three next year. Many thanks to all the music academy teachers for their time working with students, thank you to Ms. Hadewych for the coordination of the programme, and parents for supporting and encouraging your children to dedicate themselves to practice and perform. Finally well done to all our performers, we are proud of you.
Dates for Your Diaries
Tuesday 4th June: Hari Raya assembly 1.40pm theatre
Wednesday 5th & Thursday 6th June: Hari Raya holiday
Monday 10th June: ES STEAM activities at IGBIS
Tuesday 11th June: Grade 5 Celebration assembly 8.00am Theatre
Thursday 13th June: ES final assembly (Sharethon) 8.00am Theatre
Thursday 13th June: Last day of school for students, 12pm finish.
Simon Millward | Elementary School Principal
Music Academy Concerts
Our Instrumental Music Academy students staged their end of year performances in two concerts over the past two weeks. Special thanks to Ms Hadewych for organising the Music Academy this year, and to the wonderful music tutors who give so much of themselves to each student, and treated us to a wonderful performance to open the final concert on Thursday. Congratulations to all of our performers, you each did a fabulous job.
Community and Events News
Friends of the Phoenix
As we bid farewell to our graduating students, we also welcomed our newest members of the 'Friends of the Phoenix.' We are excited to announce the launch of our 'Friends of the Phoenix' directory. This directory is a social and professional network for all former members of the community. It can be found online at www.igbis.edu.my/friendsofthephoenix.

Who are the 'Friends of the Phoenix'? Anyone who has ever been a part of the IGBIS community is a 'Friend of the Phoenix'. That includes all of our former students, their parents, and former staff members, in addition to our school's alumni.

I am a 'Friend of the Phoenix'. Why should I register and what can the directory be used for? There are countless reasons why one would reach out to a fellow 'Friend of the Phoenix': to enquire about an university, about life in a specific country, for an employment connection… the possibilities are endless.

How can I view the directory? If you are a 'Friend of the Phoenix', visit the above mentioned website and fill out your profile. You will be able to select which information you would like others to view. Once your own profile is completed, you will be able to login and view information that others have submitted as well. There is no cost to join.

I've joined. What next? Encourage other 'Friends of the Phoenix' to complete their profiles. The success of this directory will be largely based on everyone's input. As life takes you to new locations, be sure to check the directory to see if there are any 'Friends of the Phoenix' in the area. As a registered 'Friend of the Phoenix', you can also request transcripts, schedule a school visit, order a yearbook, and much more.

Friends of the Phoenix Events
IGB International School is pleased to invite all 'Friends of the Phoenix' to our annual social functions, the Phoenix Makan on 3 August 2019, and the London Annual Dinner on 18 January 2020. Please see the attached invitations for more details.

We are looking forward to catching up with many of you at our inaugural Phoenix Makan at IGB International School on Saturday, 3 August 2019. Please feel free to share this invitation to fellow 'Friends of the Phoenix,' and remember to RSVP by 28 July 2019.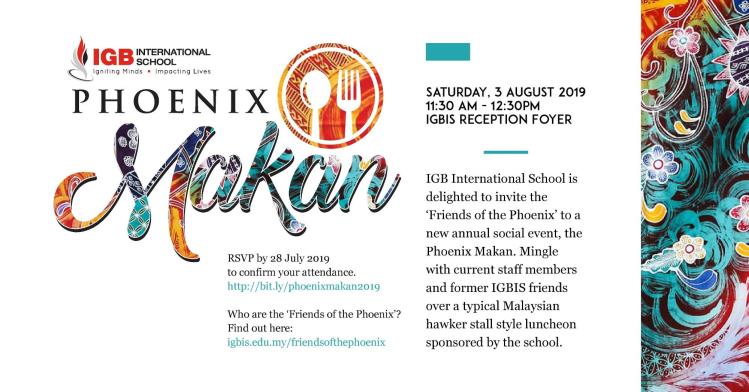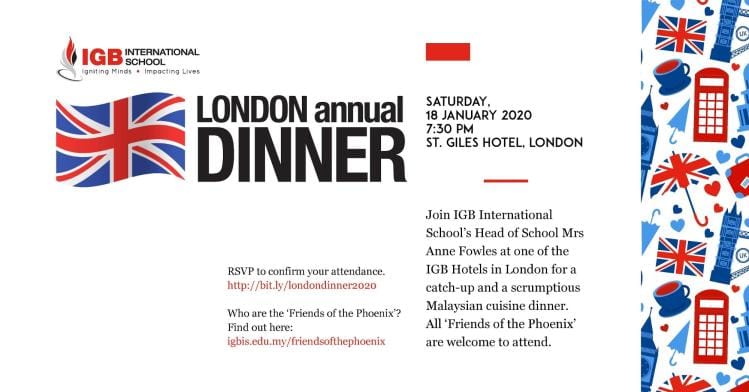 Uniform Drive
Have your kids outgrown their uniforms? Are they moving on to Secondary school and need new shirts? Are your children graduating or leaving IGBIS and you're not quite sure what to do with their school uniforms?

Buy/Swap/Donate!
Save your old uniforms for the next Uniform Drive, to be held in August 2019. Used uniforms will be available for purchase for RM10 each or bring your own uniforms to swap for different ones. Proceeds collected will go towards the PVO fund.
Uniform donations can be dropped off or exchanged for tokens anytime at Reception on Level 5.

Julie Arcidiacono | Community and Events Coordinator
Clearance Forms
We want to ensure that the completion of the Withdrawal process is as smooth as possible for everyone who is leaving us at the end of the academic year in June. To that end, I would like to remind parents that as well as the Withdrawal Form that needs to be submitted to the Admissions Office, a Clearance Form also needs to be completed for each student leaving. In the Elementary School, Ms Ruba coordinates this for the students. It involves making sure that all library books and materials have been returned and any money owing has been finalised. In the Secondary School the students are given the form by Ms Usha and they take it to each of the signatories on the form to get their clearance before it is submitted to the IT department who decommissions the ID cards and tags. The form is then processed by the Finance Department before the refund of any respective deposits is given.

Wayne Demnar | Director of Admissions and Public Relations
2020 Ski Trip
IGBIS is excited to announce the launch of our second IGBIS ski trip in partnership with Les Elfes. The trip will be to Verbier, Switzerland in the March half term, Saturday 21st March to Sunday 29th March 2020. The cost of the ski trip will be between RM9,000-11,000. The cost will be split over several instalments to spread the cost for students.
If you would like your son/daughter to attend please pay your deposit by Friday 7th June. This will confirm if we have enough students to run the trip.
The cost of the trip includes:
Flights to Switzerland.
Accommodation in 4 bedded rooms with ensuite for 7 nights
Full-board for 7 days with 4 meals per day
5 days lift pass
5 days ski or snowboarding lessons
Day trip to a castle or to chocolate and cheese factories
Rental equipment (skis/snowboard, boots and helmet)
Evening activities
Transfer to and from the airport
Travel and medical insurance
A non-refundable deposit of RM3,000 will be required to ensure your child's place. Once you have registered your interest, further payment dates will be provided.
If you are unable to make the meeting please contact me with any questions you may have.
Please find a link for Les Elfes below:
Sean Lovesey | Whole School PE coordinator
Supporting Students in Saying Farewell
During this time of year many of our students are faced with a move – for some it is yet another move of many. Each transition means saying goodbye and hello to large groups of people as well as separations, cultural differences, change, grief and loss. Even when these students aren't moving, others around them are moving in and out of their lives.

For many of these students, moving can be a fun and exciting time. However it can also be lonely and unsettling. Here are some suggestions for easing your child's transition from the old to the new, taken from ("The Moving Book; A Kid's Survival Guide": Gabriel Davis).

Before the Move:
Talk with your child about the move well in advance.
Share as much information as you can about the reasons for your family's move – the more your child understands about what is going on, the less anxious they will feel.
Allow your child to express both positive and negative feelings about the move.
Empower your child by giving them some control over the move; encourage them to make decisions about which of their belongings they wish to keep or discard.
Encourage your child to find out as much as they can about their new home; knowing what to expect will help put them at ease.
Read stories about moving, or encourage your child to read them on their own.
After the Move:
Celebrate your arrival at your new abode. Do something to let your child know that this is a special occasion.
Endeavour to maintain important family rituals during the first few weeks.
Give your child a sense of ownership over their new home by involving them in decorating their own bedroom.
Encourage new friendships by welcoming other children over for playdates or sleepovers.
Books:
Third Culture Kids: Growing Up Among Worlds, by David C. Pollock and Ruth E. Van Reken
But What If?, by Sue Graves
Ira Says Goodbye, Bernard Waber
Children who often move, or children who are surrounded by others that move, can become fatigued by saying goodbye. It is, therefore, particularly important for children in international schools to be reminded that every relationship you build is important and matters.

Let's help all of our students – (the leavers and the stayers) say farewell and goodbye 🙂

Karen Skepper | Early Years to Grade 8 Counsellor
Driver Awareness About Mobile Phones
Congratulations to Aveesha Nanayakkara from Grade 5 who has produced a car sticker to promote safe driving practices with regard to mobile phones: hands off phones and hands on the wheel, eyes on the windscreen not on the mobile screen is the message she wants to spread. You can get one of these stickers from Reception when you get your IGBIS car sticker for the new academic year.
Thank you Aveesha for reminding us of our responsibility to drive safely.
Flyers