Message from the Head of School
Dear IGBIS Parents and Community Members
There are a lot of excited students in the school at present as preparations are finalised for the Secondary School camps next week. These are a key component to student's education as it is an opportunity for them to engage in outdoor education, take part in service trips, learn concepts and apply them in a new environment, build relationships and get to know each other and their teachers more.
Congratulations to all Malaysians as Merdeka Day is celebrated across the country on August 31st!
Mrs Anne Fowles, Head of School
From the Elementary Principal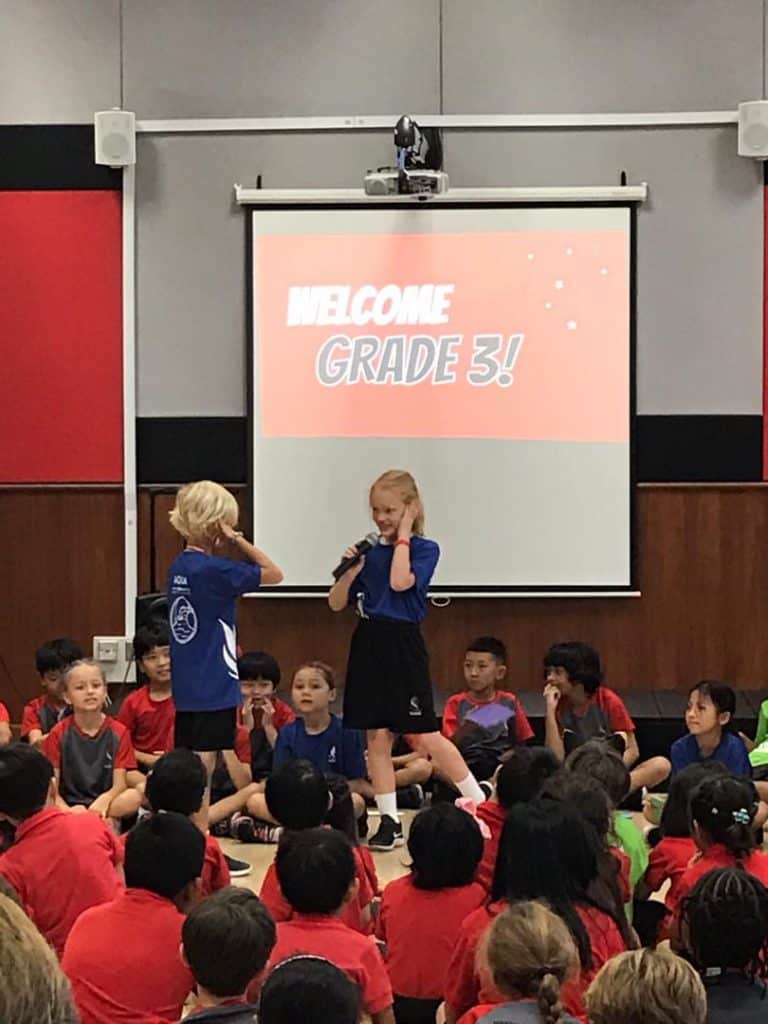 Thank you to the Grade 3's today for their assembly as they shared their learning about their investigations about communication. They gave examples of both positive and negative forms of communication and the emphasis on the action they should be taking was extremely relevant. Over the coming weeks, I am hoping that these messages will turn into positive action so that our school is an even more caring, and peaceful school.
Over the last couple of years, we have been finding that we have been outgrowing our theatre when it comes to our whole school cultural celebrations. This year we will be having two identical assemblies but with a different audience. For our upcoming Malaysia Day assembly, the timing will be to start a little after 8 am for the first assembly, then have one at 1.40 pm for our second assembly. Whilst the performers will be the same, the audience will be different as we invite different grade levels for different assemblies. Over the course of the year, the performers for each assembly will also be different. In the Elementary School, the performers for the Malaysia Day assembly will be Grade 2, Grade 3 and Grade 5.
Simon Millward, Elementary School Principal
Dates for your diaries.
2nd Sept: Awal Muharram Holiday
9th Sept: King's Birthday Holiday
13th Sept: Malaysia Day assembly
16th Sept: Malaysia Day Holiday
News from Secondary School
Dear parents/guardians,
Secondary camps are upon us and Mrs Fowles and I are looking forward to the opportunity to tour the wonderful country of Malaysia and visit the different camps locations. It was a very busy week as final preparations for camps were made, and the Grade 12s made strong progress on their Group 4 project, prior to heading out on their DP retreat. Thank you to all of our Grade 6 parents and new parents who came along to Mr Harding's presentation this week on Assessment in the MYP. Having a clear understanding of the way we approach the curriculum/assessment is a great way for parents to be able to support their child(ren)'s understanding. Looking forward, we will be putting on more workshops in the secondary school, including a focus on using and understanding Managebac. More details forthcoming in future newsletters.
The week after camps, there are a host of sporting fixtures taking place at IGBIS and in the area, as our teams have a chance to put their practice into action. Our sporting teams are bigger this year, as there have been excellent participation rates. I hope parents can join in watching some of the matches and cheering on the IGBIS Phoenix.
I wish families an enjoyable long weekend.
Sincerely yours,
Michael Arcidiacono | Secondary School Principal

Zero Waste Wednesday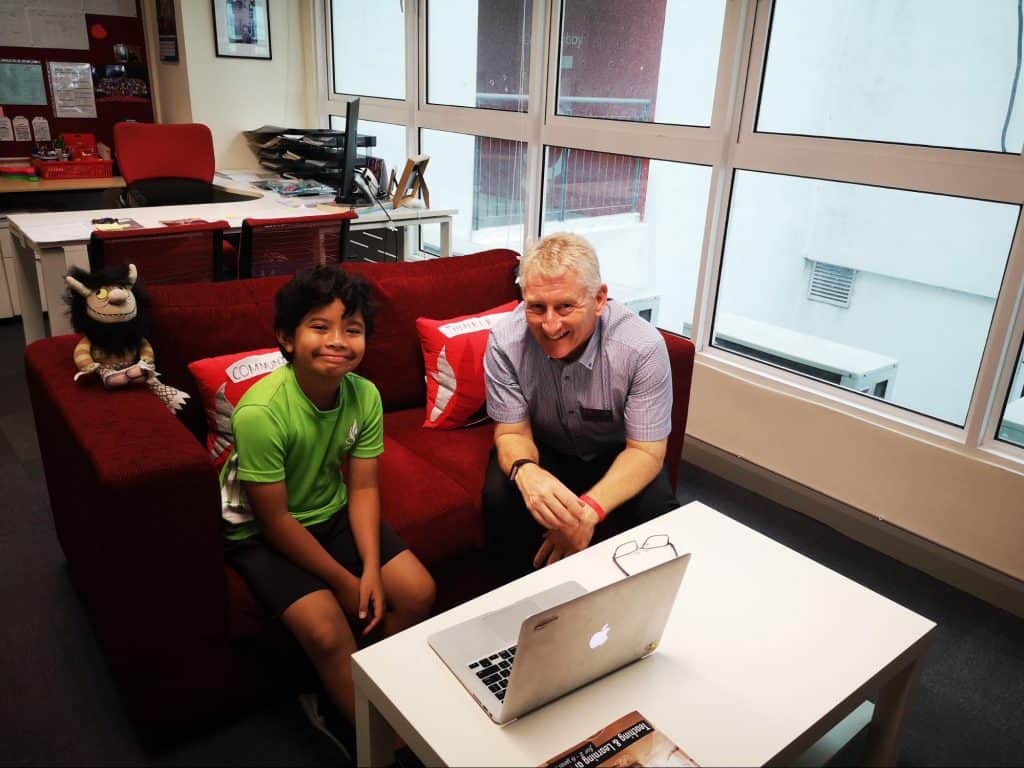 Zero Waste Wednesday is a day created by Ghazi, a current Secondary School student, for his PYPX action last academic year. Inspired by a school in Australia with a similar initiative, as well as a corporation in Malaysia called the "Lost Food Project" that aims to reduce the amount of food thrown away to the landfill, Ghazi decided on this action as he noted that there hadn't been anything related to food wastage done at our school. According to Ghazi, he "hopes to minimize the waste in our school and ultimately reduce waste in Malaysia."
We can all join Ghazi in his Zero Waste Wednesday initiative. Especially on Wednesdays, make a conscious effort in regards to your (or your children's) food and its packaging:
No wrappers at snack time. If necessary, snacks should be brought to school in reusable bags, beeswax wraps or tupperware.
No throw-away plastic in general. Try not to throw away anything!
Bring only what you will eat to minimize food waste.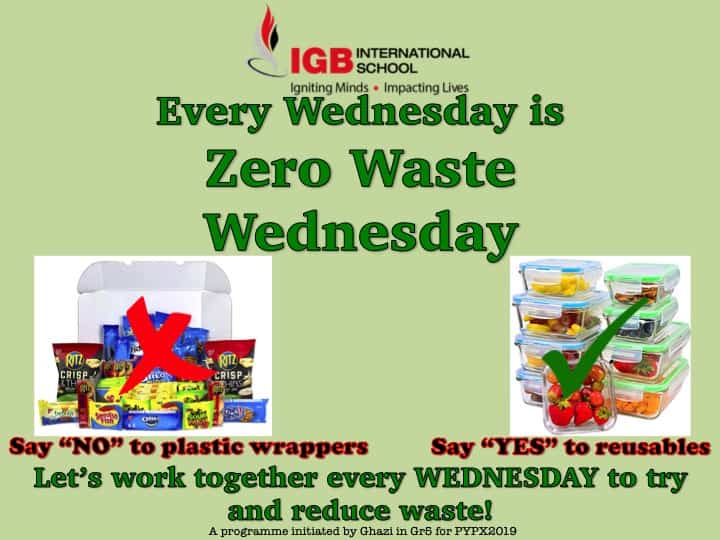 IGBIS Instrumental Music Academy
The IGBIS Instrumental Music Academy provides the opportunity for students to have individual or small group lessons with a professional tutor to foster the development of skills and a love for playing music. Students who participate in the program will be encouraged to use these skills as a member of an IGBIS Music Ensemble and become a lifetime participant in music-making.
IGBIS Instrumental Music Academy is acting as an agent between the parents and tutors, providing the services of enrolling students, arranging schedules, invoicing and collection of payments.
Our tutors are all experienced musicians and teachers who work at other International Schools or other reputable Music Academies in Kuala Lumpur. This year the instruments available for learning are Piano, Violin, Viola, Guitar (Electric, classical and bass guitar) Ukulele and Voice.
Our Tutors
Ms Puisim Wong – Piano.
Ms Iko Chia – Piano.
Mr Yew Chee Chew – Violin and Viola.
Mr Adil Rahim – Guitar/Ukulele
Ms Irma Lailatul – Voice.
All schedules will be made once registration is finished. Special requests for times will not be considered except for after school lessons depending on the availability of the tutor and student transport needs.
The relevant information, hand booklet and registration form can be found on the School's website. All communication for the Academy will be via Parent IGBIS email accounts.
To find the Music Academy website go to the IGBIS splash page and click on the login button on the top right-hand corner. Search for the Music Academy logo to find all the administration, scheduling and online registration documents. https://sites.google.com/igbis.edu.my/music-academy-igbis/home
Students may have individual lessons (preferred) or small group lessons (maximum of 3 students per group). Piano lessons are only available as individual lessons. Lessons will cost RM70 for an individual lesson (preferred) and RM50 for a group lesson (max. 3 students per group). There will be around 15 lessons each semester, depending on holidays. Invoices will be emailed to Parent IGBIS email accounts.
At the conclusion of each semester, students will perform in concerts to demonstrate their progress and to develop performance skills.
Registration started on Friday the 16th of August. This is an exciting add on program at IGBIS and I look forward to its continued success and expansion this year.
Miss Hadewych Dujardin, Music Academy Coordinator
PVO Social
Parents, staff, caregivers and friends of the community are cordially invited to attend our third annual PVO Social, namely themed Masquerade Party. Preparations are underway for a casual and fun evening of dinner, games and dancing at The Boulevard Hotel, on Saturday, 28 September 2019 from 6:30 pm onwards. Tickets are already available for sale at the school's Finance counter for RM90 each, and those who purchase before 13 September 2019 will be entered into an "early bird" lucky draw. Masks will be gifted at the event, but guests are more than welcome to sport their own.
If you have any questions, please do not hesitate to contact me or any of the PVO Social Committee Members: Liez Pucher, Christina Quek, Ivy Tan, Sandy Tan, Felicier Suppiah, Shamina Nordin, Raja Norlina, Tina Webster, Flora Remeo, Suzana Tan, Preeti Ragunath and Anita Rao.
Julie Arcidiacono, Community Support and Services Coordinator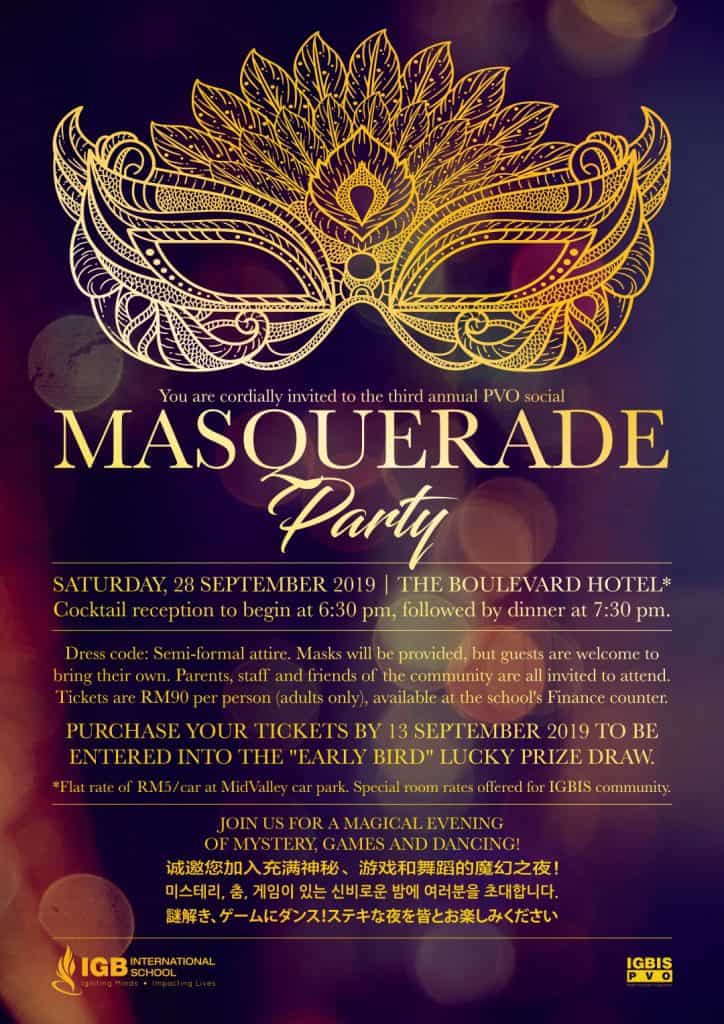 Flyers