Message from the Head of School
Dear IGBIS Parents and Community Members.
Secondary School Camps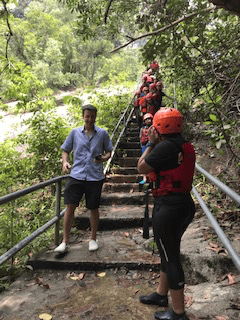 I enjoyed visiting each of the Secondary camps with Dr A this week. The students were all well fed, provided with a suitable level of challenge in the camp activities, learnt something new and enjoyed themselves immensely! As mentioned last week, the camps are a key component of a student's IB education. Apart from being an opportunity for students to engage in outdoor education, take part in service trips, learn concepts and apply them in a new environment, build relationships and get to know each other and their teachers more, they are are also living all aspects of the IB Learner Profile.
Malaysia Day Assembly September 13
A reminder that we will hold our Malaysia Day assemblies next Friday, September 13. Since we have outgrown our Theatre, two identical assemblies will take place at 8:15 am and 1:40 pm. Parents may attend either assembly.
IB Regional Workshops September 14-16
We are delighted to once again be chosen by the IB to host IB Regional Workshops. This year 16 PYP, MYP and DP workshops will take place at IGBIS with close to 200 teachers and administrators travelling to Kuala Lumpur from across the region.
Mrs Anne Fowles, Head of School
From the Elementary School Principal
I have just come back from one of the Malaysia Day assembly rehearsals and was impressed by the students as they have been developing their musical skills for their performances. As a sneak preview, I certainly think that it will be a wonderful celebration on Friday 13th September for our whole school assembly. Just a reminder that there will be two performances: one a little after 8 am and the other at 1.40pm. Students (and parents) are welcome to come dressed in outfits or colours that represent the culture of Malaysia. We hope you will be able to join us for at least one of these performances.
It has been quiet this week in school as the Secondary School students have been away on camp. However, it has given the Elementary students the 'run' of the school. This has been important as we have had to have a couple of days running indoor activities due to the haze we are experiencing at the moment. Rest assured we are closely monitoring the air quality using our own devices, the application linked to it and our haze policy. The readings we are using utilises PM 2.5.
As I have been walking around school this week I have noticed students engaged in 'writers workshop' time. This is an opportunity for students to harness their inner creativity and write on a variety of topics of their choosing. These will then be shared, commented on and improved. The process of writing is very important as we first look at the deeper features of writing related to the audience the writing is meant for, the content ideas, the structure and organisation of the writing and the vocabulary that is used. The process then continues as students continue with the editing process as they look at the surface features like spelling, punctuation, grammar and overall 'look' of the writing.
At IGBIS we are always looking to consider the depth of learning and students are challenged along the way depending on their own individual needs.
Simon Millward, Elementary School Principal
Dates for your diaries.
9th Sept: King's Birthday Holiday
13th Sept: Malaysia Day Assembly
16th Sept: Malaysia Day Holiday
28th Sept: PVO Social Masquerade Party @Boulevard Hotel
5th Oct: Day of Play (this is a Saturday morning of family fun and creativity)
From the Secondary School Principal
Dear parents & guardians,
Mrs Fowles and I had a great time visiting all of the Secondary camps on Wednesday and Thursday. The camps were very well organized by our camps provider and I observed students fully engaged in the activities and undertaking new challenges. I was particularly impressed to hear the stories of the Grade 10 & 11 students who faced and overcame personal challenges through a caving experience, and how quickly some of our Grade 8 & 9 students learned how to ride a bicycle, despite not having a lot of prior experience! Our students are true risk-takers!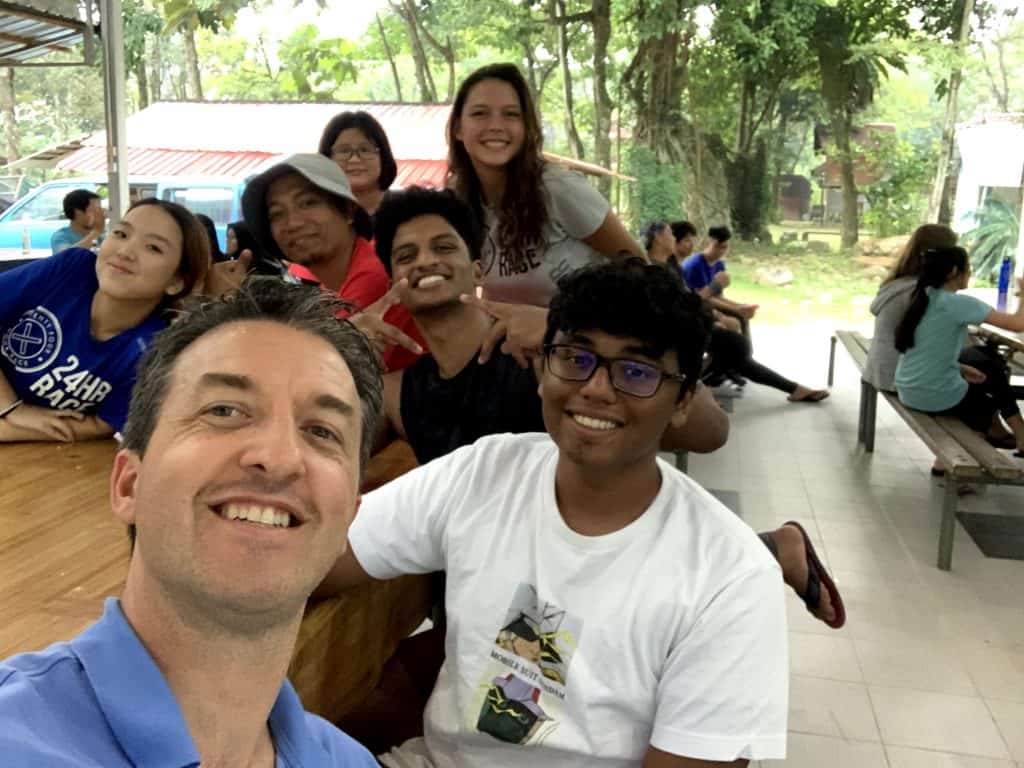 Well done to all of our students, our staff who accompanied them, and to our camps provider – Nomads – for doing such a great job. Echoing Mrs Fowles comment in her newsletter, we sampled the food on two of the camps and agreed with everyone that the food was particularly enjoyable on this year's camps.
Looking forward, I would like to remind parents and students to dress up in traditional attire for our Malaysia Day Assembly on Friday, September 13th.
I wish everyone a restful and enjoyable long weekend.
Best regards,
Michael Arcidiacono, Secondary School Principal
Masquerade Party
We are looking forward to celebrating our 3rd annual PVO Social on Saturday, 28 September at The Boulevard Hotel. All of the community is warmly invited to attend – parents, caregivers, staff members, family and friends. Tickets can be purchased at the school's finance counter or via online bank transfer to the school's account:
Detik Harapan Sdn Bhd
CIMB: 8007 19 3002
Please reference 'Masquerade Party' and be sure to include the names of who will be attending.
Tickets are RM90 each.
The theme for this year's event is "Masquerade". Masks will be provided during the event, but guests are more than welcome to wear their own. The suggested dress code is semi-formal attire, also known as cocktail attire, which roughly translates into a cocktail dress or trousers for the ladies, and a suit/tie or sport coat/blazer for the gentlemen.
There will be special parking and hotel room rate for guests attending the event. Guests may validate their Mid Valley carpark ticket at the hotel's reception to enjoy an RM5 flat one-time entrance fee per car. The nearest parking zones to the hotel are Zones C and Zones H. Hotel room bookings can be made directly with the hotel (contact Mr Perry at perry.salesblv@stgiles-hotels.com). There are a few room type options to choose from which may or may not include breakfast, with room rates ranging from RM366 to RM416.
Looking forward to seeing you as of 6:30 pm at The Boulevard Hotel for mocktails. Dinner will be served at 7:30 pm, followed by games, prizes and dancing. Alcoholic beverages will be available for sale at the hotel bar, adjacent to the function hall.
Julie Chen Arcidiacono, Community Support and Services Coordinator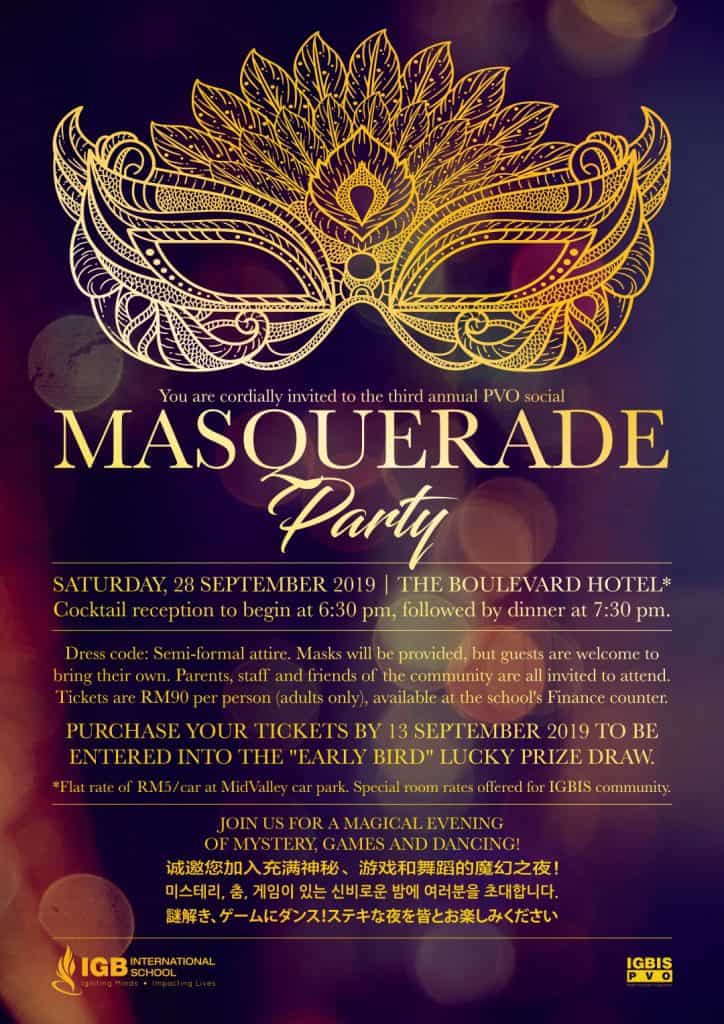 Flyers