Message from the HoS
Mrs Anne Fowles, Head of School
Dear IGBIS Families,
We hope that you are all keeping well. I am sharing below the latest COVID-19 update that has already been shared with our community.
As we begin a new month with the MCO still in place, we would like to welcome all of you back after our Spring Break last week. The IGBIS campus is still closed but learning continues to take place. Our academic team was prepared for this extension and therefore, prepared for lessons to continue taking place remotely. In trying times like this, we are glad to see that many families continue to be proactive and are doing their part to encourage and support their children at home.
For those of you who would like to keep up with what has been happening around the school community, you may click here to view our Facebook posts. Remember to like and subscribe to the page if you have not done so. Our Communications and Marketing team try their best to update the page on a daily basis, sharing news and activities that are conducted by our staff and students, in the hope of boosting each others' morale given the pandemic that is affecting the whole world.
Here are the updates:
Cancellation of IB Assessments and Examinations
Earlier this week, we conducted an online conference for our Grade 12 students and their parents regarding the cancellation of the IB Diploma Examinations. The students and parents asked many relevant questions regarding this matter and our academic team attended to their questions and concerns with reference to the IB guidelines. For the latest development on the IB Diploma assessments, you may want to visit the IB website here. Rest assured that if the school receives any other updates, Mr Magnus Dreschler will be in contact with you via email. At present, the staff are very busy completing all of the new requirements for uploading of work by the deadlines that the IB has given.
The grade 12 students will continue to 'attend' classes via distance learning during April and the school is developing optional classes for May as well.
The MYP on-screen assessments have also been called to a halt by the IB. The key points for us at this time are:
May 2020 MYP on-screen examinations are cancelled.
ePortfolio and Personal Projects grades will be issued.
Where applicable, MYP certificates will be awarded, reflecting achievements from a combination of Personal Project, ePortfolio subjects, and predicted grades for other subjects.
Classes for grade 10 students will continue as per their timetable.
For more information with regards to the cancellation of IB Diploma Examinations and the MYP On-Screen Assessment, click here.
PYPX Postponement
It is without a doubt that the PYPX is also being affected, given the situation surrounding COVID-19. At the moment, the PYPX is being rescheduled for some time in the middle of May 2020. Mentors should have received a notice about this from the grade 5 teachers. Once we have a firmer date, we will be able to advise you further.
Stay In Your Bubble, Stay Connected
We realize that the term "social distancing" is misleading as we are still connecting in various ways through digital media. We should just be distancing ourselves physically. This led us to an idea that while we stay within our (home or family) bubble, we should continue to keep connected with the rest of the community. Therefore, the school would like to start an initiative to share with people about this. For those of you who would like to contribute to us, you can record a video of yourself or with your family suggesting ways that we can keep connected with one another.
Videos should be between 30 seconds to a minute long. Be creative! Share your ideas. Sing it out. Dance it off. Draw or paint it. Anything that you can share with the rest of the world. Show how you keep connected within your own bubble. Remember to end the video with the tagline, "Stay In Your Bubble, Stay Connected." You can share your videos here.
The Gardens Residences Promotion
Do you need to self isolate for 14 days? Did someone in your family bubble come back from overseas or have contact with a possible COVID-19 case? Whatever your reason may be, our sister division under the IGB Corporation umbrella is offering a place for you and/or your family to stay at a discounted rate. You can refer to their e-flyer below for more information.
We certainly hope that COVID-19 will come to a close soon. We have taken the approach to adopt a more positive outlook in troubling times because we realise that the world needs to look for a silver lining behind every cloud.
To end, we would like to leave you with something from the teaching and admin staff at IGBIS to bring a smile to your faces during these challenging times. A big thank you to Ms Sally for coordinating and bringing the video to life. The song is Hold my Hand (Just not right now) sung by Jess Glynne. Click here to see the video! Until the next communication, we hope for the best for you, your family, our community, and our world. 
Remember to #StayInYourBubbleStayConnected!
Best wishes…
From the Secondary School Principal
Michael Arcidiacono, Secondary School Principal
Dear IGBIS community,
Our second week of distance learning has come to an end and I continue to be thankful for all the efforts of our teachers, staff, students and parents as we all try to make the best of this situation. I spoke with several teachers today and have begun participating in lessons myself, so there are many silver linings to be found as classes continue to be conducted as normally as possible. Student attendance and participation has been very good, and we are contacting home regularly for students who are missing lessons. As well, I have appreciated seeing several examples of people taking care of their own wellbeing during this time. Grade 12s have mentioned what they have been doing, PHE staff have been offering short videos, there are many opportunities here for us to stop and consider our own wellbeing and spend time with our families.
We would like to continue to ask for feedback from parents about the experience of their children in distance learning; if you have not done so already (or would like to fill it in again), please fill out this survey to tell us your thoughts.
https://forms.gle/W9XwP1nrghjgdK6A8
As a reminder, we have a shortened week next week, with Friday as a school holiday. Wishing everyone a restful weekend – stay safe and healthy!
Best regards.
Autism Awareness
Lizzie Hudson, Elementary Learning Support
April 2nd was Autism Awareness Day for IGBIS and lots of staff and students wore blue in celebration of this day. This is a day recognized globally to increase our understanding of people with autism and to celebrate the 'aumazing' people they are.
Here are a few facts to know about autism:
Currently, 1 in 54 children is diagnosed with Autism. Diagnosis can happen as early as 1 or 2 years old but most children are diagnosed once they start school. Only psychologists and doctors are qualified to diagnose somebody with autism.
There is no known cause or cure for autism. People with autism can learn strategies and ways to manage their challenges.
When we talk about people with autism, it is polite to put the person first. This means you would talk about a 'child with autism' not 'an autistic child'. They are always a person or child first, and having autism does not define who they are.
Autism is a different wiring of the brain. If you don't have autism, you are referred to as being 'neurotypical'.
Many people with autism also have challenges with sensing the physical world. This means lights can be too bright, sounds can be too loud and touch can feel too harsh. As neurotypicals, we need to be sensitive to this and find ways to reduce this input or to help when we see that someone is overwhelmed by their environment.
So why is knowing all of this important at IGBIS?
Because we are an inclusive school and we welcome all kinds of children and staff, including those with autism. About two-thirds of children with autism are bullied at school. Along with that, a high number of children with autism also suffer from depression and anxiety. It is up to our entire community to work together to ensure that it doesn't happen at our school and to our students. By always #choosingkindness, we demonstrate that IGBIS is a safe place for everyone where you are not just accepted, but celebrated for who you are.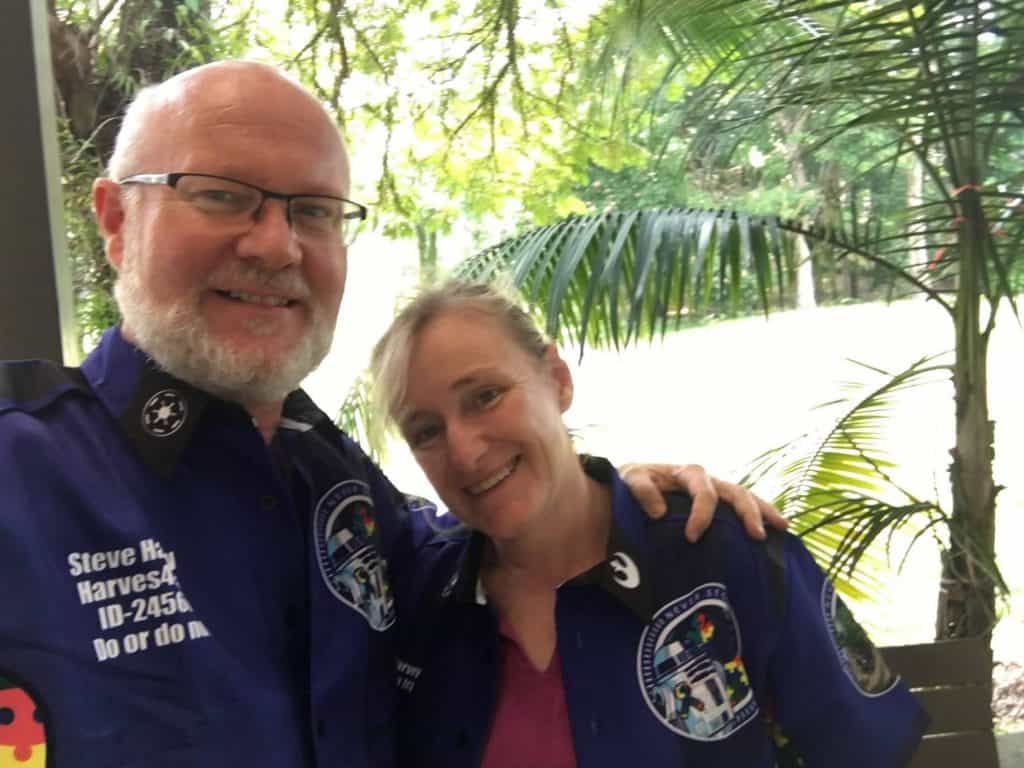 Meatless Monday
Heidi Robinson, Grade 5

My name is Heidi; I am 11 years old and I am a student at IGBIS. In Grade 5 we have to work on our PYP Exhibition (PYPX), which is where we choose a topic that we are interested in researching about. Then we make learning products to present, and we take action. My topic for PYPX is climate change, and I am learning about greenhouse gases. Please watch my video and join my action of Meatless Monday by not eating meat on Mondays April 6th, 13th, 20th, and 27th. I will send a survey afterwards to see if we should continue with Meatless Monday at IGBIS once school is back in session. If you would like to send me a picture of your family enjoying a vegetarian meal on Meatless Monday, you can add it to this shared photo album. If you have any questions, please email me at heidi.robinson027@igbis.edu.my. Thank you in advance for participating!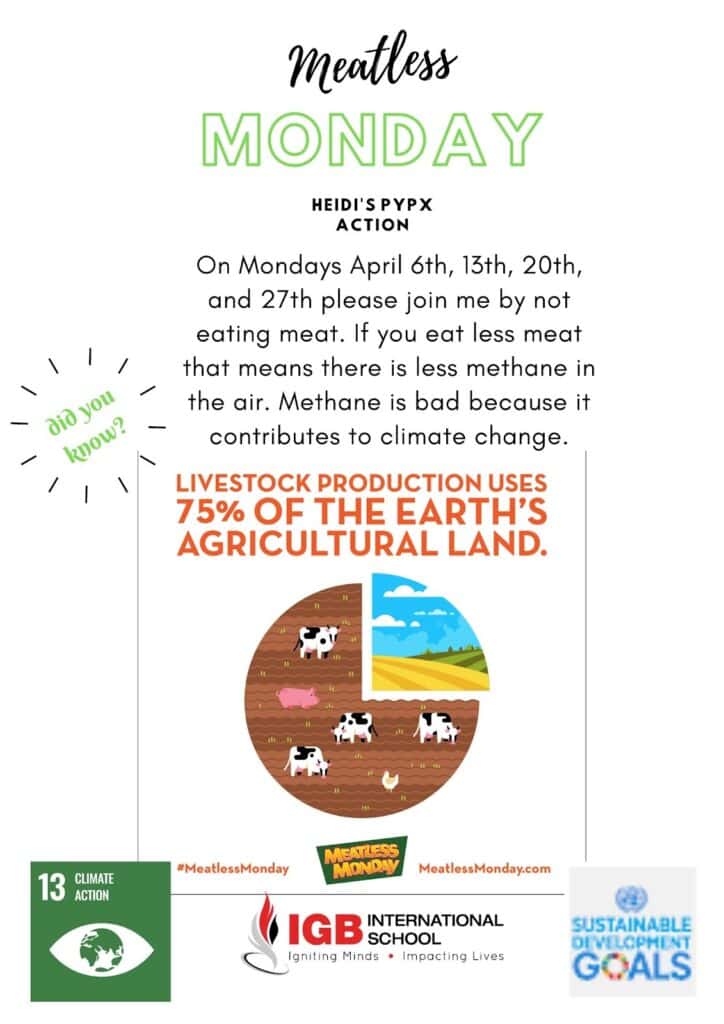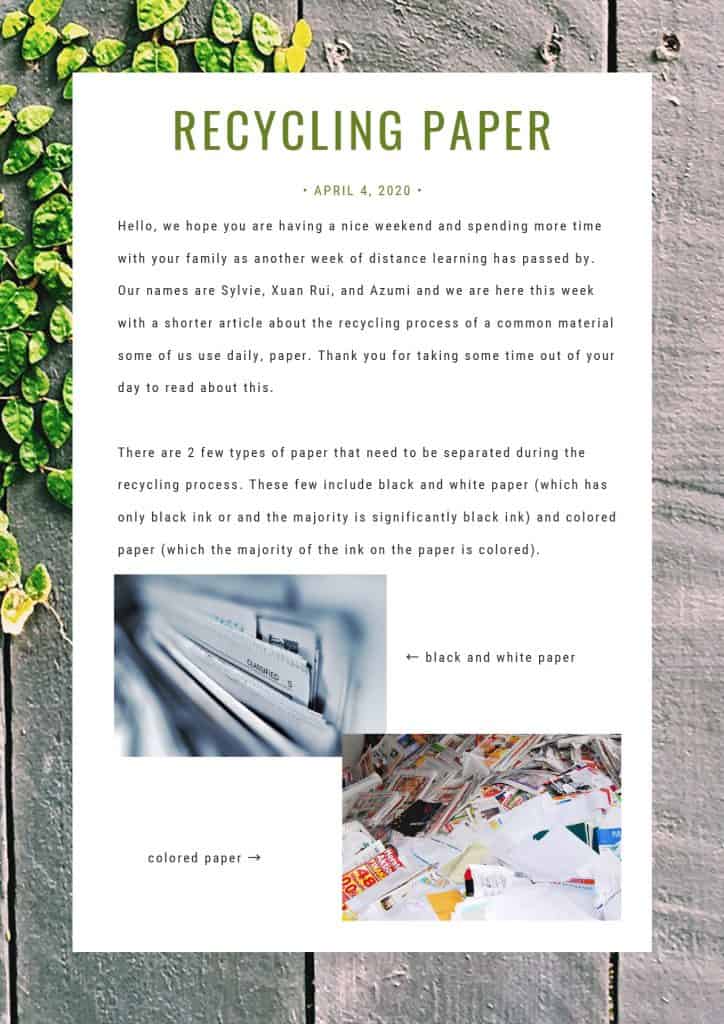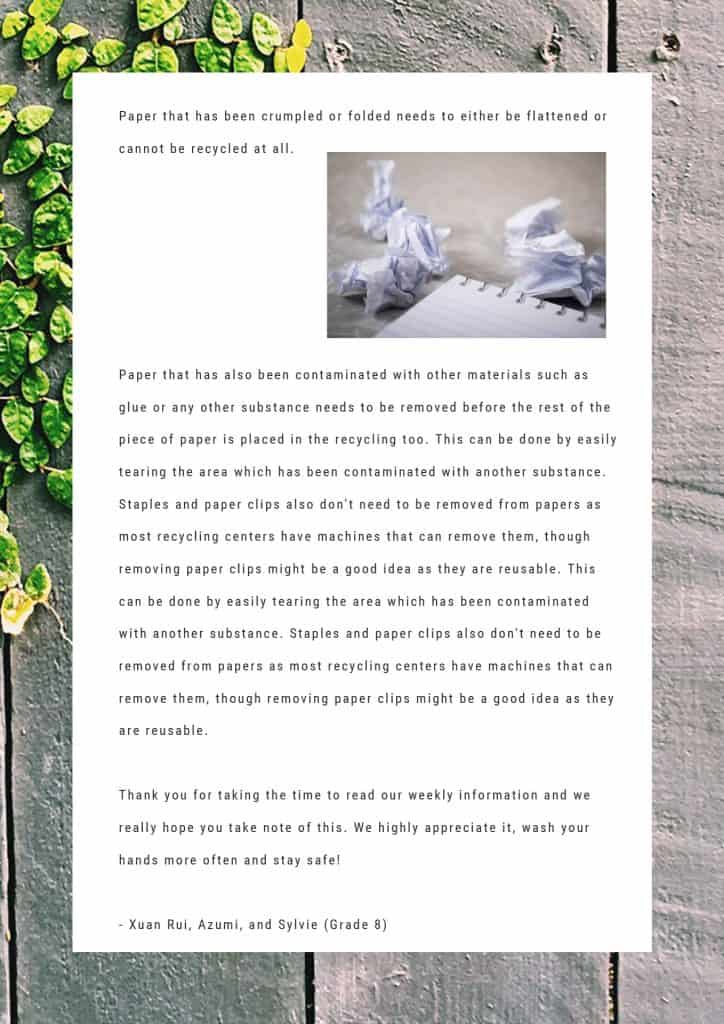 Student Wellbeing
Karen Skepper, Social/Emotional Counsellor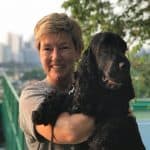 "During these uncertain times, we must remember to look after each other's wellbeing. The COVID-19 crisis will take an emotional and mental toll on all of us, in differing degrees. Let's make sure we keep an eye on each other (virtually :)) and provide support where and when it's needed. We are all in this together, and by helping each other out wherever possible, in a safe manner, we will all get through this".
Here is a link to the 'Student Wellbeing Hub' (Australia) with some resources to support you and your family.
Coach's Corner
Adam Morris, ICT Coordinator
Since we're all using our devices in new and different ways, it's a great time to think about how we use them. It can always be exciting to think about all the various tools, all the free stuff, all the various possibilities.
Yet, as responsible global citizens, during a time of crisis, we are obliged to also think about how to ensure that our networked environment is sustainable. In this article, I'm going to provide some tips about some steps you can take to ensure that the demand for our networks is minimalized, yet strong for our learning needs.
Remember, our computer networks all depend upon data centres around the globe, and they need maintenance. In our current situation, those services are getting strained, and if they break in substantial ways, it may take longer to recover to normal status.
As the ICT Department monitors the situation and will keep the community informed if there are any service disruptions, let's learn how we can all help to keep the world sustainable:
1) Minimize Chrome tabs
The web browser Chrome is known to require substantial resources from your computer while it is open, and especially when it has numerous tabs open. If your computer is taxed with keeping those tabs working, that could affect its ability to process streaming video or heavy network loads. In other words, lots of tabs can increase lag.
It's best to close the tabs you don't need, especially when doing group video sessions.
2) Rate the videos
Whenever you leave a video session, instead of closing the browser tab, click on the "leave" button which is between the microphone and camera. You will then be presented with a user interface that allows you to rate the quality of the call.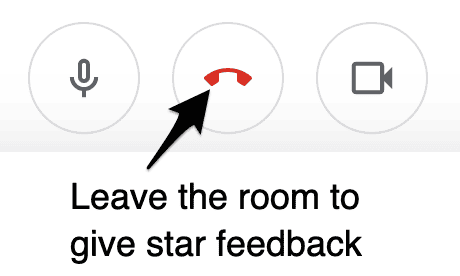 If we do this regularly, this will provide Google with important data so that, if suddenly all of Malaysia or a part of Malaysia suddenly report poor quality, their engineers will be given a head's up and can look into it.
We can also see these ratings, which we can use to help to diagnose if it is happening only for some users or for most users.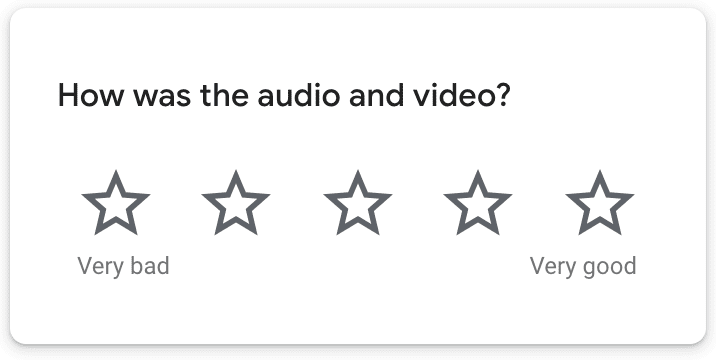 If you were satisfied with the quality, click the five stars. If you had some problems that you think Google should know about, click four stars or less, and you will be asked to choose what aspect of the call was poor.
This kind of feedback is very useful, and the more that do it the better!
3) Use your battery sparingly
Your laptop computer performs best when it's plugged in, rather than on battery. Using a battery for long periods of time over many days may decrease your laptop's useful lifespan.
It's best to keep your laptop plugged in as much as you can.
4) Keep in mind our body's posture when using the computer
We have to think of ourselves too!
Scientists tell us that when we sit at a desk for long periods of time, we risk affecting our body's posture. Over long periods of time, not paying attention to our posture may result in muscle or joint pain.
The best thing you can do to help protect your body from the above is to take regular breaks throughout the day. After 30 minutes of sitting, you should start thinking about getting up out of your seat or adjust your posture.
PVO News
Julie Arcidiacono, Community Support and Services Coordinator
Celebration of Digital Learning Successes
Thank you to all who already have added their images to our shared Google photo album. Please continue to upload photos of your child/family successfully engaging in distance learning. By sharing them with the rest of the community, we hope to keep us all connected and inspired with new ideas. Photos can range from video conferencing with teachers and friends, moving to GoNoodle, uploading a video to Flipgrid, working on a SeeSaw post, doing chores at home, maintaining a healthy lifestyle by exercising, playing a board game and beyond.