Message from the Head of School
Dear IGBIS Families,
We are just a week away from the school holidays and everyone is eager for a break!
Here are the updates from our COVID email recently:
CMCO Extension
The Malaysian government announced that the CMCO will be extended until the 20th of December, 2020. This means that we will need to continue with distance learning until the end of this semester.
It was expected that the CMCO would be continued as the number of new cases are still high. The good news however, is that interstate travel is now allowed, and the number of persons allowed to travel together is based on the capacity of your vehicle.So the whole family can travel if that is what you plan.
We have also received a reply from the Ministry of Education (MoE) on the subject of reopening of schools. This is their reply:
Ref.: The Recent Announcement On The Operation Of Education Institutions – 8 November 2020

The Private Education Division (PED), Ministry of Education Malaysia (MoE) acknowledges the receipt of the letter from The Association of International Malaysian Schools (AIMS) dated 16 November 2020 on the matter stated above.

As you are well aware, the closure of all education institutions as announced by the Senior Minister of Education is until 18 December 2020. This closure is essential to further reduce the R naught of COVID-19 and flatten its curve of infection.

The PED acknowledges the enormity of challenges faced by member schools of AIMS with regards to operational costs, business and livelihood sustainability as well as fulfilment of contracts to fee-paying parents.

The following are the PED's responses to your questions:

Q.1 – The PED has no restrictions for international schools to resume operations after 18 December 2020 if the Conditional Movement Control Order (CMCO) in the state/district where the schools are located is lifted by the National Security Council (MKN);

Q.2 – International schools are allowed to operate before 20 January 2021 as their schooling schedule differ from that of the government schools; and

Q.3 – Form 2 and Form 3 students of international schools are allowed to start school earlier (before 20 January 2021) as they follow different curriculum and schooling schedule. This permission is subject to sufficient classroom facilities and adherence to SOP and instructions on physical distancing and personal hygiene.

However, the PED insists on adherence to the SOP issued by the International Trade and Industry Ministry (MITI) with regard to the percentage of staff attendance at the school's premises, the SOPs and safety instructions issued by the MoE, the Ministry of Health (KKM) and the MKN in a collaborative effort to curb the COVID-19 spike in cases.

Your concern and keen attention on these matters are much appreciated. The MoE's priority is the safety of all parties; especially our students.

Thank you.
Since receiving this news from MoE, we now eagerly await the announcement of the lifting of CMCO so that your child(ren) can once again, come back to school!
Christmas Assembly
On the last day or Semester 1, we will be celebrating Christmas with all of you virtually through our Christmas Assembly. Therefore, keep your schedule free on the 18th of December 2020, at 2:20pm onwards and log on to the link to see what the school has prepared for this event!
Head of School Search
We have recently completed the interviews for the new Head of School for IGBIS. It is now a matter of time before the Board makes a decision, contacts the candidate and announces the new IGBIS Head of School. Thank you to everyone who took part in interviewing the candidates. We appreciate your support and feedback. More updates on this coming soon!
Zomi Education Centre (ZEC)
We would like to thank everyone who took a step forward to help those in need. We are glad to announce that we have managed to get the required 52 sponsors for the shoebox gift for the children of ZEC. Many of our community members have also expressed interest in making a donation in kind or a donation of goods. We would like to inform you that the main collection will be made on the 17th of December, 2020, at the following times:
9:00 am – 11:00 am
2:00 pm – 4:00 pm
6:00 pm – 8:00 pm
However, there will also be staff at school on December 14th, 15th and 16th from 8am to 4pm if the above times do not work for you.
If you have any questions please contact our CAS/Service Learning Coordinator Allison Parratt at allison.parratt@igbis.edu.my.
Holiday Programme
The deadline for registration is coming to a close! The online event will be conducted on the 21st – 23rd of December, from 9am – 3pm. The workshops are open for students between the ages of 4 to 12. There will be Public Speaking, Creative Writing and Holiday Crafts in these three days. Fees are RM 600 per child. If you are interested to sign your children up or if you want to ask for more information, you can do so here. Our friendly team will get back to you and answer any questions you may have on the program.
DP and CP Talk and IGBIS Scholarships
We will be conducting a talk for those of you who are in Grade 10, or anyone who would like to know more about the IBDP and IBCP. Our DP/CP Coordinator, Mr Magnus Dreschler, will be speaking to the community about the differences between the two programmes and also sharing what is required to qualify for scholarships that are being offered by our school. If you want to know more, or if you know of your friends or family who may be interested to find out, do not miss the chance to connect with Mr Magnus Dreschler in this session. Keep your calendars free on the 15th of December, 2020, at 3pm – 4pm. Log on to our Facebook page to watch it live.
In the meantime, if your Grade 10 child(ren) would like to apply for our scholarship, please email us at admissions@igbis.edu.my and we will get back to you as soon as possible.
Have a safe week ahead and take care.
---
From the Elementary School Principal
Simon Millward
We are proud that IGBIS is an inclusive school and our vision and mission drive us in this endeavour, it is a fabric of who we are. So it was wonderful for me as the Principal to facilitate a 'live' inclusive schools week session with the grade 2's this week.
We watched a video called 'Inclusion Makes the World more vibrant'. It is the story of a young boy who visits an art gallery with his blind mother. He then chooses a picture to describe for her, so that she can 'see' what he is seeing. He does this in an enthusiastic dramatic way. Obviously she is extremely proud of her son as she 'experiences' the artwork.
In the session we explored what inclusion is, what vibrant is, how inclusion can make the world more vibrant and what this means for our school. The Grade 2 students were open minded and believed that the school is a better place when we have students with physical challenges, learning challenges and come from all different backgrounds to learn at IGBIS.
Should you want to explore the resources that have been produced, to develop an ongoing awareness of inclusion at IGBIS you can access these through the PYP Parent University google classroom.
Zomi Education Centre
You will have received an email from me about IGBIS supporting the students and families at Zomi Education Centre (ZEC). There is still time to contribute essential items for the families. These can be dropped outside reception on December 14th, 15th and 16th from 8am to 4pm. The items they are desperately in need of are;
| | |
| --- | --- |
| FOODRice (high urgency)Milk powder (high urgency)Canned foodCooking oilEggsBiscuitsCoffeeMilo Sugar FlourPastaNoodlesSauces | NECESSITIES Baby diapers (X XL XXL too!) Baby shampooBody soap (bar or liquid) Soap powder for laundryDishwashing detergentSanitary products.MasksSanitizersWet Wipes |
Thank you in advance for your support. I know it will be very much appreciated by this community.
Dates for Your Diaries
18th Dec: Christmas assembly: 2.20 pm – 3.00 pm (Please note this is a change in date)
18th Dec: Report Cards sent home
19th Dec- 10th Jan: School holidays
11th January: 1st day of semester 2.
---
InfinITy & Beyond
Adam Morris, ICT Coordinator
New features in Google Meets
Google has been on fire lately, introducing new features into Google Meets and throughout Enterprise. For example, our IGBIS accounts have Cloud Search which I use all the time now. I find it easier to search my email with that tool instead.
That Cloud Search thing is super cool and all, but it's also kinda boring. It's nice to add a bit of spice to our new normal way of life online right? To do so, let's use a new feature in a different way:
About a week ago, Google Meet got this great new feature. If a student wants to get attention from the teacher, they can raise their hand. It goes on the screen to the teacher as their hand raised. That way, the student doesn't interrupt the call and gives the teacher a visual clue that they need to give this student some attention.
We can get a bit cooler than that right? We can use that to indicate that we want a high five. Really! I dare students and staff, when something fun happens in a Google Meet and you want to celebrate it with a high five, do this:
Click "Raise Hand"
Motion that hand is up in the video screen
Give a high five, at the same time "lower hand"
This is actually taking the world by storm. I heard about the spontaneous use of this feature in this way from several sources around the world. Isn't our collective creative spirit amazing?
Use technology in different and fascinating ways!
Cybersecurity and Phishing
As a user of online technologies, as well as being fun, it can be a bit scary sometimes. Have you ever gotten an email and didn't know what to do about it? Did you think that maybe it was someone trying to trick you?
There is a great training website that explains very, very clearly all the tricks that tricksters might try to use to trick you. I took it and learned something from it, it's really just so, so good.
Elfie McShelfie

Speaking of cybersecurity and strange emails, there is a very Christmas-y tradition of having a bit of fun and showing a bit of extra care towards each other at this time of year.
To promote the sense of fun, we do have an account on our domain being used by Santa to lift our community spirit. In fact, the IT Department was contacted by the Student Council in order to check if this account was legitimate!
You see, Santa got in touch with Student Council execs, and our very well educated, principled IB students checked in with IT to make sure it was legitimate. In other words, they knew when to ask! If something looks a bit … strange … it's time to use your research skills and critical thinking. Huzzah!
The IT Department is able to confirm that it's all in good fun and in the tradition of the festive season. You can safely read those emails, and click links without fear.
We also encourage you to participate in the fun! Elfie has been thoroughly trying to keep their identity secure. They are being very principled about the use of their account, and quite adept at not revealing who it is.
All I know about who it is is that it isn't me!
---
Taking Charge (MYP)
Lennan MacDonald, MYP Coordinator
Raising Agents of Change
At the top of the shortlist of my favorite elements embedded into the MYP is the call to ACTION. Equipping our students with a sense of agency and helping them see themselves as change agents, I believe, is the greatest gift we give your children.
Yes, we present your children with the facts and figures about a world in need of much hard work: socially, environmentally, economically, and this year medically, but we do not leave it at that. We present to them not just problems, but problems in want of solutions. We then try to empower them to get down to the good work of positively impacting those issues through their own transformative work. We challenge our students to use their critical thinking and organization skills and empathy and communication skills to positively impact the communities they inhabit. Nowhere is that more evident or focused than in the grade 8 community project or the grade 10 personal project.
The Community Project is a group project where students pursue a cause of their own choosing that they wish to impact positively. The Personal Project is an independent learning journey, which ideally culminates in an action that serves their community.
Good schools get on airplanes and into busses and travel to developing countries and do service work on their excursion week. Great schools recognize that while that is good and necessary and most amazing – you do not have to get on a plane or a bus to change lives for the better. Great schools recognize Community and Service work begins at home, in your classroom, in your school, and with those you interact with every day.
Our own Daniel Ocondo understood this and did his community project exploring and actioning what he could do to improve the jobs and indeed the lives of our cleaning staff here at IGBIS. He recognized that these wonderful women who clean up our messes and make our school cleaner and with COVID we now recognize safer too – existed in the margins of IGBIS – they were ghosts who were largely ignored and invisible. He decided to bring them out of the shadows and into to the light – to introduce them to the community and welcome them into our family. In welcoming them into our family – he gave them what we all received when we first joined our own family's. The first gift your parents gave you was your name. And that name clearly identified you as part of the family.
He interviewed the cleaners and shared some of their stories with his peers. He posted their pictures along with their names and encouraged students to greet their cleaner by name in the hallway – 'Pagi, Nor' – and thank them in the cafeteria – Terima kasih Farah – and recognise them – by name – for the good work they do.
I only taught the grade 9's one day this year – but that story was joyfully shared with me then. And that is the magic of service work. Those who do it recognize how rewarding and uplifting it is to uplift others. I believe the truest path to happiness is to do things that make you like yourself better. Daniel understood this. And more than that – he can't wait to do it again. And that's what we do in the MYP. We plant seeds. And while we often see only the buds – and in this case a few flowers – the real harvest comes in the DP and CP and beyond when the people we have helped to shape and mold harness their own passions and chase their own dreams.
Likewise, the Personal Project in grade10, led by the amazing Miss Kerri Chan, provides students with opportunities to challenge themselves and grow and act. Kerri shared some reflections from last year's P2 veterans, like Erin, who shared "actually it was really stressful, but I'm glad that I had the project to discover what I really like and find new strength in me." Her classmate Abi described the journey as, "a rollercoaster that opened my eyes to skills such as leadership, communication and time management. Overall, it was a fulfilling experience."
I cannot wait to share with you the challenges and successes this year's students experience over the course of this year through these two most rewarding undertakings.
So the next time you find yourself sitting around your dining room table and your child is sharing something they learned in school that day – ask them what they are going to do with that information – or perhaps more importantly – what are you going to do about that? The more they see themselves as changemakers – the more change they will undoubtedly make.
I said to our new principal Miss Sandy on our first week here – that while there was much work to do at IGBIS – the soil was rich – the bones were good.
And indeed they are.
I'd like to take a moment and thank you all for supporting the sacred work we do here at IGBIS. It is a very good thing we do – and so it is a good thing you do too. Your investment is a long play. A slow burn. But in the end it just might save the world.
---
Artistic Venture
Visual Arts Department
Elementary
Across Elementary, students have been submitting artworks that show creativity, imagination and excellent problem solving. From working with art materials from the kitchen, to painting with water on a driveway, exploring artists for inspiration and participating in many live lessons, here are some of the most recent creations. Well done for being so creative, resilient and excellent self-managers! Ms. Elli & Ms. Finnimore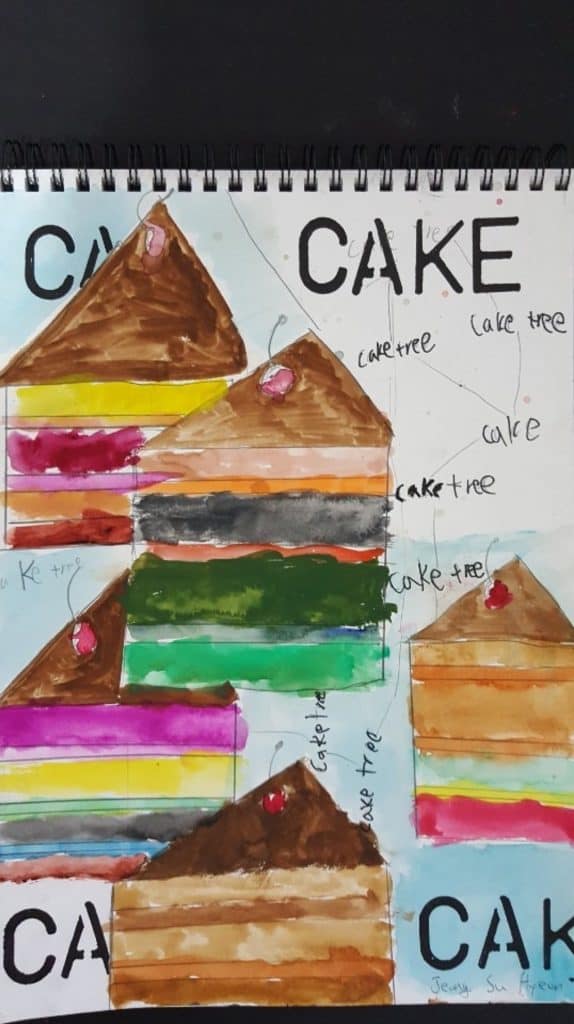 Middle School
Grade 8 students are looking at how they can create a feeling of movement in art. We have used a variety of techniques to do so ranging from the arrangement of objects, cutting & folding paper, gestural drawing and using digital tools such as Photoshop.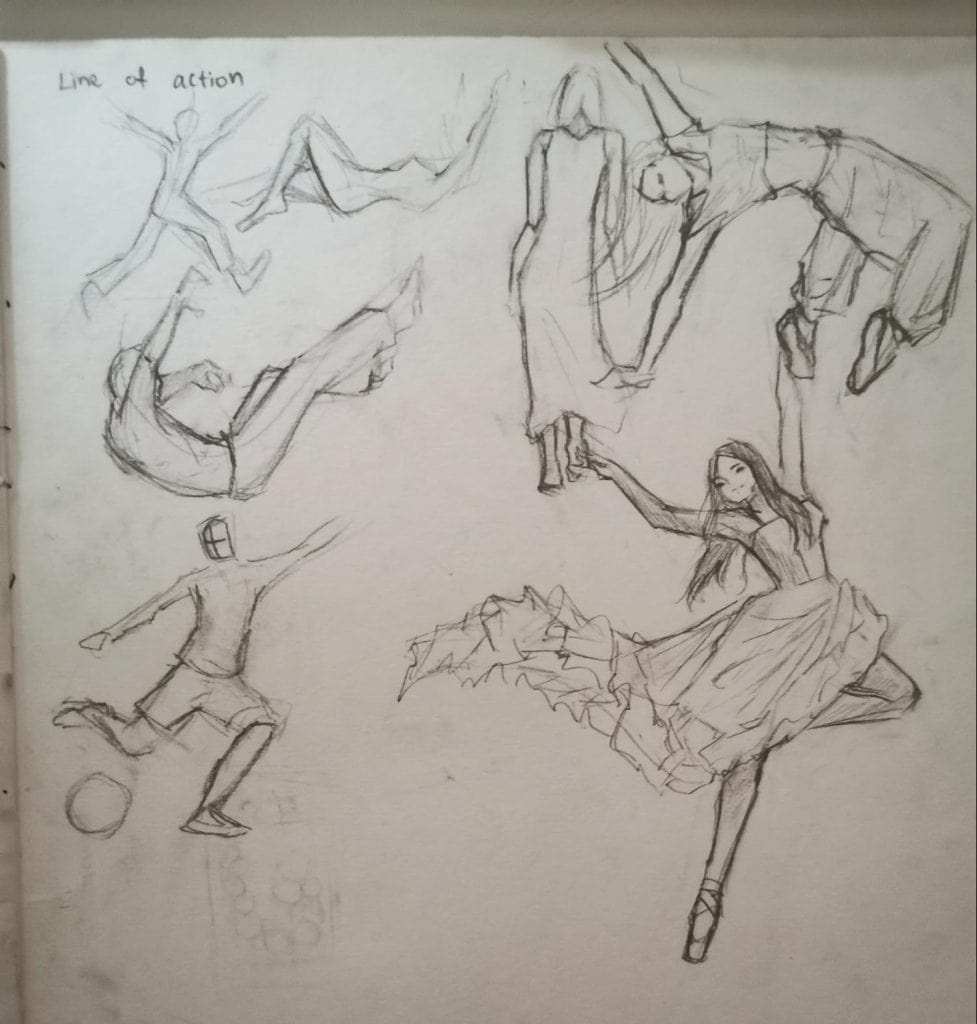 High School
Grade 9
Grade 9 students have been designing Fantasy Creatures. Putting themselves in the role of head designer for an up and coming animation movie. Students had to design a fantastical creature who could save the world from COVID 19. They are currently working on their watercolour skills as they bring their creatures to life in their own bedroom.
Grade 11
Students Practiced and explored a range of media, including digital and sculpture. They were to Choose a single object and render it using 6 different media.
---
Nurse's Clinic
Azilah, School Nurse
COVID Fatigue
Let's just get straight to the point. We are all tired of this pandemic.
For months we have had to stick to the new norms of social distancing, outside dining, not being able to go to the cinema not to mention having constant threats of contracting the virus. Layoffs and the fear of death have all now caused a new wave of emotional exhaustion; COVID fatigue.
COVID fatigue puts both mental and physical health at risk, getting us all worn out to the point of being sloppy, maintaining strict precautions such as wearing masks, strict hand washing and maintaining social distancing. As we approach Christmas where it is the coldest time of the year for some, we have to persevere and carry on with all the precautionary measures.
According to WHO(World Health Organization), children and adolescents make up 28% of the world's population and there were some studies conducted to see how COVID-19 impacted the lives of this population. The widespread pandemic forced schools and educational institutions to shut down leading to stress and anxiety as students resorted to online studies. In one of the articles, it was reported that students rated their stress level a maximum of 10/10 and felt helpless throughout the lockdown.
Understand what COVID Fatigue is:
Fatigue is generally being in a prolonged state of fight or flight and as a result, it causes a stress-like reaction which will eventually lead to behavioural fatigue.
Our body is not prepared to handle prolonged stress and as a result of being in a prolonged state of the 'fight or flight' mode, this condition manifests COVID fatigue.
Fighting COVID fatigue
EXERCISE – the best way to release pent-up stress and worry. And there are many ways to do that without having to go to the gym. Lots of YouTube floor exercises, yoga or you could just follow Joe Wicks with his fun workouts that are suitable for children too.
PRACTICING MINDFULNESS – mindfulness is cultivating an awareness of the present moment. Practising mindfulness involves breathing methods, guided imagery, and other practices to relax the body and mind thus helping reduce stress.
WATCH WHAT YOU ARE WATCHING – don't overwhelm yourself by taking in too much information from the internet. Keeping yourself informed by limiting the news resources to just trustworthy ones can help reduce COVID fatigue. Remember to be mindful of social media too as most of the contents is usually designed to stir controversy.
EXPRESSING YOURSELF – find ways to share how you or your child is feeling by talking it out, writing in a journal or by playing a musical instrument which will help release stress and worry that could build up to a traumatic level.
KEEPING IN TOUCH – use technology to stay in touch with friends and family while keeping a safe physical distance. Attend virtual meetings, join groups online and connect with family or friends online. Even though it may not be a substitute for the real thing, it's more important than ever that we stay socially connected.
LOOK OUT FOR EACH OTHER – notice mood changes or behaviour changes in your family members. Sudden outbursts of anger or silence could indicate that they might be going through something that they are not comfortable to share. Be aware and offer the support needed.
Merry Christmas to all of you celebrating!
Stay safe everyone.
---
Individuals & Societies
Adam Gagan, Individuals & Societies Subject Leader
Students all over the world study the Industrial Revolution. Our Grade 8's are no different, such is the importance of the time period. However, at IGBIS we make things a little different. We ask our students to evaluate the inventions and innovations from 1750 to 1900 but also study the current Revolution 4.0, or Artificial Intelligence Revolution. This is far more relevant to their own lives and futures.
Grade 8 were asked to analyse the social, economic and environmental impact of any idea or technology from this revolution. They were put into breakout rooms to discuss and share their ideas.
Among their choices included the smartphone, 3D printers to virtual reality. Here are some of the reasons:
'The invention I chose was smartphone and interconnected devices. I chose this because the majority of the world's population has a smartphone nowadays. It would also be easier to see the impacts of smartphones since my family and I also own smartphones ourselves and are a part of this technology revolution. Smartphones are most importantly used for communications and emergencies but as smartphones get developed and updated throughout this revolution, it started having multiple uses, playing an important part of humanity nowadays."

Bitian Zheng
'The invention I chose was the computer. I chose this because, to me, the computer is one of the most important inventions that caused us to come to this stage of human development. The computer might not be the greatest invention in human history, but it's definitely one of the most important ones that lead us to where we are now.''

Danny Chen
'The invention I chose was robotics. I chose this because this is a burgeoning and growing industry, and it is expected to grow at a significant 11% in CAGR from 2018 to 2026 (Globalnewswire.com) and it is also listed by "InterestingEngineering.com" as one of the most outstanding inventions of the industrial revolution."

Henry Cho
'The invention I chose was the smartphone. The reason I decided to research about the smartphone is that I felt that it was an invention that related to me personally as it is something I use every day. The smartphone is also a very important piece of technology that changed the way humans live their everyday lives. Human contact has been easier than ever before because of the invention of the smartphone, we are able to contact whomever we want with the click of a button. In this essay, I will talk about how the smartphone has affected social and economic day to day lives. And what pros and cons the smartphone has had on society."

Lila Pye
As we are discussing technology…
Some students from the Grade 11 Theory of Knowledge (TOK) class discussed the role of technology in society today, in particular social media. If you have seen the recent Netflix documentary Social Dilemma, you may understand the power it has on all of our lives.
The students were shown parts of the documentary in the lesson and were asked to develop enquiry questions for the topic.
The control and power over knowledge raised some interesting questions, particularly those involving ethics. They then discussed some of the answers to these questions and the different perspectives too. The issue of manipulation was particularly important, once we found out that we all were!
If you are yet to watch The Social Dilemma, I highly recommend it, especially if you are a parent or guardian of a child with a smartphone. Students become aware of some of the dangers and issues surrounding them and can then have mature discussions about their use. Even if your child is not studying TOK, questions such as:
How much do you think you are in control of your decision-making?
What knowledge makes a person use their smartphone?
Why do the 'experts' in the documentary try to avoid using their smartphones?
---
PHE
Mark Parratt, Whole School PHE Leader
In PHE @ IGBIS in the secondary school, we have now seen the completion of two units of work, and our students in all grade levels need to be commended on the efforts and attitudes toward participation, as well as their creativity, resilience, learning and indeed, their excellence. Students have completed units that explore; how they apply force in track and field, social movement in mob dance, transitions in gymnastics, collaboration in jump rope and volleyball, non-verbal communication in service dance, overcoming obstacles in biathlon, transferable techniques and strategies in striking games, as well as self-management in personal fitness.
Collaboration in group activities since CMCO has been challenging, as has the exploration of team games, but we have been amazed and delighted by the work we have seen, and the level of achievement reached by each person relative to their environmental limitations and personal goals.

Its also worth commending the efforts of students to maintain the high degree of inquiry, conceptual thinking, reflection and activity within the last few months. The challenges have been great, but we must not forget how valuable our own levels of activity are to our own wellbeing, and how important it is to keep learning through the inquiry cycle in order to help make sense of our world. These key life skills and perspectives can help us find solutions to problems, and in our current context, these are of the utmost importance. It is also wise to note that students need more activity than their PHE classes will be able to give them, so where possible, students need to be moving; their bodies are designed for it, and their brains will work better because of it.

Some standout pieces of work i like to highlight are:
From grade 10, the work of Qi Song, Katherine Eliza and Yihan who's 'service dance' communicating a message about overcoming depression and academic stress through dance was outstanding, as was the work of Jia Xi, Marie, Megan, Hannah and Sofia regarding the challenges of acceptance of lesbian, gay, bisexual, or transgender people and relationships. Their efforts to choreograph a story, dance it, and present through video while being in separate houses and countries was amazing. Images of their amazing dances are here:
Qi Song, Katherine Eliza and Yihan
Jia Xi, Marie, Megan, Hannah and Sofia

If you would like to ask any questions or raise concerns with regard to PHE, please contact Mr Mark Parratt (Subject Leader) on mark.parratt@igbis.edu.my
Take care and the PHE dept wishes you all a safe and enjoyable winter break.
Many thanks to you from all of us!
---
Winter House Events at IGBIS
House Captains of IGBIS
The House Captains have organized a holiday themed house event to hopefully bring some holly and jolly to the end of term.
The rules are simple.
Do as many of the events as you'd like in any order.
Upload your photos to the correct Winter Event form.
You earn house points for every member that participates in that event.
All events must be completed by Wednesday, 16 December by 5 pm!
The house winners will be announced at the Christmas Assembly on Friday, 18 December.
Ready, set…let's have some winter fun!
---
What's Coming Up Soon?
Marketing Department
Holiday Program
Registration is closing soon! The Holiday Program will run virtually, on the 21st – 23rd of December, from 9am – 3pm. The workshop is open for students between the ages of 4 to 12. There will be Public Speaking, Creative Writing and Holiday Crafts in these three days. Fees are RM 600 per child. If you are interested to sign your children up or if you want to ask for more information, you can do so here. Our friendly team will get back to you and answer any questions you may have on the program.
Parent Referral
Just a reminder, our Parent Referral scheme is ongoing. If you have friends or relatives who may be interested in having their child(ren) join IGBIS, you can always refer them to our Admissions Team by emailing them at admissions@igbis.edu.my. Every successful sign up will reward the referrer with a RM2,000 credit note which may be used to offset your child(ren)'s school tuition fees, top up e-purses, purchase uniforms, etc. We hope to hear from you soon!
DP and CP Talk and IGBIS Scholarships
We will be conducting a talk for those of you who are in Grade 10, or anyone who would like to know more about the IB DP and IB CP. Mr Magnus Dreschler will be speaking to the community about the differences between the two programs and also sharing what is required to qualify for scholarships that are being offered by our school. If you want to know more or if you know of your friends or family who may be interested to find out, do not miss the chance to connect with Mr Magnus Dreschler in this session. Keep your calendars free on the 15th of December, 2020, at 3 pm – 4 pm. Log on to our Facebook page to watch it live.
In the meantime, if your Grade 10 child(ren) would like to apply for our scholarship, please email us at admissions@igbis.edu.my and we will get back to you as soon as possible.