Message From the Head of School
I hope that your week is going well and that you are all keeping safe and healthy.
With the daily COVID number continuing to increase at new highs, we are feeling less hopeful that we might return to face to face learning before the end of the school year. That being the case, we are working on alternative plans to get all of the end of year events completed and resources returned to school.
The Grade 5 transition to Grade 6 began virtually this week. Our students' resilience and positive mindsets again came to the fore. Meanwhile, our teachers are doing an exceptional job in difficult circumstances with most of them working from home again.
There has been some good news since our Virtual Open Day on Saturday – the Ministry of Education and Immigration Department have both agreed to student visas being processed again. All student visas were halted over 12 months ago, so this will be heartening news for the families who have been waiting outside of Malaysia's borders this past year. Let's look forward to more of our families being allowed to return to Malaysia.
Have a good weekend ahead …and stay safe.
---
From the Secondary School Principal
Just two weeks to go – I can't actually believe that we have only 8 school days left of this crazy, challenging, rollercoaster of a year. We have all but resigned ourselves to finishing the year online (sniff).
I know that students are doing a lot of assessments, teachers are doing a lot of grading… so the 8-day countdown will be music to many sets of ears.
As you're no doubt aware, our Gr.12 students were part-way through their IB exams when we had a close call with Covid. All students had to move from exam-route to non-exam-route for several of their subjects. I'm sure that was a silver lining for some, while others were looking forward to performing well on their exams.
We were able to get Gr.10 through their MYP e-assessments without a hitch. Huge thanks to our two intrepid IB coordinators who have worked incredibly hard to lead our students through this difficult time.
Welcome, Gr. 5 – Yesterday, we held a virtual transition day for Gr.5 students. We really enjoyed meeting these curious, creative students and we're looking forward to them joining secondary in August. A reminder to Gr.5 parents about the MYP information session next Tuesday 1st Dec from 8:15 to 9:15. Here's a photo of them at the start of the day. They couldn't believe we started so early 🙂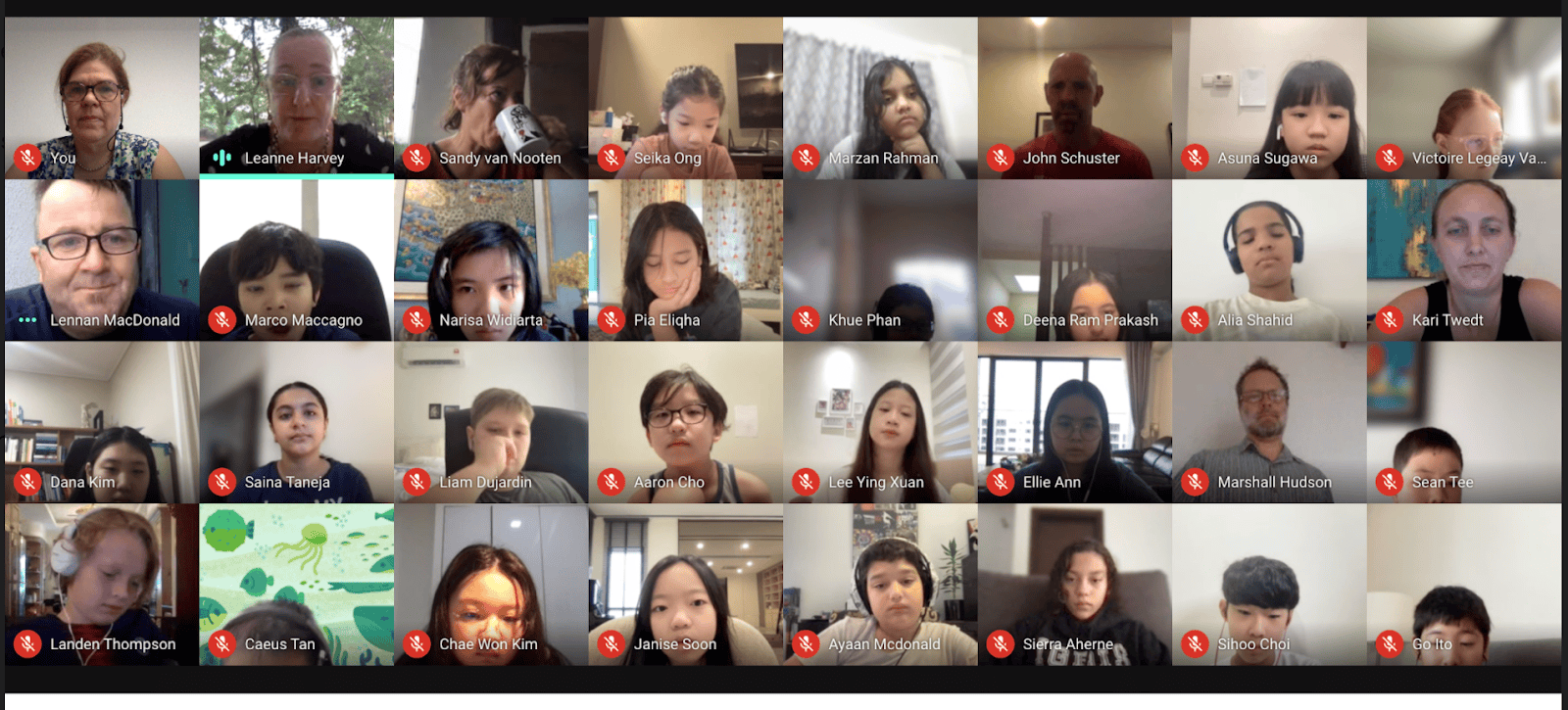 Goodbye and good luck – One of the hardest parts of being in an International school is having to say goodbye to teachers and students when they have to leave us. This year, we are saying goodbye to 5 amazing teachers in Secondary.
Mr Jamie Cant (moving to China)
Mr Marc Green (moving to Germany)
Mr Jason Spivey (moving to Bangladesh)
Mr Marcus Wetherell (moving to Singapore)
Mr Adam Morris (pursuing a non-teaching opportunity here in KL)
I want to thank them for everything they have done for students and the community and I know they'll make a big splash in their next adventure. Please do reach out to them if you want to wish them well. I know they will appreciate it.
We've also got a number of students who will be relocating at the end of this school year. We're going to miss them terribly. Please encourage them to keep in touch with their friends here. The next two weeks will be filled with mixed feelings and endless goodbyes. On the very last day of school, everyone is invited to our Awards and Farewell Assembly. I'll send more information soon.
Next week is the last 'normal' week. The last week is really just 2 ½ days for students.
Here's a list of the upcoming events in secondary (between now and the end of the school year).
Tue 1st June – Gr.5 parents meeting 'Intro to secondary and the MYP' (8:15 am)
Mon 7th June – Holiday
Tue 8th June – GradeBook Closes at 9 am
Wed 9th June – 'Recap day' (secondary students will be off schedule all day participating in a range of activities run by student ambassadors)
Thu 10th June – Half day (for students), Awards & Farewell Assembly (from 10:30 am), reports released through Managebac (4 pm)
Fri 11th June – Staff only day (until ~2:30 pm)
Sat 12th June – Graduation for Class of 2021
Hope you have a lovely weekend. Stay safe!
---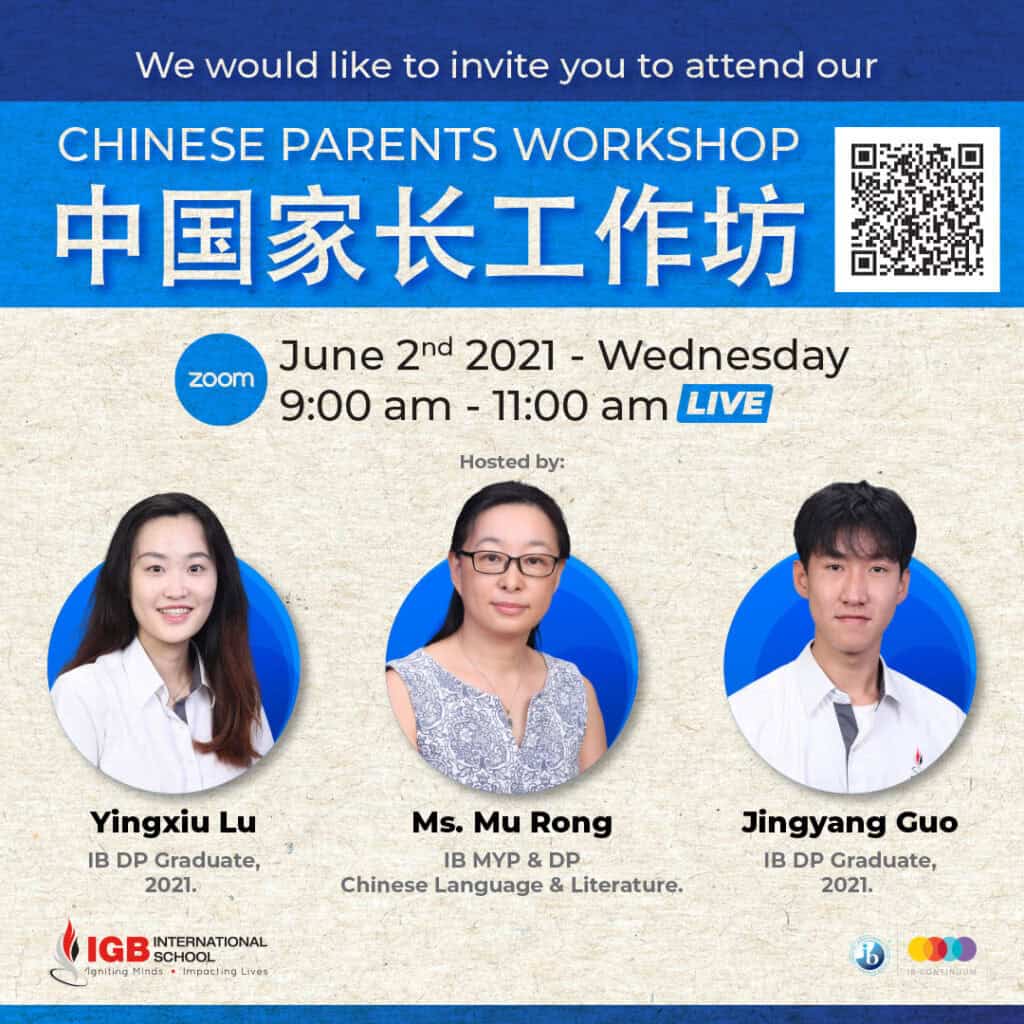 You're invited to our Chinese Parents Workshop on 2nd June. Join us to explore more about International Baccalaureate & Pathways in IGBIS.
Join via Zoom at https://zoom.us/j/92498494110…
Meeting ID: 924 9849 4110
Pass: staysafe
---