From the ES Principal
By Simon Millward
I do hope that everyone had a restful holiday and those that who were celebrating Deepavali had a wonderful family time together.
Although it has been a short week for the students, for teachers we have been engaged since Sunday undertaking professional development on Sunday and Monday and obviously back to teaching from Tuesday onwards. As a school we always want to push the boundaries of our practices, choosing to build upon the foundation we have and get even better. The quote from the educationalist Dylan Wiliam comes to mind.
'Every teacher needs to improve, not because they are not good enough, but because they can be even better'.
The theme of our professional development was 'Cultivating Inquiry' and was led by Kimberley Mitchell. The two days were a mix of theory and practical strategies that could be implemented in the classroom.
On Friday 4th November the 50m pool area was buzzing. We were hosting the KLSL swim event which had 8 schools competing. The students did amazingly well and the cheering from our community was fabulous. Next week we have the ES AIMS swim meet so something to look forward to.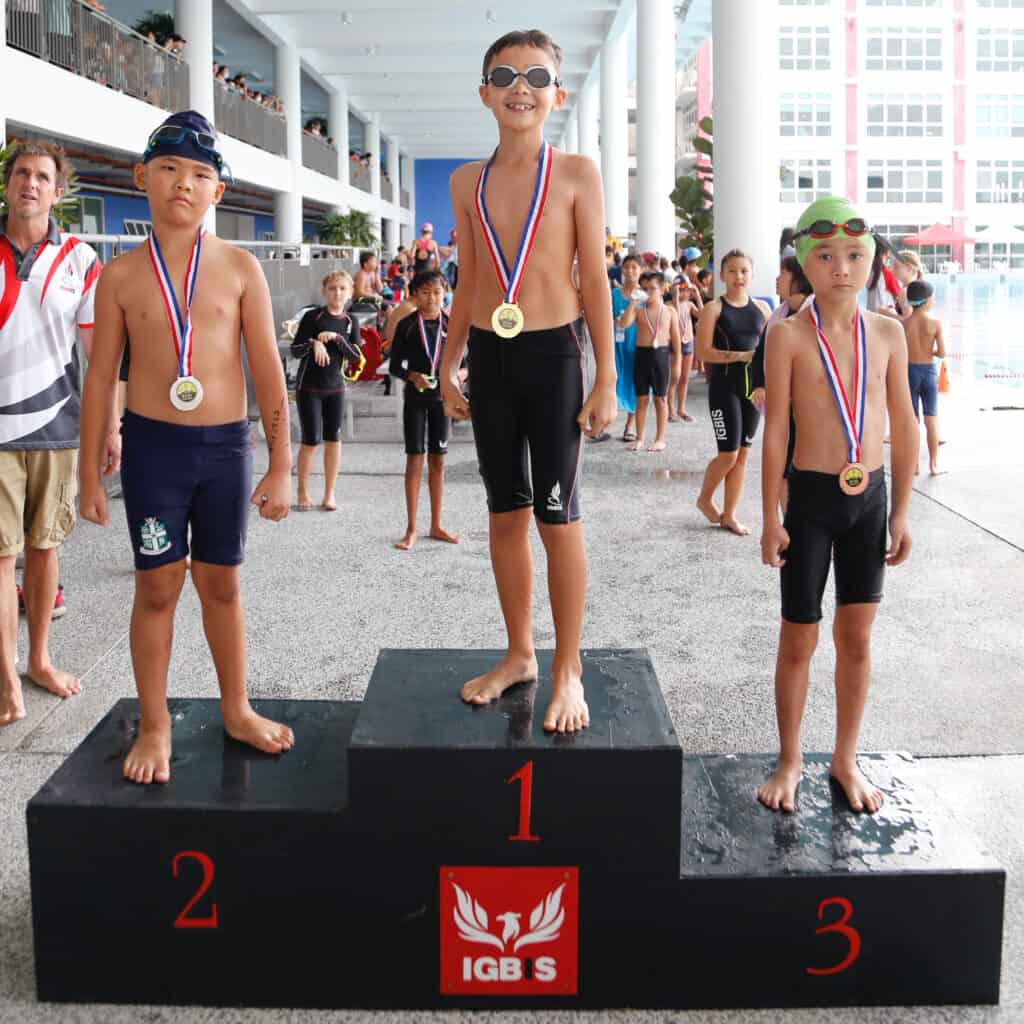 This week we managed to finalise the students who will join the 'Elementary Social Council'. These students are taking the opportunity to hone their leadership skills to work alongside the Grade 5 House Captains to organise social events for the Elementary school. Their first event will be the upcoming Holiday bazaar. The Grade 3 and Grade 4 students who were selected by their classmates are:
Grade 4:
Emma
Shakira
Sangyoon
Anna
On Tuesday 8th November we will have our Child Safeguarding parent workshop. This will take place in the Level 3 ES Music room and is for both Elementary and Secondary parents. This is an important workshop to understand what child safeguarding is and what we do at IGBIS. I hope to see many of you there.
Dates for Your Diaries
Monday 7th Nov: AIMS U11 basketball @IGBIS
Wednesday 9th Nov: AIMS ES Swim meet @IGBIS
Monday 21st Nov: School holiday
Friday 25th Nov: Aquathlon
---
From the Secondary Principal
By Sandy van Nooten
This week in Secondary – It was another busy week in Secondary where we managed to squeeze a lot into 4 crazy days.
MUN Trip to Cambodia – Just before the break, we sent 22 students and 3 teachers to Phnom Penh to join in with ISPP's MUN conference. The students represented us well. They were engaged and participated actively in all aspects of the conference. Huge thanks to Mr. Moore, Ms. Habib and Ms. Flavia for taking such great care of our wonderful intrepid students.

Week of Play – During the week of play (just before the break), our Student Council (StuCo) and House Council (HoCo) joined forces to run a fantastic set of activities. Each lunchtime, there were activities in the sports hall and the student lounges. The team was creative, organised, and committed and their activities brought the whole division together. Here are some happy snaps from some of their activities.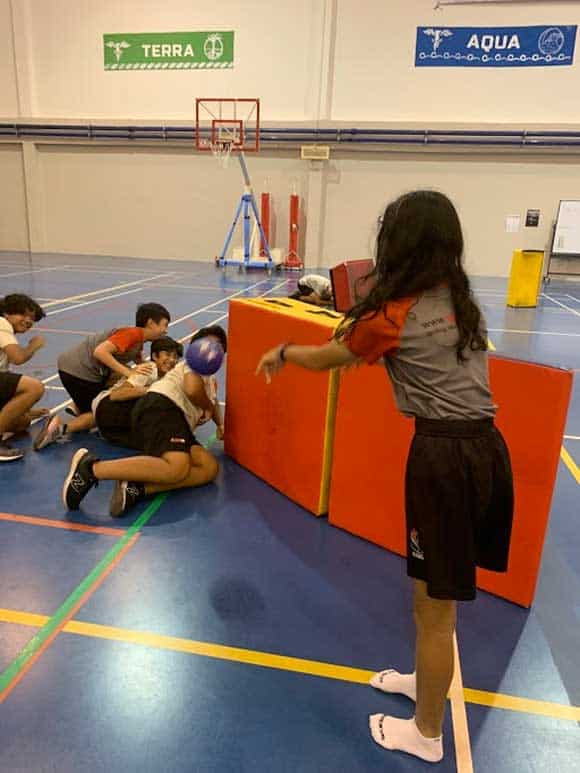 EOS MUN – This weekend, we are hosting our own MUN conference here at IGBIS. We have ~130 students from IGBIS and around KL. All the best to the secretariat student team and all the teachers who are going to be here in support. More on this next week.
Safeguarding Workshop – Next Tue (8th Nov), we are hosting a child safeguarding workshop for ES and SS parents. Details can be found in the email we sent out yesterday. Simon, John Schuster and I all look forward to talking to you about this incredibly important aspect of student health, safety and well-being.
Upcoming events in Secondary (between now and the end of the semester)
EOSMUN – IGBIS MUN Fri 4th to Sun 6th Nov
CIS/NEASC/IB – reaccreditation visit runs from 12th Nov to Fri 18th
3-Day Weekend – Holiday on Mon 21st Nov
Group IV trip (Gr.12) – Wed 23rd & Thu 24th Nov
Aquathlon (Gr.6 to 11) – Fri 25th Nov during block 2 & 3 (regular day otherwise)
OPEN DAY – Sat 26th Nov (9:30 to 12:30). Will involve some teachers & some student ambassadors
Gr.11 Exams – Thu 1st Dec to Mon 5th Dec
MYP Vis Arts Exhibition – Mon 5th Dec to Fri 16th Dec
Holiday Bazaar – Fri 9th Dec (12 to 7 pm)
3-Day Weekend – Holiday on Mon 12th Dec
MB Closes – Tue 13th Dec (at 8 am)
S1 Reports Released – Thu 15th Dec (by 4 pm)
Christmas Assembly – Fri 16th Dec. We will follow the Collapsed (assembly) schedule.
HOLIDAY – Sat 17th Dec to Mon 9th Jan
Parent Session Overview (for the year) – Here's a link to all the parent workshops in Secondary.
Sports Fixtures Overview – Here's a link to all the sports fixtures for season 1. Some 'friendly' games might pop up from time to time. Mr. Wilson will keep us posted.
Useful links for parents

Student LaunchPad (this is the place to go to find out what's happening in school on a day-to-day basis). It also has a 'quick links' section where you can find lots of important documents.
Secondary Assessment Procedures – a 4-page document outlining our assessment expectations and procedures. (Also available from Student LaunchPad & Splash)
A to Z Secondary Handbook – This gives an overview of all our policies, expectations and procedures. (Also available from Student LaunchPad & Splash)
Have a lovely weekend.
Regards,
Sandy
---
Counselling: November and Boundaries
By The Counselling Team
Welcome to November and a new Mental Health for the Month: Boundaries
Students will be working with the topic in various ways throughout the month, and for parents and community members, we hope you find the weekly posts here helpful.
So boundaries – We all need them. But boundaries are HARD.
You first have to know yourself; what you want and need (authenticity, anyone?), AND THEN you have to feel comfortable, safe, (and worthy) of actually setting them and holding others accountable. But once you understand and set boundaries in your life, you will have the ability to filter what comes in and what you give out, so that you remain balanced and healthy.
To start us off, let's take a look at 4 Types of Boundaries. There are many, many versions of this – in some cases, you can find "7 Types of Boundaries" or "5 Types of Boundaries". You may also find that some boundaries can fit into more than one category. Feel free to find different versions of categories that better suit you.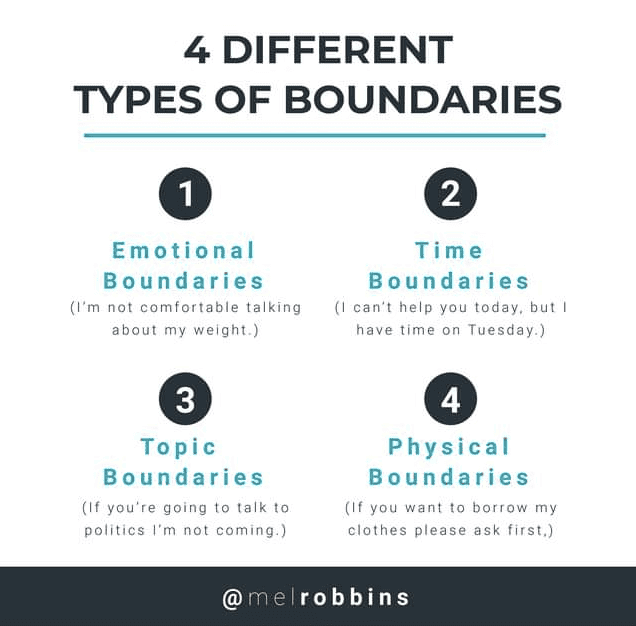 So, let's take a deeper look at each…
An EMOTIONAL BOUNDARY is how you protect yourself from other people's feelings. When you don't have emotional boundaries, it's like getting caught in the middle of a hurricane with no protection. You expose yourself to be greatly affected by other people's words, thoughts, actions, reactions, and moods. If you feel drained by a person, that's a sign that you need to set an emotional boundary.
TIME BOUNDARIES protect you from overextending yourself. You can't stop people from demanding your time, but you can stop yourself from giving it to them if you don't want to. If you're working, time boundaries may mean turning off notifications while you work, or not working past a certain time, or not answering emails on weekends (the ultimate goal). This could also mean not giving time and space to everyone who wants or asks for it. The second you start setting boundaries for your time, you will stop feeling used by other people.
TOPIC BOUNDARIES empower you to feel safe in conversation and topics you do or do not want to discuss. Plain and simple. Like how much money you make, who you're dating, or discussing your child's university plans. You'll never be able to stop people from asking you questions, but you can stop yourself from volunteering information you don't want to discuss.
And finally, PHYSICAL BOUNDARIES – your body and your stuff. You need to set these to protect your body, your physical space, and your physical things. This could look like telling someone you are not comfortable hugging. Or asking someone if they feel comfortable shaking hands (we just worked on this with the Grade 9 & 10s). This could look like telling your significant other what you do or do not like as far as physical displays of affection. Maybe it means not lending your stuff to unreliable friends or not letting a family member borrow something. This could also look like asking someone to knock before entering your room or office. If you start to resent others for having physical needs, that is a red flag that your physical boundaries are lacking.
We'll say it again, boundaries are HARD.
Over this next month, we are going to dig into how to set boundaries, why we need them, why we struggle with them, and how we can honour them (for ourselves and others). This is going to be fun.
As we close out this week's message, HERE is a fantastic resource on working with your student on setting boundaries, from VeryWell Family.
So as we move into the weekend, perhaps take some time to reflect on your boundaries – where have you set and used them (yay!!!) and maybe, where could you use more? Where are you modelling boundary setting for your student and family? And how can you help your loved ones set and hold boundaries?
Take care, and have the weekend that you need.
The Counseling Team
---
Kukri's Leggings are Available at the Uniform Shop
We have Kukri's leggings of various sizes in our Uniform Shop now. Parents/students can get them directly from our Uniform Shop instead of ordering them from Kukri's website. Come visit our Uniform Shop if you want to be the proud owner of a pair of IGBIS/Kukri leggings 😊.
---
Lunch Menu (November 2022)
menu-nov-22