---
From the Head of School
By Jason McBride
Hello IGBIS Community,
While there is always a lot going on at IGBIS, from Phantoms in the Music Room to basketball tournaments and graffiti murals, two other projects continued to move ahead that are of long-term importance to the school. The first, our adult fitness and wellbeing programme, started on Monday morning with our first group of parents in a Zumba class on campus. It is not too late to sign up, as fitness classes happen on a rolling basis. Some people were struggling to use the links, but they should now be fixed. Use the links in the schedule to let the instructor know that you are interested so they can keep you up to date on when classes will and will not happen. As we move classes around, we will continue to update the schedule.
wellbeing-schedule-updt-230324

This coming week our mindfulness classes will begin on Wednesday, with confirmation emails going to those parents, guardians and staff this coming Monday. We still have space for a few more in each session, so use the links in the schedule to sign up. Having taken a number of mindfulness and meditation courses myself, I can say firsthand how much of a positive impact they can have. Read more about the programme HERE and then let us know if you are interested using the link.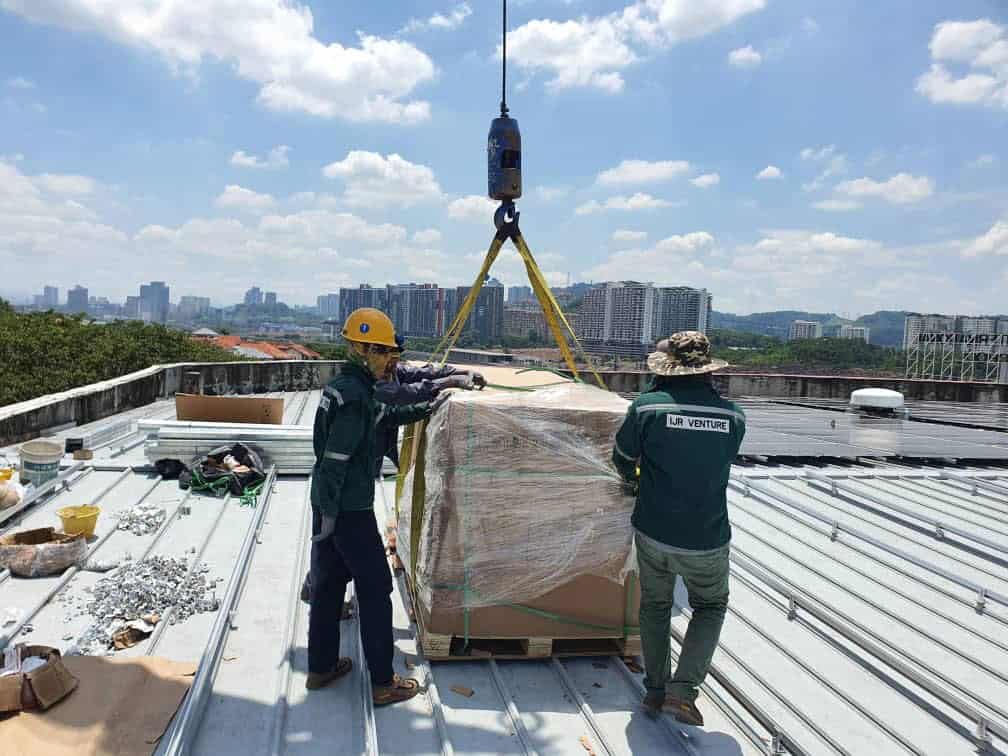 Aside from the well-being of our adults, and with the start of season three activities keeping our young people active, our solar project continues to move ahead so that we're taking care of the planet too. The panels were craned into place over the holidays, and the wiring is nearly complete. We are still waiting on the energy generation licence approval so we can turn the system on, but once in operation, the 341kWp array will help offset 25-33% of our electricity needs. We are hopeful that a future expansion can put that number up over the 50, 60 or even 75% mark down the line. Many thanks to our Facilities Team and Mr. Steven Tan for his endless hours of work on this project, as well as to our Board for backing the school in moving in this direction. If our students don't see us "walk the talk" as role models, then they might not listen to much more of our talk!
With thanks,
Jason
---
From the Elementary Principal
By Simon Millward
It has been a great week of sport and the arts this week with the culmination of the AIMS Elementary football season.
The U9 and U11 football boys and girls were in action and it proved to be a valuable learning experience for everyone. The U9 and U11 boys were tenacious and did not give up in their quest to win, narrowly losing their games. The U9 and U11 girls secured wins in their tournaments and became the champions of the cup competition in their age groups. A big thank you to all of the coaches and parents for supporting these student-athletes.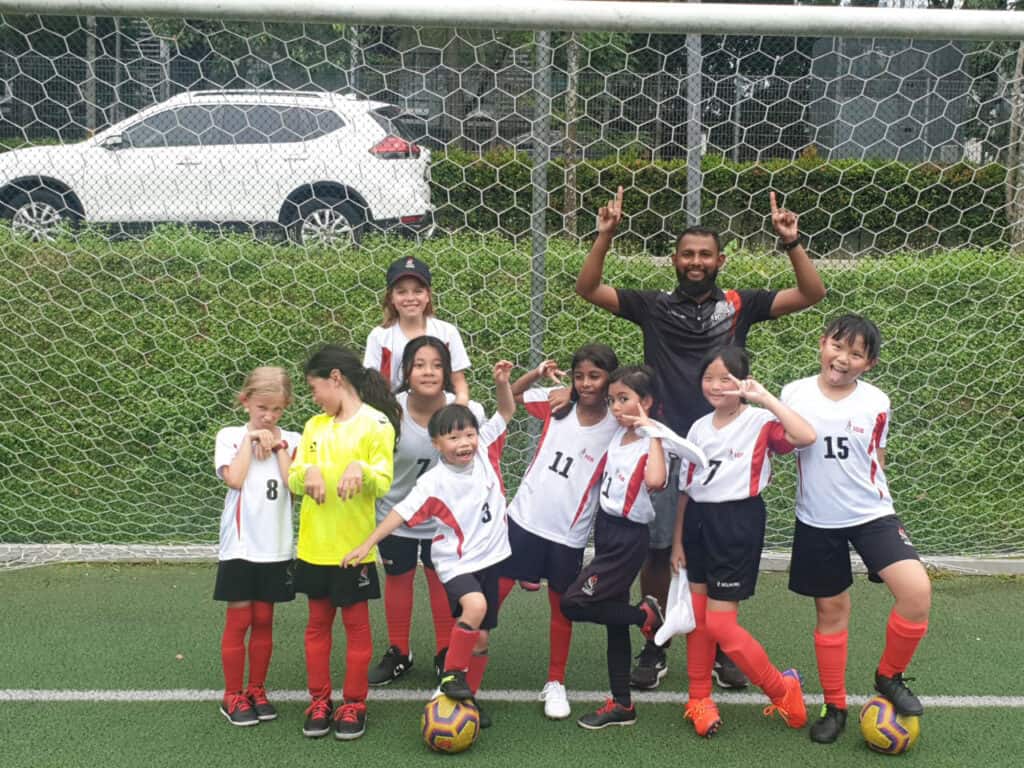 On Thursday and Friday this week, we had the Elementary Production 'Phantom of the Music room'. The students overcame their nerves and performed a wonderfully funny play that certainly had the adults laughing.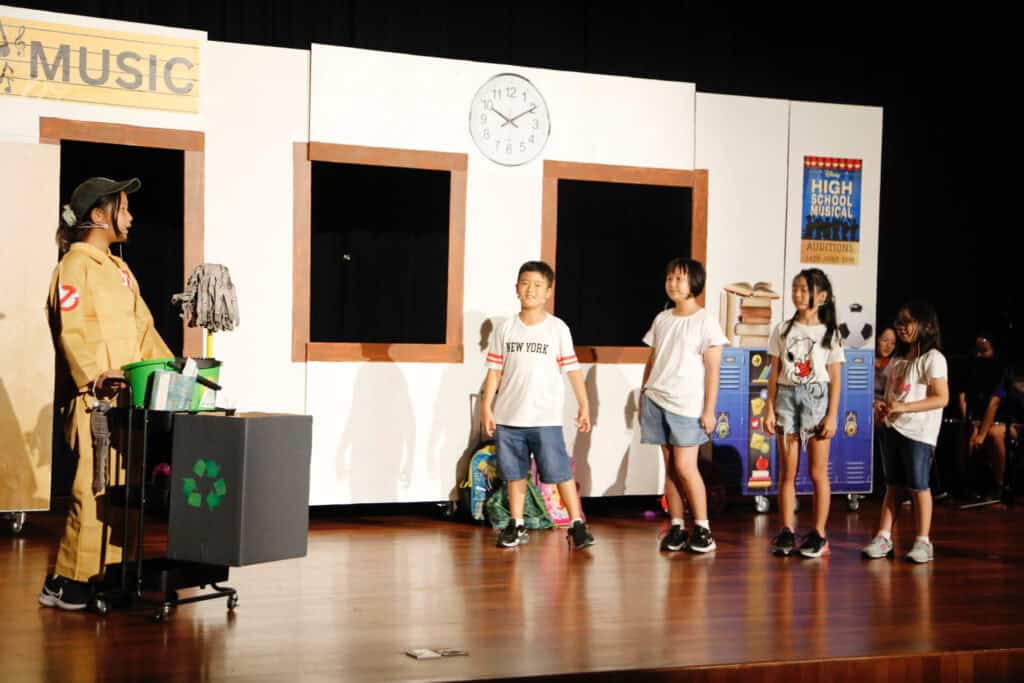 In interviewing some of the audience afterwards they said:
"I liked it when the 3 of them were looking for the phantom in the dark with the torches" – Mai Grade 3
"I liked when Floyd was playing the piano" – Arthi Grade 3
" liked how they added Floyd in the background when the children were speaking" – Gabby Grade 3
"I liked the melody of the creepy ghost song" – Sarah Grade 3
"I really liked the play, the overall plot was good, but the jokes went over my head"- Szu Zenn Grade 5
"I thought the execution of the play was great. I have never seen anything like this before. The actors were a perfect fit for their role" – Suhaan Grade 5
Dates for your diaries
30 March 2023: Grade 3 field trip
31 March 2023: Grade 3 field trip
Saturday, 15 April 2023: Student Led Conferences
---
From the Secondary Principal
By Sandy van Nooten
2-Day Trips 
Our fabulous GLCs are starting to plan two-day trips with students. Each grade level (from 6 to 11) will have a say in deciding where to go. Almost anything goes provided the trips are social and inclusive :). 
The dates for these trips are: Friday, 28 April 2023, and Monday, 12 June 2023. If you've got any good ideas, please let the relevant homeroom teacher or GLC know.
Frenemy Mural 
This week Artist "Frenemy" Aka Kristopher Kotcher met with a number of grade levels and worked specifically with Grade 7 as they are currently inquiring into Street Art addressing concepts of Fairness and Development. Mr. Kotcher's body of work is uplifting and promotes education, exploration, creativity, and respect for the environment. Beyond the personal connections made between the artist and students, and the tips imparted, the highlight of the visit is the vibrant addition to our school. With the help of our Grade 7 Artists, he created a wondrous magical Phoenix mural located next to the pool. Here's a very short time-lapse film (from the first day of painting) and a photo of the finished mural. To learn more about this artist check out his website www.frenemylife.com. 
Thanks to Ms. Kelly and the Arts team for making this happen.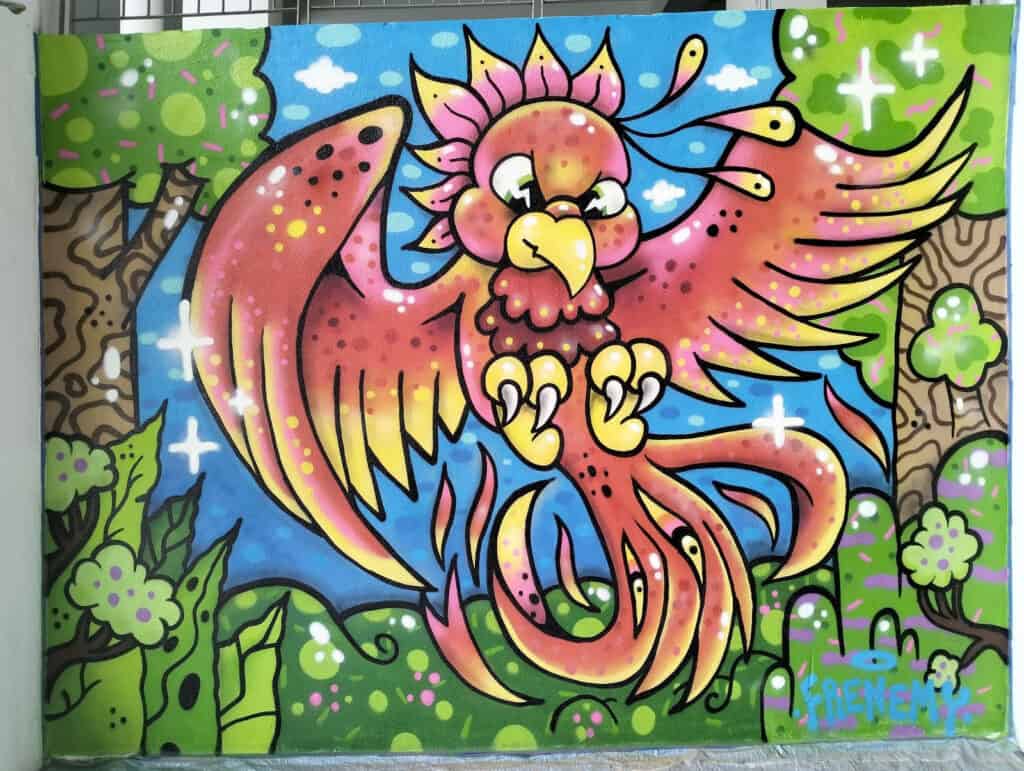 It has been fantastic hearing students giving their short 'pitch' for their TedX talk. They are an impressive bunch. We are all in for a treat in May.
Grade 10 musicians – A huge thank you to this talented group of Grade 10 musicians who provided the live music for the ES 'Phantom of the Music Room' production.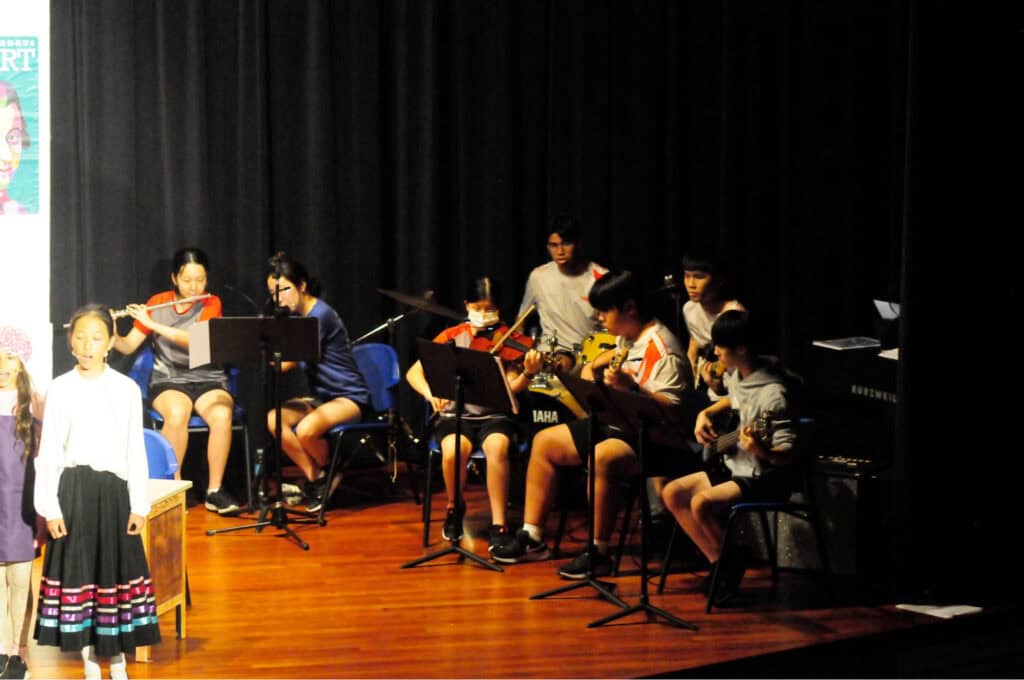 After-School Activities (ASAs) – Season 3 ASAs start on Monday. The season runs for 10 weeks (from 27 March 2023 to 2 June 2023). Here's a link to the season 3 schedule.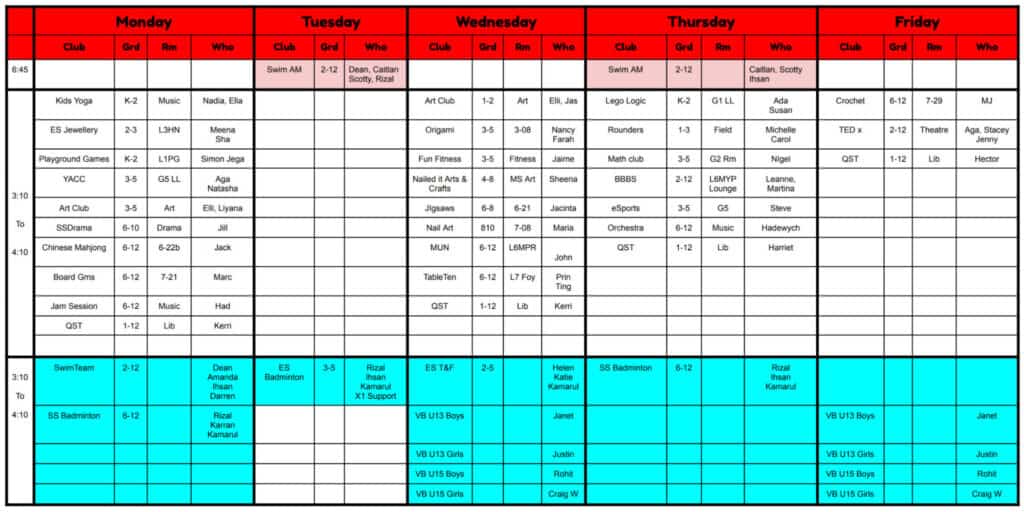 Sports Results (from Mr. Wilson) – It has been another very busy week in Sports. Here are some of the fantastic results.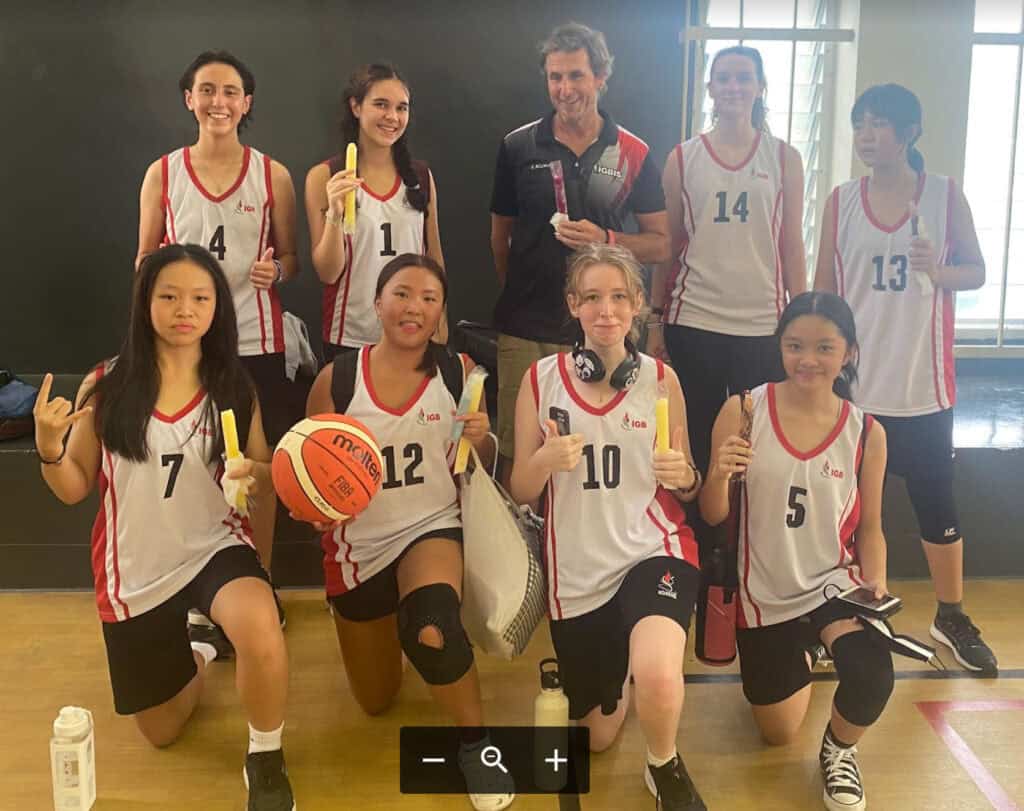 Thursday, 23 March 2023 – KLSL Boys and Girls U13 Basketball @ IGBIS

The boys battled consistently much bigger teams, yet ended the day winning 2 games and dropping 2, leaving them in 4th place overall. Similarly, the girls won 2 games and lost 2, but they were able to bring home a bronze medal in their efforts. A great season for all U13 ballers.

Friday, 24 March 2023 – KLSL U15 GIRLS Basketball @ IGBIS – we will share results next week.
EcoClub 
The eco club is running events all next week. See their posters below. On Monday, the community is invited to come dressed in Blue, Green Earth Colours. If you have any used clothes or books that you want to donate or trade, please send them in (from Monday to Wednesday) for 'Trading Thursday'. On Friday, there is a house event where students will create a structure from recycled materials (more info in the second flyer below).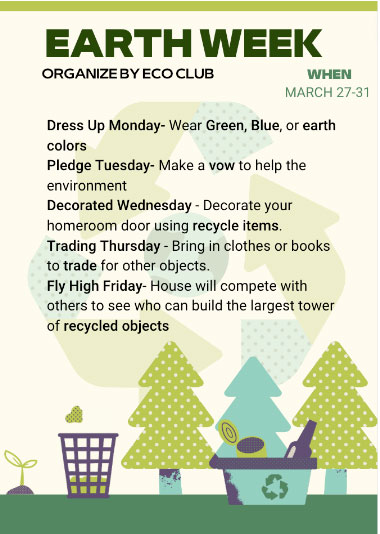 Dates for Grade 10s 
There are a number of important deadlines on the horizon for our Grade 10s.
Grade 10 parent meeting  – To go over all the expectations and deadlines for Grade 10. Next Wednesday, 29 March 2023 from 8 to 9 am in the PVO.
Grade 10 LAQ Orals (for registered students only) – on 7 April 2023. The schedule is on the Student LaunchPad.
e-Assessment mocks (for all Gr.10 students) – from 17 April to 19 April 2023. Here is the schedule.
e-Assessment finals (for registered students only) – from 9 May to 19 May 2023. Here's IB's schedule.
Useful Links 
Useful links for parents

Student LaunchPad (this is the place to go to find what's happening in school on a day-to-day basis). It also has a 'quick links' section where you can find lots of important documents.
Secondary Assessment Procedures – a 4-page document outlining our assessment expectations and procedures. (Also available from Student LaunchPad and Splash)
A to Z Secondary Handbook – This gives an overview of all our policies, expectations and procedures. (Also available from Student LaunchPad and Splash)

Sports Fixtures Overview – Here is a link to all the sports fixtures for season 2. Some 'friendly' games might pop up from time to time. Mr. Wilson will keep us posted.
Have a great weekend
Regards
Sandy
---
IGBIS Open Day
IGBIS will be having an OPEN DAY on 15 April 2023, Saturday from 10 am to 12.30 pm.
It would be great if you could share this Open Day information with your friends and family members who are looking for an international school for their children.
On this Open Day, there will be a talk by Mr. McBride, our head of school, about IGBIS & IB Education; school tours led by our principals and student ambassadors with an opportunity to have a glimpse of our Student-Led Conference taking place on the same day; and a counselling and enquiry session. Light refreshments will be provided as well.
All attendees receive a *100% rebate on the application fee and a *75% waiver on the enrolment fee worth up to RM19,750 when enrolling at IGBIS. 
*T&Cs apply
You may share this link, https://igbis.edu.my/admissions/openday/ with your friends or family members to know more about IGBIS Open Day and to register.
IGBIS parents who refer new students to IGBIS will be entitled to RM2,000 per student or *RM3,000 per family (where there are two or more students in K – 12) through the *Referral Incentives Programme. Please notify Warren Chew at warren.chew@igbis.edu.my after you have referred a new student to IGBIS.
*T&Cs apply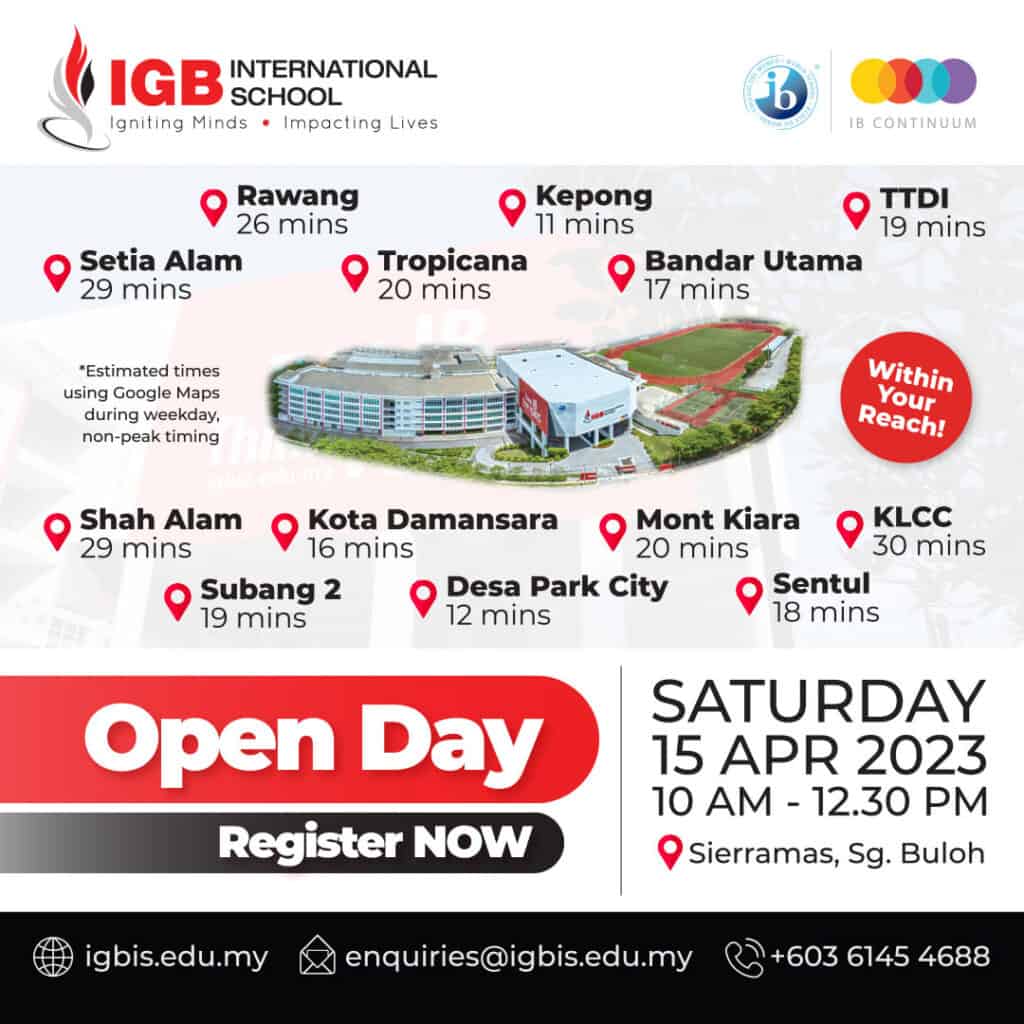 ---
Get Your Phoenix Squad T-shirt!
It's been a great year of sport and activity at IGBIS. Our students have competed in many events and we have brought home medals and trophies in football, basketball, swimming and more. We have one more season left. Let's show our Phoenix Pride and support our athletes by 
wearing a Phoenix Squad shirt as we cheer them on.
This will be the only order for the 22-23 school year. Please fill in the form by Monday, 27 March. At the cost of RM30, you can buy a shirt for everyone in the family in black AND white! 
IGBIS, Loud and Proud! Go Phoenix!
If you have any questions or concerns, please contact: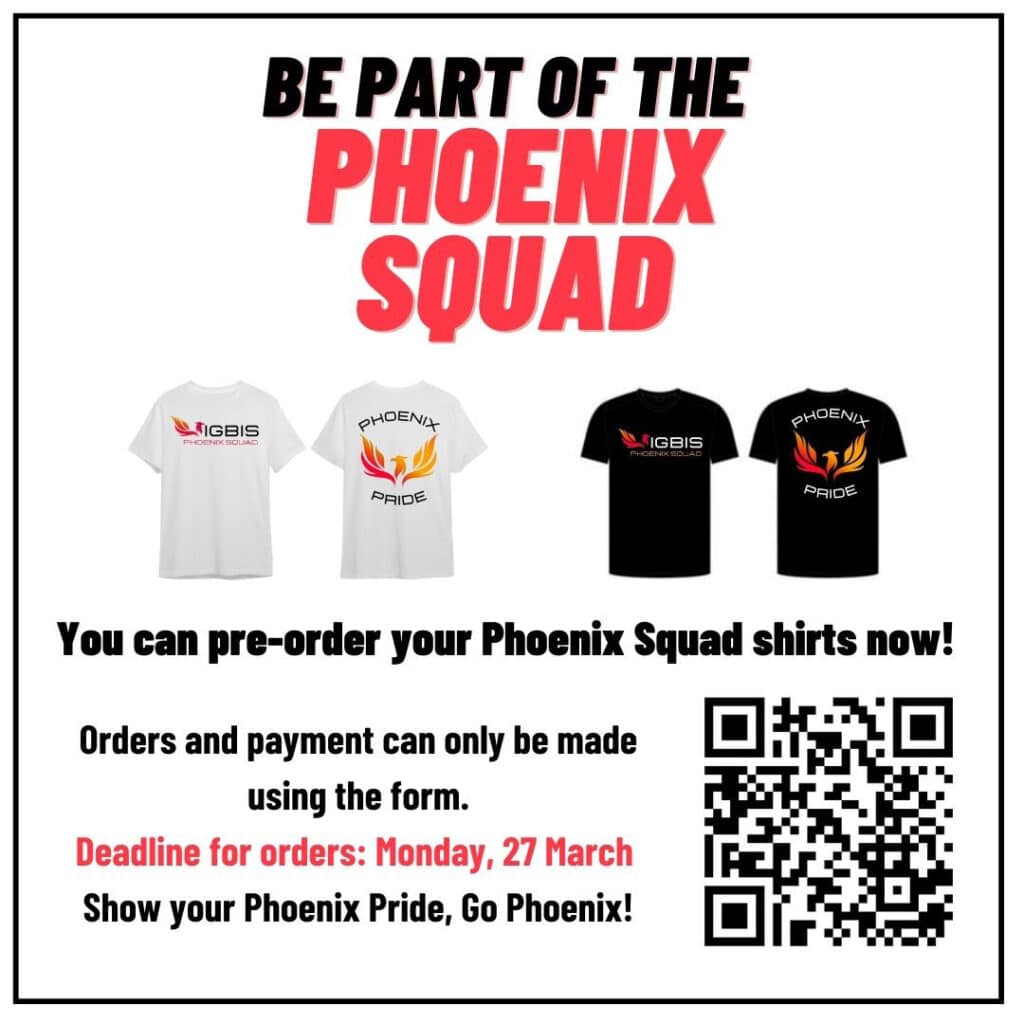 ---
IGBIS Yearbook 2022/23 
For people who grew up with yearbooks, they are an annual right of passage that you look forward to; for others, they are fun, but not a part of the end-of-the-school-year experience you had as a student. A lot of conversation has been happening behind the scenes debating and discussing the financial and environmental costs of printing +400 copies of a 150-page yearbook for all grades every year, and as a result, in conjunction with the Yearbook Committee—the wonderful team that created this year's version of the annual book—we are going to make a change:
All graduating Grade 12 students will receive a copy of the full yearbook.
All students in Grades 11 and below will:

Have access to the full version digitally for free.
Receive a smaller version of the yearbook with their grade level, the levels around them and pages for signatures for free.

All students and staff will have the opportunity to purchase a full yearbook (at cost) so that we print on demand and do not use more paper than is needed.

To indicate that you wish to pay for a full version of the yearbook, please click HERE. 
---
Future Planning Weekly
By Amanda Lopez
Highlights of the Week
It has been a month since our last Weekly Update, so not really "weekly!" Thank you for your patience as the university counselling office has gotten itself together to produce weekly announcements once again. 
SAVE THE DATE: Parent/Counselor Coffee Morning with Amanda
Wednesday, 5 April 2023
8:15 – 9:15, PVO
As a new feature, the first Wednesday of every month will host a Counsellor Coffee Morning where parents from grades 9 – 12 can gather together, have some coffee and curry puffs, and just chat and ask questions with Ms. Amanda to help support the future planning process. 
Our April session will highlight an activity recently completed with Grade 10 students around values and priorities in choosing a university. 
Please join us if you can. 
SAVE THE DATE PART 2: University of British Columbia (UBC) Info Session
Wednesday, 5 April 2023
9:30 – 10:00, PVO ***FOR STUDENTS & PARENTS
Following our monthly coffee morning, we will host Jeff Kiyooka from UBC for a general info session about UBC and applying to Canadian universities. This session is open for both students and parents!
Grade 10 Course Selection Support 
From January – April 2023, grade 10 students (and parents) will work through selecting courses for Grades 11 and 12. IGBIS will have multiple events taking place through various outlets to support students and parents in this process – from the Counselling Office specifically, please take note of the following dates:
Tuesday, 7 February 2023 AMP – slidedeck HERE
Tuesday, 28 February 2023 AMP – slidedeck HERE
Wednesday 17 March 2023 Study Hall – slidedeck HERE
Tuesday, 28 March 2023 Study Hall
Wednesday, 29 March 2023 AMP
Thursday, 6 April 2023 Study Hall
Grade 11 College/University Information 
On Friday, 27 January 2023 Grade 11 students met with Ms. Amanda to start preparing for university applications – Access the Slidedeck HERE from that meeting. Our future meeting dates are listed below. Students (and parents) please make sure to check and update Cialfo regularly. Students, you need to have a long list of universities in Cialfo for our next meeting in April. 
Tuesday, 18 April 2023
Wednesday, 3 May 2023
Friday, 12 May 2023
Friday, 2 June 2023
University of the Week – Webster University, Geneva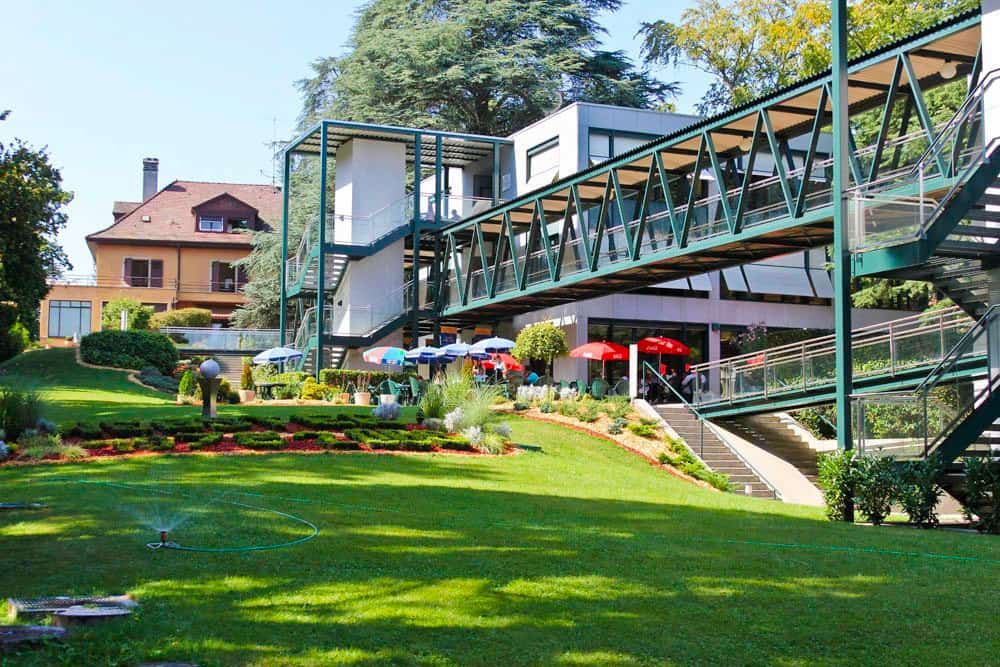 Here are just a few reasons that Webster University Geneva is one of the best places to study for a US-accredited degree in Europe:
1 Week Summer Business Programme
Students from 16-19 can join us for a week-long pre-university experience in Switzerland. Combining classes, external visits and fun! Apply for our Summer Programme
Computer Science & Game Design Classes
Gaming is the fastest-growing sector in the entertainment industry, and our Minor in Game Design prepares students to start a career in this exciting and innovative area. Discover our Game Design Classes
Unique Support for Students
When one of our students was able to speak at the UN Climate Change Conference, the support she received from our faculty was invaluable. Advantages of Studying at Webster Geneva
Students can apply at any time, and the admissions team and I would be happy to answer any questions that you may have. Be sure to have a look at our virtual tour and follow us on our social media channels for the latest campus news, events and activities!
Info, Opportunities, & Resources
Cambridge University Virtual Pre-University Programme
We are delighted to announce that our Virtual Pre-University Summer Programme is now open for student bookings. Once again, we will be offering two entry points:
Option 1: Monday, 3 July to Friday, 14 July 2023
Option 2: Monday, 24 July to Friday, 4 August 2023
Aimed at 16- to 18-year-olds, this two-week programme provides high school students from across the globe with an opportunity to explore a wide variety of subjects as they prepare for future undergraduate study at leading universities.
The programme is taught largely through pre-recorded talks delivered by Cambridge academics and invited subject specialists, with the requirement for students to respond, on a daily basis, to many of these talks on a shared student forum. The programme also offers sessions on study skills, careers, and how to apply to a UK University. Live Zoom sessions will also give students the opportunity to talk to current Cambridge undergraduates, as well as the Programme Director, Dr James Grime.
The programme provides students with a safe – and affordable – way to experience university-level material, to expand their horizons, and to question their own subject choice and motivation for study at a leading global institution. Each two-week programme is identical: students book to study just one option. The cost of the programme is £295. To find out more please visit our website: www.ice.cam.ac.uk/pup.
If you have any questions, please do feel free to contact me or my colleagues, via our dedicated email address: pup@ice.cam.ac.uk.
Imperial Global Summer School
Our residential STEM summer school will be back this July and August. Designed for 16- and 17-year-olds, the programme provides a great opportunity for students to develop specialist subject knowledge, study with like-minded peers and prepare for the university as they study.
Two identical programmes where students choose between Engineering, Medicine and Life Sciences, or Physics will run in 2023 on 3 July – 15 July 2023 and 7 August – 19 August 2023.
Applications are now open for 2023. You can find more details about the programme and how to apply in the link above or take a look at a recording of our recent information session. 
Bocconi Open Classes for High School Students
Get a Taste of Bocconi!
Over the coming months, students will have the chance to attend live online lectures hosted by our expert faculty, focusing on a variety of trending topics. 
For more information and to sign up.
Ritsumeikan University, Japan, Online Session
Saturday, 8 April 2023
Japan is an excellent place to be a student – did you know that many Japanese universities offer undergraduate degree programs instructed in English?  Did you know the average annual tuition fee for Japanese universities is less than 15,000 USD? 
Come attend our webinar and find out:
Why 36,000+ students and 419,000+ alumni chose Ritsumeikan – a leading private university in Western Japan.  
What you can learn at Ritsumeikan – English-medium Undergraduate Programmes
Inquire directly to an admissions officer during the Q&A
Register today, and find out why you should come study at Ritsumeikan
LIYSF STEM Summer Course, London
Key Highlights –
15-day STEM summer camp in the UK;
500 students from 70 countries attend;
Students aged 16-21 years old;
Held at Imperial College London;
World-leading scientists give lectures;
Nobel Prize winner speaks;
Visits to top UK university departments, including Oxford & Cambridge;
Royal Patron, HRH The Princess Royal;
Verified safety protocol;
Present a research project;
Immersive social and cultural programme;
All meals and accommodation included;
LIYSF CIC is an impartial, not-for-profit social enterprise (NGO).
LIYSF is a 15-day STEM summer camp held at Imperial College London 26 July 2023 – 9 August 2023, and will welcome students aged 16 – 21 years old in London!
Accommodations, meals and a wide range of cultural and social activities are all included!
From MABECS
LEEDS INFO DAY
We are excited to extend an invitation to the upcoming Leeds Info Day, where students will have the opportunity to learn more about the University of Leeds and the programs they offer. The purpose of this Info Day is to give students a comprehensive look at what the university has to offer, and we believe that providing them with guest taster lectures and activities from their pool of courses is a great way to achieve that.
Throughout the day, students will have the opportunity to attend various guest lectures and participate in activities related to a wide range of courses offered at the university. They will get a chance to experience firsthand what studying at the university is like and interact with some of their amazing faculty and staff.
Details are as follows:
Date: Saturday, 25 March 2023
Time: 11:00 am – 5:00 pm (MYT)
Venue: The Grounds, Common Ground Citta Mall
From the College Essay Guy (USA)
March Resources
9th-graders
Four-year course planner: Sign up for sophomore-year classes, and remember that you are developing a long-term plan for the next three years. Ask your counsellor about dual-enrollment opportunities with your local community college.
Identify some summer programmes you're interested in: Browse through options for day programs, residential programs, and online options that match an interest you would like to pursue.
10th-graders
11th-graders
12th-graders
College Essay Guy SUMMER COURSE – How to Apply to College: A Step-by-Step Course on Creating an Awesome College Application
The course comes in two parts:
How to Write a Personal Statement (Part 1): 8 June – 29 June 2023
How to Write the College Application + Supplemental Essays (Part 2): 6 July – 27 July 2023
I have put pretty much everything I know about helping students craft great college applications into a live, easy-to-follow, step-by-step video course. I have developed a suite of resources so students will have everything they need to not only write an awesome personal statement, but also tackle their supplemental essays, activities list, and additional information statement.
Students will get access to the video lessons as soon as they register, then join me for live sessions throughout June and July, where I will share additional lessons, answer questions, and review and leave feedback on students' essays live. This year, students can look forward to:
Expanded format. I am leading live sessions once per week over eight weeks so students have plenty of time to write and revise in between live workshop sessions.
Everything you need in one intensive program. I have combined my two signature courses into one comprehensive experience for students (in June and July). Cannot make all the sessions? Do not worry. That is why I have created…
Pre-recorded lessons. By popular demand and based on our wildly different summer schedules, I have recorded all the lessons in video format. After signing up you will get instant access to all the pre-recorded lessons and can binge-watch them and catch up with recordings of the live sessions the day after I lead them.
My Choose Your Own Adventure essay revising tool. After analyzing hundreds of outstanding personal statements, I have developed some approaches that I think will help students find their topics and write better college essays in an even more efficient way and put them in my new Choose Your Own Adventure essay tool.
If you (or your student) have college applications and essays on your to-do list this summer, I'd love for you to join.
Oh, and did I mention it is going to be fun? (It will be.)
Register: How to Write the Personal Statement
Register: How to Write Your Supplemental Essays
ICYMI: These courses are pay-what-you-can for students that cannot afford the cost of these courses.
Early registration ends soon. Hope to see you there.
Popular Resources and FAQs
Questions, Support, and Help
Amanda Lopez
Grades 9 – 12 Universities Counselling & Social/Personal Counselling
To schedule an appointment –