From the Elementary Principal
By Simon Millward
It was fantastic this week as the Grade 3 students kicked off our overnight field trips. The students slept in school and had two activity days. The first was in Selangor State Park where they made their own fires, cooked lunch and engaged in river tracing. Apparently, the children's lunch was yummy, maybe they can help cook at home from time to time! Having expended a lot of energy, they slept very well and looked fresh and raring to go for day 2, stand-up paddle boarding in Rawang. Thank you to Mrs Ngatai, Ms Nikki, Mr John and Mr Rizal for providing support over the two days and one evening.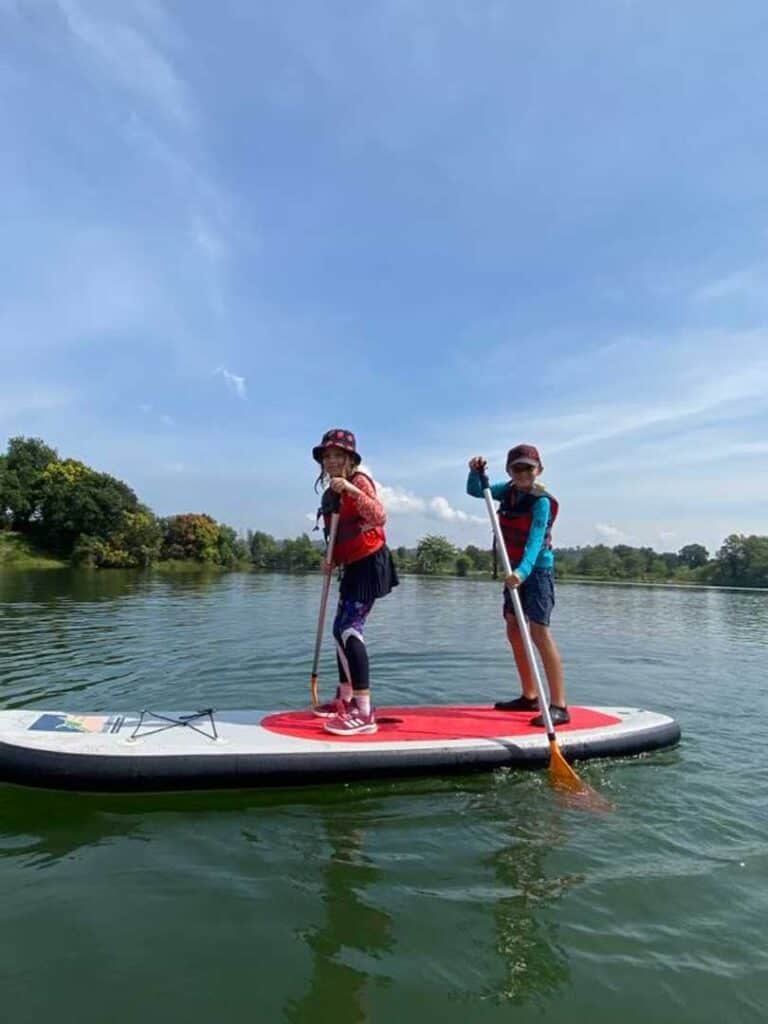 Our annual Student-Led Conferences are coming up. These will take place on Saturday 15 April 2023 from 8:30 am – 12:30 am. It is expected that all children attend and share with you what they have learned. You may be asked to play games with them in the classroom or in the PE area, maybe they will encourage you to play an instrument. The day is planned and led by your children. The homeroom teachers will be sending you an appointment for the homeroom time (30 minutes). It is a really fun morning to be involved with your children's learning and I look forward to seeing everyone on the day.
On Wednesday, 5 April 2023 in the PVO room at 8:10 there will be a Parent Information session for Grade 4 parents. This information session will be about the 1 to 1 laptop programme in Grade 5. Mr. Harvey will be facilitating the meeting.
Dates for your diaries
5 April 2023: Grade 4 parent information session 1 to 1 laptop
Saturday, 15 April 2023: Student-Led Conferences
19 April 2023: WS Raya assembly
20 April – 24 April 2023: Raya Holiday
26 April – 28th April 2023: PYP Exhibition Grade 5
1 May 2023: Holiday
6 May 2023: International Day
---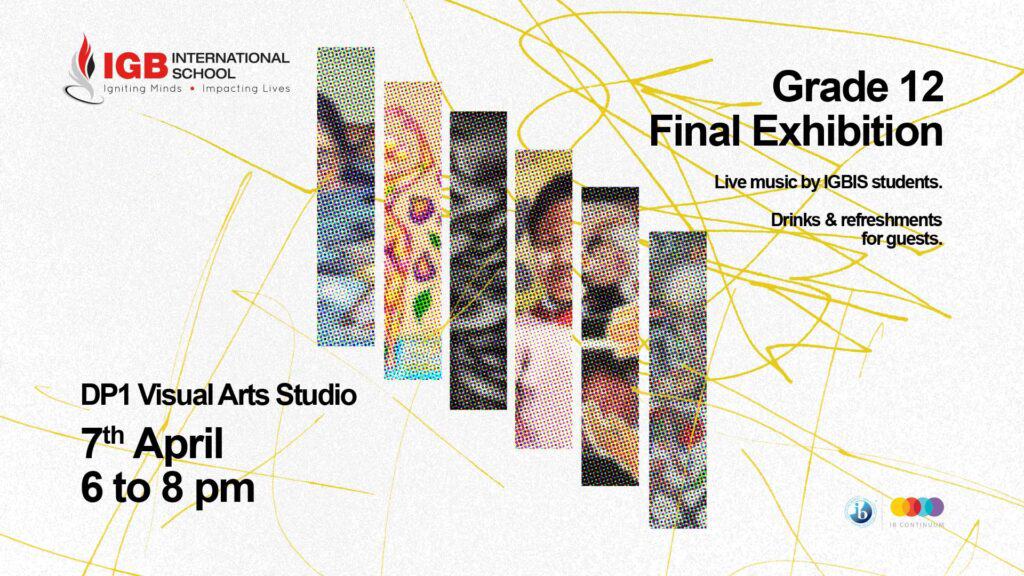 ---
Summer School Programme
Summer is almost here, and we're thrilled to announce our Summer School programme this July! Offering this to children between KG to G8, we have engaging learning experiences designed to help students unleash their creativity and improve their social, communication and thinking skills while enjoying a variety of extracurricular activities. Our team of experienced teachers will be leading the classes, ensuring your children get the most out of their summer break.
The programme will run from 17 to 21 July and 24 to 28 July and will include classes in Fun English, Design and Team Building, and a range of fun activities such as library games, swimming and sports as well as arts and crafts. Register now, as we have limited spots available. Enjoy our Early Bird Discount when you register before 15 April!
If you have any questions or want more information, please do not hesitate to contact us at marketing@igbis.edu.my. We are excited about this new programme and look forward to sharing it with our students and their families. Thank you for your continued support.
---
IGBIS Open Day
IGBIS will be having an OPEN DAY on 15 April 2023, Saturday from 10 am to 12.30 pm.
It would be great if you could share this Open Day information with your friends and family members who are looking for an international school for their children.
On this Open Day, there will be a talk by Mr McBride, our head of school, about IGBIS & IB Education; school tours led by our principals and student ambassadors with an opportunity to have a glimpse of our Student-Led Conference taking place on the same day; and a counselling and enquiry session. Light refreshments will be provided as well.
All attendees receive a *100% rebate on the application fee and a *75% waiver on the enrolment fee worth up to RM19,750 when enrolling at IGBIS.
*T&Cs apply
You may share this link, https://igbis.edu.my/admissions/openday/ with your friends or family members to know more about IGBIS Open Day and to register.
IGBIS parents who refer new students to IGBIS will be entitled to RM2,000 per student or *RM3,000 per family (where there are two or more students in K – 12) through the *Referral Incentives Programme. Please notify Warren Chew at warren.chew@igbis.edu.my after you have referred a new student to IGBIS.
*T&Cs apply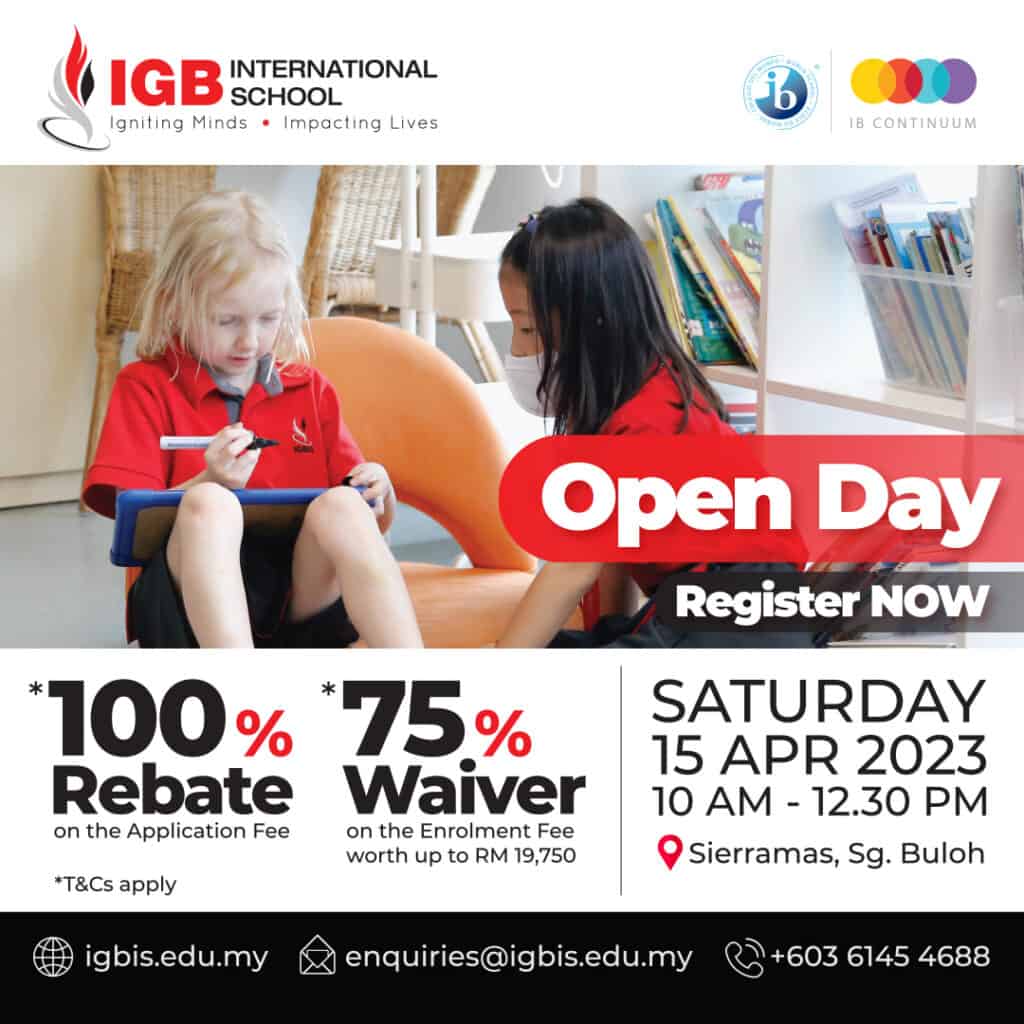 ---
International Day 2023
Mark your calendars for this exciting celebration of diversity! Stay tuned for more information on this upcoming event that promotes unity and celebrates our cultural differences.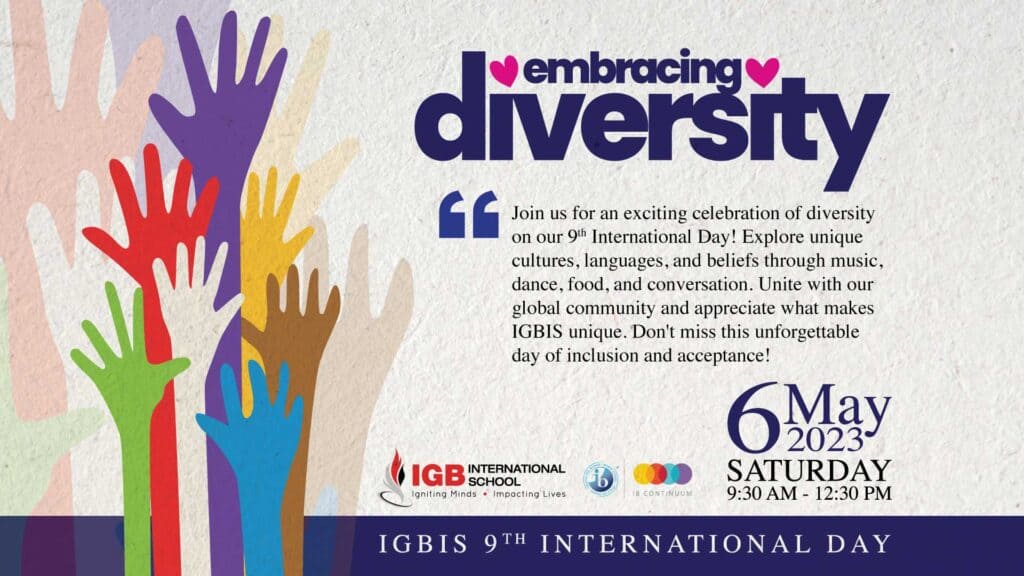 ---
IGBIS Yearbook
For people who grew up with yearbooks, they are an annual right of passage that you look forward to; for others, they are fun, but not a part of the end-of-the-school-year experience you had as a student. A lot of conversation has been happening behind the scenes debating and discussing the financial and environmental costs of printing +400 copies of a 150-page yearbook for all grades every year, and as a result, in conjunction with the Yearbook Committee—the wonderful team that created this year's version of the annual book—we are going to make a change:
All graduating Grade 12 students will receive a copy of the full yearbook.
All students in Grades 11 and below will:

Have access to the full version digitally for free.
Receive a smaller version of the yearbook with their grade level, the levels around them and pages for signatures for free.

All students and staff will have the opportunity to purchase a full yearbook (at cost) so that we print on demand and do not use more paper than is needed.
To indicate that you wish to pay for a full version of the yearbook, please click HERE.