---
From the Head of School
By Jason McBride
Hello IGBIS Community,
After gathering community interest for fitness and wellbeing options a few weeks ago, we are excited to bring a number of options to campus starting next week! Please read the attached schedule carefully as each instructor has slightly different payment and signup processes via the links embedded in the schedule itself.
Fitness classes for zumba, yoga and HIIT training are able to be joined individually on an ad hoc basis. For the mindfulness course, attendees must attend all eight weeks on Wednesdays beginning 29 March 2023; signups for that course are now open at the links in the schedule as well. Each instructor has class minimums and maximums so sign up today!
Yours in supporting the entire community's well-being as one of our pillars,
Jason
wellbeing-schedule

---
From the Elementary Principal
By Simon Millward
As I was speaking to staff and students this week, many were fresh and bright as they had appreciated the school holiday last week. I hope you all feel rested too and were able to enjoy some family time.
This has been a busy week for many of our Grade 4 and Grade 5 students as they may have been involved with both sporting competitions and rehearsals for the upcoming production Phantom of the Music room.
On Wednesday, our U11 Boys and Girls football teams were involved in the KLSL tournament held at IGBIS. The competition for both teams was tough. The boys were pitted against more experienced school teams and unfortunately were unable to win any of their games. At least they now know how much they need to develop as players to reach their next level.
The Girl's games were very close with 3 out of the 4 games decided by a single goal. Fortunately, IGBIS were on the winning side of those games with a 3 – 0 win in their penultimate game securing the KLSL title.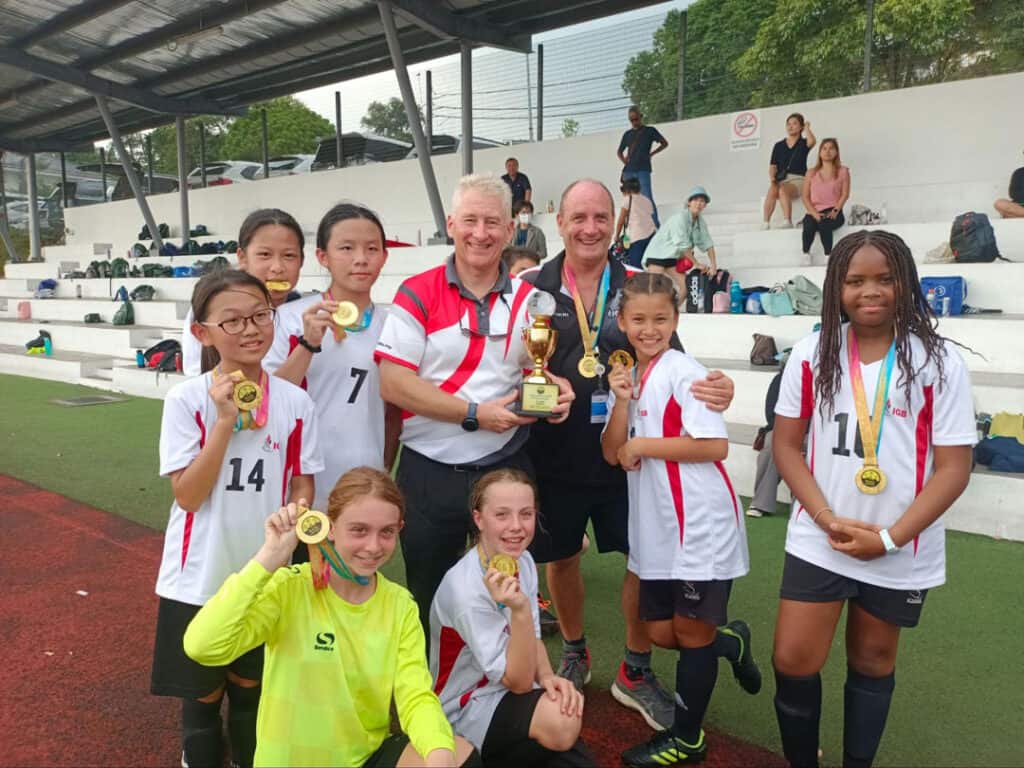 The Phantom of the Music Room rehearsals has been in full swing this week and continuing on Saturday and next week. We are all looking forward to seeing the performances.
You should have received an announcement via Toddle by now about the next season of after-school activities for Kindergarten – Grade 5 students. Below is a summary of the information,
Sign-ups go live on Monday, 20 March 2023 @ 7:30 pm and close on Thursday.
No activities next week.
Season 3 starts the following week. Monday, 27 March 2023 till Friday, 2 June 2023
Dates for your diaries
21 March 2023: U9 and U11 Boys AIMS football tournaments (away) – notification has been sent by email to players
22 March 2023: U11 Girls AIMS football tournament (away) – notification has been sent by email to players
23 March 2023: Ramadan begins
23 & 24 March 2023: ES Production: Phantom of the Music room
30 March 2023: Grade 3 field trip
31 March 2023: Grade 3 field trip
Saturday, 15 April 2023: Student-Led Conferences
---
The Phantom of the Music Room
From the Elementary Production Team
Introducing the Elementary School Production (collaboration with G10 Musicians) of 'The Phantom of the Music Room'.
Thursday 23rd March 4pm in the IGBIS Theatre. All IGBIS community welcome! Children must be accompanied by an adult please.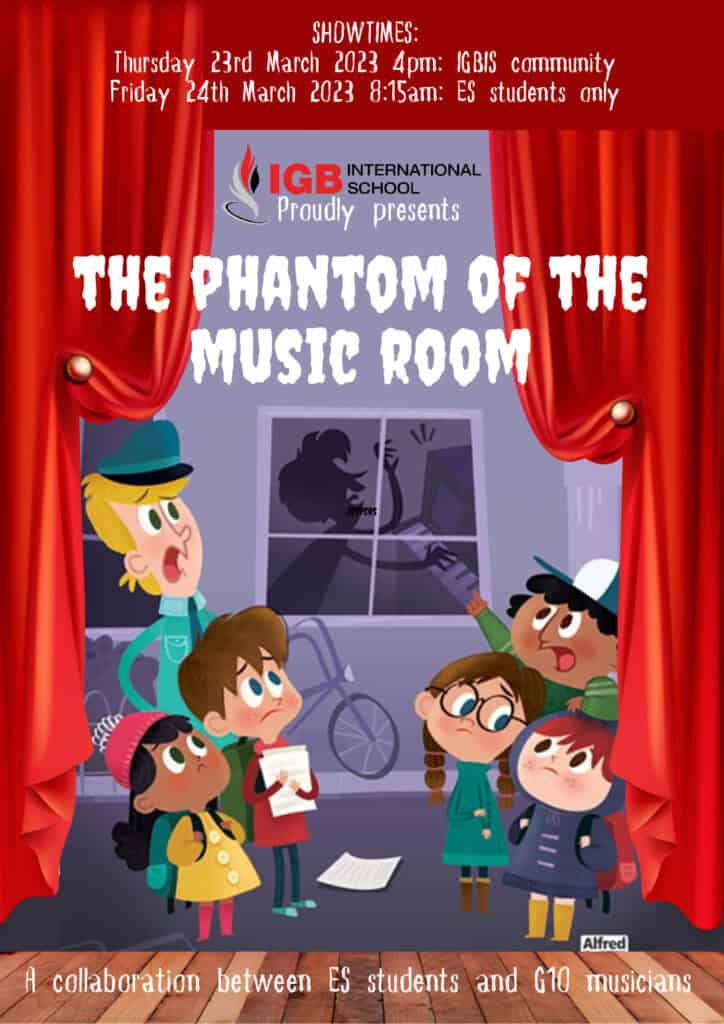 ---
International Day Booth Registration
Thank you to those who filled up the form. The table below with the person in charge's email address included shows the booths which are intended to connect folks from the countries. We hope that this might spur more late entries to register for the International Day booths & parade: https://forms.gle/ocKaGpYoVUTqJP9w5.
| | | | |
| --- | --- | --- | --- |
| | Booths | Contact Person | Parents Registered |
| 1 | Malaysia | kevin.eng@igbis.edu.my | Raja Norlina, Cassandra Chan, Aneetha Raj, Kevin Eng, Maevy Lee |
| 2 | Japan | saori.sorimachi.parent@igbis.edu.my | Saori Sorimachi, Mihoko Onishi, Ayako Hayasaka, Akari Nishitani, Sakiko Ikemi, Harumi Taito, Rui Ito, Hu XiaoFei, Rie Mawji, Tomo Okubo |
| 3 | Canada | helen.young@igbis.edu.my | Helen Young, Patricia Slind |
| 4 | South Korea | Inhyei.kim.parent@igbis.edu.my | Inhyei Kim, Seoyeong Park, |
| 5 | China | limin.he.parent@igbis.edu.my | He Limin, Wanqi, Shi Zhi heng, Ziyuan, Xujing |
| 6 | USA | chang.yee.fong@gmail.com | Chang Yee Fong |
| 7 | Taiwan | chia.chung.parent@igbis.edu.my | Yevonne Chung |
| 8 | Norway | anja.allouni@gmail.com | Anja Allouni |
| 9 | Italy | felicierdawn.suppiah.parent@igbis.edu.my | Felicier |
| 10 | Hong Kong | kharpeng.lok.parent@igbis.edu.my | Karen Loke, Tifa Li, Cheng Wai Po |
| 11 | Mexico | hilda.lujan.parent@igbis.edu.my | Hilda Lujan |
| 12 | Venezuela | jessica.amaro.parent@igbis.edu.my | Jessica Amaro |
| 13 | Colombia | hector.vargas@igbis.edu.my | Hector Vargas |
| 14 | Australia | sally.watters@igbis.edu.my | Sally |
| 15 | New Zealand | megan.ngatai@igbis.edu.my | Megan Ngatai |
| 16 | Poland | aga.chojnacka@igbis.edu.my | Aga |
| 17 | Germany | magnus.drechsler@igbis.edu.my | Magnus |
| 18 | Switzerland | pauline.bourquenez.parent@igbis.edu.my | Pauline Bourquenez |
| 19 | India | dhivenadadlani@gmail.com | Dhivena Avinash Dadlani |
| 20 | Art Booth | elli.lawson@igbis.edu.my | Eli Lawson |
| 21 | Empty | | |
| 22 | Empty | | |
| 23 | Empty | | |
| 24 | Empty | | |
| 25 | Empty | | |
---
The Phoenix Squad T-shirts are here!
Show your school spirit and support for IGBIS by purchasing a Phoenix Squad t-shirt! Wear your t-shirt to school events to support our students.
The T-shirts are made of 100% cotton, and we are selling them for RM30! They are only available through pre-order. All t-shirts must be paid for in advance and proof of payment is needed. Don't miss out as this will be our only order for the 2022-23 school year.
Be proud, be a part of the Phoenix support squad today! Order now HERE.
ORDER DEADLINE: MONDAY, 27 MARCH 2023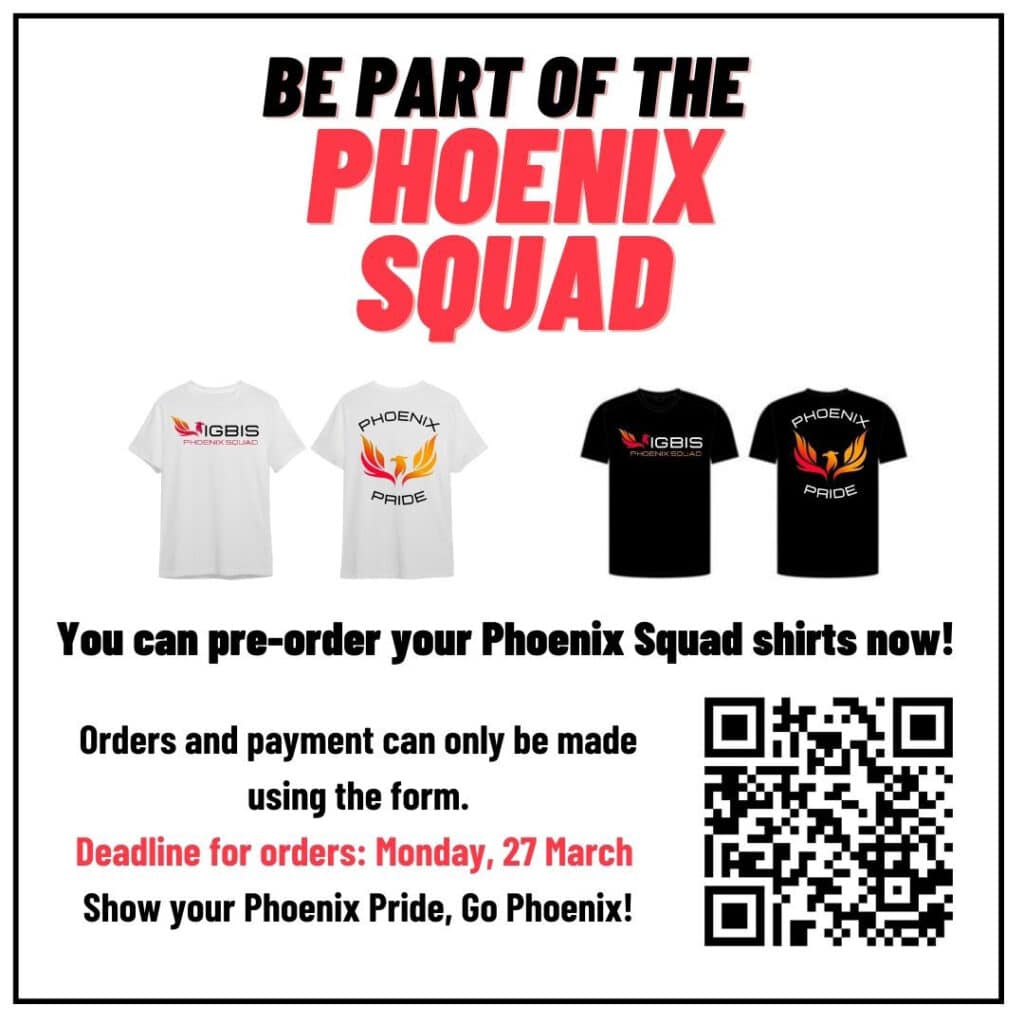 ---
IGBIS Yearbook 2022/23
For people who grew up with yearbooks, they are an annual right of passage that you look forward to; for others, they are fun, but not a part of the end-of-the-school-year experience you had as a student. A lot of conversation has been happening behind the scenes debating and discussing the financial and environmental costs of printing +400 copies of a 150-page yearbook for all grades every year, and as a result, in conjunction with the Yearbook Committee—the wonderful team that created this year's version of the annual book—we are going to make a change:
All graduating Grade 12 students will receive a copy of the full yearbook.
All students in Grades 11 and below will:

Have access to the full version digitally for free.
Receive a smaller version of the yearbook with their grade level, the levels around them and pages for signatures for free.

All students and staff will have the opportunity to purchase a full yearbook (at cost) so that we print on demand and do not use more paper than is needed.

To indicate that you wish to pay for a full version of the yearbook, please click HERE.