---
From the Head of School
By Jason McBride
Hello IGBIS Community,
In the IB's mission statement there is a fantastic line that seems simple at first, but is incredibly powerful when you think more deeply about it:
[The IB ] programmes encourage students across the world to become active, compassionate and lifelong learners who understand that other people, with their differences, can also be right.
You do not have to look very far on a daily basis — eg. social media! — to see how perspective-taking in this way could have a massive impact on reducing conflict. When we have a conversation or read something that we disagree with, what would happen if instead of feeling like that different opinion negated our perspective, that we instead saw it as simply someone else's version of the "truth"? That underlined phrase can really challenge our notions of right and wrong by asking us to consider whether someone else's perspective is just as possible as our own. Generally, when we think we are right, we act as though anyone else must be wrong, but the IB's language asks us to reconsider that binary way of thinking.
In that spirit, and thanks to one of our staff members for bringing this to our attention, in future communication regarding International Day next Saturday, 6 May 2023, we are going to use "Country / Region" instead of simply "Country" as we have been doing. With autonomous regional conflicts ongoing, millions of displaced persons without a "home", and numerous current and historical territorial disputes around the world still unresolved, in order to be inclusive we are going to remain apolitical and widen our scope with the slight language change moving ahead. It might seem like a small change, but we hope that this makes everyone feel like their perspective counts as there are many versions of what's correct!
Be well and enjoy yet another long weekend,
Jason
PS: Fitness classes for our adult community continue to run, but numbers have been low in some sessions and are at risk of not continuing. You can find the schedule HERE to see what is running on a weekly basis.
---
From the Elementary Principal
By Simon Millward
What a fantastic week it has been. This week has all been about celebrating the learning of our Grade 5 students as they have embarked on the IB PYP Exhibition (PYPX) presentations. They have been presenting to our community face-to-face and virtually to over 60 schools worldwide.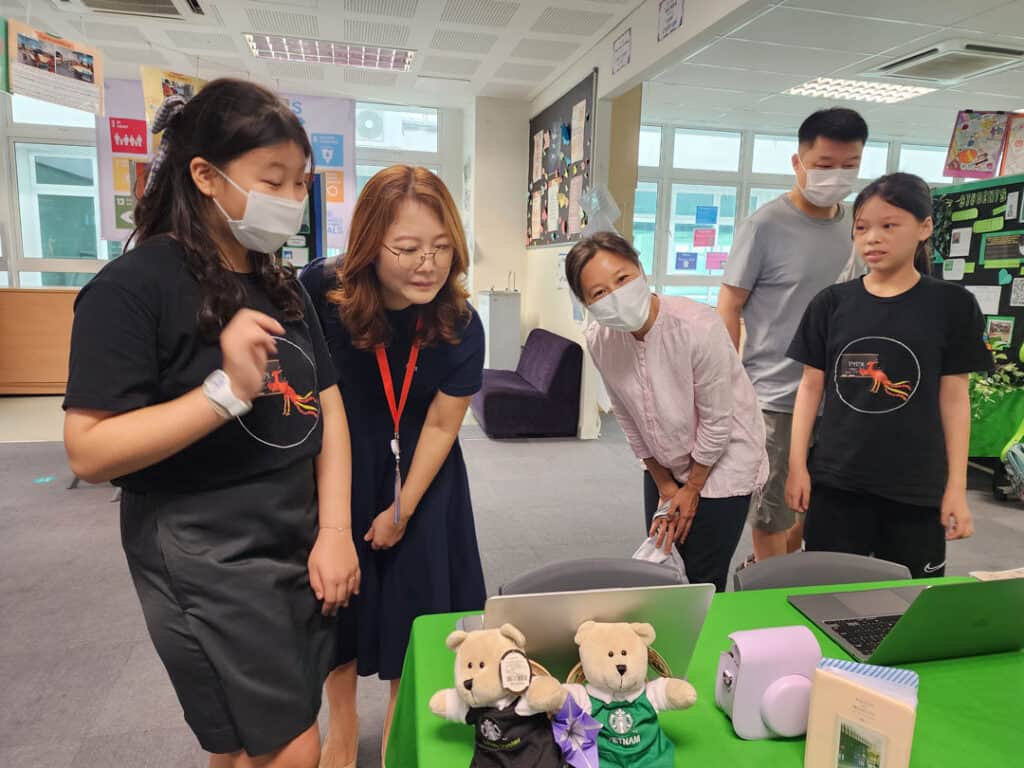 On Wednesday, 26 April 2023 we had our opening ceremony which included the process that the students had been through over the 10 weeks of the PYP Exhibition, some class plays that the students created, and performed, as well as creating the background to enhance the experience. We also had some live performances with Kayden demonstrating his skills in using the diablo, Eunice, George and Sean performing a song they had written and created and Nina and Szu Zenn performing a dance that they had choreographed. All the performances 'wowed' the audiences.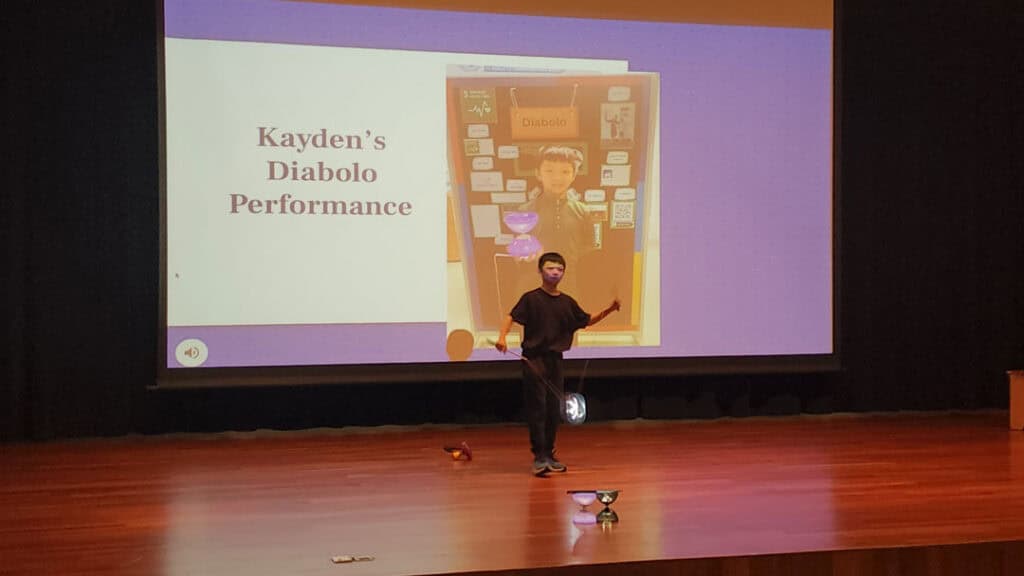 The students had also been working on their sharing in PE and they had the opportunity to perform their Swimnastics routine. This combination of swimming and gymnastics put to music but performed in the swimming pool is very much the beginning of synchronised swimming. All the students were enthusiastic and created some memorable routines.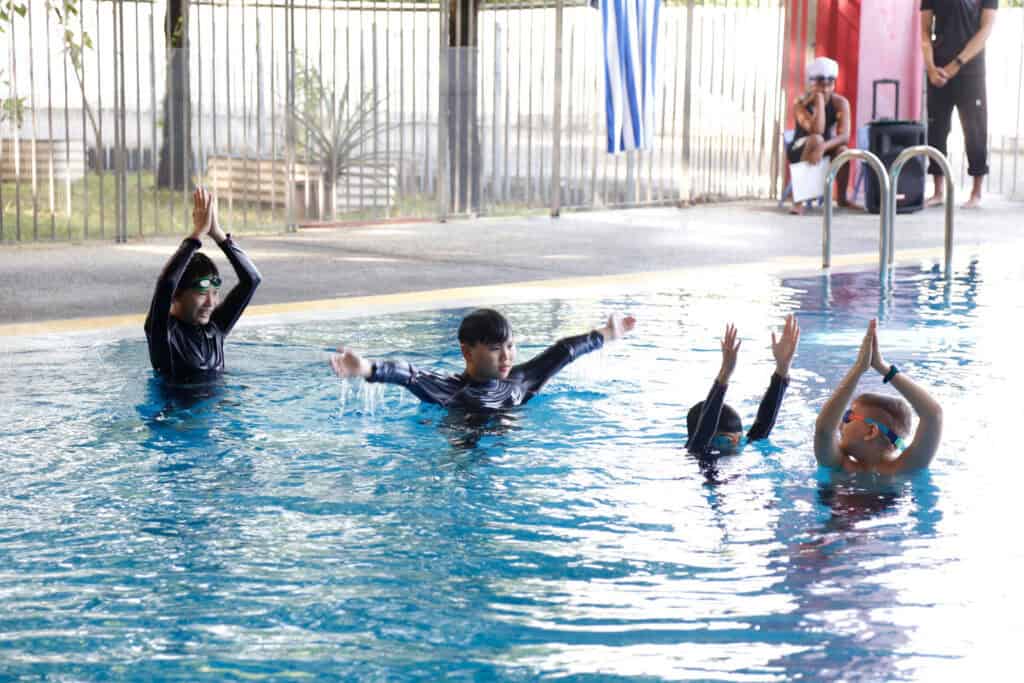 A huge part of the PYPX sharing is the face-to-face interactions where the students use their display board and learning products (often interactive) to inform the community of their learning and new understandings. These were very impressive as students had to navigate what and how they were sharing based on their audience. It is quite different presenting to adults than KG students. The Grade 5's were able to modify their presentations based on these differences effectively.
As a bonus students and teachers from Mont Kiara International School were invited to our PYPX. They were suitably impressed with our students and their sharing. We now look forward to visiting their PYPX next week.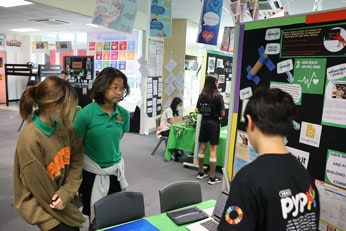 Congratulations to our Grade 5 students, teachers and mentors for such a wonderfully successful three PYPX days.
Dates for your diaries
1 May 2023: Holiday (Labour Day)
2 May 2023: U11 boys and girls friendly badminton vs ELC @IGBIS: 3:15 pm onwards
6 May 2023: International Day
17 May 2023: Grade 5 parent meeting: Transition to Grade 6.
---
International Day 2023
Mark your calendars for this exciting celebration of diversity! Stay tuned for more information on this upcoming event that promotes unity and celebrates our cultural differences.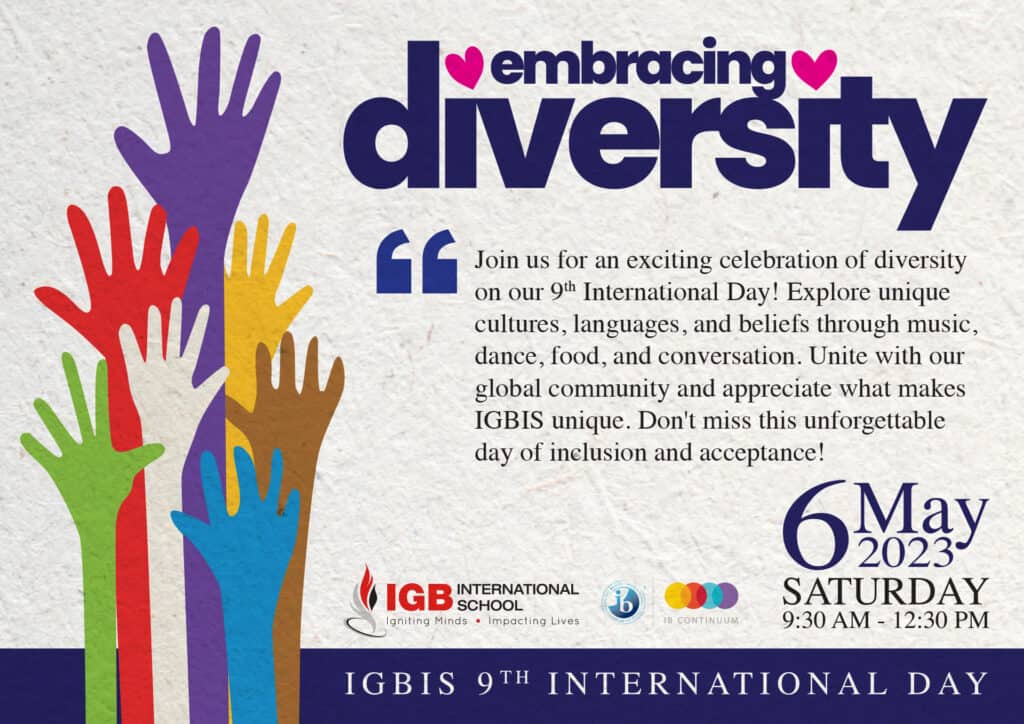 ---
TEDxIGBIS Live Watch Party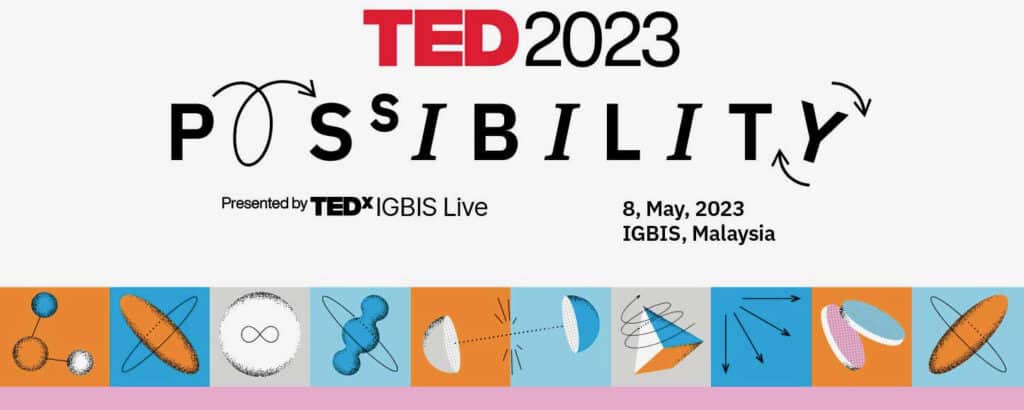 We are excited to share that IGBIS will be hosting a TEDxIGBIS Live watch party for our community this 8 May, 3:15 pm – 4:30 pm.
The theme of TED2023 is possibility, and technology is one of the exciting areas that will be explored at this year's conference.
Leading figures like cofounder of OpenAI Greg Brockman, TikTok CEO Shou Chew, computer scientist Yejin Choi, Web3 designer Tina He and Khan Academy CEO Sal Khan are taking the stage in Vancouver.
Our official licensed in-house event will rally our school community around the "TED 2023 Possibilities" top 5 talks selected to showcase the possible future pathways for our youth and their parents and inspire their thinking about the future of our communities and our children's passions and unique potentials possibly turning into future professions that do not yet exist.
As the event has a license-limited number of participants (100 families). We would like to ask that you sign up to participate via this Google Form.
---
TEDxIGBIS Youth
This 30 May, IGBIS is proud to present 20 exceptional youth speakers who will take to the official TEDxIGBIS Youth stage to present their unique ideas and perspectives on the variety of aspects of our today's lives.
The event theme: Igniting Minds and Impacting Lives (IGBIS motto), will create a thought platform for our young TEDx speakers to advocate new world views, life choices and unexpected solutions to topics ranging from human rights, mental health, human ingenuity and creativity, community welfare and many others.
Stay tuned! More updates on the live stream will be available on our social media channels and our TEDxIGBIS Youth website.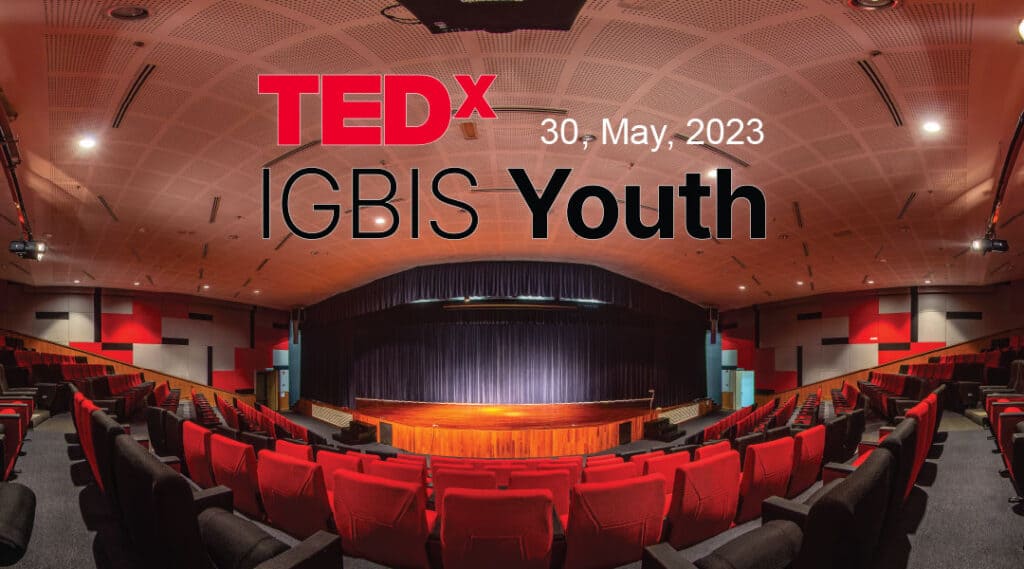 ---
IGBIS Summer School
Summer is almost here, and we are thrilled to announce our Summer School this July! Offering this to children between Kindergarten to Grade 8, we have engaging learning experiences designed to help students unleash their creativity and improve their social, communication and thinking skills while enjoying a variety of extracurricular activities. Our team of experienced teachers will be leading the classes, ensuring your children get the most out of their summer break.
The programme will run from 17 July to 21 July 2023 and 24 July to 28 July 2023 and will include classes in Fun English, Design and Team Building, and a range of fun activities such as library games, swimming and sports as well as arts and crafts. Register now, as we have limited spots available.
If you have any questions or want more information, please do not hesitate to contact us at marketing@igbis.edu.my. We are excited about this new programme and look forward to sharing it with our students and their families. Thank you for your continued support.
---
IGBIS Yearbook 2022/23
For people who grew up with yearbooks, they are an annual right of passage that you look forward to; for others, they are fun, but not a part of the end-of-the-school-year experience you had as a student. A lot of conversation has been happening behind the scenes debating and discussing the financial and environmental costs of printing +400 copies of a 150-page yearbook for all grades every year, and as a result, in conjunction with the Yearbook Committee—the wonderful team that created this year's version of the annual book—we are going to make a change:
All graduating Grade 12 students will receive a copy of the full yearbook.
All students in Grades 11 and below will:

Have access to the full version digitally for free.
Receive a smaller version of the yearbook with their grade level, the levels around them and pages for signatures for free (excluding those who have purchased the full yearbook).

All students and staff will have the opportunity to purchase a full yearbook (at cost) so that we print on demand and do not use more paper than is needed.
To indicate that you wish to pay for a full version of the yearbook, please click HERE.
---
IGBIS Social Media Parents Survey 2023
Dear IGBIS Parents,
This year, we would like to conduct a social media survey for all parents in the IGBIS Community to gain insight into the usage of social media platforms among parents and to understand how we can improve our communication strategies to better engage with the community on these platforms. Your participation in this survey will only take a few minutes and will greatly assist us in understanding the social media habits of our parent community, enabling us to tailor our social media strategies in order to improve our social media reach for both the IGBIS community and the wider public. Please click HERE to participate in the survey.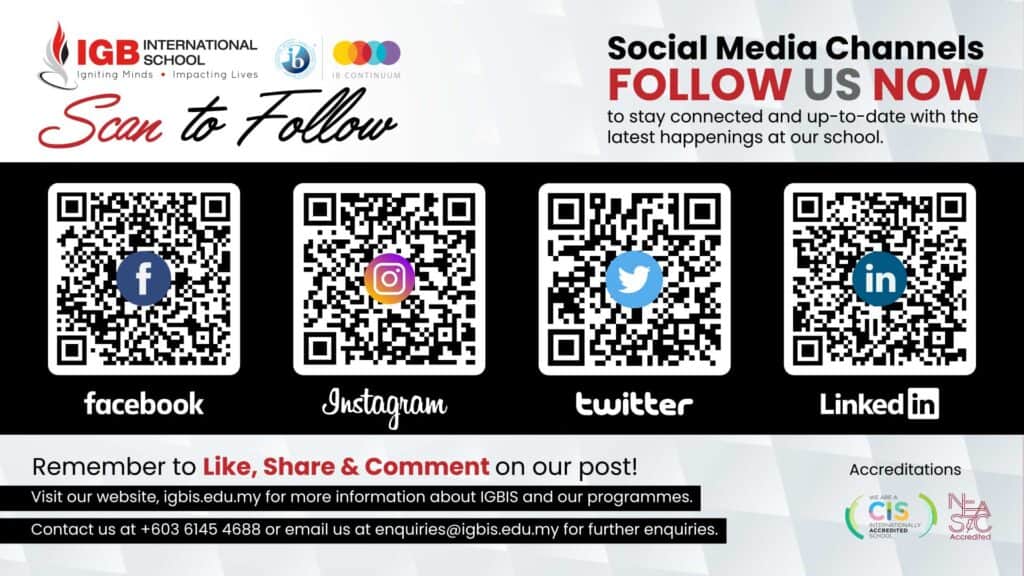 ---
Black Athletic T-shirts: Not Part of PE Kit
Please be aware that the Black Athletic T-shirts are NOT a part of the PE Kit. They are for after-school sports clubs. The grey T-shirts should be worn in PHE lessons.
---
Kukri PE Uniform Order
Please be reminded that the Kukri PE uniform order will begin on Monday, 17 April 2023 and end on Tuesday, 2 May 2023. Remember to mark your calendars and place orders during this period.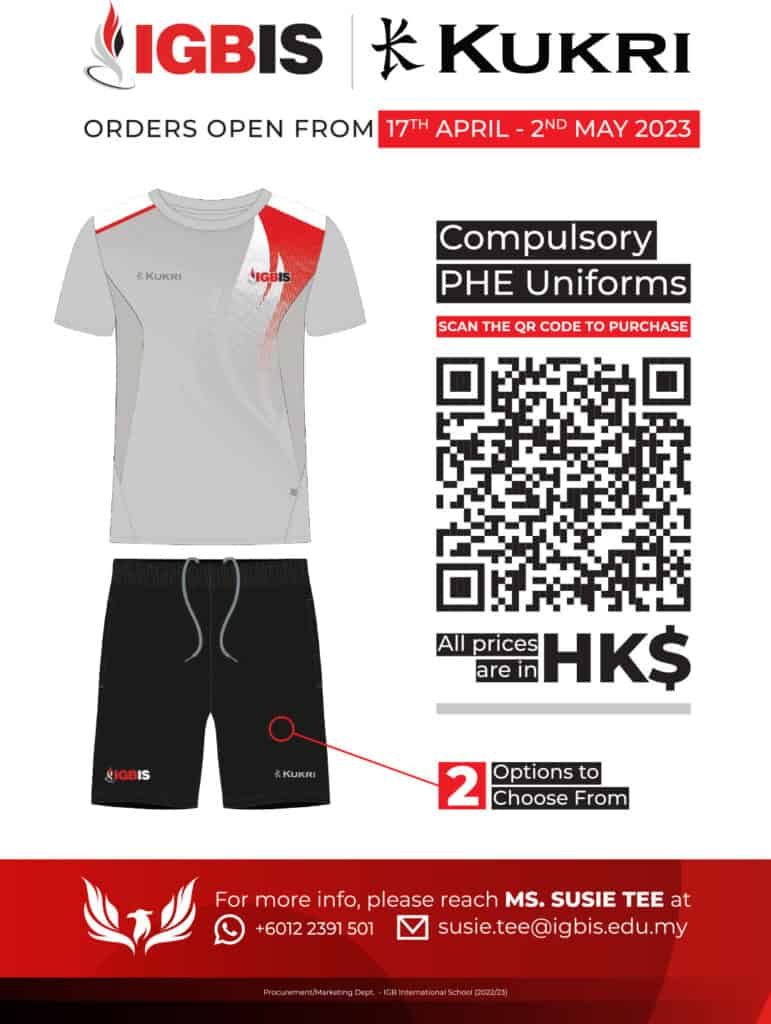 ---
What's Happening with the Counsellors
Parent Session with the Counsellors – Supporting Transitions
A transition is essentially any change from one stage or thing to another. As such humans go through many transitions in their lifetime. How they manage these transitions depends very much on how they are supported at this time. Support needs to be put in place before, during and after the change.
Is your child moving from; Early Years to Elementary School, Elementary School to Secondary School, MYP to DP/CP/HSD, School setting to a College/University setting, one school to another or from Malaysia to another country. These are all big changes, but for some students just changing grades and teachers is a transition that they need support with. Frequently, time is put into supporting students who are moving on or moving away, but we need to take time to consider the needs of those who are facing smaller transitions and those who are struggling because their friends have left them behind.
So this workshop is for everyone. Come along and find out more about supporting your child or family with whatever transition may be ahead of them now or in the future.
Date: Tuesday, 9 May 2023
Time: 8.15 am
Location: PVO room
We hope to see many of you, no matter the age of your students. There will certainly be lots of discussion, interactive activities, and learning for all.
Please complete the attached Google form if you would like to participate or if you are unable to join but would like to meet with one of the counsellors.
Kind Regards
The Counselling Team,
---
Future Planning Weekly Update
Amanda Lopez
Highlights of the Week
Professional bodies to share real-life insight in KL career con in May- See the full article HERE
​​Have you ever dreamt of being a doctor, lawyer, accountant, architect, engineer or even a teacher but have doubts about your future prospects after reading the news about the challenges facing these professions lately?
Fret not, the Malaysian Medical Association (MMA) is organising a career guidance conference from May 13 to 14 to help students make informed decisions when choosing a career. It will be held at the Gardens Hotel and Residence Ballroom in Mid Valley City, Kuala Lumpur from 9 am to 5 pm.
Admission to the career guidance conference is free, but seats are limited and advance booking is advised.
The programme is available at: www.mma.org.my/category/mma-Events/
For more information on the MMA Career Guidance Conference, contact Rafikah Nordin at tel: 03-40411375 (ext 113), or email: schomos@mma.org.my.
Changes to UCAS Letters of Recommendation
In the past, students have selected one or more subject teachers to write a reference letter for their UCAS application. For the 2024 Application cycle, UCAS is changing the way it needs and will use recommendation letters for its applicants. Below is a breakdown of the new structure, use, and requirements. Detailed information will continue to be shared with students and parents throughout the Spring/Summer and into the next school year as students begin their applications. Teachers will also be briefed on the new requirements prior to the end of the 22-23 school year and at the beginning of the 23 – 23 school year. The nice part: teachers have to do A LOT less writing!
What the UCAS references changes are – The reference on UCAS is now split into three boxes, instead of one. Only the first box is mandatory. The overall max character count remains 4,000, divided between the three boxes.
Timeline – UCAS is making the changes for the upcoming cycle, i.e. for students submitting applications from 1 September 2023 onwards.
The New Structure
Box one: General statement – Completed by Ms Amanda – This is an overall statement about the school. It should describe what your school/college is like in general, and explain if there have been any recent events that have affected the school as a whole.

For example:
Your school is extremely selective
Extensive building work at the school has affected the learning environment
Very few of your students apply to university

Box two: Extenuating circumstances for the student's educational journey – Completed by Ms Amanda – This box is to let universities know about anything that has affected the student's education or academic achievement. It is optional on UCAS, and should only be filled in when there is relevant information to add.

For example:
The student missed a lot of classes due to an injury and is predicted a B in Maths, but their Maths teacher thinks that they would normally be an 'A' student.
The student got lower grades at GCSE than is normally required by the universities, but then turned things around through hard work, and they are now predicted high grades on the IB
The student has special needs which would benefit from tailored support by the universities
A major event has happened in the student's life which might be expected to have affected their grades but hasn't, thanks to the student's organisation and hard work
The student's teacher for the subject related to the course they are applying to was absent for a long period of time due to personal circumstances.
Box three: Reference – Completed by the selected subject teacher – This box is to let universities know about a student's suitability for the courses they are applying to and anything special about the student. It is optional on UCAS, but many UK universities (including Oxford and Cambridge) have made it clear that they value this information. At IGBIS, we will continue to complete this information.

For example:
The student has demonstrated a particularly inquisitive nature by undertaking personal projects related to the course they are applying for
The student is in the top 5% of their class for a subject related to the course they are applying for
The student is amongst the top few that a teacher in a relevant subject has ever taught
The student takes part in an extracurricular activity at a high level
SAVE THE DATE: AI Summer Program Taught by Stanford Alumni at International School of Kuala Lumpur: June 12 – 23
Inspirit AI is offering an in-person, 30-hour pre-college AI program hosted at the International School of Kuala Lumpur that teaches students in grades 8-12 fundamental AI concepts and guides them to build socially impactful projects such as safe ChatGPT bots, exoplanet search, self-driving car systems, and more! Stanford and MIT graduates in AI will be present in person from June 12-23 to teach. Please read more information in the program brochure and apply here. If you cannot attend in person, students may apply to the live online program at www.inspiritai.com. Program contact: Jared Greene, jaredgreene@inspiritai.com.
SAVE THE DATE: Parent/Counselor Coffee Morning with Amanda
**Date Change – Wednesday, 31 May 8:15 – 9:15, PVO
Due to grade 11 AMP sessions, we are moving our monthly Wednesday coffee morning to the LAST Wednesday of April. Parents from grades 9 – 12 can gather together, have some coffee and curry puffs, and just chat and ask questions with Ms Amanda to help support the future planning process.
Our April session highlighted an activity on values and priorities in choosing a university.
Our upcoming May session will provide calendars and timelines for the next school year in relation to future planning/university applications. Please join us if you can.
Grade 11 College/University Information
From this week – Updates to session dates, please see below.
From last week – Please refer to THIS EMAIL for more information.
Tuesday, 18 April – slide deck HERE
Wednesday, 3 May – cancelled due to StuCo guest speaker
Friday, 12 May
Wednesday, 24 May
Friday, 2 June
A NEW Future Planning Platform Coming!!!! – Unifrog
Throughout this school year, students and parents have been using Cialfo to plan for life after IGBIS. As we move into the 23-24 school year, we will transition to a new platform, Unifrog. Grade 11 students will be the first to transition to the new platform, and this will take place during the May and June Future Planning sessions in AMP. Current grade 9 and 10 students will transition to the new platform during the 23-24 school year. More information will be shared as we migrate to the new platform.
Info, Opportunities, & Resources
UCAS: A Day of Careers Advice for Students…
We're bringing your students a day of inspiration, information, unis and employers, live on 17 May. Featuring everything they need to have meaningful encounters with a range of career paths and opportunities, all online in the UCAS Hub. All students need to do to get involved on the day is sign into their UCAS Hub.
Ask Me Anything
17 May | 10:00 – 15:00
Live in the UCAS Hub
Wherever your students are in their research journey, there's something for everyone from Year 9 – 12. With practical advice, top tips and more, it's their chance to hear from the experts and get their questions answered live.
What's on…
10:00 | Careers Advice
Hear from dedicated careers advisers Jessica Pieri and James Wilmot and get their questions answered in real time.
11:00 | University Life
Discover what life on campus is like at the University of Plymouth, University of Manchester, and University College London.
14:00 | World of Work
Hear from top employers including the BBC and Amazon on how they can stand out from the crowd and future-proof their careers.
Bocconi Open Day
Bocconi University invites students and their families to join our Open Day on 20 May 2023 to get to know our University, our academic offer and all the opportunities Bocconi can provide.
You will be able to choose whether you want to attend the event on campus or online, by filling out the dedicated form.
WHAT SHOULD YOU EXPECT FROM THE EVENT?
• Participate in Bachelor programs presentations, interact with our faculty and students
• Gather information about the admissions process
• Gather information about university services
• Discover our campus
From the Sunny Jain Newsletter – Getting into Oxbridge
Hello, this is Sunny.
Many students try for Oxbridge, but only a few get in. Everyone knows this, but very few adjust their application. I want to change that. So, today I am going to focus on some of the ways students who were accepted upped their game.
Lesson One: Create, don't consume.
Any person can read books or attend a lecture. The students who have excelled and gotten into Oxbridge have developed their own content that goes above and beyond the classroom. The initial method I used was making students write a blog post about something that was both technical and niche. This simultaneously showed a wide range of skills, such as research, and a high level of effort on the part of the student. Topics have included everything from forest fires in a region of Australia to uses of AI in the pharmaceutical industry. The most successful students then used their blog as a launching point for a conference, where they asked academics to come and give a presentation, using their blog as proof the student is interested.
In this day and age, students have several more mediums they can use to create content. People can make podcasts on their computers, TikToks on their phones, and everything in between! Making a blog is no longer the default choice anymore. If a student is already familiar with a specific medium, why not leverage their knowledge to make content creation easier?
Lesson Two: Principle-based thinking.
Getting strong grades is simply not enough. The acceptance rate varies, but for many subjects, it hovers around 15%. That means (roughly) 15 out of 100 people who have strong grades get in. When talking about Oxbridge then, grades are not a trump card. So, if grades don't differentiate candidates, what does?
The way that students think.
Many students get good grades because they are good at memorising facts and learning to apply them in the way that the exam board likes. Whilst this is a good skill to maximise success, it comes at a detriment during the interview process. Candidates are given information or work that they have never seen before and are then asked to analyse it to come to conclusions or make arguments. If a student doesn't learn to think on their feet, they will perform poorly.
The solution is to learn principle-based thinking. This is a process of thinking where instead of focusing on the content itself, you learn some of the principles, rules and mechanisms underlying the information. You want to learn how to "think like chemists do" rather than just memorising what chemists know.
A bad student will regurgitate textbook understanding. A good student will go beyond the textbook by using the methods it teaches. Here is an example:
"What do you think would happen to the economy if the government disappeared for a day?"
Bad Example: "According to Economic theory, people would behave rationally, which means acting in their own interest. If there is no government then some things people wanted to do that were selfish are now possible. So, they would do whatever they want without fear of punishment".
Good Example: "Well the theory of rationality tells us people would do what they want, but most economic models come with assumptions. I think assuming people would be self-interested is not a good assumption to make here- people might want to protect others, or they might be so stressed that they don't want to. So, it would depend on the distribution of people who are 'thinking rationally' vs those who are not. What would happen would depend on this fact."
Lesson Three: Care.
Loads of people apply to Oxbridge because they are told they are smart and that is the place smart people go. If this is the only motivation a student has for going, they might as well throw their own application in the bin. This is not a time to take pride. Instead, students should think about why they actually care about the subject they have picked. They then need to have concrete reasons for why Oxbridge would enable them to do their best. Saying these places are the best in the UK is not enough. Saying you want to go because of the connections or job prospects is also a bad idea. Explaining how the specific teaching style, course or environment will enable you to do thrive is the only way you can get their attention. They know when a student is applying just for the name. Don't be one of those people.
Worth a read –
Popular Resources and FAQs
Questions, Support, and Help
Amanda Lopez
Grades 9 – 12 Universities Counseling & Social/Personal Counseling
To schedule an appointment –
Parents – https://calendly.com/lopez-igbis/parent-community-meeting
Students – https://bit.ly/IGBHSCounselor Email – amanda.lopez@igbis.edu.my
---
May 2023 Menu
IGBIS-Menu-05-2023