From the Head of School
Jason McBride
Hello IGBIS Community,
Here we are, having just completed our last Friday of the school year with only three and a half days to go (remember that Thursday is an early dismissal). A lot of special days, events and assemblies are packed into the week ahead though, so please read Toddle, ManageBac and the rest of this newsletter carefully so you don't miss a thing, as parents are welcome at many of the events ahead!
As we head into our last big week, we were glad to learn that the Ministry of Education has loosened its heat directive. We will use indoor spaces when the temperature exceeds 35 degrees, and, as always, we will continue to keep an eye on students to make sure they are wearing a hat and drinking plenty of water (please do reinforce this at home if your "kid" is 16!). The new MOE directive, however, requires parental permission for your child to go outside at this time. If you do not wish for your child to go outside, please email your child's classroom teacher in the Elementary or homeroom teacher in the Secondary School.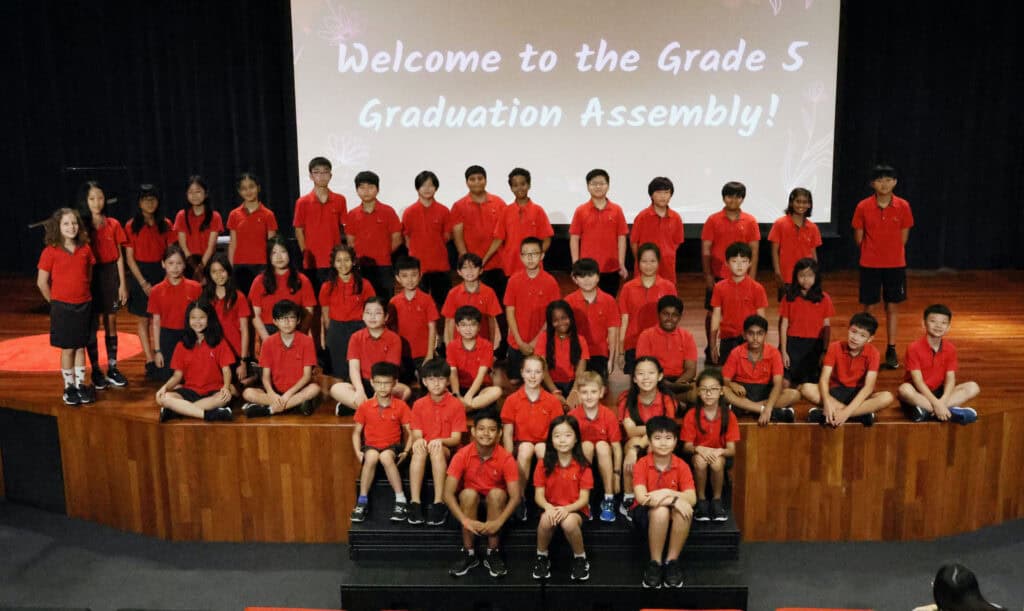 Before signing off for the second to last time, a big congratulations to our Grade 5's and the team that supports them on their graduation today. From their teachers and ATs to single subject teachers, ESOL, Learning Support and IA's, it takes a lot of adults to raise great students. To their families who are on the verge of having their first, or yet another, secondary student, thank you for helping shape them into who they've become. I talked to them today about making sure they hold on to how accepting they are as a group, how they stick together irrespective of their learning differences, cultures or preferences. In middle school, some people get a little off track, being so busy trying to be "cool" that they forget to be inclusive, caring and kind. Our Grade 5s are exactly those things though, so hold on to them because nothing is cooler than being kind.
Have a wonderful weekend,
Jason
---
From the Elementary Principal
Simon Millward
Weeks seem to get busier as the academic year nears its end. This week has been no different with student-devised production performances and visual arts exhibition, the Grade 5 graduation assembly, returning to outside play and fantastic learning experiences happening in classes.
Wednesday saw our Grade 3, 4 and 5 students perform their student-devised poems and plays, interspersed with musical performances. These were wonderful performances and showcased the creativity of our students, ably supported by our performing arts team, Mr Alex and Ms Abi. The student scripts, backdrops and music were a joy to watch and brought a smile to my face.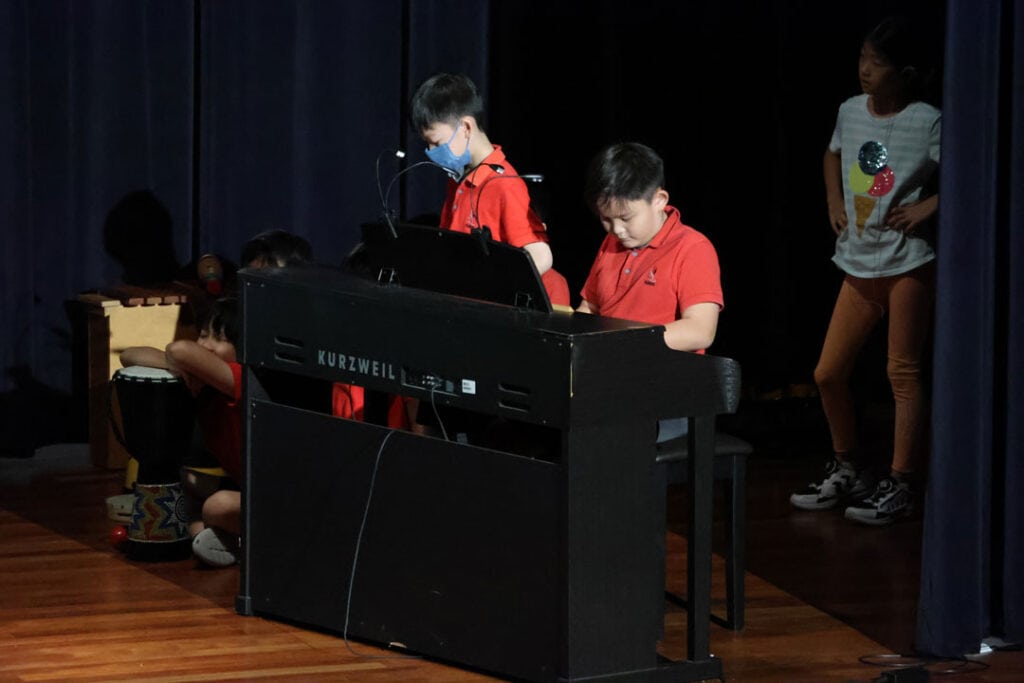 During the intermission and after the performances, the community had the opportunity to view the incredible artwork the students have been creating in their visual arts lessons from Early Years all the way through to Grade 5. There was so much variety and creativity I marvelled at the talent of our students. A big thank you to our visual arts team Ms Elli, Ms Kelly and Ms Abi, for all their guidance and harnessing our students' creativity.
On Friday, we had our very first Grade 5 graduation assembly that celebrated our Grade 5 students. The assembly shared some of the actions students have taken as part of their PYP Exhibition, their learning progress, their amazing time on camp, student-created poems, comedy routines, student devised dances and singing. The culmination was the graduation certificates for our Grade 5 children. I felt proud of these students. They have been risk-takers as they have shown how balanced they are playing sports, being involved in productions, dances, music and being activists. They care about the world and want to make a difference for a more peaceful world- which is the ultimate purpose of our IB programmes. As they enter their final week in the Elementary school, we can appreciate that they are great human beings and challenge them to carry their caring nature, modelling of the IB learner profile into the Secondary school and into all walks of their lives outside of school.
On Monday, 12 June 2023, the Elementary School will be supporting Tiana, a Grade 5 student, with her PYP action. On 12 June 2023, it is World Day Against Child Labour. We are asking students to wear a red shirt on that day. It would be great if it was a different red shirt to our school uniform. We would love it if they could also bring in a 'toy' to play with. This may be a car, a ball, some Lego or anything that is not electronic.
On Thursday, 15 June 2023, the school finishes at 12:00 pm. As is tradition, we would like you to drive past the level 5 reception, where the IGBIS staff will be waving you off and wishing you a happy and safe holiday.
As with any International School, this week will see some of our students and teachers moving on to new adventures away from IGBIS. We wish them all the best on this journey, and know that once a Phoenix, always a Phoenix!
Our leaving teachers will be:
Ms Sha G3 AT: Singapore
Ms Sha has been with us at IGBIS for about a year. She has learned so much as a teaching practitioner in her role as an associate teacher in Grade 3. A teaching opportunity has arisen in Singapore for her, and we hope she will use what she has learned at IGBIS to ignite and impact other students' lives.
Mr Ian: United Kingdom
Mr Ian has had a number of roles as a Learning support specialist. His knowledge, experience and skills have been critical to us as an organisation, as he has supported students and teachers in understanding and developing our learning support, students in particular. It has been great seeing him branch out in the athletics programme by coaching our U9 footballers. His next adventure will see him embark on further study in the UK, exciting times are ahead.
Mr and Mrs Ngatai: New Zealand

Mrs Ngatai has worked for many years in Kindergarten and Grade 1 and has contributed so much to our programme. She has been formidable in Grade 1, building on the great foundation the school had, making it a leader in its field. From hands-on practical challenges, creative provocations, eye-catching visual displays and exceptional assessment practices. Beyond the classroom, Mrs Ngatai has been integral to the ES productions we have performed and is always supporting our younger learners with after-school activities of various kinds.
Mr Ngatai has worked across the school as both a PYP PE teacher and an MYP teacher. Many of you will know him as the face behind our after-school activities programme. He has worked tirelessly to make sure that our programme runs smoothly and he has supported the athletics programme as well stepping in where necessary. His flexibility, teamwork and willingness to help others is a hallmark of his contribution to IGBIS.

Ms Caitlan: Travelling the World
Ms Caitlan has been a fantastic contributor to our PYP programme where she started in Grade 2 (teaching our current Grade 5's) and also for the last two years teaching Grade 5. Her energy and rapport she has with her students are great to see and are truly appreciated. She can often be found poolside guiding the swim squad with their techniques in the pool and sometimes we see another side of her in the sports hall when she has coached beachball!
Ms Aga: Poland: Consultant
Ms Aga has transformed the PYP programme in her role as PYP Coordinator, she has guided and facilitated how and what we teach in the classroom and she was the driving force behind our distance learning practices. Her knowledge of the PYP is extensive and she has used this to help educate you as parents, our teachers, our students and the wider IB community. Her legacy at IGBIS will live long, from our Imagination Foundation's Days of Play and challenges to our use of the UN Sustainable Development Goals, and most recently the development of our Young Activists Council into a TEDx Youth event. All the best in your new adventure as a consultant.
We are grateful for all these teachers and the contributions they have made over the years they have been with us. In your own individual way, we will miss seeing you around the IGBIS campus but know you have made a difference in so many students' lives. Thank you.
Dates for your diaries:
12 June 2023: World Day Against Child Labour: Wear red shirts and bring a small toy.
15 June 2023: Report cards go home: Check the Toddle app
15 June 2023: Last day of school for students: 12 pm end.
---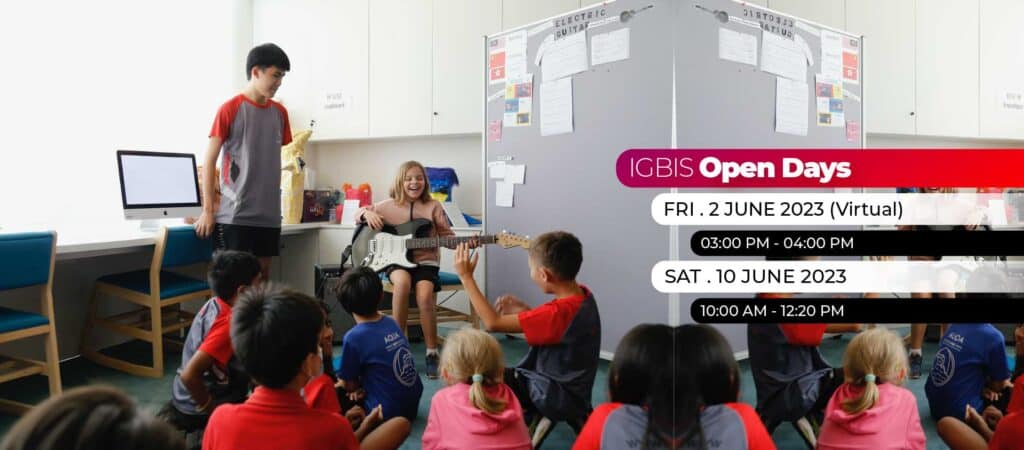 ---
24-Hour Race
24-Hour Races are a unique, compelling, and successful way to bring that to a generation of youth all over the world. The 24-Hour Race is a movement that brings change to hundreds of people around the world while platforming the upcoming generation to become change-makers. Thousands of high school and university students gather all around the world for 24 hours in a global fight against slavery. Slavery can only be ended with greater awareness, understanding, and urgency.
IGB International School takes pride in announcing our continuous role as the venue provider in collaboration with the 24-Hour Race, the event organiser. The cooperation of this student-led initiative and movement reflects our school's dedication to student empowerment, community engagement, and social responsibility, as well as our commitment to fostering holistic development and inspiring students to create positive change on a global scale.
Mark your calendars for this meaningful event:
Date: 2 September to 3 September 2023
Venue: IGB International School, Sungai Buloh, Selangor
Please note the following requirements and guidelines for participation:
Select a team leader
Form a team consisting of 8 runners
Both runners and team leaders must be at the age of 14 – 21
Each team is required to raise a minimum of RM 2,000
There will be a registration fee of RM 100 for each participant
Secure your spot in this meaningful event by registering before:
For more information about the 24-Hour Race, you may visit the 24-Hour Race website or Instagram. You may also direct message them through their Instagram or email them at tanish.tanjil@24hourrace.org.
---
ISTA Inter-Arts Festival
"Celebrating our ability to tune in and connect through the arts."
IGBIS will be hosting this coming November's ISTA Inter-Arts Festival for Music, Drama and Visual Arts. This time, we will host visiting schools and need families to host these students.
Event Details:
Starts on Thursday, 23 November 2023, at 3:00 pm
Finishes on Sunday, 26 November 2023, at 1:30 pm
Age range: Middle School (Ages 10 – 14)
Total Participants: 35 – 55
Host School Participants: Approximately 20 (first 15 host students get host discount rates, and after that, students pay member rates)
Stay tuned! An email with the details for the sign-up will be available soon. Visit HERE for more information.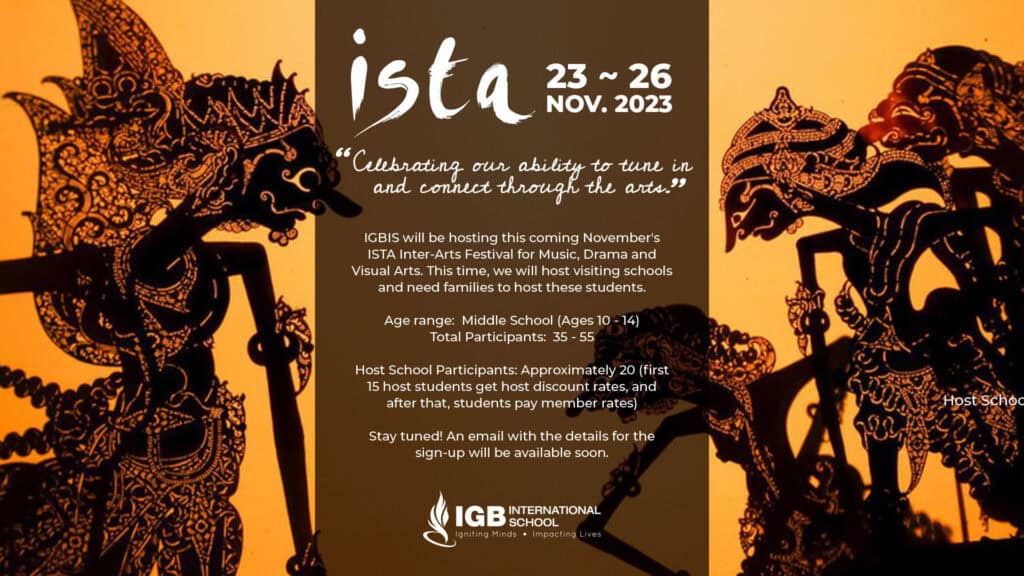 ---
Uniform Drive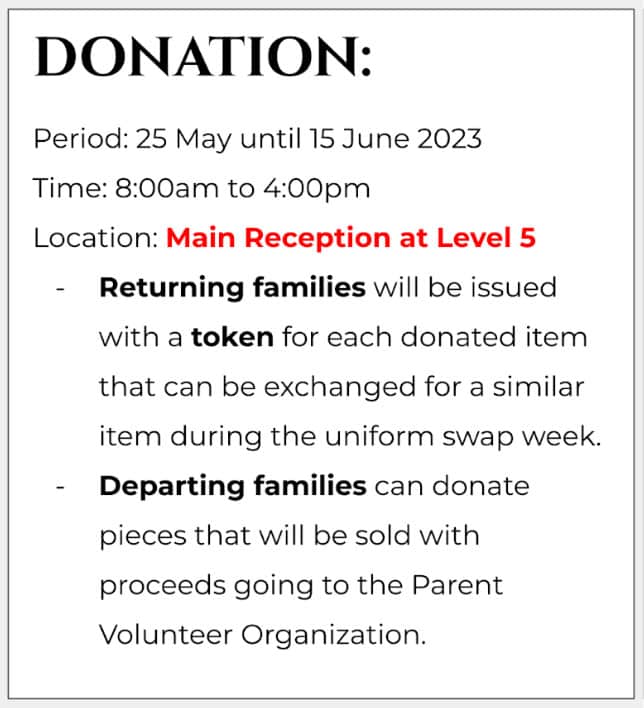 ---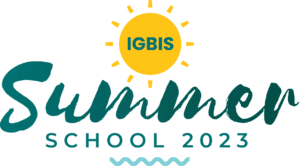 Summer is almost here, and we are thrilled to announce our Summer School this July! Offering this to children between Kindergarten to Grade 8, we have engaging learning experiences designed to help students unleash their creativity and improve their social, communication and thinking skills while enjoying a variety of extracurricular activities. Our team of experienced teachers will be leading the classes, ensuring your children get the most out of their summer break.
The programme will run from 17 July to 21 July 2023 and 24 July to 28 July 2023 and will include classes in Fun English, Design and Team Building, and a range of fun activities such as library games, swimming and sports as well as arts and crafts. Register now, as we have limited spots available. Enjoy our Early Bird Discount when you register before 15 April 2023!
If you have any questions or want more information, please do not hesitate to contact us at marketing@igbis.edu.my. We are excited about this new programme and look forward to sharing it with our students and their families. Thank you for your continued support.
REGISTER HERE.
---
Future Planning Weekly Update
Amanda Lopez
Highlights of the Week
NEW Future Planning Platform is HERE – Unifrog
Throughout this school year, students and parents have been using Cialfo to plan for life after IGBIS. As we move into the 23-24 school year, we will transition to a new platform, Unifrog. Grade 11 students were on board at the end of May. Current Grade 9 and 10 students will transition to the new platform during the 23-24 school year.
Grade 9 – 11 Parents, you can access information about Unifrog and get directions for creating your own account HERE – Please note you must use your IGBIS parent email to access the information.
Summer Help for Graduates –
UCAS Clearing/Adjustment opens on 5 July 2023, IB exam results will come out on the 6th, and for any students who need help navigating offers and conditions, Ms Amanda will be here to help.
Emails will be closely monitored starting 5 July – 10 July 2023. Should you need anything, please contact Ms Amanda via email or Google Chat.
For your information and preparation, HERE is information about UCAS Clearing and Adjustment.
Resources & Opportunities
EDUCATION & FURTHER STUDIES FAIRS
WEEK 1 – KUALA LUMPUR

10 June – 11 June 2023
11:00 am – 6:00 pm
Mid Valley Exhibition Centre, Kuala Lumpur
More information HERE
WEEK 2 – KUALA LUMPUR

17 June – 18 June 2023
11:00 am – 6:00 pm
Mid Valley Exhibition Centre, Kuala Lumpur
More information HERE
From UKEC: Annual Summer Education Fair (1 July 2023)
A key highlight of this fair – employers have been invited to share with students about the different types of careers and job shadowing opportunities in their respective organisations.
Join us in exploring the various education pathways and careers available –
More Information HERE.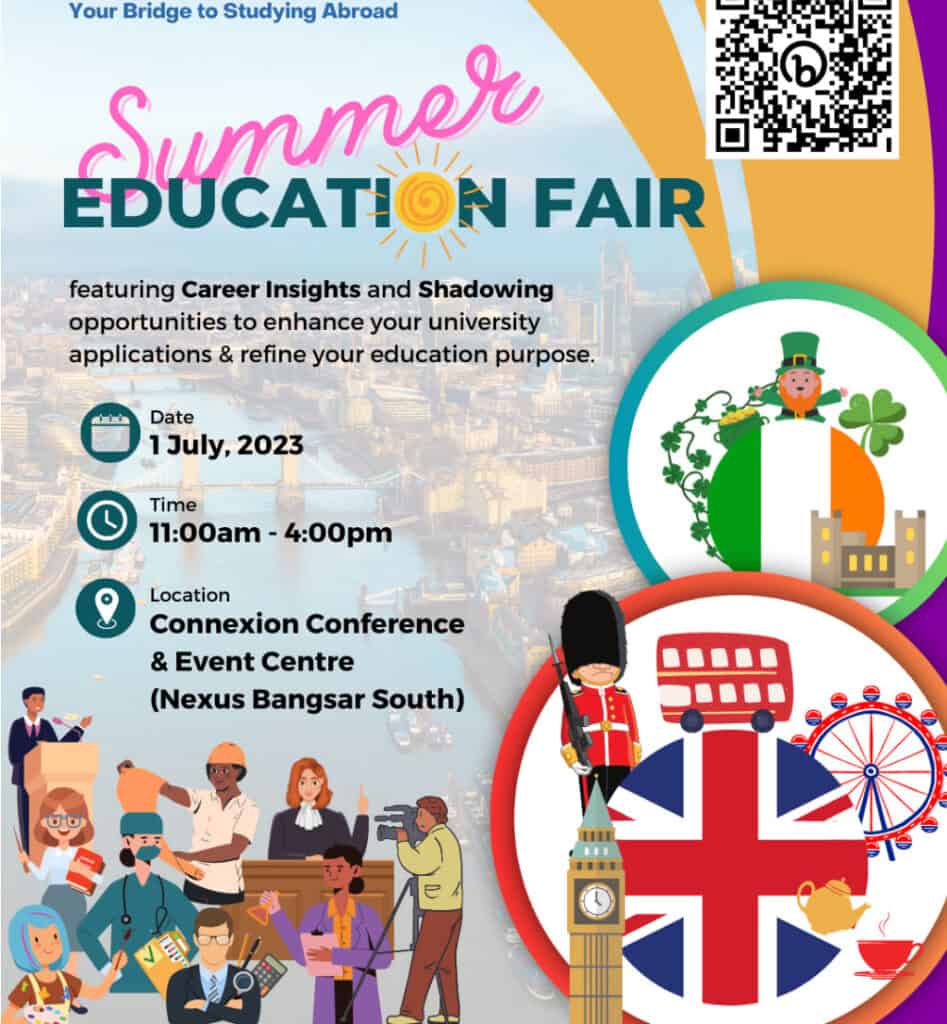 Summer Internship Opportunity – Apply HERE.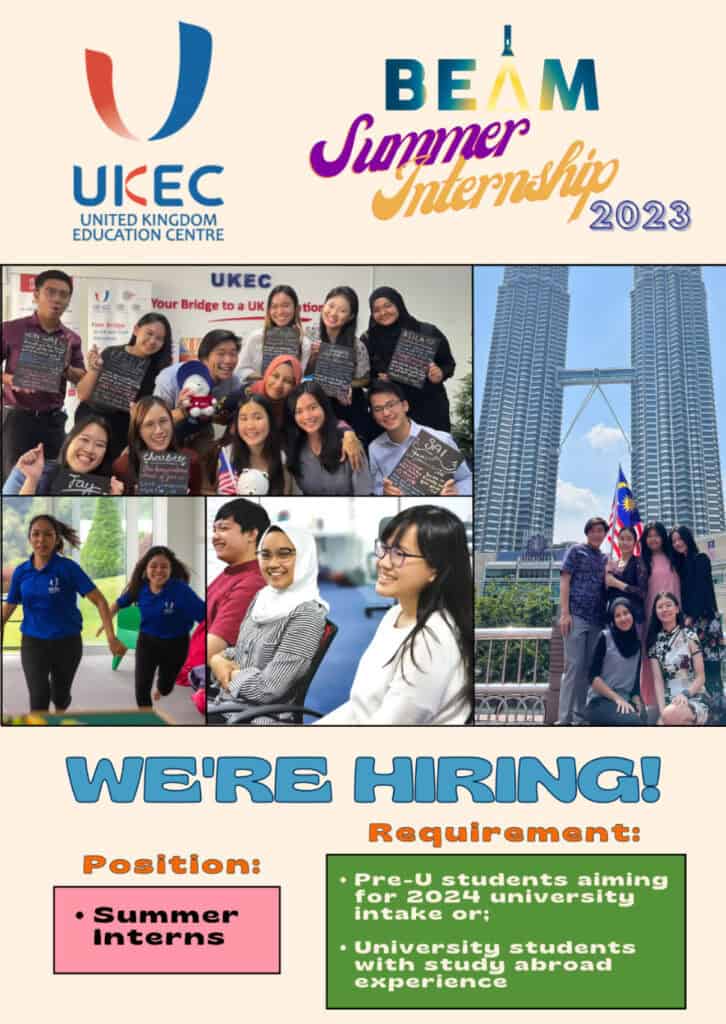 UK Student Visa Requirements Workshop
Have a question about applying for a UK student visa? Not sure where to even begin?
Come join us for our 1-hr webinar tailored for UK students, where we will share important information about UK student visa requirements. We will also have a Q&A session to address any concerns that students may have about their visa applications. Register HERE.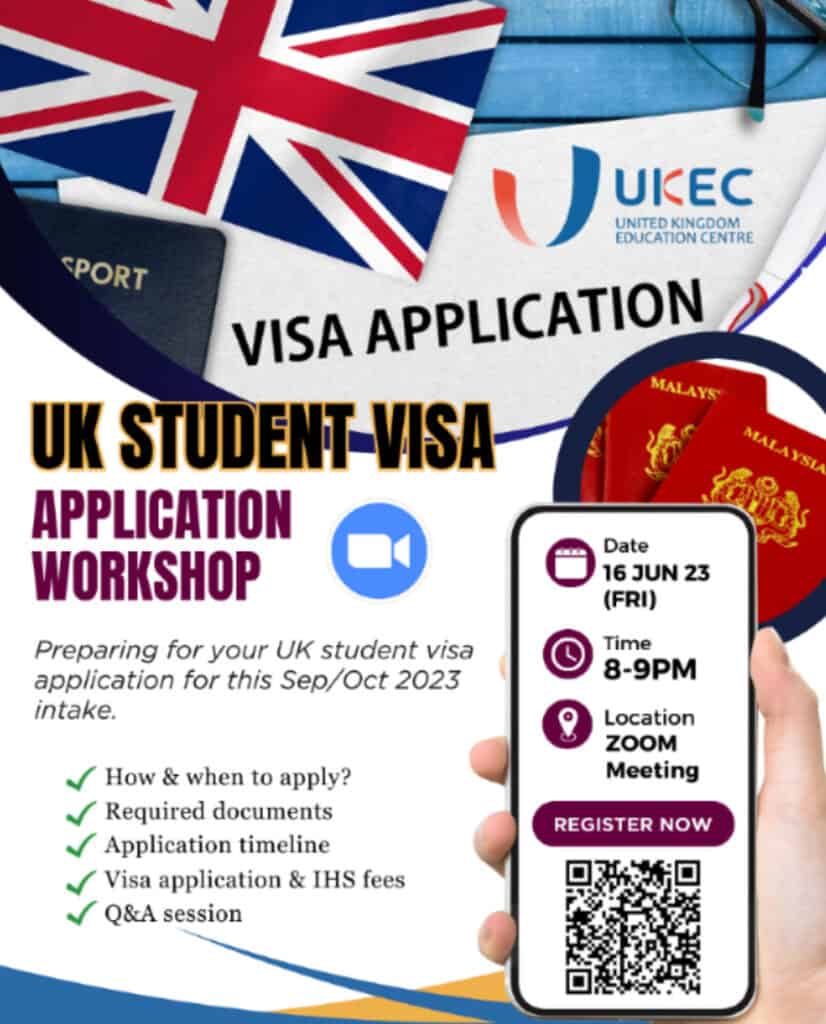 From the College Essay Guy – June Resources
9th-Graders
10th-Graders
Learning How to Learn + The Science of Well-Being: These free Coursera courses will help you understand how your brain works and what you can do to optimize your productivity and happiness.
Explore colleges with 800+ lists: Curious about what colleges have to offer? Use this fun online, searchable database from CollegeXpress, which covers everything from academic environments to school spirit.
Social media cleanup: This is a good time to clean up your social media profiles. If you have any questionable photos or language, delete them now before you start your college search in earnest.
11th-Graders
12th-Graders
Study tips in college (from MIT): You will soon be sitting in your first college class, so take the time to read up on some suggestions on time management, testing, and study skills.
Get familiar with college lingo: College brings a ton of new vocabulary, so keep this glossary handy while you navigate registration, housing, and student services.
The Shovel Study Planner: Get ready for college with this simple, low-cost app for building an effective study plan and developing strong study skills.
Questions, Support, and Help
Amanda Lopez
Grades 9 – 12 Universities Counselling & Social/Personal Counselling
To schedule an appointment