Message from the Head of School
Dear IGBIS Parents and Community Members,
There was a fantastic support for our Welcome Coffee for New and Returning Parents this Friday with over 100 people in attendance. Ms Aga got things started with a Maker exercise for parents to brainstorm, problem-solve, create, test and share in response to the challenge 'brainstorm an idea for a daily item that would make you or your child's morning start easier'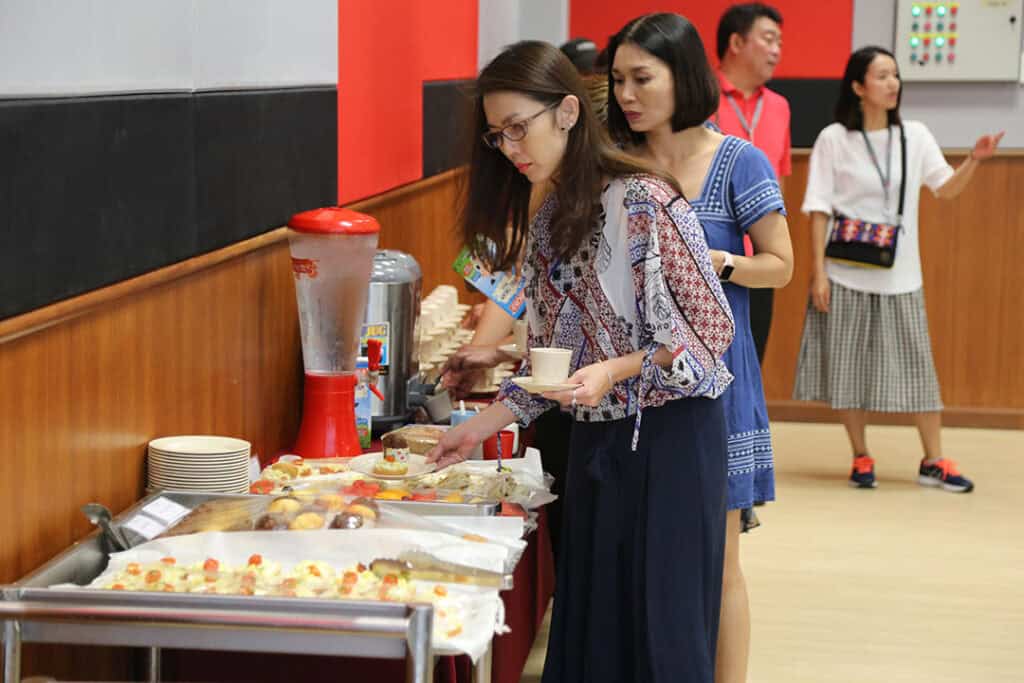 Key staff were introduced and we had a discussion about the role of the PVO, class parents and the PVO Committees: Fundraising, PVO Social Events, Holiday Bazaar, Staff Appreciation etc. This was followed by some more fun activities and opportunities for parents to get to know each other more. Highlights being the lucky draw for good communicators and teamwork activity. Thanks are extended to Julie Aricidiacono for organising the event. Anyone who attended who would like to sign up for any of the PVO roles, please contact Julie: julie.arcidiacono@igbis.edy.my
All of our secondary school students attended the ShowCASe organised by Ms Nathalie Chotard on Thursday, August 15th. I was amazed by the range of CAS activities organised by our students and staff and the new options suggested for this school year.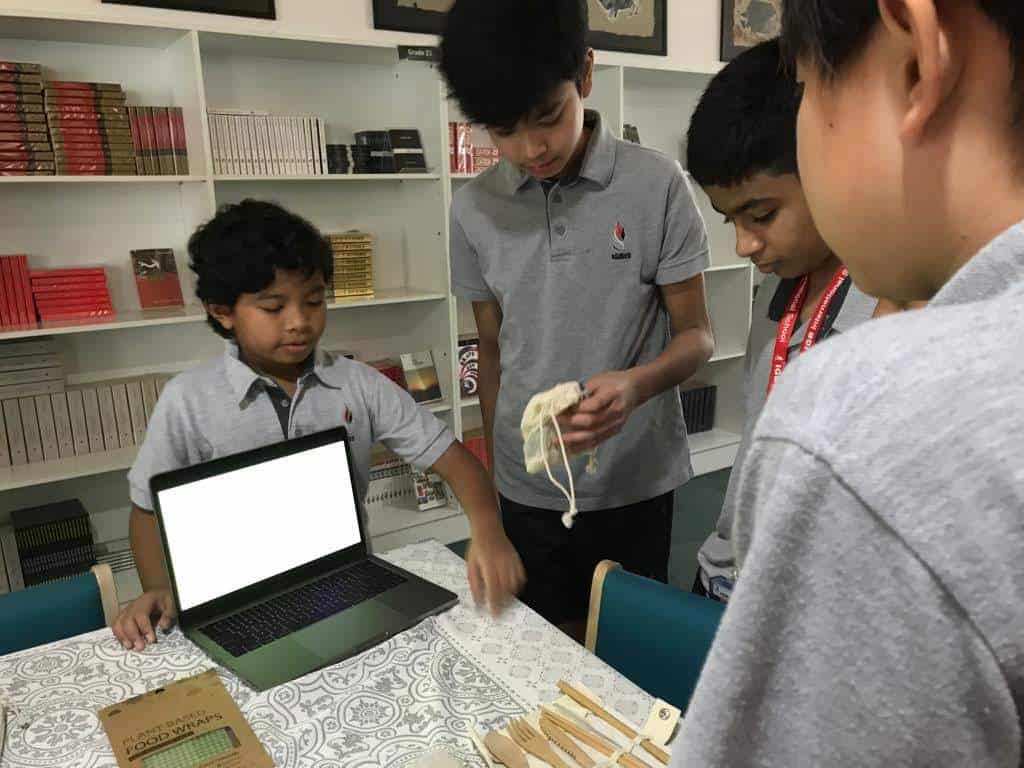 Calendar
Our draft calendar was shared with the community last December. Since then we have added in some key dates for three-way conferences and Staff Only Days. Please take a look at the attached calendar and note that we will break for the winter holiday on December 10 and the last day of school is now June 10.
A reminder of a few upcoming events:
Tuesday, August 20: Back to School Night
Friday, August 23: Open Day – Introduce a friend to IGBIS
Wednesday, September 13: Malaysia Day Assembly
Mrs Anne Fowles | Head of School
News from Elementary School
It was great to see so many parents at our Welcome coffee this morning, we hope it was enjoyable and you had time to make connections with other parents.
Students in their second week are still getting used to the school and new routines. As I have wandered around the school, I have noticed that many classes are also focusing on the IB Learner Profile, the 10 character traits that we hope to see students showing in and out of school to make the world a more peaceful place. Students should be caring, balanced, risk-takers, communicators, thinkers, knowledgeable, open-minded, reflective, principled and inquirers.
As the week has progressed grade levels are starting their units of inquiry with provocations. These are activities to stimulate students' thinking and hook them into the units. Ask your children about the kinds of activities they have been engaged in this week.
You will have received an email about next Tuesday's 'Back to School' evening. On this day the afternoon activities and athletics will not take place and students will travel home at 3 pm. We look forward to seeing all Grade 1 to Grade 5 parents from 5.00 – 6.40pm. On this evening, homeroom teachers will share with you their grade level site along with classroom procedures and routines. You can also experience a mini-lesson from our single-subject teachers, as well as access 'Seesaw'.
SEESAW Student Portfolio:
Students at IGBIS document their learning choices, actions and reflections via their Seesaw Student Portfolio. During 'Back to School Night', we will help you set up and access it on your personal devices. However, if you would like to know more about it, please watch this video and go to this link to download the Seesaw Family Journal App from App Store or Google Play store.
Dates for your diaries.
20th August: Back to School Night. (No afternoon activities or athletics)
Timing: Sessions start
FF 2.40pm – 3.30pm
EY: 3.00pm – 3.40pm
Gr1 – Gr5- 5.00pm – 6.40pm
2nd Sept: Awal Muharram Holiday
9th Sept: King's Birthday Holiday
13th Sept: Malaysia Day assembly
16th Sept: Malaysia Day Holiday
Simon Millward | Elementary School Principal
News from Secondary School
Dear parents,
Thank you to all the parents who came to our Camps presentations today. We had a very good turnout and I hope everyone had an opportunity to ask questions and hear the responses. It made for a very full day today for so many who came to the Welcome Back Coffee as well, so I am grateful for your continual support. The next steps for camps are some final collection of documentation, which will be sent home on Monday.
Looking into next week, I would like to remind families that athletics & activities start on Monday, though there will be no after school activities on Tuesday, for Back to School Night. I hope you will join us at 5:30 pm in the Sports Hall on Tuesday to learn more about the curriculum and meet your child(ren)s teachers.
Sincerely yours,
Michael Arcidiacono | Secondary School Principal
ShowCASe 2019
Last Thursday, all students from G5-11 attended the ShowCASe, an invitation to meet knowledgeable and caring students who have helped to make a positive impact in their community.
During this event, Ghazi Grade 5 advocated for Zero Waste and provided tips (and tools!) to avoid using plastic in our daily lives.
Abi & Isabelle, Grade 10 shared their experience of welcoming 30 students from Yayasan Chow Kit at IGBIS last June. Kudos to both girls have run this program for 2 years already.
Stefano & Katherine (Grade 10)) who participated in the second IGBIS trip to Nepal over the summer holiday presented the challenges and achievements they encountered when teaching English students in Kathmandu and building a wall for a community house, in nearby Pokhara.
Congratulations to each of these students as well as the graduating class (GC) of 2020 for their commitment towards their selected project. Their passion certainly ignited the minds of their audience!
More details on how the GC 2020 has impacted lives coming soon! Stay tuned!
Nathalie Chotard | Service & CAS Coordinator
IGBIS Instrumental Music Academy
The IGBIS Instrumental Music Academy provides the opportunity for students to have individual or small group lessons with a professional tutor to foster the development of skills and a love for playing music. Students who participate in the program will be encouraged to use these skills as a member of an IGBIS Music Ensemble and become a lifetime participant in music-making.
IGBIS Instrumental Music Academy is acting as an agent between the parents and tutors, providing the services of enrolling students, arranging schedules, invoicing and collection of payments.
Our tutors are all experienced musicians and teachers who work at other International Schools or other reputable Music Academies in Kuala Lumpur. This year the instruments available for learning are Piano, Violin, Viola, Guitar (Electric, classical and bass guitar) Ukulele and Voice.
Our Tutors
Ms Puisim Wong – Piano.
Ms Iko Chia – Piano.
Mr Yew Chee Chew – Violin and Viola.
Mr Adil Rahim – Guitar/Ukulele
Ms Irma Lailatul – Voice.
All schedules will be made once registration is finished. Special requests for times will not be considered except for after school lessons depending on the availability of the tutor and student transport needs.
The relevant information, hand booklet and registration form can be found on the School's website. All communication for the Academy will be via Parent IGBIS email accounts.
To find the Music Academy website go to the IGBIS splash page and click on the login button on the top right hand corner. Search for the Music Academy logo to find all the administration, scheduling and online registration documents. https://sites.google.com/igbis.edu.my/music-academy-igbis/home
Students may have individual lessons (preferred) or small group lessons (Maximum of 3 students per group). Piano lessons are only available as individual lessons. Lessons will cost RM70 for an individual lesson (preferred) and RM50 for a group lesson (max. 3 students per group). There will be around 15 lessons in each semester, depending on holidays. Invoices will be emailed to Parent IGBIS email accounts.
At the conclusion of each Semester students will perform in concerts to demonstrate their progress and to develop performance skills.
Registration will start from Friday 16th of August. This is an exciting add on program at IGBIS and I look forward to its continued success and expansion this year.
Miss Hadewych Dujardin
Admissions Department Update
Car Stickers must be for the current academic year!
We ask all parents to join us in maintaining the security of our school community. Car stickers must be returned each year to exchange for the new version so that old ones don't get into the wrong hands. If you have old car stickers on your vehicles, please return them to Admissions regardless of whether you have received your new ones – your cooperation in this regard is appreciated.
If any families are living in the vicinity of KLCC and have been interested in bin school transport, please let us know as we are keen to establish a bus service to that area.
If your children in Secondary School would like to catch the school shuttle bus to the MRT station at Sg. Buloh, please collect a transport form from the Facilities Manager Mr Philip.
Wayne Demnar | Director of Admissions and Public Relations
PVO News
The Welcome Back Parents Coffee on Friday 16 August was well attended by new and returning parents of both the Elementary and Secondary School. The morning began with a burst of creativity where parents crafted a handy artefact for their children to use to speed up their before-school routines in a MakersKitchen session led by Ms Aga (which was considered by many, a win-win for both parent and child!). The event continued on with the school's Senior Management Team introducing key and new staff members, followed by an outline of the PVO structure, its events and committees, including a briefing about upcoming parent workshops. A round of IGBIS merchandise giveaways saw happy new owners and Dr Arcidiacono wrapped up the session with a team-building exercise, the 'Helium Stick Challenge', which turned out to be a very fun way for parents to get to know each other better.
For those who did not have a chance to attend, the sign-up forms that were made available during the Coffee can be found at the PVO Website on the Splash Page. The events/committees for this academic year are named below and detailed online. Please consider joining them and actively participating as a PVO member, as parent involvement is a crucial component of the students' school life.
PVO Social Event Committee
Holiday Bazaar Committee
Staff Appreciation Lunch Committee
Inclusion Committee
Fundraising Committee