Message from the Head of School
Dear IGBIS Parents and Community Members
We appreciated seeing a large number of parents attending the 'Back to School' night on Tuesday, August 20th. Parents support for their children's education and their involvement in the school is a key factor in their children's educational growth and success. This has been shown time and again in research studies. Well done IGBIS parents!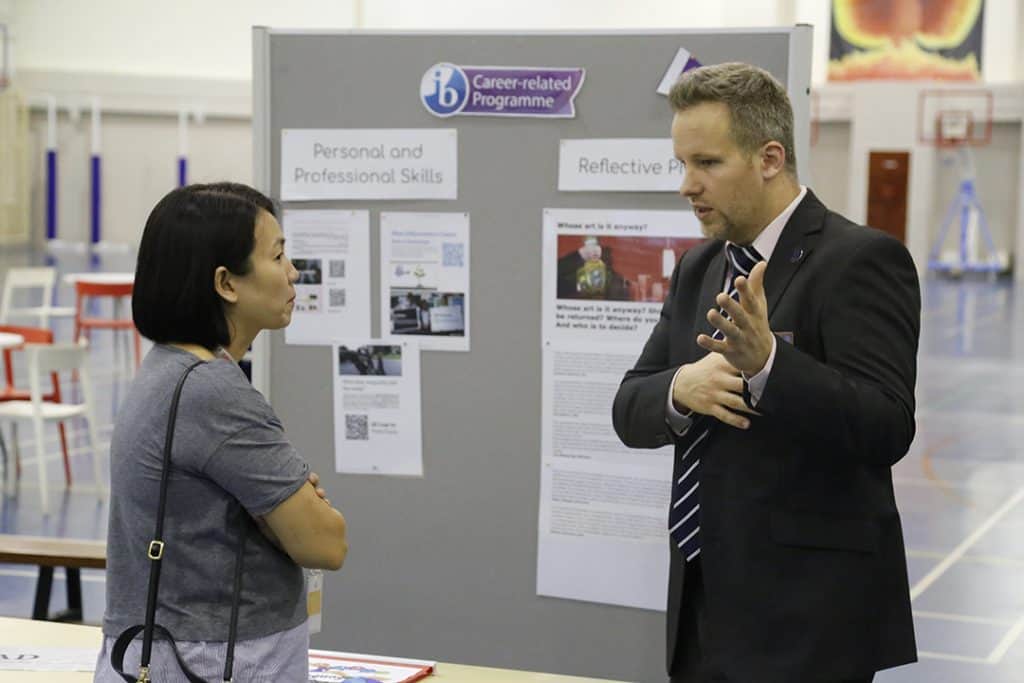 It was good to see our swim team begin their morning training this week and after school activities underway already. I understand that a record number of sports and after school activities are on offer this year. Thanks are extended to our teachers; Activities Coordinator, Mr Scott Ngatai and Athletics Coordinator; Ms Ruth Spracklan for their efforts to grow and enhance offerings for our students.
On Friday, August 23 we held our first Open Day for the year. We do appreciate parents who introduce their friends and neighbours to the school and have a special incentive scheme to recognise this support. Our marketing team will be in contact with you to express our appreciation when new children are enrolled in the school because of your introduction. We were also thankful for support from our alumna who was in school to greet prospective secondary school students. Thank you, Tien Xzi Ho.
Mrs Anne Fowles | Head of School

From the Elementary Principal
It always amazes me what we can pack into a week. This week has been a bit of a whirlwind of great things happening.
Thank you to all of those parents who came to our 'Back to School' afternoon on Tuesday, it was wonderful speaking to you all and we hope you gained greater insight into what is happening at the school and how we will communicate with you. Having our student learning journal 'Seesaw' in action again and being kept informed of what is happening in the Grade levels via our Google sites is all very exciting.
Speaking of exciting, at the end of last week and the beginning of this week, there were some risk-taking students who gave presentations in order to gain a seat on the 2019/20 ES Student Council. The standard each year gets higher and it was encouraging that so many students wanted to represent their grade level on the student council. Unfortunately, there were students who were not successful. However, this does not stop them from making suggestions to their Student Council reps to help make the school a better place.
The successful candidates were:
Grade 2: Tea, Jade, Caio
Grade 3: Hiro, Sara, Cian, Tamara, Grace
Grade 4: Landen, Alia, Sierra, Seika
Grade 5: Maloe, Dan, Wen Yi, Woo Yong, John, Marina
Congratulations to them and all those who took part. We wish them luck as they embark on a new year.
This week also saw us having our first Elementary Assembly, which takes place on Day 5 (unless there is a whole school assembly during the same week). This was hosted and run by our Grade 5 students who focused on the Learner profile. There were a series of slides explaining the learner profile traits and some 'skits' videos to highlight these further. Well done Grade 5.
At the end of the day now, we have a lot of excited students as they make their way to their activities and athletics. Thank you to all those who run the after school activities and athletics programme particularly Mr Ngatai and Ms Spracklan who coordinate these and Mr Morris who has been working on the technology side of the process.
Finally, at the end of the week, we had our first Open Day of the year. It is pleasing to see so much interest in our school and we look forward to welcoming more students into our learning community.
Simon Millward | Elementary School Principal
Dates for your diaries
2nd Sept: Awal Muharram Holiday
9th Sept: King's Birthday Holiday
13th Sept: Malaysia Day assembly
16th Sept: Malaysia Day Holiday
News from Secondary School
Dear parents/guardians,
It was an exciting week as athletics and activities kicked off their seasons, and the school was a very busy place from 3pm to 5pm. The level of participation is very high, our sports teams are getting full and activities like Youth Theatre are extremely well attended. One of the things I enjoy about our activities is the opportunity for students to work with others from different grades. This strengthens the relationships amongst students and across our community as well. I saw many different instances of this dynamic this week, and appreciated the mentoring regularly given by our older students.
Thank you to all parents who attended our Back to School evening. I hope it was a worthwhile and informative event. I enjoyed getting to chat with many parents and hear feedback about their son/daughter has started the year.
Today Mr Fowles and I returned from a camp visit – we had a very worthwhile trip and will be sharing information with the Grade 6 & 7 parents at 2:15 pm on Monday, August 26th in the PVO room. I hope all parents of students in these grade levels can join the meeting.
Sincerely yours,
Michael Arcidiacono | Secondary School Principal

The Phoenix Garden
While there are always changes when you come back after the summer, one of the best changes has been the addition of the Phoenix Garden.
Located down by the Elementary playground on Level 1, the garden has already been prepped with beds, a lovely gateway and a sign. This garden will not just be a part of playtimes and relaxation for the students but will become a part of the learning space for classes. The upcoming unit in Grade 2, for‌ ‌example, will be focusing heavily on how the garden can impact our wellbeing.
Of course, there is still a lot of work to be done and this is where we need your help. We want this garden to represent our community and our location. The aim is to fill the garden with edible, local plants for the children to touch, explore and taste! And we would love to have the community's help in filling this garden. We are looking for donations of plants, particularly some of the following:
Red Chilli
Brazilian Spinach
Red Spinach
Thai/Sawtooth Coriander
Flower
Tomatoes
Cucumber
Daun Kadok
Aloe Vera
Papaya
Curry Plant
Calamansi
Roselle
Kumquat
Snake gourd/Loofah Ginger
Any donations of plants can be dropped off to the classrooms or Reception on Level 5 and we will make sure it gets to the right place.
Lizzie Hudson, Rhona Taylor, Jeanette Rowe and Aga Chojnacka
IGBIS Instrumental Music Academy
The IGBIS Instrumental Music Academy provides the opportunity for students to have individual or small group lessons with a professional tutor to foster the development of skills and a love for playing music. Students who participate in the program will be encouraged to use these skills as a member of an IGBIS Music Ensemble and become a lifetime participant in music-making.
IGBIS Instrumental Music Academy is acting as an agent between the parents and tutors, providing the services of enrolling students, arranging schedules, invoicing and collection of payments.
Our tutors are all experienced musicians and teachers who work at other International Schools or other reputable Music Academies in Kuala Lumpur. This year the instruments available for learning are Piano, Violin, Viola, Guitar (Electric, classical and bass guitar) Ukulele and Voice.
Our Tutors
Ms Puisim Wong – Piano.
Ms Iko Chia – Piano.
Mr Yew Chee Chew – Violin and Viola.
Mr Adil Rahim – Guitar/Ukulele
Ms Irma Lailatul – Voice.
All schedules will be made once registration is finished. Special requests for times will not be considered except for after school lessons depending on the availability of the tutor and student transport needs.
The relevant information, hand booklet and registration form can be found on the School's website. All communication for the Academy will be via Parent IGBIS email accounts.
To find the Music Academy website go to the IGBIS splash page and click on the login button on the top right-hand corner. Search for the Music Academy logo to find all the administration, scheduling and online registration documents. https://sites.google.com/igbis.edu.my/music-academy-igbis/home
Students may have individual lessons (preferred) or small group lessons (maximum of 3 students per group). Piano lessons are only available as individual lessons. Lessons will cost RM70 for an individual lesson (preferred) and RM50 for a group lesson (max. 3 students per group). There will be around 15 lessons each semester, depending on holidays. Invoices will be emailed to Parent IGBIS email accounts.
At the conclusion of each semester, students will perform in concerts to demonstrate their progress and to develop performance skills.
Registration started on Friday the 16th of August. This is an exciting add on program at IGBIS and I look forward to its continued success and expansion this year.
Miss Hadewych Dujardin
College Counselling News
IGBIS Events
Practice SAT (PSAT/NMSQT) October 2019
The PSAT/NMSQT is tightly aligned with the redesigned SAT and provides educators and students with the chance to check in on student progress. The exams will support all students with a clear focus on the skills and knowledge that matter most for college and career success. Scores from the PSAT/NMSQT are used by several organisations to identify candidates for their awards or recognition programs if they plan to complete higher education in the USA. Students who take the SAT or the PSAT/NMSQT can opt into Student Search Services, making their names and information available to scholarship programs as well as colleges.
It will cost each student 110 MYR to sit the test on Wednesday, October 16th, 2019
We strongly encourage students in Grade 9,10 and 11 to use this as an opportunity to prepare for future applications to the United States.
If you are interested, please email me at bill.mitchell@igbis.edu.my
Once you have registered interest, further details will be shared on timing and preparations for the test.
Upcoming University visits
Parents and students are encouraged to attend!!
FRIDAY AUGUST 30TH @ 1 PM (Secondary Library)
UNIVERSITY OF MINNESOTA & RUTGERS – USA
Chelsea Keeney, Associate Director of International Student Recruitment, will present an interactive presentation: 'US College Decision Making Process'. Please bring your laptops.
WEDNESDAY SEPTEMBER 11TH @ 10 AM (Secondary Library)
UNIVERSITY OF TORONTO – CANADA
Join Ms Meiyen Lee, the Recruitment Officer from the University of Toronto, to find out more about this top 20 school and the highly international city of Toronto.
As this will be class time students will need to get permission from teachers to visit, with an email sent to Mr Mitchell. Parents, we hope to see you in the Secondary Library for this opportunity.
THURSDAY SEPTEMBER 19TH, 1230-2PM (DP Lounge, 6th Floor)
Council of International Schools, South-East Asia College Fair
Details to be shared regarding the USA-based universities visiting us once confirmed.
MONDAY OCTOBER 21 @ 12:50pm (Secondary Library, 6th Floor)
University Visit: Royal College of Surgeons(RCSI) – Ireland
Claire O'Connor
Student Recruitment Specialist
RCSI Admissions and Student Recruitment
MONDAY DECEMBER 9 @ 12:50 (Secondary Library, 6th Floor)
University Visit: Nagoya University, Japan
Mr Freddy Mason
Assistant Director of Marketing and Admissions
Follow the Secondary Calendar or see the College Counselling Events calendar for future visits and events. College Counselling Events
Kuala Lumpur Events
I would like to share with you several exciting events that will be happening at the MACEE KL office next month. September is a busy recruitment season for U.S. higher education institutions. We have different universities who will be visiting us and conducting different activities and workshops.
September 5th, 3.30 pm to 4.30 pm: Guest advising with Boston University (No registration required)
September 10th, 4.30 pm to 6 pm: Applying to U.S. colleges using the Common Application by New York University
September 13th, 5.30 pm to 7.30 pm: University info session and fair by Columbia University, Georgetown University, Princeton University, Duke University and Northwestern University
September 24th, 4 pm to 5 pm: Admissions and financial aid to highly selective liberal arts colleges in the U.S. by Amherst College
Bill Mitchell | Grade 9-12 School Counselor
EVERY TUESDAY AND THURSDAY U.S. University Advising: EducationUSA Advisers provide comprehensive U.S. university advising Register Here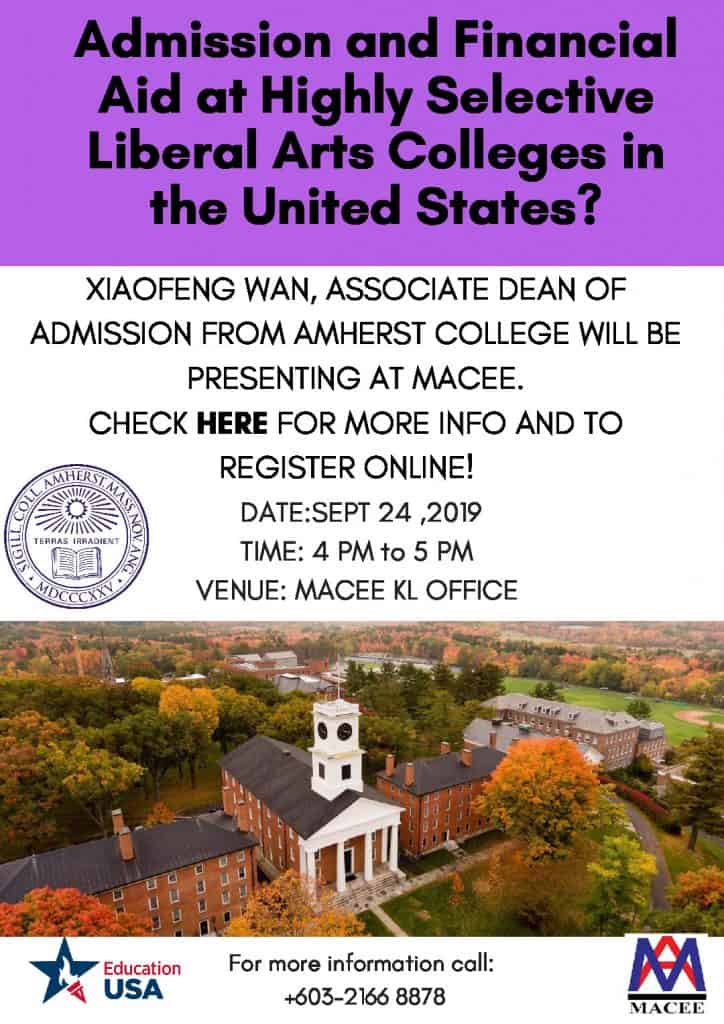 Flyers