Message from the Head of School
Dear IGBIS Parents and Community Members
Over 230 educators from across the region attended the IB Regional Workshops hosted at IGBIS. This was an exceptional opportunity for our school and its many strengths to be in the limelight. Thank you Julie Arcidiacono for and your team from Admissions, ICT and facilities for coordinating the event and ensuring its success.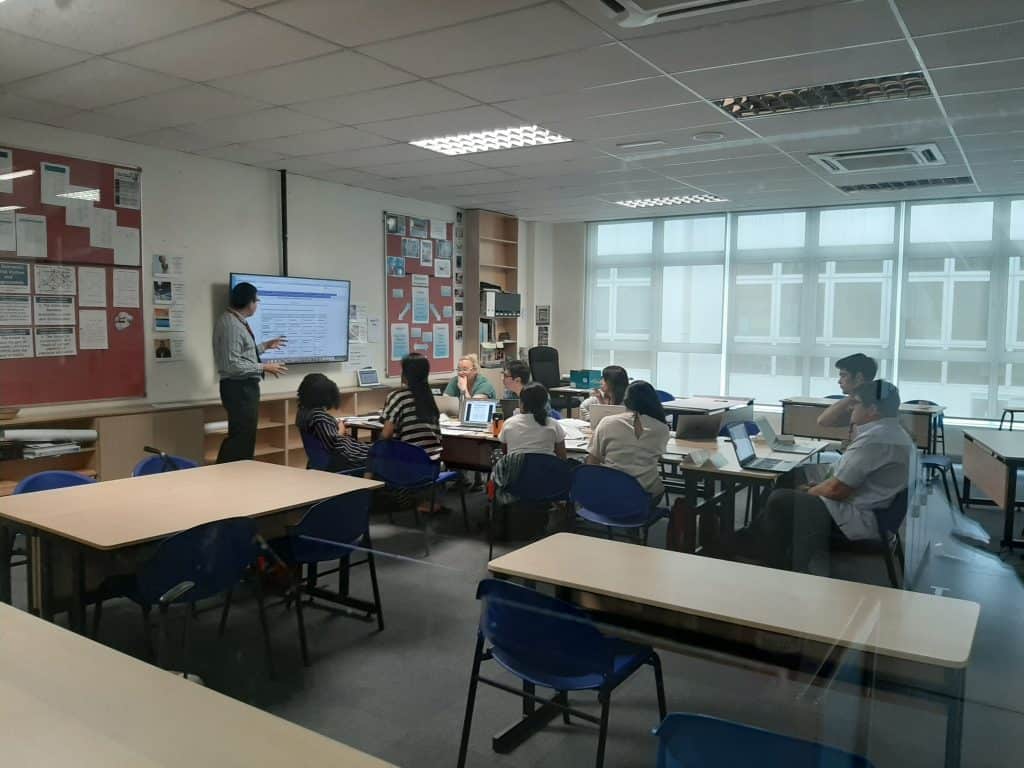 Thank you to all of our community for your support this week as the haze has come down more heavily and the MOE issued a directive for schools to close. The air quality was substantially better this Friday morning and we hope that this will continue into next week. However, we will continue to monitor the air quality at the school and make decisions based on the IGBIS haze policy and government announcements.
Further SMS and email communications with parents will occur in the evening where possible, though sometimes conditions deteriorate overnight in which case an announcement will be made before 6:30 am in the morning.
In the meantime, please try to stay inside and remember to wear a mask if you need to go outside.
Mrs Fowles, Head of School
---
Coach's Corner
I'm thrilled to be launching this newsletter section with my colleague Adrianna Astle. As a newly-minted Google Innovator, we have an exciting year ahead, looking to further improve on our digital solutions in the classroom and beyond.
We also have an announcement about ManageBac sessions for parents.
Some improvements we made this year already in our digital solutions are, for example, collecting passport, medical, and emergency contact information via a Google Form for Secondary's Camp Week. In this way, it was a cinch for our parents to provide sensitive, yet vital, information security and quickly. It all hooked up to spreadsheets who were set up to automatically update the Camp Leaders.
Right around the corner is the Device Expectations @ IGBIS which is something to look out for in the coming weeks. Thanks!
Adam Morris, ICT Coordinator
---
Congratulations to our teachers Ms Flavia and Mr Alex who completed a 3- hour examination to become Google Educators Level 1. This is a great achievement and highlights their confidence using G-Suite for Education tools.
Save the date – Parent Workshop / Coffee Morning
Monday, 30th September 2019
8.00 – 9.30 am – room to be confirmed, dependent on numbers
You are invited to our first IT parent workshop with Ms Adrianna, our new Technology Coach. Managebac and Splash are the topics we will cover, with a general Q&A if we have time.
Bring your devices so that we can troubleshoot with you.
Please register using the following Gform, so that we can plan for numbers.
Registration – Parent Workshop 30/9/19
I look forward to meeting you all and working together for our students.
Adrianna Astle, Technology Coach
---
Masquerade Party
It's only a week away!
We are looking forward to celebrating our 3rd annual PVO Social next Saturday, 28 September at The Boulevard Hotel. All of the community is warmly invited to attend – parents, caregivers, staff members, family and friends. Tickets can be purchased at the school's finance counter or via online bank transfer to the school's account:
Detik Harapan Sdn Bhd
CIMB: 8007 19 3002
Please reference 'Masquerade Party' and be sure to include the names of who will be attending.
Tickets are RM90 each.
The theme for this year's event is "Masquerade". Masks will be provided during the event, but guests are more than welcome to wear their own. The suggested dress code is semi-formal attire, also known as cocktail attire, which roughly translates into a cocktail dress or trousers for the ladies, and a suit/tie or sport coat/blazer for the gentlemen.
There will be special parking and hotel room rate for guests attending the event. Guests may validate their Mid Valley carpark ticket at the hotel's reception to enjoy a RM5 flat one-time entrance fee per car. The nearest parking zones to the hotel are Zones C and Zones H. Hotel room bookings can be made directly with the hotel (contact Mr Perry at perry.salesblv@stgiles-hotels.com). There are a few room type options to choose from which may or may not include breakfast, with room rates ranging from RM366 to RM416.
Looking forward to seeing you as of 6:30 pm at The Boulevard Hotel for mocktails. Dinner will be served at 7:30 pm, followed by games, prizes and dancing. Alcoholic beverages will be available for sale at the hotel bar, adjacent to the function hall.
Julie Arcidiacono, Community Support and Services Coordinator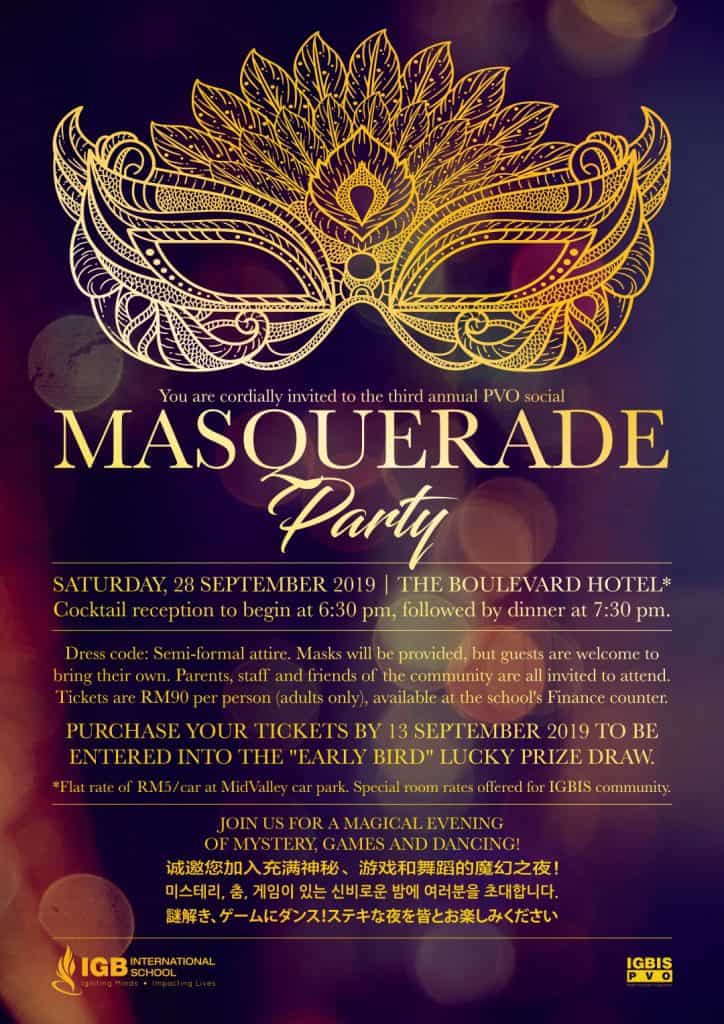 ---
Admissions Department Update
Withdrawal Notification and Refundable Deposit
We are experiencing unprecedented interest in our school at the moment which is very exciting and reflects the hard work of the whole school community and what we are achieving at IGBIS. Each year we ask our families to let us know as soon as possible if you know that you will be leaving the school during the academic year. According to our Terms and Conditions, we would remind you that in order to receive a full refund of the deposit, a signed Withdrawal Form should be submitted to the Admissions Office on or before the 31st October 2019.
Wayne Demnar, Director of Admissions and Public Relations
---
Flyer