Message From the Head of School
Mrs Anne Fowles
Dear IGBIS Community
Happy Deepavali!
Congratulations to all of the students, staff and parents who were involved in the Deepavali Assembly this week. Wasn't incredible the way everyone came together in the dancing, cooking, performing and sharing of the light. Thank you. It was a wonderful success.
As I said in my Deepavali message, we are about halfway through the CMCO and we need to do all that we can to encourage each other and liven up and lighten up lives while we stay safe at home. Our emotional wellbeing is just as important as physical wellbeing at present.
We were very disappointed with the MOE announcement last weekend that schools would remain closed until the end of the national school year on December 17th. As a member of the Association of Malaysian International Schools and the British Malaysia Chamber of Commerce Education Committee, we are writing to the applicable government departments to request that international schools may have the flexibility to open to students again after the CMCO. Parents will of course have the choice of their children coming to school or joining by distance, should this approval be given.
Apart from this, the school is looking for ways to ensure that students can have access to the resources that they need while they are still at home. We have ramped up subscriptions for students to access online resources, but it is important that students are engaged in offscreen activities as well. Some of the things that we are looking at making available are library books, reading books and manipulatives for learners. It might sound old fashioned in a digital age, but there is plenty of research around the importance of young children in particular; reading a hard copy book, trying simple science experiments, touching mathematical shapes and counting objects.
Enjoy the festival weekend ahead, and remember our SMS of social distance, masks and sanitisation.
---
Visual Arts
Rob Pendlebury, Art Subject Leader
The Grade 10 Visual arts students studied the Abstract expressionist movement of the 1940s and 1950s. They learned about gestural brush-strokes and a variety of mark-making techniques. Students then took a stimulus personal to them and attempted to push their creative boundaries.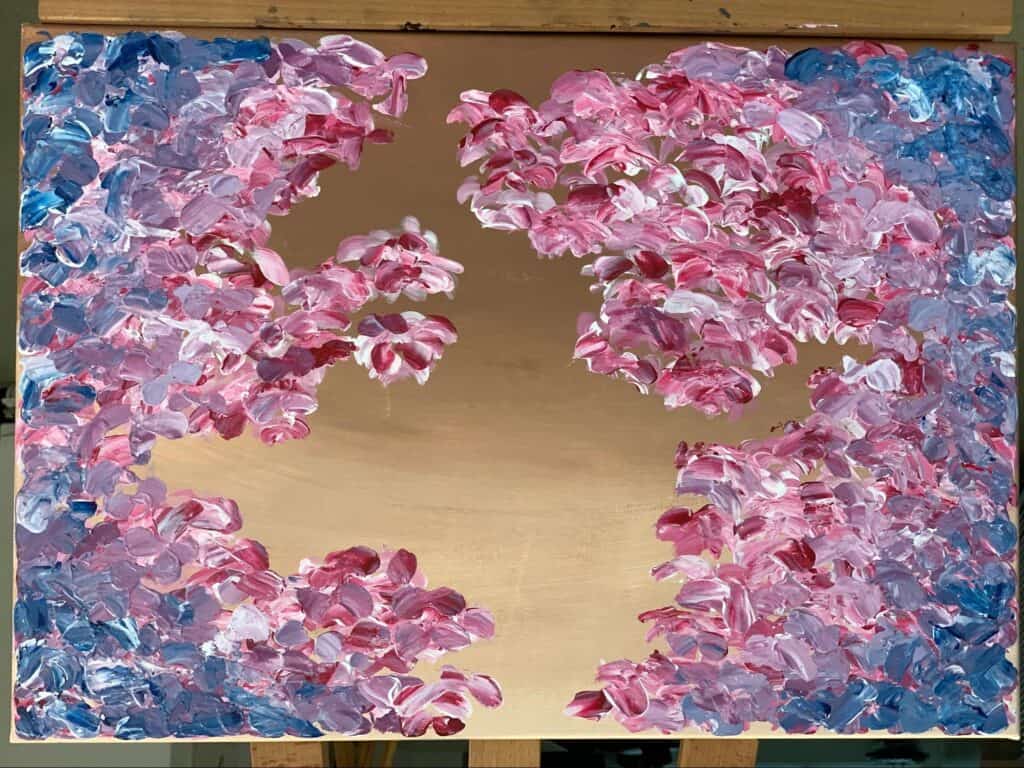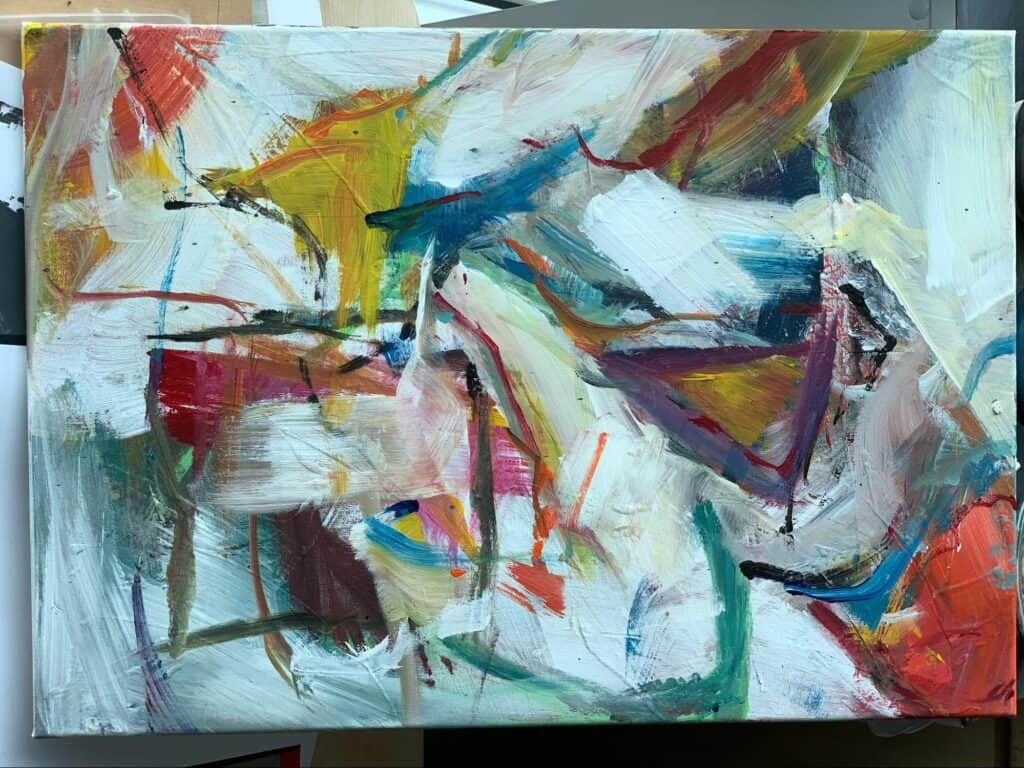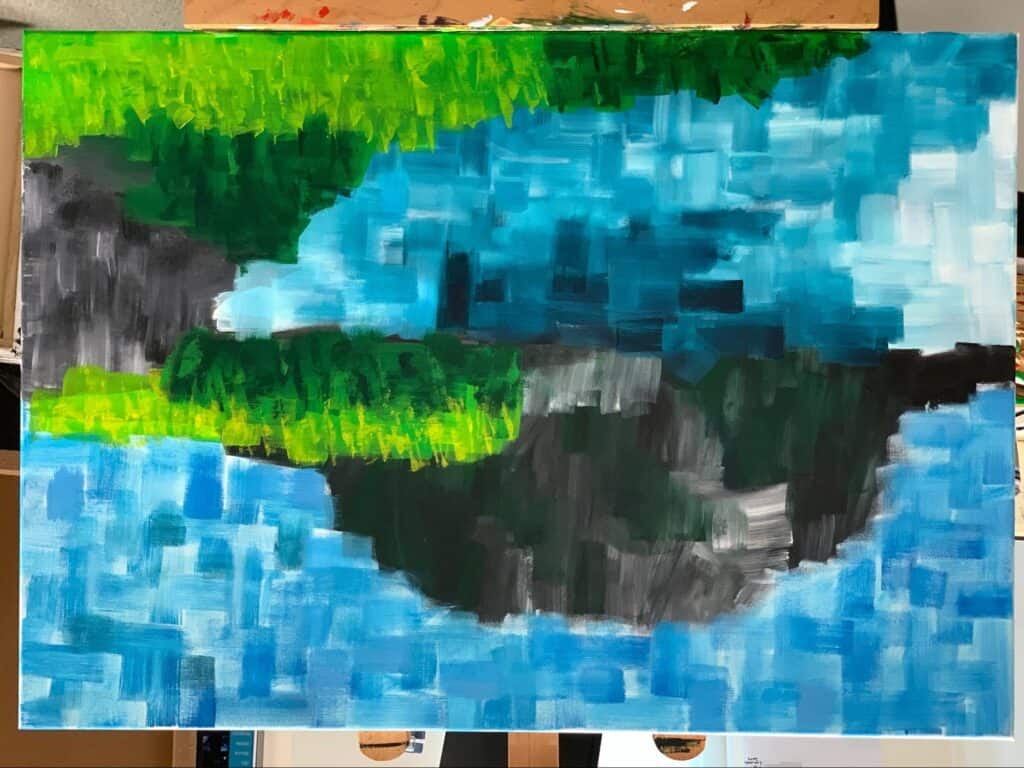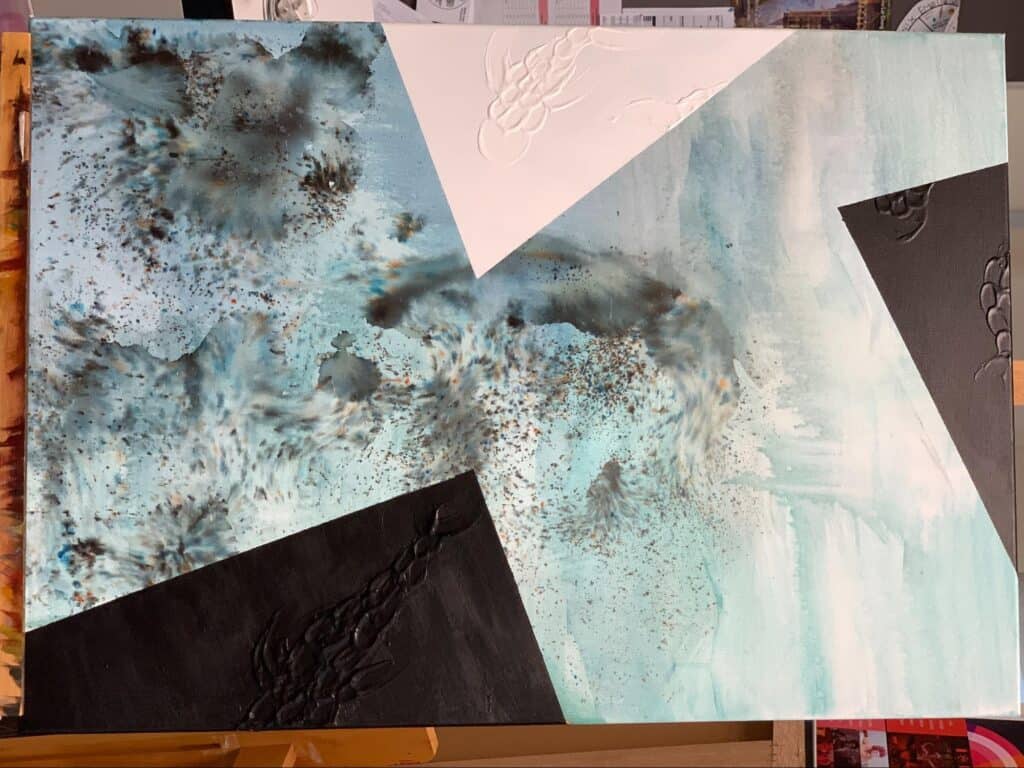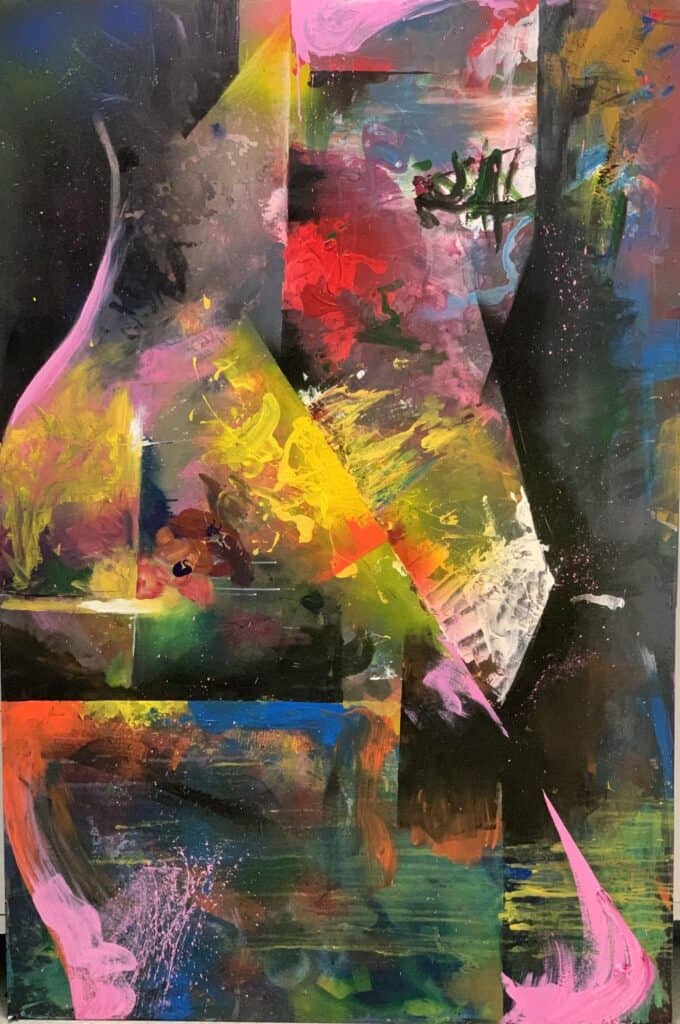 ---
Visual Art Grade 3 Live Lesson
Jane Finnimore, PYP & MYP Visual Art Teacher
Grade 3 explored patterns around their houses. They began by creating a composition with circles by tracing objects like cups, glasses or masking tape rolls. Then we explored together, looking for all the patterns we could see around us. In each circle, we drew the patterns with a permanent marker. Next live lesson we will explore paint made from things in our kitchen and add these to the picture to complete our artwork. Being explorers in our own environment is lots of fun!

---
Individual & Societies
Adam Gagan, Individual & Societies Subject Leader
Welcome to Individuals and Societies (I&S). The team here always have the opportunity to develop links between what students learn in the classroom and the modern world. For example, the recent US election was used to think about how a leader comes to power. An enduring debate for the political leaders we study in IB Diploma History is whether they rose to power through their own actions (intentionalist) or because of society (structuralist). To develop more understanding of Mao, Hitler and Mussolini, the question of how President-Elect Biden came to power was given to Grades 10 and 12.
The Grade 12 IBDP History class was given half a lesson to answer the structuralist V intentionalist question. Gabrielle Gray, Ru Yi Tong and Ro Xzi Ho explained the Intentionalist argument…
and Koveanthan Tirunaukarasu and Pradyun Viavoori the structuralist.
Their findings and judgements are below.
Hopefully, all of the Grade 12 historians understand the two theories much more. The next stage is for the historiography of President-Elect Biden but that is for another day…
At the end of an I&S lesson, Grade 10 were also asked this question. They believed in the structuralist theory; Biden won because of the many problems in the country. He could easily discuss the solutions to problems because there were simply too many of them.
My thanks to both classes.
---
Taking Charge
Lennan MacDonald, MYP Coordinator
Good morning, I'm Lennan MacDonald the new MYP Coordinator and like you today, I am very much still in the process of unpacking the myriad of things that come together to form the amazing thing that is IGBIS – and hopefully, like you, what I am learning, I am very impressed with.
As the MYP coordinator, it is my job to lead and champion and coach and today to celebrate all the wonderful things that happen from grades 6 to 10.
Where the PYP fills students with curiosity – the MYP gives that curiosity direction.
Where the PYP provides foundational knowledge and skills, we build on those skills to allow students to grow into themselves.
Where the PYP embraces agency we give that agency legs and focus, urgency and ownership.
We talk about Inclusion and Wellness and Innovation, International Mindedness and Empowerment: Those are not just words here or aspirational phrases – they are a day to day reality. We live those words – and nowhere is that more obvious than in our Community Project where our grade 8's work in small groups to address a real-world issue that they wish to positively impact.
The one I would like to share with you today was very simple and highly accessible and wonderfully transformational. It put smiles on the faces of those doing the work – and on those, the work was done for. It made IGBIS better and it made both the students who championed it as well as the students they shared it with better too.
Good schools get on airplanes and into busses and travel to developing countries and do service work on their excursion week. Great schools recognize that while that is good and necessary and most amazing – you do not have to get on a plane or a bus to change lives for the better. Great schools recognise Community and Service work begins at home, in your classroom, in your school, and with those you interact with every day.
---
To InfinITy & Beyond
Adam Morris, ICT Coordinator
Our laptops have become our portal to worlds we cannot otherwise reach. While we stay home, we are increasingly using technology to stay connected. How are we doing that at IGBIS?
Our ability to use Google meets is a major point of contact for us. We use video conferencing to classes, and teachers use it for our meetings, our Professional Development. It's how students collaborate and and they keep connected. The livestream feature is a special feature of Google Meet as well.
As the march continues, we are even discovering creative uses of technology as well. For example, Student Council has launched a "Teacher's Try" where they organize games and other activities. They take whatever is popular at the moment, and introduce the teachers to it.
Have you heard of "Among Us?" I hadn't either, until the Student Council introduced it to the IT Team. It proved so much fun it turned into a series, called "Teachers Try." Next on the list are some trivia games … there's a whole list of things coming up!
Remaining connected is vital to a vibrant community. So let's appreciate for the moment how great it is to have the opportunities with the machines and software we have, that the spirit of IGBIS continues.
---
Scavenging in Familiar Places
Ruth Spracklan, Athletics Director
This week our Grade 6-10 students and staff took part in a House scavenger hunt during the wellness lesson!
Participants were challenged to find various objects around the house and show them to the camera for a photo. Each year group competed in their houses to complete as many of the challenges as possible, photo evidence was vital! Points are still being calculated as we speak (rules will be strictly adhered to), look out for the results on the House google site next week.
Well done to all students and staff who took part, it was a really fun way to end the day!
---
Creativity, Activity & Service
Allison Parratt, CAS/Service Learning Coordinator
The Creativity Activity Service Program acts as an outlet for students in grades 11-12 to showcase their creative pursuits, develop active/healthy lifestyles, and contribute positively to their communities. With COVID-19 and the various restrictions throughout 2020, students have been challenged to find opportunities outside of the school's extra-curricular activities program that allow them to grow as individuals and global citizens. However, our students at IGBIS were not defeated by the challenge this year and as a result have a multitude of unique experiences that they are feeling quite proud of.
Talking with one of the co-leaders of the student initiated Movement Club, Turku Dunyam Adiguzel, she mentioned that the group "is a space for all of us to learn our most powerful weapon on Earth, Voice. We explore how to use our voices for various problems, such as human, animal, environmental, and ethical rights. To endeavor this, we use a variety of media of writing such as short stories, fast fiction, poems, haikus, and many more to be discovered. In this club no one is a student, everyone is the writer of their own story, the main character they want to be, an environmentalist, poet, actor, in a surrealist reality of their own." Presently, all of the writers of the club are composing a Fast Fiction critique on Animal Rights given the theme of three words and a genre of their choice. Most recently students of the club have completed a series of Haikus Poems found below. These are traditionally a Japanese poem consisting of three short lines that do not rhyme.
Writers of the Movement Club will also be creating book covers for their own stories, ready to be published, to not only be listened to, but essentially be heard. The club's amazing writers include co-leaders Turku Dunyam Adiguzel and Isabelle Monteiro, Maia Saffiya (G11), Megan Nava (G10), Marie Tan (G10,) Batrisyia Hannah Yusri (G10), Gabriel Corbetta (G9), and Brinda Gunalan (G7).
The Movement Club is a wonderfully, creative, original idea that encapsulates the essence of CAS. We hope to be hearing more from this group in the future.
Haikus
17 words of Everything
Isabelle Monteiro Gr11

Physical violence through domestic abuse or bullying; "Blooms of Bruise"
Cold, scared and alone,
Flowers of black, blue and green
Bloom at strike of hand.
Maia Saffiya Gr11

Imagination and feelings of Isolation; "Infinite"
In my solitude
The four walls of my bedroom
Are infinite worlds
Maia Saffiya Gr11

Manipulation, loyalty and betrayal; "Red Sus"
Written in the stars:
Red was not The Imposter
That's unfortunate
Turku Dunyam Adiguzel Gr11

Surviving; "Deserted"
It is the never-ending silence,
For a luxury, not all can afford,
Something only the wind whistles.
Megan Nava Gr10

BLM/ Racism; "The color of flowers"
The white roses rose
"The Black Tulips don't belong!"
They cry while they die
Marie Tan Gr10

Toxic & Abusive Relationships; "My Favorite Flowers"
Roses and violets
I usually like them
It hurts to please you
Batrisyia Hannah Yusri Gr10

LGBTQ + Oppression; "Forbidden"
Love. Forbidden, for
I am me and she is her,
Our love cannot bloom.
Gabriel Corbetta Gr9

Beauties of nature, Gratitude for Food; "The Watermelon"
Burning scarlet heart
A gargantuan green skin
Dotted with shadows
Brinda Gunalan Gr7

Deforestation and trees; "The tree outside my window"
The seed dug deep down
Into its burrow and growed
Soon it was it's end