Message From the Head of School
Happy New Year IGBIS Families!
I hope that you were able to get something of a break during the school holidays.
We worked hard to make sure that school was ready to open on Monday, January 11th. Including COVID testing of all of our staff and other onsite personnel. Even though it was only for two days, it was worth it to see the delight on the children's faces as they met up with their classmates again and as they went about the school seeing different teachers. It also meant that they could change their library books and collect more learning materials. A taste of what almost normal school is like.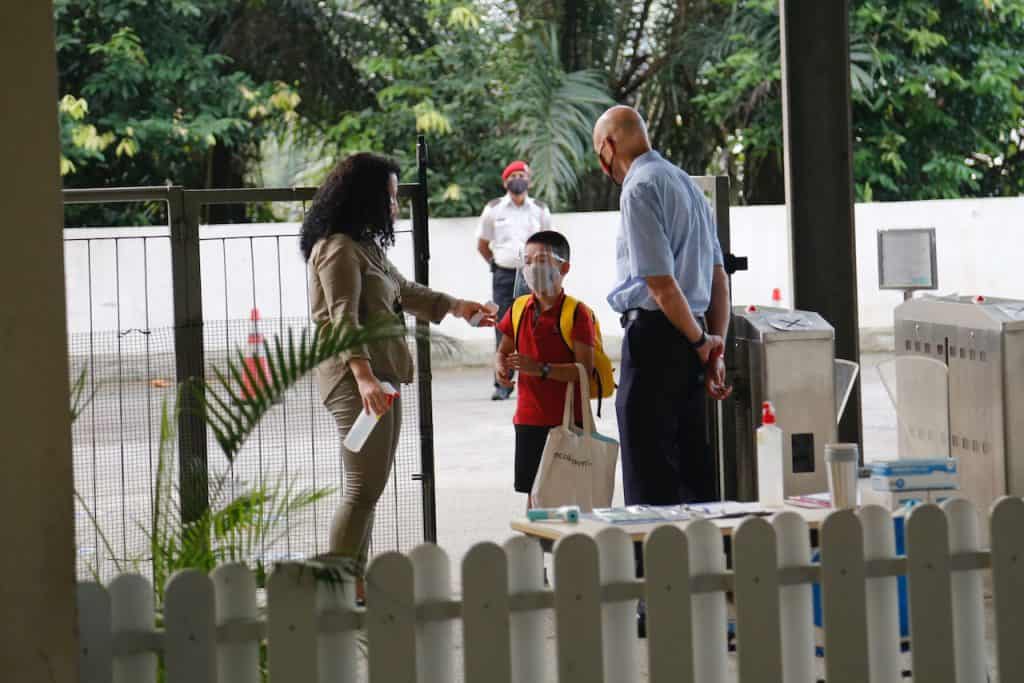 Since Wednesday, only EY1, EY2, Kindergarten, Grade 11 and Grade 12 have been able to come into school. It has been good to see the steady climb in student numbers each day. I am sure that the students are finding their physical classes to be more productive than when they were purely online, especially when it comes to work in the visual and performing arts, science and design for secondary students and the many manipulatives used by the young students.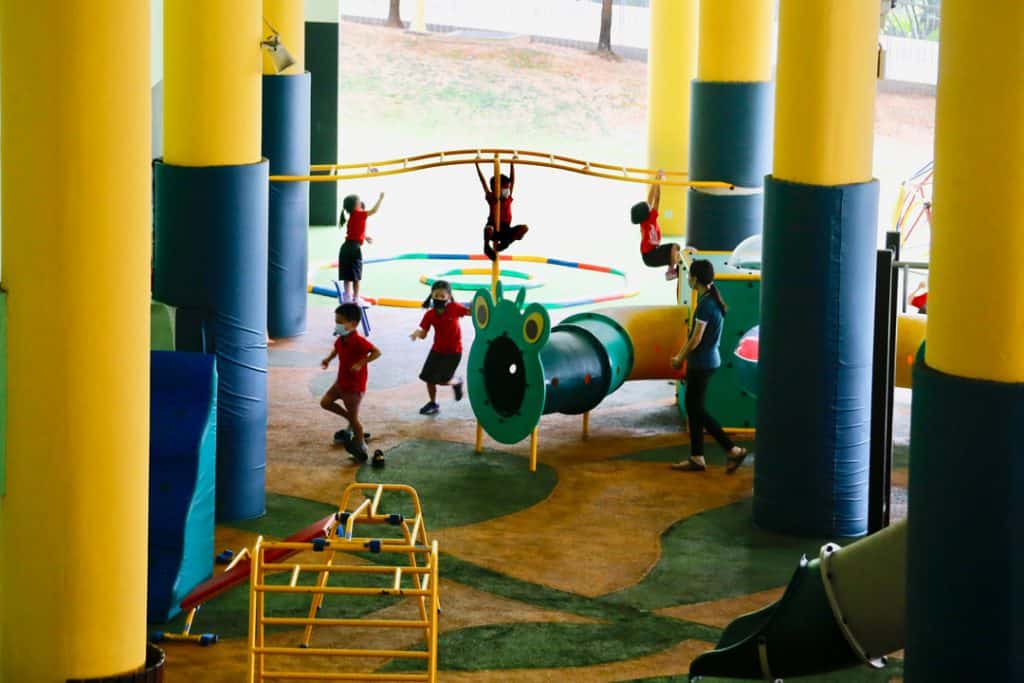 We are waiting for confirmation about Grade 10 from the Ministry of Education as MYP E-assessment has been recognised by the Malaysian Qualifications Authority to be equivalent to IGCSE and schools offering IGCSE already have approval to open these classes.
---
From the Elementary School Principal
Happy New Year Elementary School Community! I hope you had an enjoyable holiday.
It has certainly been a different start to the new year! Initially we were preparing for distance learning then hybrid learning, then distance learning again and then for our youngest students to continue to be with us face to face.
Whatever the scenario, I would like to thank you all as parents for your resilience and patience as we have worked through these and you have responded positively to us supporting your children's learning. Equally I would like to thank the teaching staff who have had to respond at short notice to all of these changes.
Having said that, coming to school on Monday face to face was a great feeling. The energy, enthusiasm and smiling faces (seen through their eyes above their masks) was wonderful. In conversations that I had with students and teachers alike the overwhelming response was this was the right decision to open for our learners (even if it was short lived) to reinvigorate them, reconnect with their class friends and to change their library books and gather further resources if needed.
This positive feeling has continued through the week as our face to face students have enjoyed engaging with materials to inspire and drive their learning through our play based model.
In talking with teachers, although students would prefer to be with us face to face, the distance learning students are facing reality and 'getting on with it' and they should be commended for that and this can only happen with your support.
I hope you have a relaxing and safe weekend.
Dates for Your Diaries
27th January: Invited conferences (details to follow)
28th January: Thaipusam holiday- no school
10th February: Lunar New Year Assembly
11th – 16th February: Lunar New Year holidays
---
From the Secondary School Principal
What a start to the new semester! It was fantastic to see 3-Dimensional students and teachers back in the building on Monday and Tuesday. It almost felt 'normal'. After the MCO announcement we were happy to be allowed to keep Gr.11 and 12 students face-to-face. In-school attendance has grown (particularly in Gr.12) as the week has progressed.
Next week, starting Monday 18th, we will revert to our most recent online schedule for ALL STUDENTS (whether they are online or at school).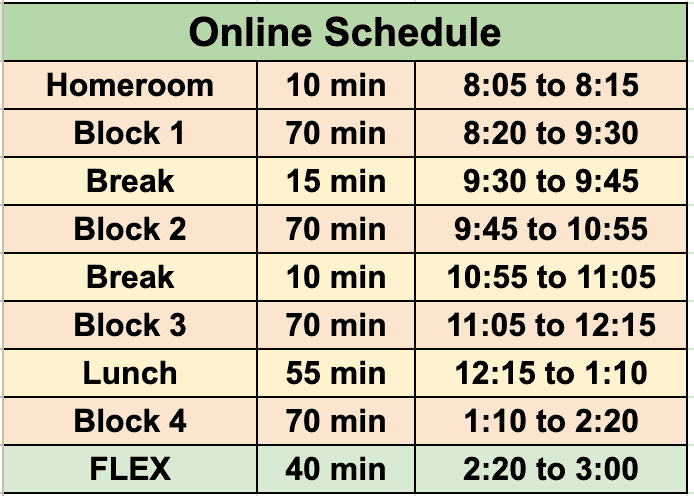 Please note: Since the online schedule starts 15 minutes later than our regular schedule, Gr.11s and 12s should aim to get to school no earlier than 7:50am. (Bus times will be adjusted).
On Wednesday 27th January, we will be running Parent Teacher Conferences by Invitation (PTCI). If a teacher has concerns about your child's progress, they will send you an invitation to a GoogleMeet conference. Where more than 4 teachers have indicated concerns, we will arrange a longer meeting as a group, facilitated by me, Mr. MacDonald, Mr. Drechsler or a member of the student support team.
On Wed 27th Jan, we will run a compressed schedule with all 4 blocks (ending at 12:00 noon).
All classes will be online on this day.
PTCIs will run from 12:30 to 4:30pm. Single subject concern meetings will be 10 minutes each. The larger group meetings will be 30 minutes long.
If you are not invited to a PTCI, but you have questions or concerns that you would like to discuss with your child's teachers, you are totally welcome to contact the teachers to make an appointment at any time (other than 27th Jan). Our next full-blown set of parent teacher meetings (open to all parents) are in April.
I want to remind everyone that we have an 85% attendance requirement. I will be in touch next week if your child fell short of this requirement (during Semester 1).
In Semester 2, we have 95 school days. Students in Gr.6 to 11 cannot miss more than 14 days.
Gr.12s have a shorter semester (64 school days) and cannot miss more than 9 days.
We will be following new (improved) assessment procedures starting this semester. The new procedures aim to be clear, consistent and based on best practices from around the world. We will introduce these procedures to students next week, and parents soon after.
I hope you have a lovely weekend.
Stay safe.
---
Thinking Routines
In my last newsletter item, I finished off by suggesting that thinking routines are wonderful classroom tools teachers use to provide a rich, powerful learning experience. It is used as a way to develop a student's thinking and loosely guide a learner's thought processes.
In the Design Lab, we might use a thinking routine called "See – Think – Wonder". It is a routine we can use for exploring new objects, tools and materials and interesting things. Students are asked 3 simple questions:
What do you see?
What do you think about that?
What does it make you wonder?
This routine encourages students to make observations and thoughtful interpretations. It helps to stimulate curiosity, setting the stage for inquiry. We may use this routine if we want students to think carefully about why something looks the way it does or is the way it is. See-Think-Wonder is often used at the beginning of a unit to motivate student interest using objects connected to the new Unit of Inquiry. We may also use it at the end of a unit to reflect on whether there has been growth in their learning and to apply new knowledge and ideas. Students are encouraged to support their interpretations with reasons.
Some Grade 5 students engaged in a See-Think-Wonder in the Design Lab recently looking at a number of items related to their current Unit of Inquiry (see photos). While some of the items were easy to identify, some of the items were unknown to them. After considering what they could see, thinking about what they could do and wondering what would happen if…, students had a chance to play with and explore the artefacts.
While some of these components were challenging to make work, it was wonderful to see the collaboration and sharing of new knowledge when there was success. It was also important to note that in some cases, predictions were challenged and new ideas were formed – in essence – learning.
---
English Matters
Happy New Year all and welcome back!
In keeping with the theme of "A New Beginning", let me first offer my congratulations to those MYP students who have successfully moved 'up' a phase in their English language proficiency. This achievement comes from good, diligent application and growth in language proficiency- keep it up!
Some other students will also experience a change in their English courses as we continue to strive for the most suitable placements to support English language learning.
Whatever the challenges and opportunities these changes bring, take them on and grow!
A few weeks ago I was involved in the 'Winter School' classes for 'Creative Writing'. It's nice to see students who share a genuine interest in creative writing and who are committed to improving their craft. Keep up the great work, and who knows, 2021 may just be the year where you find the motivation and inspiration to create your own literary masterpiece. We hope to see more new faces for our 'Summer School' to be offered in the next semester break.
Do you know what your son or daughter is doing in their English classes? Ask to see their applicable English language class section on Managebac to see which assignments have been set, grades and teacher's feedback. If you need more information, our English teachers are happy to attend to your enquiries and they're only an email away.
We hope that 2021 brings lots of critical learning, enjoyment and academic success to our students of English language- with this new year comes the opportunity for new beginnings so let's make the most of it together!
---
Routines
A Happy 2021 to everyone as we made it through 2020, and a start to our school year! With all the uncertainty that is happening here and in the world, one of the best things to do is to get your child(ren) into a daily routine. Why are routines so important for children? Because they create structure and reliability in their lives. They know what to expect, and when kids know what to expect, their lives (and ours) become much easier. Create a routine that fits your families needs. One of the biggest challenges is the morning routine, with packing, breakfast, and getting out the door. Help your child(ren) pack their backpacks the night before and place them next to the door. If you pack them lunch, make it the night before so you don't stress out in the morning. Set the alarm clock for the same time every day. If we are back to distance learning, a routine is still important for them. Routines establish security and stability for them. It makes them feel safe, and gives them an environment that is predictable, therefore leading to better behaviour. A normal routine brings comfort and consistency to a child's life. It establishes expectation and creates a calmer environment. Routines help them get on a schedule, giving them confidence and independence helping them form habits.
In addition, everyday routines are full of learning opportunities for young children. For example, you can start teaching children the importance of washing their hands before eating or the importance of brushing their teeth. You can also use these everyday routines as opportunities to talk with them and help them develop their communication skills.
Remember, routines may be hard for your child at first, but they will become used to it. It will take practice and patience. The key for the adults is to try not to become impatient or frustrated if the routine takes time to become "regular" for your child.
---
Language Pathways & DP Language Courses Parent Workshop and G10 Language Proficiency Test
Happy New Year from all of us in the Language team! We look forward to the year ahead.
Mr Drechsler and I ran a Language Pathways & DP Language Courses parent workshop this Tuesday for the G9 and G10 Parents. Thank you for those who attended the workshop and we hope the session was useful to you.
The workshop provided the opportunity for parents to understand the different language and literature, and Language Acquisition courses offered at IGBIS. We had the additional goal of providing a deeper understanding of different language pathways for success in the DP and beyond. The information and the video recording has been shared with the parents as well.
The workshop included:
Language and Literature and Language Acquisition courses offered in the MYP and DP
DP Group 1 Language and Literature VS Literature courses
DP Group 2 Ab Initio VS Language B courses
DP Group 1 and 2 Assessment components
DP School supported self-taught literature course
MYP & DP IB continuum pathways
Language placement guidelines
Moreover, language department teachers conduct a proficiency test for the G10s to collect another data point on proficiency and fluency in the target language. Along with other data points, such as their MYP formative, summative assessments, E-portfolio and E-assessment, the proficiency test provides a clearer picture of their language proficiency. All of this is in support of the students' best interests.
"You can never understand one language until you understand at least two."

Geoffrey Willans
---
The MUN Club
Denny Seo
President of the MUN Club
Happy new year! I hope that all of you enjoyed your Christmas break and are ready to start a new semester.
The MUN club will start on the week of the 25th, but we are still accepting registrations. If you missed it last time, here's the message:
MUN Sign-ups are live! You guys have heard me talk about this during the assembly last time but just to recap. The MUN club is a group that provides students with the opportunity to acquire critical thinking and public speaking skills as well as become more aware of global socio-political, environmental and economic issues. You will be able to develop confidence and have a chance to make new friends with people both inside and outside of our community.
This year we are working closely with other institutions in Malaysia and the United Nations Youth Association of Malaysia (UNAM) to provide our club members with even more valuable opportunities. Please answer this form if you're interested, and we will get back to you with a confirmation message. https://forms.gle/rAEMzWk81q7nADWe9.