Message from the Head of School
By Jason McBride, HoS
Hello IGBIS Community,
With only seven school days left in 2021-22, there is still a lot that we can pack into that time, including International Day which is only a week from today! A big thank you to all of the parents and staff who are going above and beyond to pull this event together. I look forward to next year and being able to get ahead of planning special days and community events with more lead time, but this year we are trying to make the most of the time we have and if that means flying by the seat of our proverbial pants to make it happen, then let's do it!
A few topics for this week:
Yearbooks – For people who grew up with yearbooks, they are an annual right of passage that you look forward to; for others, they are fun, but not a part of the end-of-the-school-year experience you had as a student. A lot of conversation has been happening behind the scenes debating and discussing the financial and environmental costs of printing +400 copies of a 150-page yearbook for all grades every year, and as a result, in conjunction with the Yearbook Committee—the wonderful team that created this year's version of the annual book—we are going to make a change:
All graduating Grade 12 students will receive a copy of the full yearbook.
All students in Grade 11 and below will:

Have access to the full version digitally for free.
Receive a smaller version of the yearbook with their grade level, the levels around them and pages for signatures for free.

All students and staff will have the opportunity to purchase a full yearbook (at cost) so that we print on demand and do not use more paper than is needed.

To indicate that you wish to pay for a full version of the yearbook, please click HERE.
End of Year Letter – Next week I will send out a rather lengthy letter, trying to capture much of the work that has been going on behind the scenes this year. I had a long conversation with some parents last week that reminded me that it's not necessarily what is happening that matters, but what you communicate about what has been happening. In that regard, I think we have been a little light on sharing all the incredible things that have been going on at school to improve the quality of teaching and learning, with accreditation, to improve the facilities and more. Look for that long read next week, and to the family with whom I spoke, thank you for the reminder.
CIS Community Survey Feedback – As part of the End of Year update, there will be a section sharing the feedback from parents and families that was gathered on the CIS survey just before the December break. We expected the survey data to be back by the middle of February, however, with CIS transitioning away from their old system to a new one, we were not notified that the data was ready until nearly May. The leadership team here has been working on synthesizing the data down from 84 pages and I will share the synopsis—and original data for those interested—in my letter next week.
Parent Coffee Mornings – Finally, we have pencilled in two coffee mornings from 8-9:30 am in the PVO room on Monday, June 13th and Tuesday, June 14th for anyone who wishes to come in, ask questions, share feedback or give us something to think about ahead of the new school year. Normally I would run these in August and then throughout the year, and perhaps we should have run them in May when the SOP's allowed, but I would prefer to be "better late than never" now rather than wait until August. I do hope many of you can make either of the sessions.
With thanks,
Jason
Head of School
---
From the Secondary Principal
By Sandy van Nooten, SS Principal
Congratulations to the fantastic Class of 2022 – Last week we held our first full in-person graduation ceremony since 2019. Here's a photo of the proud graduates. (We asked them to remove their masks briefly for this photo).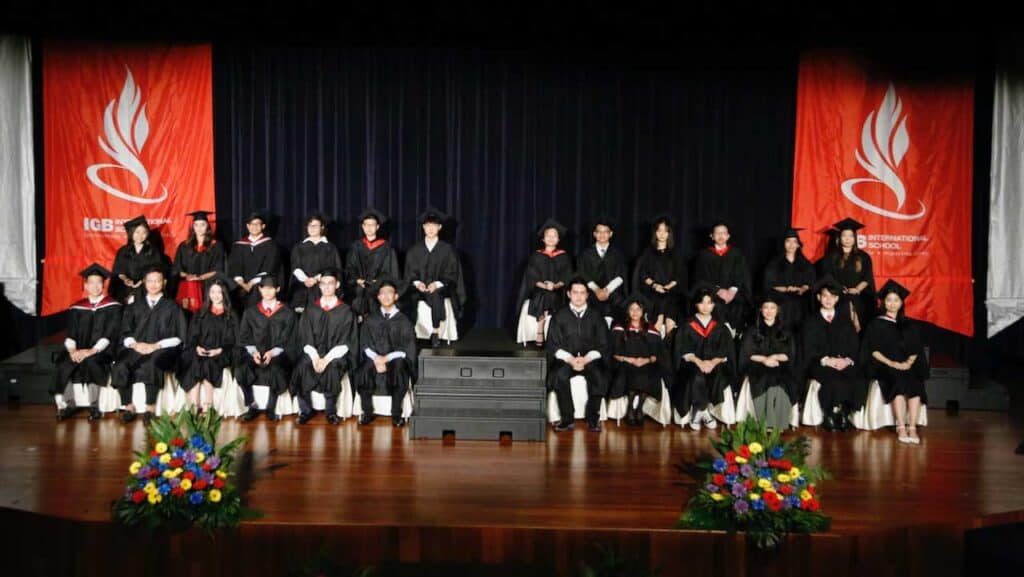 On the Tuesday before graduation, we were able to have a 'Senior Parade' through the school. Elementary students made a guard of honour on level 3, Secondary students were on level 5. These two videos will give you a glimpse of the spirit and celebration on display.
Exams – Congratulations to all our Gr.10s, 11s and 12s for surviving the exam season. We managed (this year) to get through all the exams without being interrupted by Covid. Gr.11s already have their results and feedback. Gr.10 and 12 will get their results from the IB in early July. I'm sure they will make themselves and all of us proud. Inter-school sports fixtures – As soon as SOPs relaxed and the MOE allowed it, Ms. Spracklan launched us back into some inter-school sporting events against MKIS and St. Joseph's. Our students have shown grit and creativity and we are super proud of them. Parents are invited and welcome to come and cheer for our final volleyball matches on Tue 7th June (in the Sports hall). Please join us. The more the merrier.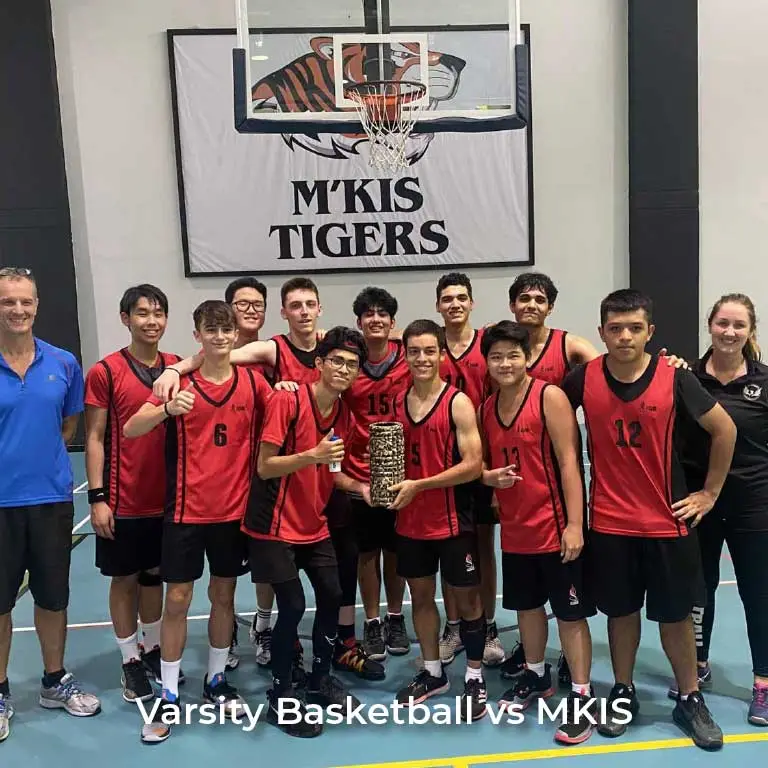 Feedback from students (KLM) – One of the best things we can do to improve our teaching practice is to look at what we do through the eyes of our students. Over the last two weeks, teachers in secondary have given a very simple 'Keep, Less, More' survey to their students. The survey was anonymous and time was given during class. The idea is for students to give us feedback on what helps them learn. Teachers have already gained valuable insights into what students appreciate, need and want in their classes. The image below was included in each survey to give students an idea of the sorts of things they might want to include under the headings 'Keep doing…', 'Do less of…' and 'Do more of…'.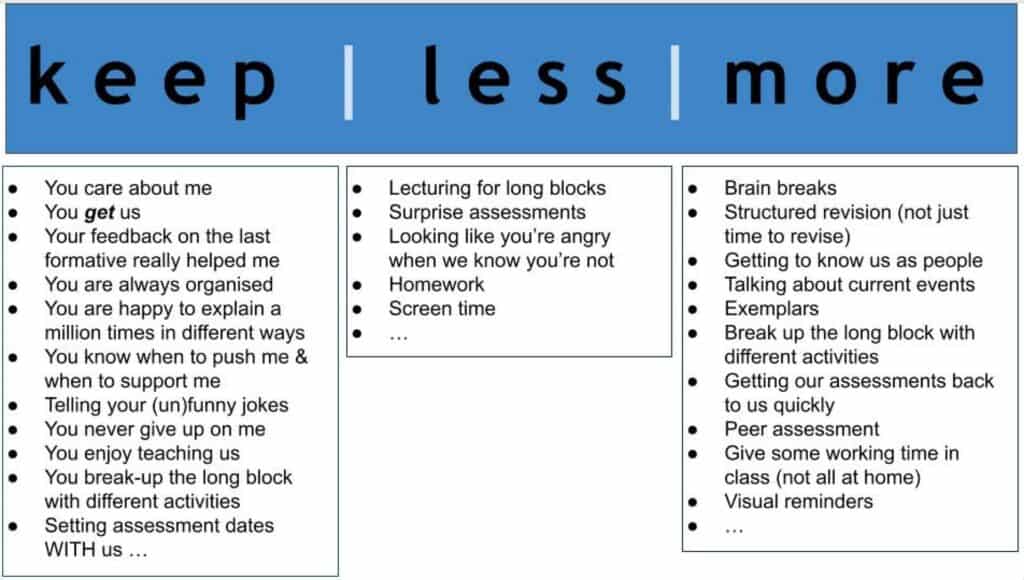 Arts Showcase – Huge thanks to the art team for showcasing the talent and accomplishments of our students this week. MYP students (and some teachers) got to visit other classes to watch drama & music performances and to see the visual art 'gallery' set up in the art room. The Gr.11 DP arts also had a showcase of individual Theatre performances and an exhibition of their amazing visual art (on Wed after school).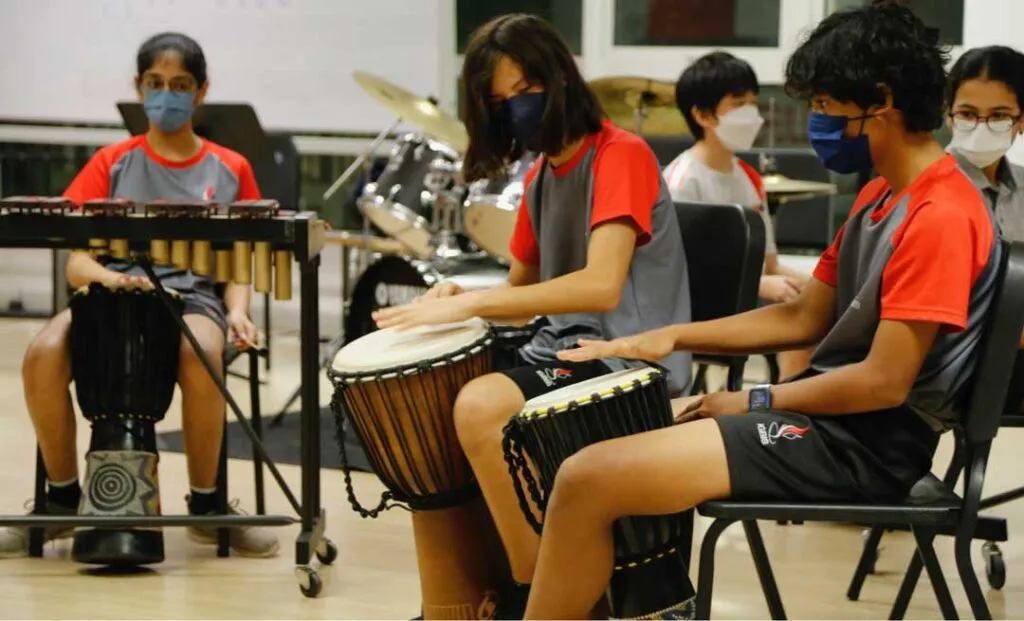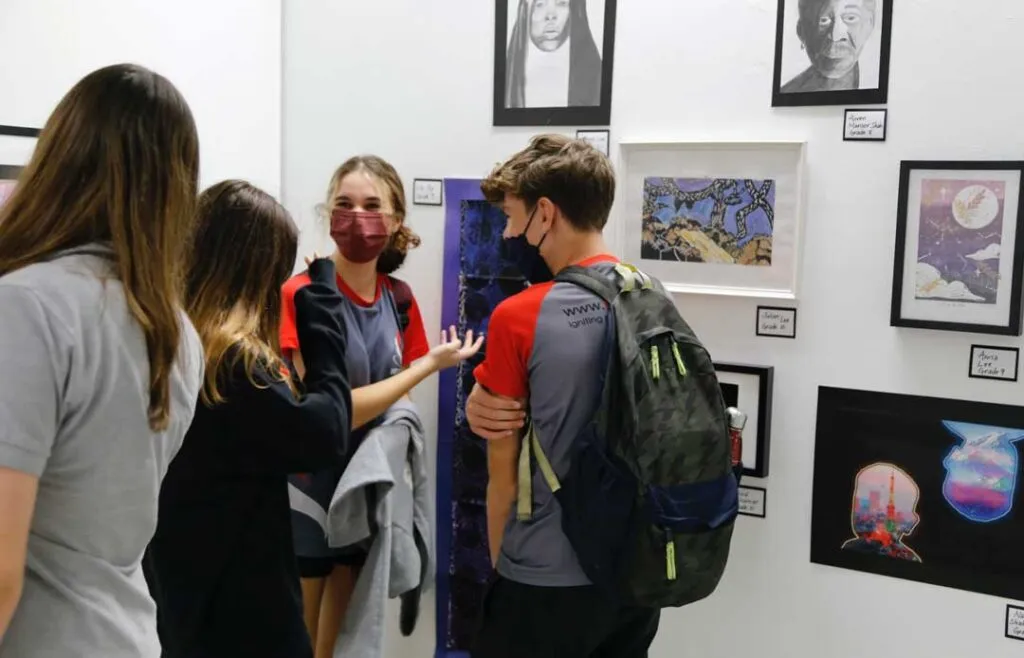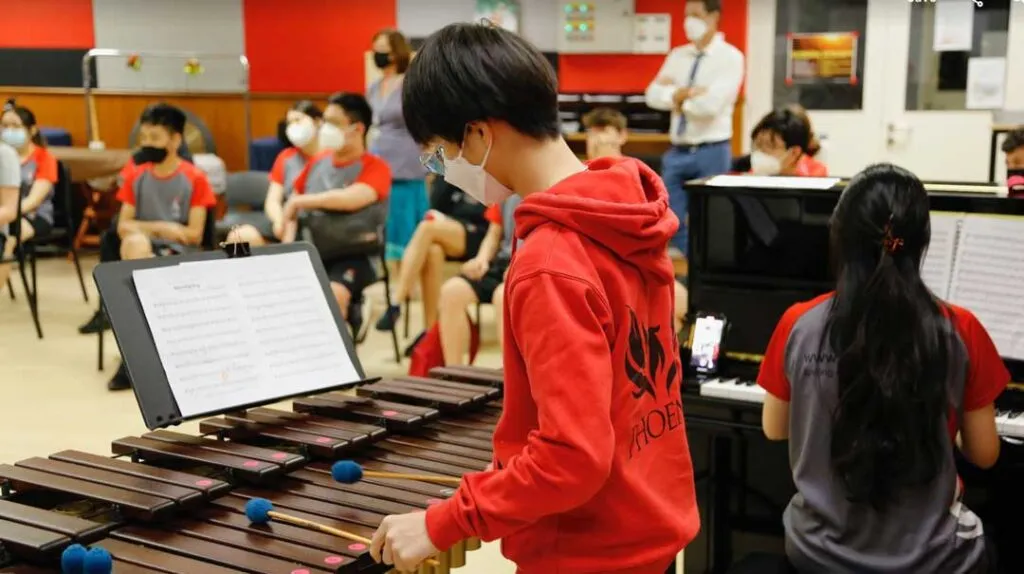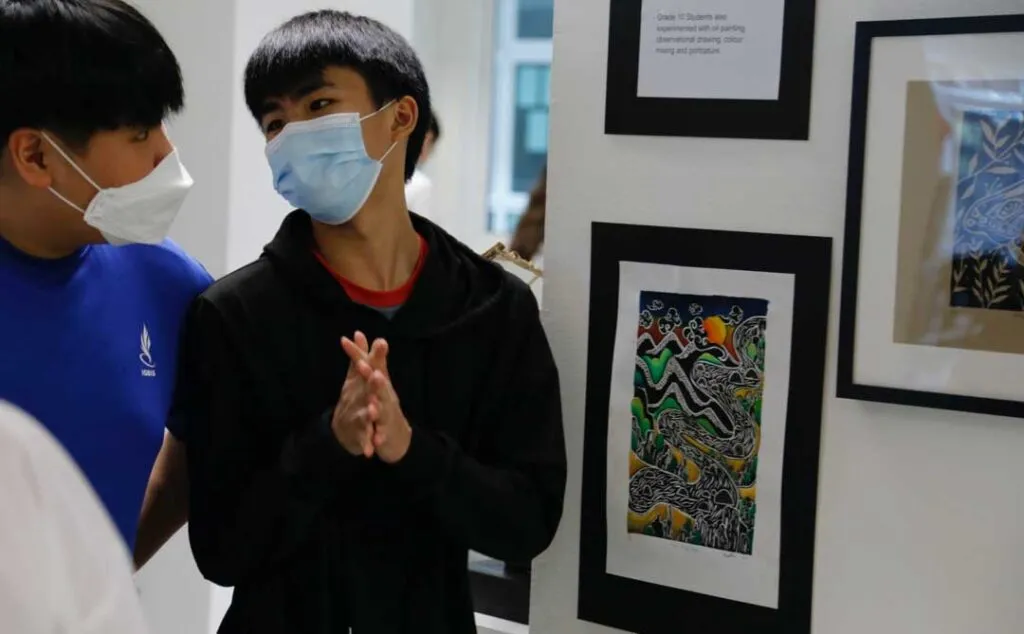 Assessments & Reports – Leading up to the end of the semester is always a busy time for assessments. Teachers and Homeroom Teachers try hard to spread assessments out. If your child has more than 2 data point assessments on any day, please ask them to let their teacher or IB Coordinator know. Reports will be released via ManageBac (and email) by 4 pm on Wed 15th June.
ManageBac for Parents – If you are struggling to navigate ManageBac, here's a clear MB guide to help you (lovingly prepared by Ms. Flavia Godja). This will help you do just about anything on MB. Thanks to Flavia.
Class trips – On Tue 14th of June, we are taking Gr.6 to 11 out on day trips. The purpose is for bonding and fun. We hope that most students will join us. Please note that it is a school day and any students who choose not to come on the class trips are expected to be in school for the whole day. If you have any questions, please contact the relevant Grade Level Coordinator. Gr.6 – MJ Mora (maria.mora@igbis.edu.my), Gr.7 & 8 – Ms. Habib (maheen.habib@igbis.edu.my), Gr. 9 & 10 – Ms. Wencl (jenny.wencl@igbis.edu.my) , Gr.11 – Ms. Kim (yuri.kim@igbis.edu.my).
Awards and farewell Assembly – On the last day of school (Wed 15th June), we will be running our annual awards and farewell assembly. The assembly will run from 10:30 am – 12:00noon. These are the awards categories.
Class awards – There are two awards that come from classes (Hallak and Phoenix). These awards are selected by classroom teachers.
Spirit award – one per grade level. Nominated by students, the final selection made by HRTs and GLCs
Learner Profile award – Two recipients. One for Gr.6 to 8, one for Gr.9 to 11. Nominated by teachers, the final selection made by HODs and SSALT.
Anne & Peter Fowles award – One recipient (from Gr.6 to 10). Nominated by teachers, selected by SSALT.
EARCOS Global Citizen award – One recipient (Gr.11). Nominated by teachers, selected by SSALT
Award Criteria – Here's a link to the criteria for each award.
Hope you have a great long weekend.
Regards
Sandy
---
Athletics Notices
By Ruth Spracklan, Athletics Director
On Monday this week, we welcome St. Joseph's (SJIIM) back to our campus for some Basketball fixtures! Once again it was great to have so many IGBIS players out on the court and to have such huge support from the sidelines.
The U14's played their first-ever game of Basketball as a team and boy did they do well! It was a close game for the duration of play up until the last quarter when SJIIM managed to slip away to steal a 27-21 win. Superb Basketball played by the team, huge congratulations to all!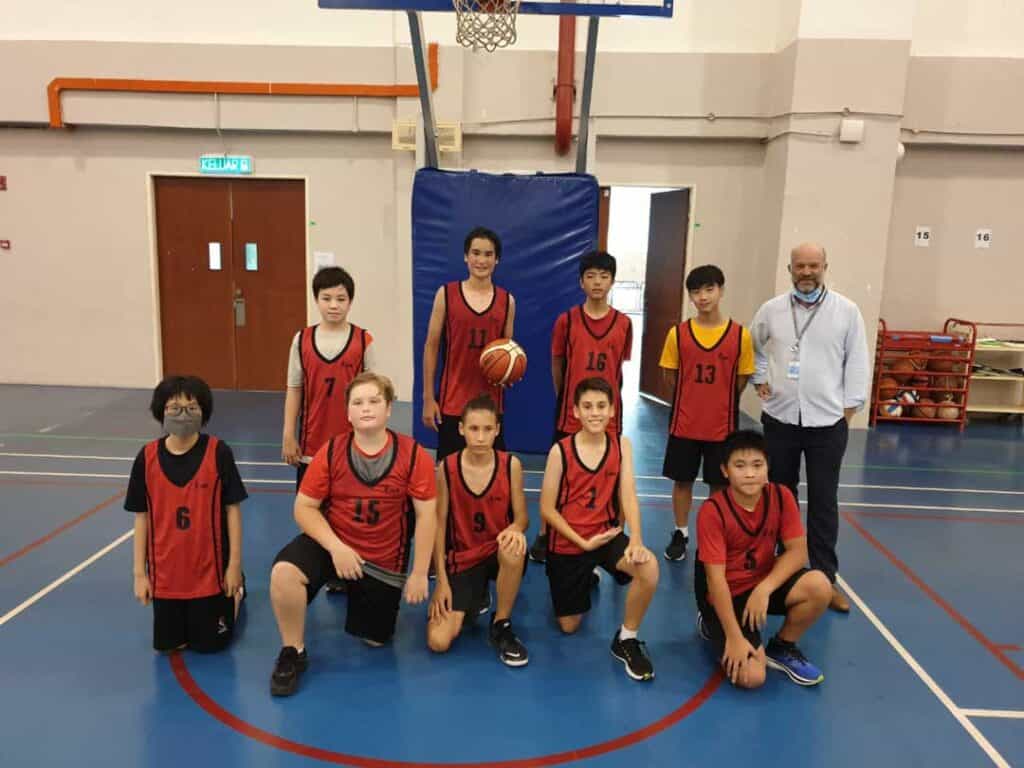 The U16s had an even closer game with the score remaining level throughout most of the game. It was in the last quarter that SJIIM pulled a few successful lap-ups out of the bag leaving us trailing by 1 point. Despite a valiant effort in the closing seconds by the team, we were unlucky with scoring a lap up as the buzzer went and settled on a final score of 45-46. Huge congratulations to the team for such a great performance!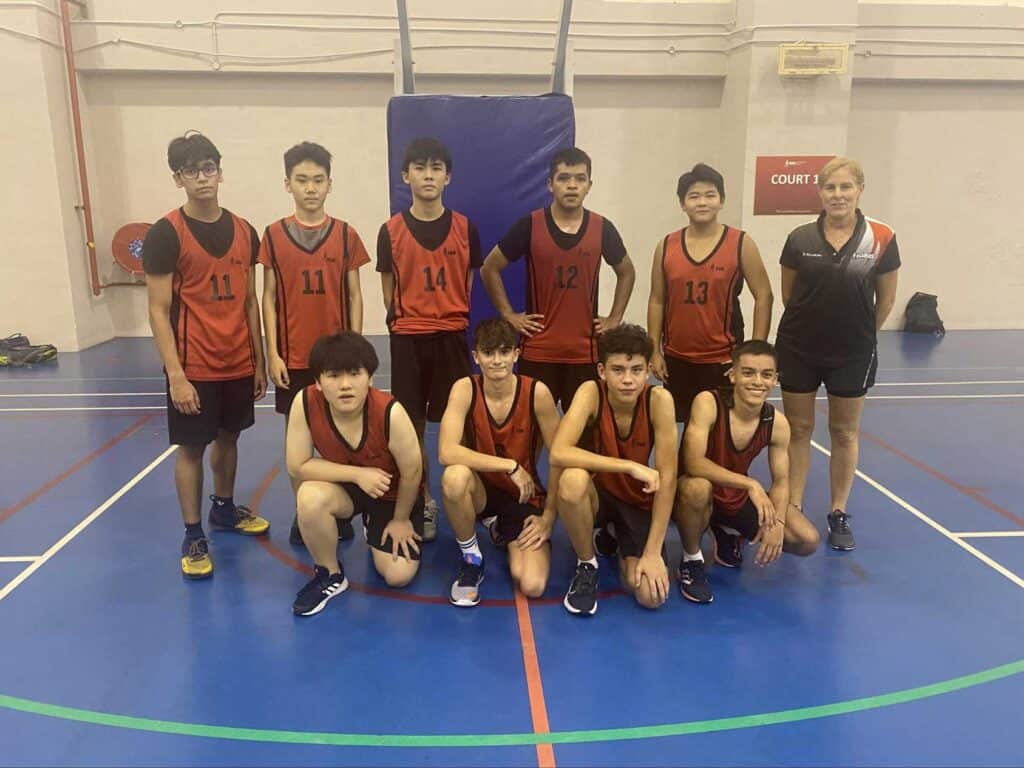 Next week we welcome back SJIIM for our final fixture of the year, Volleyball for Varsity Boys and Girls. Sadly SJIIM has cancelled the U14 game due to a lack of players. All are welcome to come and support on Tuesday 7th June.
---
Pre-Order Menu
Place your order HERE
Copy-of-IGBIS-Food-Order-Menu_-Jan-Dec-2022